Everything to Know About Attending Bridal Shows and Wedding Expos
Plus, how to find events happening near you.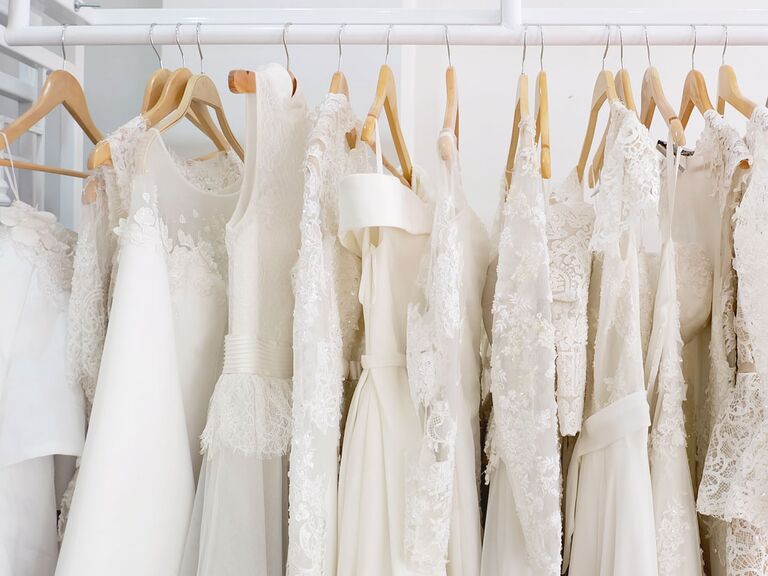 Pitchaya_T/Shutterstock.com
As you start planning your wedding, you might feel overwhelmed by your to-do list. The process can be daunting, but there are plenty of resources to help you stay on track, like The Knot App, wedding planner books, and planning timelines. Attending bridal shows is another way to make serious progress. Wedding expos are ideal for getting inspired, booking rentals and making connections with potential vendors in your area. Regardless of your stage in the planning process, bridal shows can offer plenty of benefits. If you're feeling stuck, a bridal show can offer the guidance you need to accomplish even the toughest tasks. To help you plan accordingly, we share everything to know about attending bridal shows, like what to expect and how to find events near you.
What are Bridal Shows?
If you're new to wedding planning, you might wonder, "What is a bridal trunk show, really?" Bridal shows and wedding expos generally offer the same experiences. They can be hosted by national companies or local wedding organizations and pros, meaning you can find bridal shows all over the country. Bridal shows often highlight local vendors, allowing couples to network with pros in their area before securing their wedding team.
A bridal trunk show, on the other hand, specifically focuses on wedding dresses. Salons will bring collections of dresses and accessories to trunk shows, where brides can connect with designers one-on-one to discuss styles and customizations. Bridal trunk shows often offer discounts on dresses you wouldn't normally get in a store.
Specific events at bridal shows and expos vary among hosts. A wedding expo might include a bridal trunk show, or it could feature a broader range of vendors. In general, couples can expect to learn about trends, test cake flavors, browse wedding dresses, talk directly with vendors, and attend panels or workshops. Some wedding expos even offer prizes and discounts throughout the event. Details of the event will be listed on the host's website. If you're just engaged and ready to start checking off items on your to-do list, a bridal show can be a valuable tool to connect you with local pros and kickstart the planning process.
How to Prepare for a Bridal Show
When you've found a bridal show to attend, reserve tickets as soon as possible. The fee for admission will vary among companies and hosts, and some might be free to attend. Depending on the size of the event space, attendance may be limited. To secure your spot, reserve or purchase tickets as soon as possible.
It's also important to come organized. Bring a designated wedding folder to store papers or contact cards from vendors. You'll receive plenty of informational pamphlets and business cards, so you'll want to keep them in one spot to stay organized after the event. You might also want to bring paper and a pen to jot down important notes for later, like a trend you want to include at your reception or the phone number for your favorite bridal salon.
Before attending a bridal expo, talk with your S.O. (or your entourage) about your goals for the day. Having a clear idea of what you want to accomplish will keep you on task throughout the event. It can be overwhelming to navigate an event space full of vendor booths, especially if you're not sure what you're looking to accomplish. Your goals will vary based on your stage of planning. If you're just starting out, you might just want to get inspired and talk to local pros before making any decisions. Or, if you're farther along, focus your attention on specific vendors or panels. Given the size of bridal shows, having a plan will ensure you get the most out of the event for your needs.
How to Find Bridal Shows and Expos Near You
There are plenty of ways to find local bridal shows and wedding expos. A simple Google search for "bridal shows near me" will give you leads for local events. Word of mouth is also a powerful resource. Ask your married or newly-engaged friends for advice on finding bridal shows. If you've already hired a planner, they can help you find local events too.
We also recommend using The Knot Marketplace to discover vendors in your area. Some pros host their own bridal trunk shows and expos, so check their websites and social media pages periodically to stay up-to-date on event information. Once you start planning, you'll build connections to find local bridal shows and expos to make the experience interactive and efficient.