No, You Don't Have to Serve Dinner at Your Wedding Reception
But you have to serve something. Here are a few alternatives to the traditional reception dinner that will keep everyone satisfied, happy and ready to party.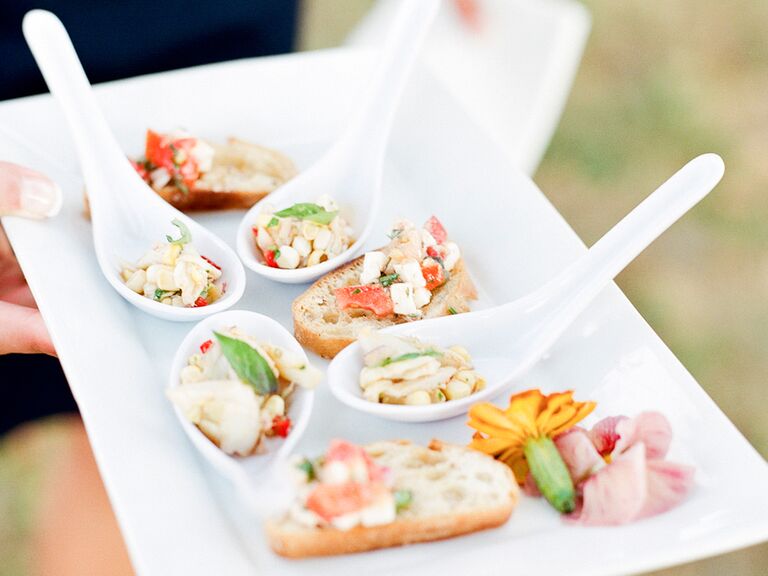 Sweet Tea Photography
No matter where you live or who you hire, serving a seated dinner for 100-plus people on a Saturday night isn't cheap. Beyond your budget, you might be thinking a full, plated meal isn't really your style. Maybe the last few wedding reception dinners you've experienced dragged on a bit too long to the point of boredom. You don't want to see your guests yawning after three courses when they should be headed to the dance floor, so you're willing to buck tradition and try something a little different.
While you don't technically have to serve a formal, multicourse dinner, you absolutely do need to offer your guests a solid alternative. Luckily, there are other ways to save on dinner and keep things interesting without depriving your guests. Remember, your caterer will be an awesome source for ideas and inspiration (they're the expert, after all). They can help suggest fewer courses, certain inexpensive dishes and limited bar ideas to really cut costs. Here, a few of our favorite creative and less-expensive wedding reception meal options.
Go Heavy on the Appetizers
When we say it's okay to serve heavy hors d'oeuvres, we really do mean heavy. Think of protein-based items like shrimp cocktail, steak kebobs, tuna tartar or if you're going more casual, something like chicken wings, sliders and mini tacos. Always think if it would satisfy you and your partner in place of a meal—would you still be hungry if you only had these items without a meal? Then opt for more substance. Not only do you want to satisfy your guests, but you simply can't serve alcohol—especially with an open bar—and not serve an adequate amount of food. Think about it, your guests have been attending your event for hours. They've been watching you as you exchange vows, stood by for pictures and cocktail hour, and by the time the reception rolls around, hours and hours later, they're starving (and that's not the best combination when mixed with beer, wine or liquor).
If this is the route you're thinking of going, consider having appetizer stations instead of hand-passed small plates. Logistically speaking, hand-passing has a tendency to serve only the people closest to the catering outpost, meaning some guests—should they choose to stay in the same location—might not get as much food. Then again, if you love the idea of hand-passed apps, ask your caterer to create a plan that ensures everyone gets their fill.
Host a Cocktail Party Reception
Similar to the heavy appetizer point above, you could have a cocktail hour reception with just appetizers, but this is all about timing. Do it this way and you either have to have a late-night reception that starts after dinnertime or a late-afternoon reception. But keep in mind, if you're expecting elderly guests or younger children, an 8:30 p.m. start time doesn't make the most sense. Just be sure to make it clear that dinner will not be served by wording your reception card or invites with something like, "Join us after the ceremony for cocktails, hors d'oeuvres and dancing." Put this on your wedding website too and your guests will get the point.
Serve Breakfast, Brunch or Lunch
Not only will a reception meal other than dinner save you money, it's a fun way to create a memorable reception. Instead of a seated six-course dinner, imagine an amazing brunch with a Bloody Mary bar, on-site barista, omelette station and flaky pastries. Or serve a lighter lunch complete with a perfectly paired fruity Bellini. This actually ends up saving a lot of money for multiple reasons: Not only will guests eat less for breakfast or lunch, but they will also most likely consume less alcohol, since the event will take place during the day.
In fact, wedding breakfasts actually used to be the norm back in the day in Europe (and specifically the UK). Guests would celebrate with champagne and then part ways while the newlyweds zipped off to their honeymoon.
Want more? See creative catering alternatives to a seated dinner.