29 Wedding Food Stations You Haven't Seen Before
The best bars are food bars.
We'll always appreciate a great cocktail bar, but some of our favorite bars actually serve food. Interactive food experiences are a delightful surprise for your guests, and will encourage them to get up and mingle. If you'd like to include wedding food stations into your own reception, we rounded up 29 ideas you haven't seen before. Whether you opt for a build-your-own taco table, a charcuterie station or a dessert spread, we have ideas for every kind of wedding. We love the idea of using wedding food stations because you can incorporate many different foods into your nuptials. Offer a sushi station, a crostini bar or a cupcake display—or all three. The sky is the limit when it comes to your wedding menu.
If you're interested in offering wedding food stations, work with your caterer to bring your vision to life. They'll ensure the food is prepared perfectly and served exactly how you want. Plus, they'll be able to help advise on any food-related decisions should you need an expert opinion. Next, be sure to coordinate with your reception venue to confirm they're able to accommodate interactive food bars. Ready to get inspired for your big day? See our 29 favorite wedding food stations, below.
Dim Sum Station
Dim sum is one of our favorite wedding food station ideas because it's so customizable. You can offer several different dishes for your guests to choose from.
Picnic Basket Station
While many couples had to offer individually-wrapped meals due to the coronavirus pandemic, we think it's a creative idea for future celebrations. Offer your wedding guests a full meal wrapped up in an adorable picnic basket.
Traveling Seafood Station
Bring the food bar to your guests. A traveling food station (like this portable oyster bar) is a fun and creative way to serve up some delicious food.
Refreshments Station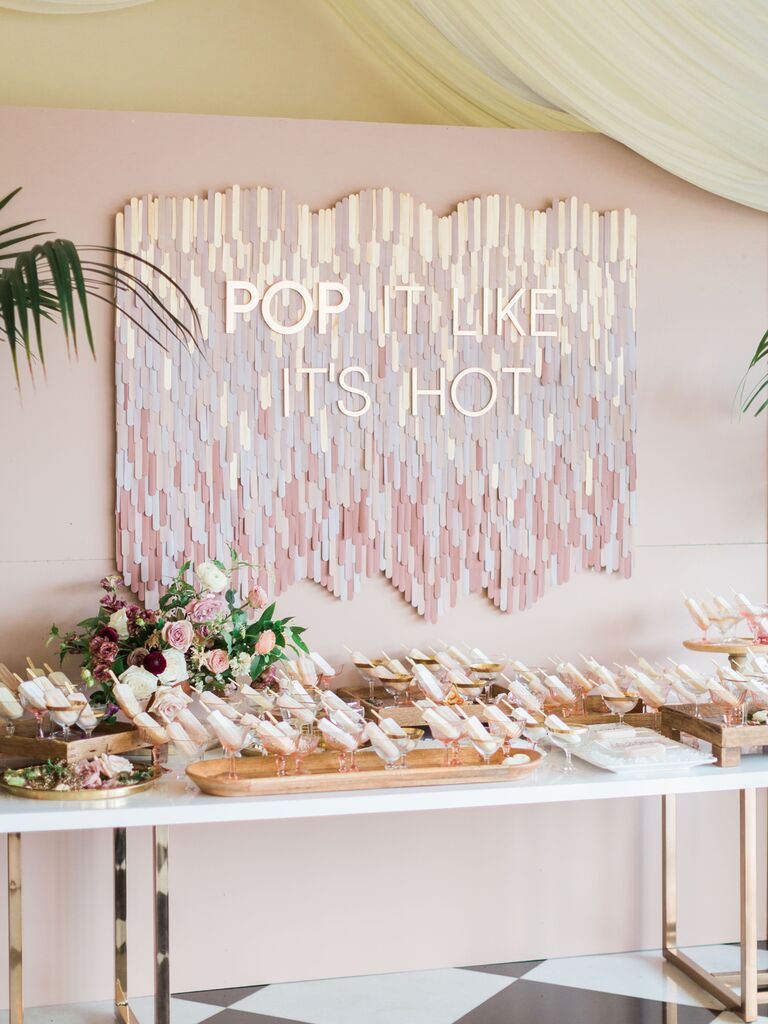 If you're hosting a spring or summer wedding, this is a fun way to help guests stay cool. Offer them a cold treat—whether popsicles, iced cocktails or ice cream.
Bread Bowls Station
Who doesn't love bread bowls? For those planning a rustic wedding, this wedding food station is for you. Fill bread bowls up with your favorite dips and spreads, and then offer pieces of bread on the side.
Bread and Cheese Station
Yes, more bread. Can you blame us? Serve with cheese for the ultimate wedding food station.
Takeout Station
Offering takeout is a fun and creative alternative to typical wedding food. Plus, it's easy to hold, which means your guests can enjoy the food while they mingle.
Sushi Station
Sushi is a great option because it's so light and refreshing. Plus, you can serve a variety of different rolls to accommodate different dietary restrictions.
Ice Cream Cookie Station
You don't have to serve a wedding cake if you don't want to. In fact, there are several wedding dessert alternatives. Case in point: This ice cream cookie station. Don't forget the marshmallows!
Soft Pretzel Station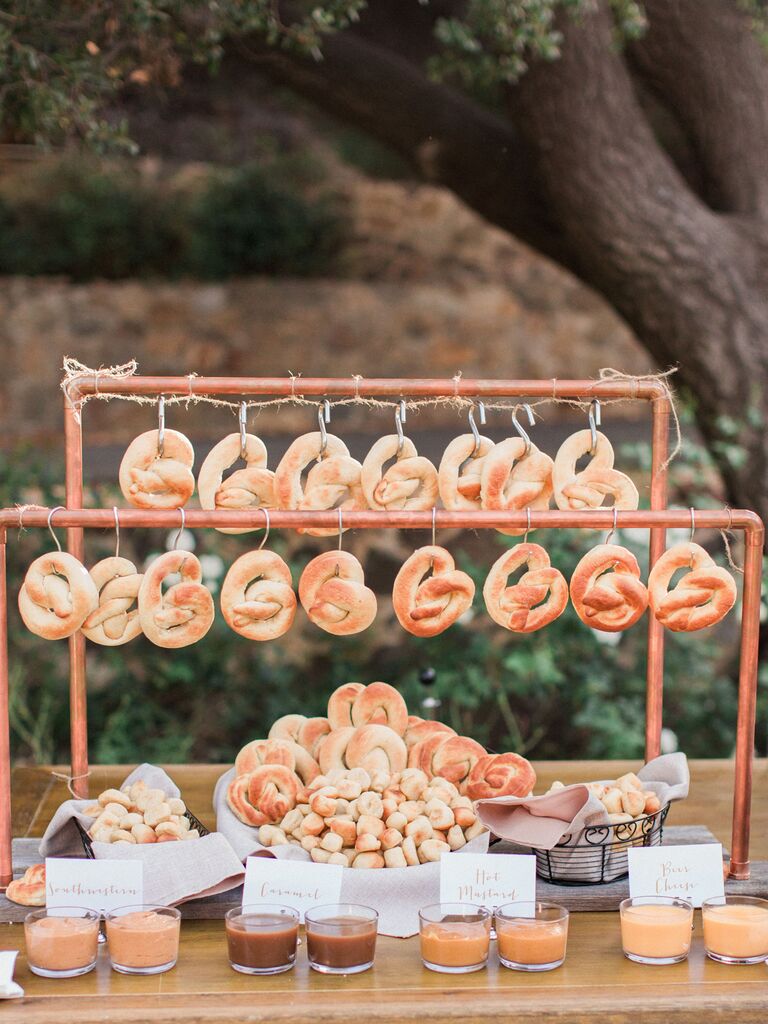 Remix a typical bread bar by offering soft pretzels instead. Spice it up by offering a variety of dipping sauces (such as spicy mustard, cheese sauce and even salted caramel). (Pro tip: We love this idea especially for fall weddings.)
Al Fresco Market Station
Transport your wedding guests to the farmer's market. Fill a table full of fresh produce, warm bread and flowers, of course!
Ceviche Station
Ceviche is a foolproof appetizer because it's so light and fresh. Serve it up in creative containers for an Insta-worthy wedding food station.
Fast Food Station
Looking for a late-night snack? Set up a wedding food bar full of yummy fast food sandwiches and french fries for your guests to enjoy after all that dancing.
Hot Dog Station
If you're hosting a vintage-themed wedding, this is the perfect wedding food station for you. Set up an old-school hot dog cart at your reception.
Cheese Board Station
Who doesn't love a good cheese board? Take it to the next level by creative an entire cheese station for your guests to enjoy throughout the night.
Local Food Station
Pay homage to your wedding destination by setting up an entire wedding food station full of local goodies. Added bonus: It's a creative way to personalize your wedding.
Seafood Station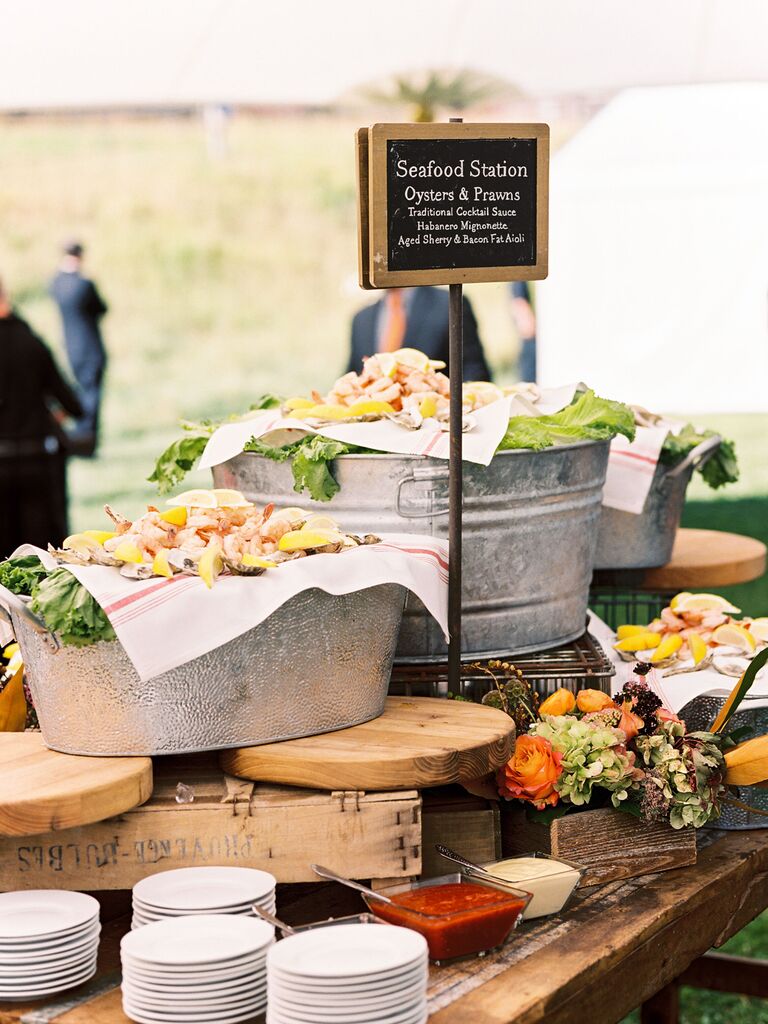 If you're hosting a waterfront wedding, serving seafood at a station is a clever nod to your chosen venue. Plus, it looks amazing on Instagram.
Crostini Station
Elevate a simple bread and cheese station by offering a build-your-own crostini bar. Place veggies and sauces on the side for your guests to enjoy.
Craft Pickle Station
Spice things up with a craft pickle station. You can offer traditional pickles as well as any other vegetables.
Cheese Cake Station
Calling all cheese lovers. This food station will steal the show—and your guests hearts. Plus, it's a great option for couples who don't want to serve a traditional wedding cake.
Seasonal Vegetable Station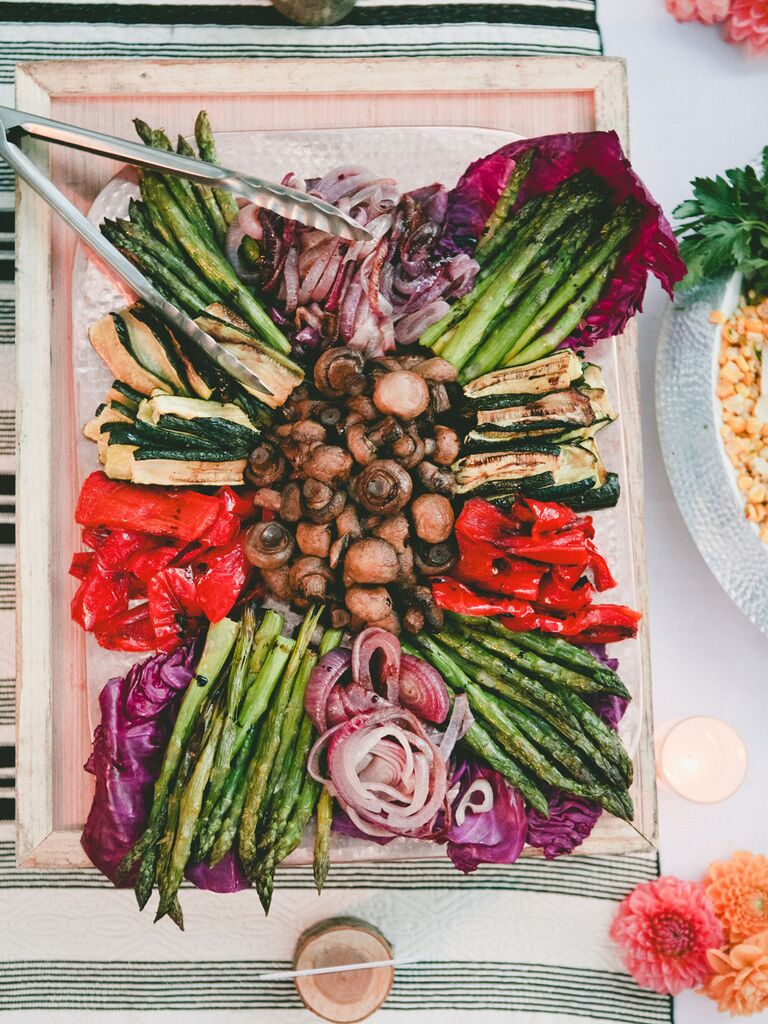 This one is for the veg heads (vegetarians or vegans). Fresh, seasonal veggies are a delicious and refreshing option. Plus, it pairs well with BBQ food.
Bao Bun Station
Looking for creative food bar ideas for your wedding day? Serve your guests warm bao buns.
Pizza Station
Who doesn't love pizza? It's the ultimate comfort food. We love this wedding food station because it's a total crowd pleaser. Everyone will be coming back for seconds.
Breadstick Station
If your go-to date night spot is Olive Garden, this wedding food station is for you. Create an interactive food display filled with breadsticks for your guests to enjoy.
Popcorn Station
Bring out everyone's inner kid with a popcorn bar. It's a warm treat they can snack on throughout the night.
Dessert Station
How sweet it is. A dessert table will keep everyone satisfied. The sky is the limit: offer cupcakes, cake pops or s'mores fix-ins. They can grab a sweet treat whenever they want. Another idea? Create a cool installation, like a donut wall.
Fresh Fruit Station
Whether you're going to a place known for their fresh produce or you're hosting a brunch wedding, a fresh fruit station is the way to go. Plus, it'll look absolutely gorgeous in photos. (Psst: It pairs especially well with waffles.)
Taco Station
Time for a fiesta! Treat your guests to a DIY taco bar for a tasty and delightful meal.