54 Beach Wedding Songs
Having a beach wedding? We've got ideas for your reception music must-play list.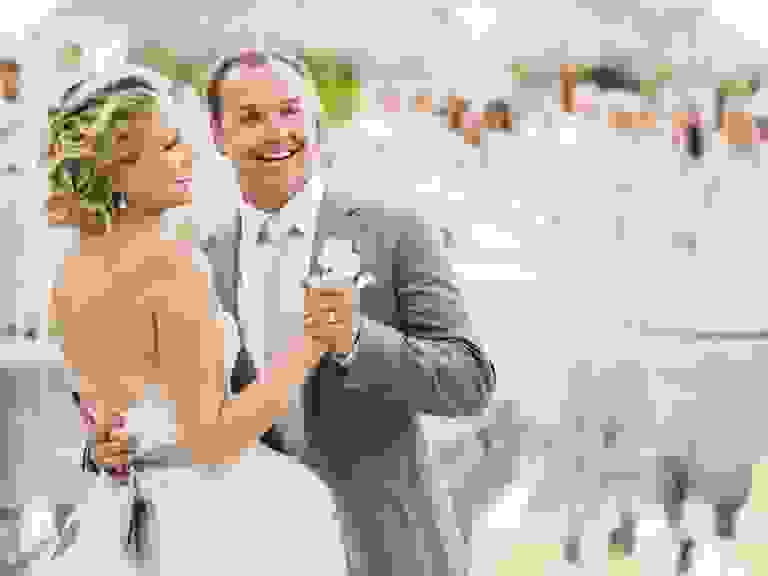 If you're musing over wedding songs for your beach wedding celebration, then you probably already have the Beach Boys, Jan & Dean, and Bob Marley on deck. We've filled in the rest of the blanks below with a list of some catchy beach songs. So mix up a pina colada and sample these sultry, seaside serenades.
Summer Love
1. "Summer Lovin'" (from Grease)
2. "Summertime" (Gershwin/Gershwin)
3. "One Summer Night" (The Danleers)
4. "Moonlight Serenade" (Tony Bennett)
5. "Suddenly Last Summer" (The Motels)
6. "Summer of '69" (Bryan Adams)
7. "Summer Wind" (Frank Sinatra)
8. "Summertime Blues" (Eddie Cochrane)
9. "Summertime, Summertime" (The Jamies)
10. "Summertime" (Janis Joplin)
11. "Theme From A Summer Place" (Percy Faith)
12. "You Took The Words Right Out Of My Mouth (Summer Night)" (Meatloaf)
Seas, Shores & Sailing
13. "Beyond The Sea" (Bobby Darin)
14. "Come Sail Away" (Styx)
15. "Ebb Tide" (Al Hibler)
16. "From The Edge Of The Deep Green Sea" (The Cure)
17. "I Love Beach Music" (The Embers)
18. "In the Navy" (Village People)
19. "Love Is the Seventh Wave" (Sting)
20. "Orinoco Flow (Sail Away)" (Enya)
21. "Private Beach Party" (Gregory Isaacs)
22. "Rock Lobster" (The B-52s)
23. "Rockaway Beach" (The Ramones)
24. "Sailing" (Christopher Cross)
25. "Sea of Love" (The Honeydrippers)
26. "Sittin' on The Dock of the Bay" (Otis Redding)
27. "The Beach" (New Order)
28. "The Ocean" (U2)
29. "The Tide Is High" (Blondie)
30. "Too Many Fish In The Sea" (The Marvelettes)
31. "Under the Boardwalk" (The Drifters)
32. "Under the Sea" (from The Little Mermaid)
33. "Underwater Love" (Faith No More)
34. "Walk on the Ocean" (Toad the Wet Sprocket)
35. "Wipeout" (The Surfaris)
36. "Sea Cruise" (Huey Smith)
37. "Beach Baby" (Regents)
Destination Beach Escape
38. "Caribbean Queen" (Billy Ocean)
49. "Coconut" (Harry Nilsson)
40. "Escape (The Pina Colada Song)" (Rupert Holmes)
41. "La Isla Bonita" (Madonna)
42. "Macarena" (Los Del Rio)
43. "Margaritaville" (Jimmy Buffet)
44. "Tequila" (The Champs)
45. "Vacation" (The Go-Gos)
Sunny Days
46. "California Dreamin'" (The Mamas and the Papas)
47. "Going Back To Cali" (L.L. Cool J)
48. "Heatwave, (Love Is Like A)" (Martha Reeves & The Vandellas)
49. "Hot Fun in the Summertime" (Sly & the Family Stone)
50. "Hot Hot Hot" (Buster Poindexter)
51. "I Can See Clearly Now" (Johnny Nash or Jimmy Cliff)
52. "Miami" (Will Smith)
53. "The Future's So Bright, I Gotta Wear Shades" (Timbuk 3)
54. "Walkin' on Sunshine" (Katrina and the Waves)