Maui Honeymoon: Weather and Travel Guide
by The Knot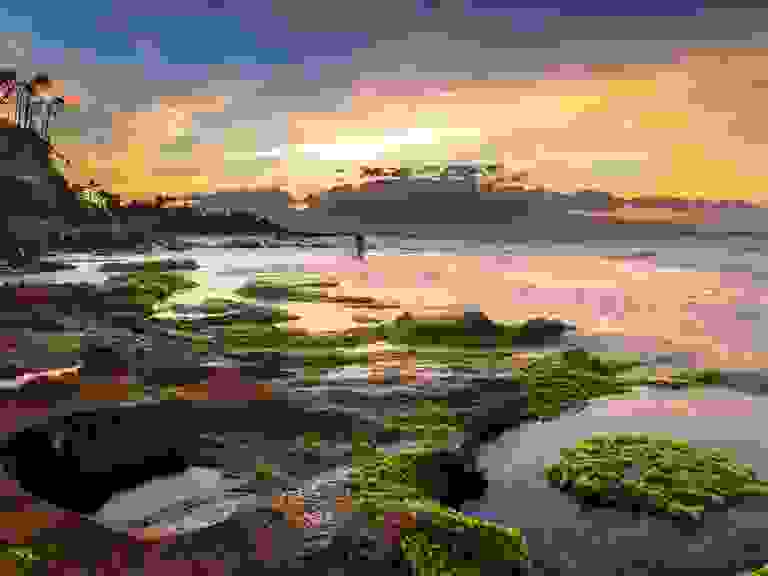 It's obvious why Maui is one of the Magic Isles of Hawaii: Rainbows are regular occurrences and artists swoon over the dreamy vistas. By day, sunny shores, palm-fringed golf courses and the largest dormant volcano in the world -- filled with hiking trails and lush valleys -- battle for your attention. At night, you can try swanky restaurants, watch a luau or simply sit on your starlit lanai and listen to waves break upon the moonlit shore.

Before You Go: Need-to-know info
Language: English, Hawaiian and Pidgin (a Creole language that blends English, Hawaiian, Japanese and Portuguese)
Flight time: 6 hours from LA; 11 hours to Honolulu from New York City, plus a 30-minute flight from Honolulu
Getting around: Car, moped, shuttle (at some hotels) and taxi

When to Go: Maui at its best
Best weather: Mild year-round, though summer temps can reach the low 90s. Southern shores generally receive less rainfall than those in the north.
Best prices: Comparable prices year-round
Festivals: The three-day Celebration of the Arts, featuring Hawaiian music, dance concerts and art workshops, occurs in May; Maui Onion Festival peels out in May; and Maui County Fair happens in September or October. All islands celebrate Lei Day on May 1; Kamehameha (named after a Hawaiian king) Day in June; Obon season (Buddhist temples have festivals featuring Japanese folk dancing) in July and August; and Aloha Festivals (a celebration of Hawaiian culture) in September and October (Maui's is usually the last week in October).

What to Do
Take scenic drives: Hop in the car and have your camera ready for a cruise on the Hana Highway, one of the most enchanting coastal routes in the world. Its 52 miles along the eastward shore is distinguished by 600 curves framed in lush jungle- and waterfall-covered cliffs and ocean drop-offs. Stop at Waianapanapa State Park to stroll a black-sand beach, hike or explore a nearby lava tube. Hana, a quaint and friendly community, gives you a peek at old Hawaii. Continue just outside town to beautiful Hamoa Beach and to the Pools at Ohe'o Gulch, to hike and swim.
Explore volcanoes: Haleakala National Park is the largest dormant volcano in the world, and within it is a huge crater filled with hiking trails and lush valleys. Start at the base and drive from sea level to more than 10,000 feet. On your way up through the clouds, the weather will change and you'll pass many overlook ops, including Kalahaku Overlook, at 9,324 feet, where you can gawk at the five-foot-tall silver sword plant, found only in Hawaii.
Stroll through cute towns: Check out Lahaina, a whaling town and Hawaii's former capital; it's where missionaries wrestled to save the seafaring souls of whalers in the 1800s. Wander the Baldwin Home to see how the locals lived, or lounge under the massive Banyan Tree for shade or sunset mynah bird serenades. At night, enjoy an authentic feast and show at Lahaina Lu'au, or, if it's Friday, stroll the streets for Aloha Friday, when galleries stay open late.