RSVPs: What Does "RSVP" Mean?
by Elizabeth Wieck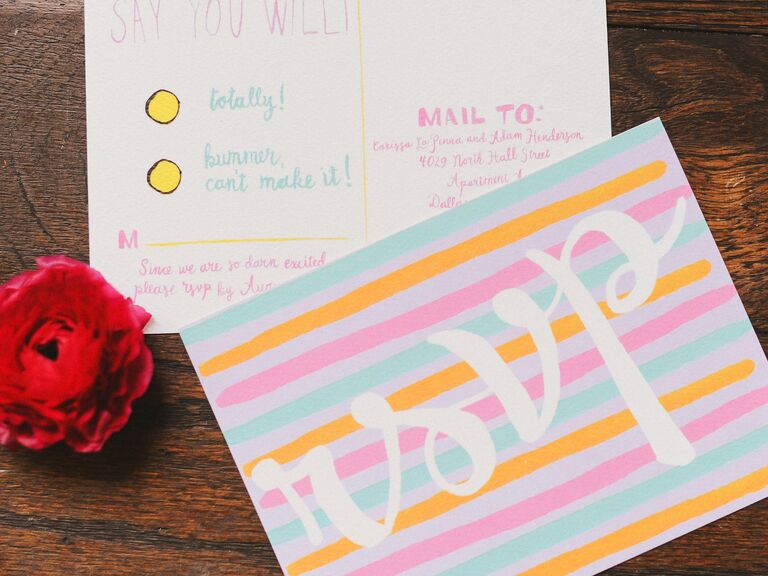 Q:
What does RSVP stand for?
A:
The term RSVP comes from the French phrase, "Respondez, s'il vous plait," which means "Please respond."
A wedding invitation typically includes a response card, where guests can let the couple know if they can attend the event. Often times there is a line to include your name and in some cases, menu choice for the meal being served. The response card comes with a pre-addressed, pre-stamped envelope so it can be sent back to the host of the celebration directly. Most reply cards have a requested return date—typically three weeks before the wedding date to get an accurate head count for furniture rentals and catering.
If no response card is included with a wedding invitation, it is expected that you will pen your own reply on personal stationery (this is usually only the case for very formal or traditional affairs). Opt for a simple ecru note card, and indicate whether you are able to attend. Include the full name of the hosts, who will attend, and a few lines of well-wishes.
Dear Mr. and Mrs. Brown,
Adam and I are looking forward to attending the wedding of Charles and Elizabeth on August 9, 2015. We look forward to sharing in this happy time with you.
Sincerely,
Lauren and Adam Hudson
Less formal wedding events (a bridal shower, a post-wedding brunch) may request a response via the phone or an email. If an invitation says "Regrets only" instead of RSVP, it simply means guests should only let the host if they cannot attend.