The Best Wedding Website Builders of 2022
We did the work for you and tried out the best wedding websites—even paid ones. Here's what we think.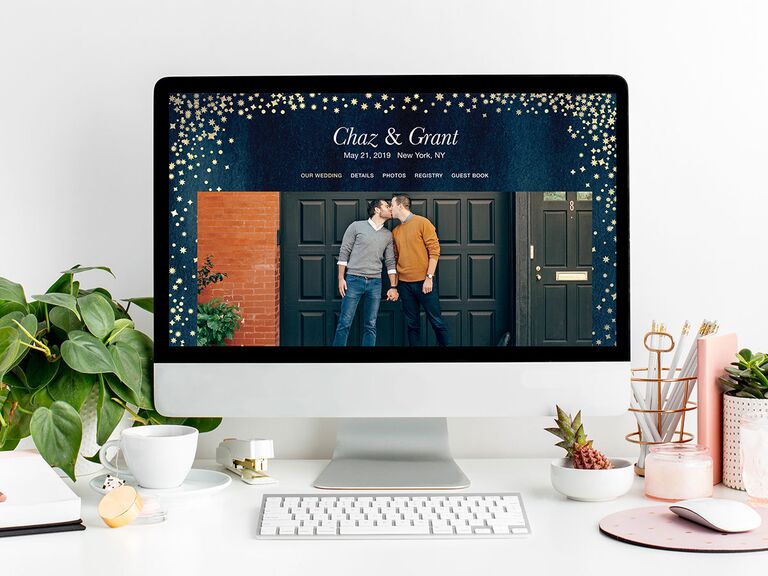 We have included third party products to help you navigate and enjoy life's biggest moments. Purchases made through links on this page may earn us a commission.
Consult any wedding planning checklist and you'll see that creating a wedding website is one of the first planning tasks you should tackle after getting engaged. A personalized wedding website is the best place to share your engagement story, as well as important information like day-of logistics, your registry, lodging and travel accommodations. Plus, you can even add fun details like wedding party bios or engagement photos. Since it's the main source of information for your wedding, guests will be looking for your wedding website as soon as you announce your nuptials. Of course, with so many programs out there, it can be overwhelming to decide which company offers the best wedding website. Not to worry: We've done the heavy lifting for you by rounding up the best wedding website builders of 2022, along with their prices and pros and cons. Check out our list of the best wedding websites below to find the option that's most suitable for your needs.
1. The Knot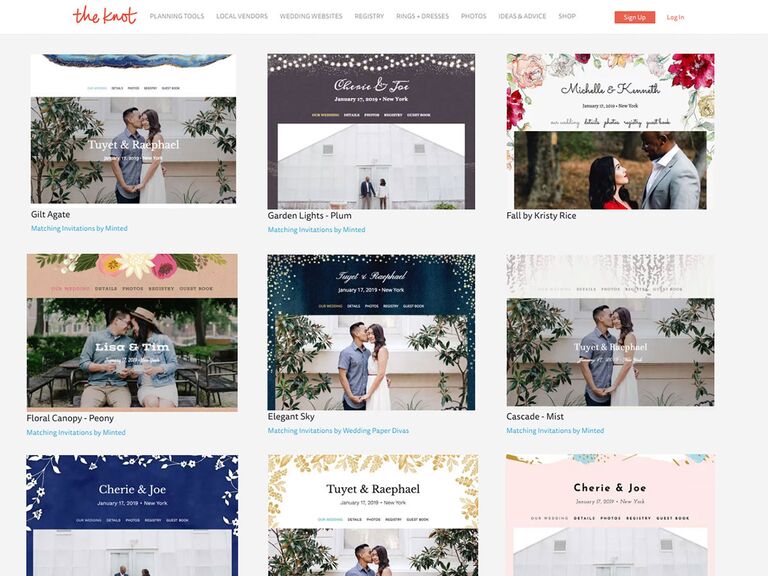 Designed for: Anyone! It's true—we may be a little partial to our own wedding website service, but with good reason: It's totally free and easy to use, integrated with The Knot App and planning tools, and has beautiful designs for every style, making it the best wedding website builder.
Price: Free, but you can also purchase a custom domain for $20.
Pros:
The Knot has a vast selection of free, professionally designed templates complete with modern layouts and full-width imagery. You can also match your invitations and paper goods to your website design for a seamless look.
It's super easy to set up—within minutes, you can have yours up and running on your phone browser, computer or with our easy-to-use All-In-One Wedding Planning app.
Cash and experience gifts, as well as retail products, all live on The Knot Registry, which will automatically sync to your website. Your registry page will show all of your gifts to guests at once so they don't have to visit separate sites—they can buy directly from The Knot Registry Store.
Since The Knot has every tool and product that you'd ever need to help you plan your wedding, it's easy to have everything under one roof since our wedding websites are integrated into our tools. Plus, we're always working on making improvements and adding new designs.
You can even manage and track RSVPs using the app (it's number one in the app store!) and get RSVP push notifications for easy updates.
Guests can ask questions through their RSVP response on our online form.
Using your website dashboard, you can find hotels that offer discounted room blocks near your venue.
You have the unique option to let guests see who else is attending your wedding.
A messaging hub on your site allows you to communicate with guests via email or SMS texts.
You can set custom privacy controls, including a password and hiding from search engines
More perks include personalized URLs, sharing features to easily distribute your wedding website and the ability to make your site feel like you. Add a photo timeline, GIFs, Q&A's and livestream information to customize your site.
Cons:
If you want to do some major editing on your website, you'll have to put down the app and work on a computer to fully add custom pages or personalize your colors and fonts.
So, what's the verdict?
Not to toot our own horn, but we're the most trusted wedding brand out there. As such, we have the best wedding website tool. If you want a wedding website that's free, easy to set up and provides a large selection of designer themes and planning features, The Knot is for you.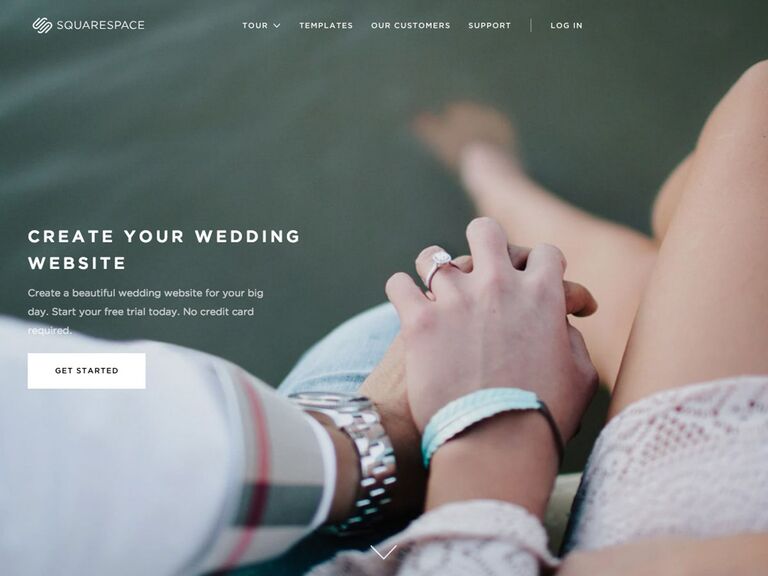 Designed for: The couple that cares about design and tech and wants more customization ability. This is the closest thing to coding the site yourself.
Price: $12 a month for 12 months, or $16 month-to-month. All annual plans receive a free custom domain for one year. Additional domains range from $20-$70.
Pros:
It's the most professional-looking site you're going to get without hiring a designer.
You can customize pretty much every single element and add a password.
You can view updates as you make them (instead of having to preview your site separately), which makes customizing super intuitive.
Cons:
You can only use the free version for two weeks until you're forced to upgrade and pay. You'll only receive a custom domain if you sign up for an annual account.
It can be challenging to add your registry to your site. If you're registered at multiple retailers, you have to manually upload every image, logo and link yourself.
You're paying for features you don't necessarily need for a wedding website, like a blog and an e-commerce feature.
If you keep your site for more than a few months, the cost adds up.
There's no easy way to share with your guests.
So, what's the verdict?
Given that it doesn't have as many wedding-related tools as other sites, Squarespace could be a little too expensive for couples looking to save.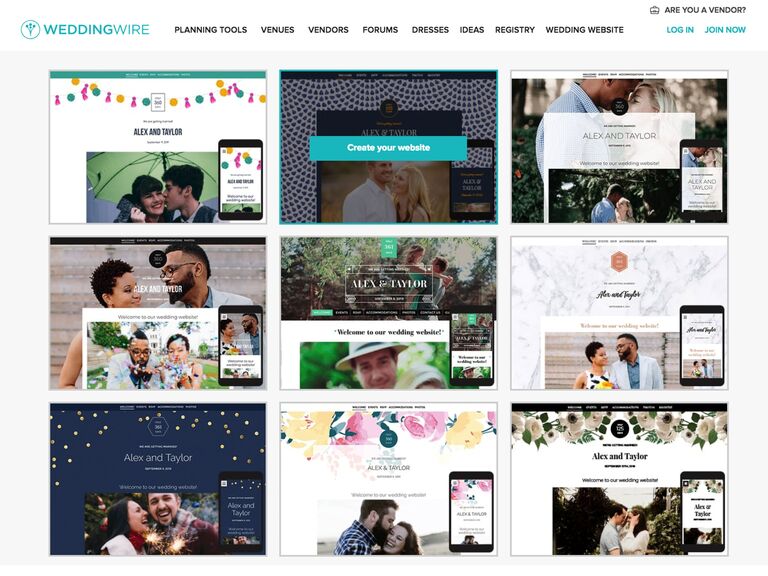 Designed for: Couples who want a free wedding website that comes with other planning tools.
Price: Free, or you can purchase a custom domain for $24 for one year or $35 for two years.
Pros:
They offer a custom background photo template.
You can easily customize the colors and fonts on your site.
It automatically integrates with other digital planning tools.
WeddingWire offers easy hotel integration that recommends nearby hotels for guests that you can display on your site and lets you book room blocks.
A new feature allows you to add a countdown to your wedding date.
Add-ons like surveys, quizzes and a contact form help guests engage with your site and communicate with you directly.
You can hide pages on the site, password protect it, or hide it from search engines.
You'll be able to create and edit your wedding site on a computer or on the WeddingWire app.
Cons:
Some of the templates are a little cookie-cutter and plain.
There are no matching invitation options.
If you want a custom domain, you'll have to pay for it.
So, what's the verdict?
It's a no-frills option that offers the essentials.
Designed for: The couple that wants a customizable site that they don't have to build from scratch.
Price: Free, or $14 a month for the combo plan, which includes a custom domain.
Pros:
The photo uploader is very easy to use.
A click-and-drag editor allows you to update in real time.
The layouts are modern, minimalist and chic.
You get a free custom domain when you upgrade to a paid plan.
Your site is hidden until you publish it, and a password protects specific pages or your whole site.
Cons:
If you opt for the free version, it has an intrusive "Wix" banner at the top of the website.
Looking for wedding-specific features like a guest list tool or an RSVP form for guests? You won't find any of that here.
There's no registry integration, so links and images will have to be manually uploaded (and it doesn't display gifts).
So, what's the verdict?
The templates are fun and modern, and you can easily customize them with a click-and-drag editor. But if you don't want a big ad at the top of your site, you're going to have to pay extra. Plus, it'll be harder to easily help guests RSVP or shop your registry through your site.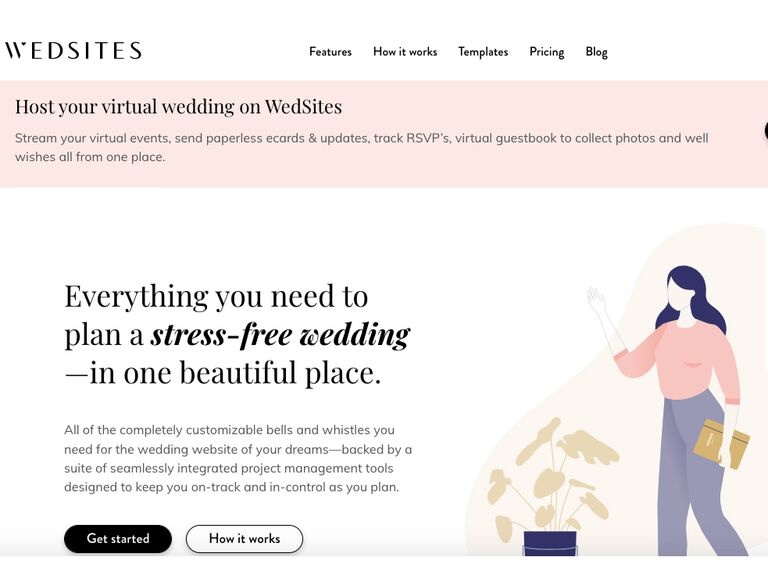 Designed for: The couple who wants an intuitive wedding website platform that will streamline planning.
Price: Free, or you can purchase the Standard Plan for $99 or the Pro Plan for $199.
Pros:
The tools are designed for collaboration, meaning you and your S.O. can work on your building your wedding website together.

The platform has inclusive language and gender-neutral terminology, something not all the best wedding websites offer.

Even the free template includes building blocks specifically designed for weddings, like wedding party bios, a countdown, live streams, and more.
Cons:
The best intuitive planning features (like invitation tracking, guest communication tools and multilingual layouts) translate into higher prices.

It can take some time and effort to set up and truly customize to your needs.
So, what's the verdict?
It's good for a couple who wants to invest in a program that'll aid with certain planning tasks.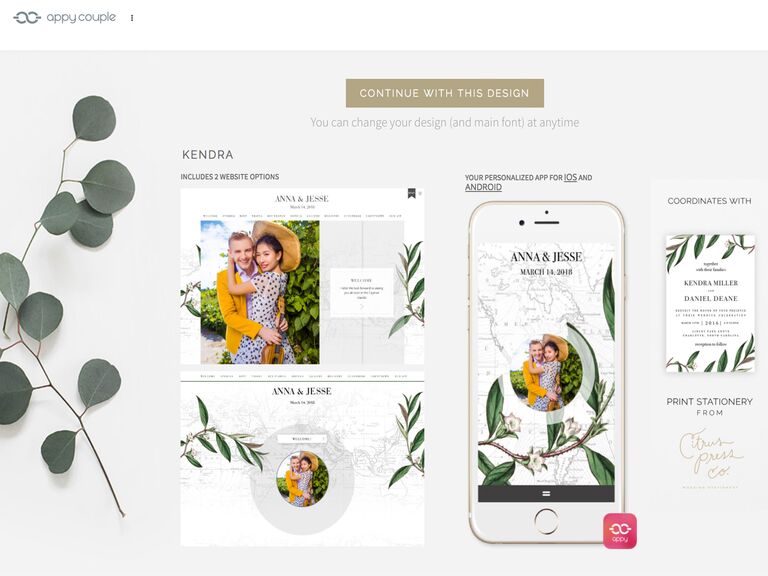 Designed for: The couple who wants a wedding app.
Price: $49 for the "boutique" option, or $149 for the "luxury" option.
Pros:
The designs are modern and classy.
The features are extensive and interactive.
You'll have the option of RSVP alerts and guest messaging.
You can send digital save-the-dates that coordinate with your theme.
You'll have the option to invite certain guests to specific prewedding events.
Cons:
For its features to be fully functional, your guests have to download the app as well.
If you want a custom ".com" domain for your website, you'll have to pay an additional fee starting at $20.
It's pricey, and doesn't offer many other benefits or features that other sites don't.
So, what's the verdict?
It's great if you want to do most of your guest communication digitally, and don't mind asking them to download the app for you.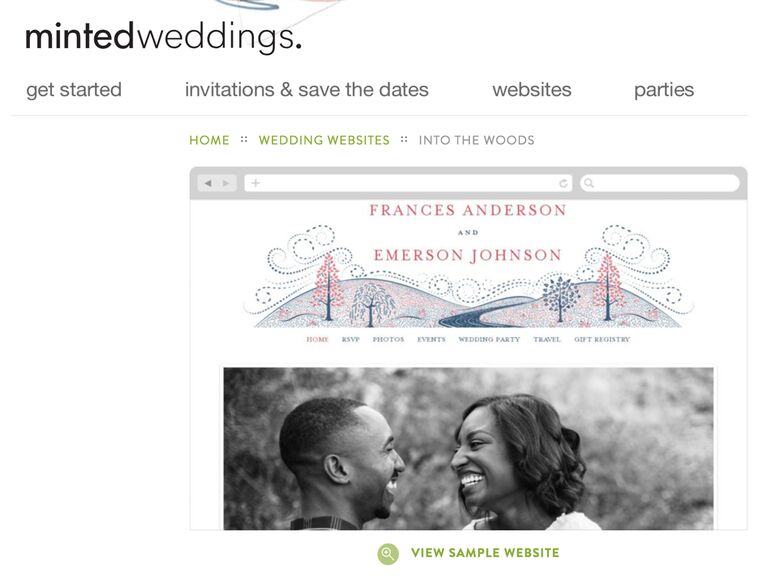 Designed for: The couple who's stylish, quality-conscious and cares about coordinating their wedding website design with their stationery.
Price: You can get it for free with limited features, or upgrade to premium for a one-time fee of $15. After one year, custom URLs can be renewed for a fee.
Pros:
The designs are super unique, curated from a community of independent designers.
It's easy to use, with a clear and quick start guide.
You can "shop your website style" to find invites and decor that match.
Cons:
Most of the key features are only available with premium (like privacy settings, photo galleries, password protection and custom photos).
You'll need to manually link your registry, and gifts don't show.
It's not very customizable, so you have to like what the designer has created.
So, what's the verdict?
It's great for a couple looking for something with a unique feel, and who cares that their website matches their invites and decor. But if you want practical features like being able to RSVP, a photo album and privacy controls, it's not your best option.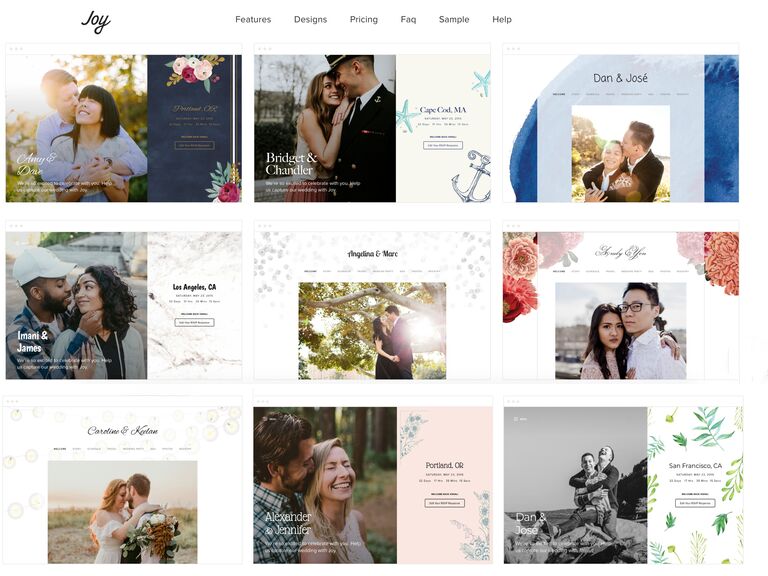 Designed for: Couples who want to try something new and value having a personal wedding website app for guests.
Price: Free.
Pros:
You can send a broadcast announcements to guests.
You can have a "moments" timeline where guests can upload photos and comments. (You can even stream this at your wedding for a real-time slideshow.)
You can send digital save-the-dates, invitations and RSVP reminders to your guests.
Cons:
There's a lack of template variety—the designs are primarily rustic and floral-themed.
If you do want to change some of the formatting, you'll have to update the HTML code yourself (which can be confusing if you aren't familiar with this process).
You can't access all features on the mobile web and app (like RSVP tracking)—so even though there's a reminder and messaging tool, you need to be on a computer to use it.
There's no wedding planning ecosystem if you want all your planning tools in one place (including vendor lists).
Your guests will need an event code to join the app.
You'll have to manually add registry links, and individual gifts don't show on the site.
So, what's the verdict?
If you want a free version with a lot of extra features (like the photo-streaming timeline and guest messaging), then it's a good choice. But your layout options are extremely limited, and guests will need to download the app for the full experience.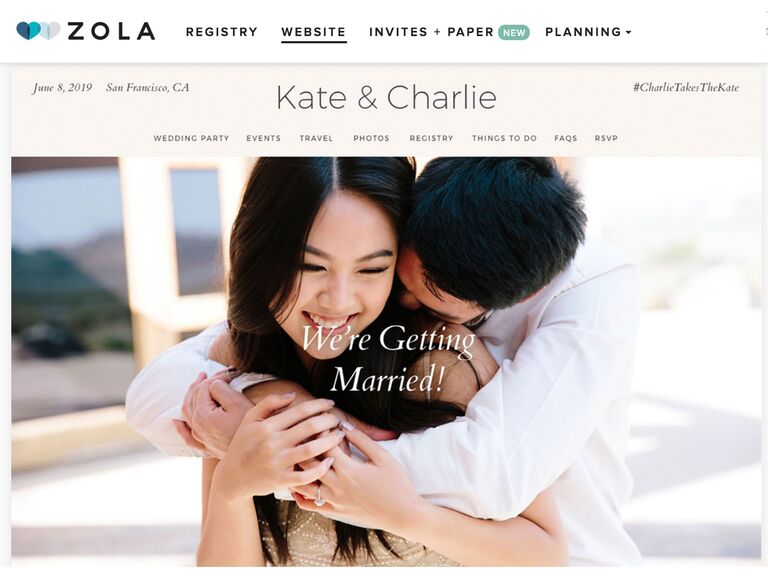 Designed for: Couples looking for a straightforward, no-frills product that's easy to set up.
Price: Free, or you can purchase a custom domain for $14.95.
Pros:
There's a robust guest list feature.
It's easy to set up, with tips and guidance along the way.
You have the capability to make certain events private and only visible to guests who are invited (AKA, only certain guests will be able to RSVP to things like the rehearsal dinner).
Cons:
The templates aren't easily customizable, and you can't change the pre-selected fonts or color schemes.
It's limiting if you don't want the Zola registry (which tends to be higher end, and not right for every couple). Otherwise, you have to manually add external gifts.
It lacks integrations to let you add accomodation details to your site, like finding hotel room blocks or nearby hotels.
So, what's the verdict?
If you want a registry curated by Zola, then go for it. Otherwise, the templates and tools are pretty limiting.