How to Remind Guests to RSVP for Your Wedding
Mark this off your wedding checklist.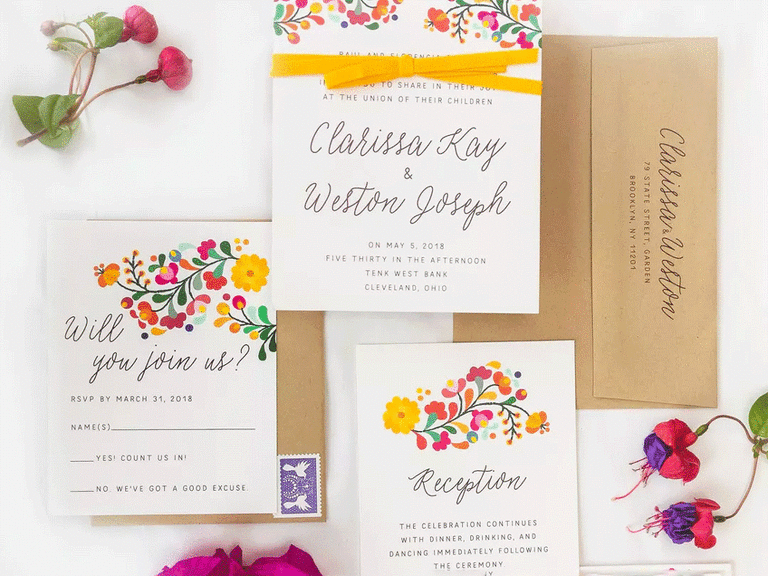 So, you've set an RSVP deadline, included it on your wedding invitations and your wedding website but still haven't received all the RSVPs you were hoping for. Luckily, we know how to remind guests to RSVP, whether it's before or after your requested date. You may have sent a traditional wedding invitation suite or are gradually receiving RSVPs through your wedding website, but no matter the situation, RSVPs are extremely useful. They let you know which guests will be attending the wedding, give you an accurate guest count for your wedding vendors and help you start the table assignment process.
Contacting your guests to confirm their attendance doesn't have to be a huge inconvenience. Read our tips and tricks for how to politely remind someone to RSVP, plus our RSVP reminder examples.
How to Keep Track of Wedding RSVPs
If you're collecting online RSVPs:
Before you can send a reminder to RSVP, you'll have to find out which guests have already submitted their RSVP. Since you've decided to collect your RSVPs online through a wedding website, you can expect to receive guest responses quicker than through the mail. Some wedding websites (including The Knot's online RSVP tool) will even send you an inbox notification when a guest submits their response. Overall, this is the easiest way to keep track of your wedding RSVPs since your wedding website does the hard work for you.
If you're collecting paper RSVPs:
Make a spreadsheet to keep track of your wedding RSVPs. Write down your guests' contact information (name, address and phone number), response (yes or no), meal preference and possible plus-one on the spreadsheet. A spreadsheet keeps you organized so you can account for all your guests and helps you know which guests to contact once your RSVP deadline passes.
Sometimes guests return their RSVP cards without writing their name (yes, it happens more often than you think) or you may not be able to understand their handwriting. Our tip: To bypass this inconvenience, discreetly write an assigned number to each guest on the back of their response card before mailing your invitations. To be even more discreet, write the assigned number in invisible ink, which you can later reveal by holding a UV light up to it.
How to Remind Guests to RSVP
Talk to them in person.
If the close family members and friends you regularly see haven't responded yet, consider reminding them to RSVP in person. If you're collecting online RSVPs, your loved ones can simply go on their phones and submit their response in seconds. If you're doing paper RSVPs, bring an extra response card with you the next time you see them and write down your loved one's response so you can add it to your spreadsheet later.
Call them.
If you're wondering how to politely remind someone to RSVP, a phone call is the best form of communication that stays in line with wedding invitation etiquette. A phone call is more personal, since the guest can hear the (friendly) tone of your voice. Even though texting is easier than talking over the phone, your request won't run the risk of seeming as aggressive or insincere to your guests as it can over text.
You and your partner should tackle the phones together—you call your friends and family while your partner calls theirs. Don't go straight into asking them to RSVP when you call. Ask them how they're doing first, then lead into your request. Most likely, your guests didn't realize they missed the deadline, so a gentle but direct reminder will help things get back on track.
Send them a personal message.
Want to avoid the possibility of awkward phone conversations? Then emailing a reminder to RSVP to your guests is the best option for you. Don't send a mass email to the guests that missed the RSVP deadline, since this can cause some embarrassment among guests. Instead, send a cheerful personal message to each guest letting them know that the deadline has passed, but that you would love to have them at your wedding, so their prompt response is needed for you to get a proper headcount.
If you want to use social media to reach out to guests, don't send group messages or make a post tagging guests that haven't responded. A more appropriate alternative is making a post or story with a subtle mention of the deadline if you've been transparent about your wedding planning process online. This way, you target your social media-savvy loved ones without making them feel publicly singled out. (This is the perfect time to announce your wedding hashtag too.)
Add it front and center on your wedding website.
The most direct way to remind guests to RSVP for the wedding is by putting the RSVP date on the front page of your wedding website. This is one of the few details that you can put on your wedding website and invitations. Simply write, "We can't wait for you to celebrate with us. RSVP so we can get the party started!" To ensure that there are no hiccups, add online RSVP instructions next to the reminder too.
RSVP Reminder Wording
Using proper RSVP wording is essential for your response cards and when reminding guests to RSVP as needed. Here are a few examples you can use (no matter what form of communication you choose) as inspiration to create your own RSVP reminders:
How to ask for RSVP confirmation before RSVPs are due:
If you want to get ahead, send your guests an RSVP reminder about one week before your RSVP deadline.
We hope you are doing well. We are beyond excited about our upcoming wedding and can't wait to celebrate with you! We want to kindly remind you that your RSVP is due [insert date]. You can RSVP on our wedding website [link to the site here], send your response through the mail or reply to this email. We hope to hear from you soon!
Love,
[You and your partner's names]
Hi [guest's name]! We recently met with our caterer and are excited about finalizing our delicious menu. We're only [insert number] weeks away from the big day (can you believe it?!), so don't forget to pick out your meal choice when you RSVP. If you have any questions, please don't hesitate to contact us or check out our wedding website. Thank you!
How to ask for RSVP confirmation after RSVPs are due:
If more than one week has passed since your RSVP deadline, we recommend you follow up with the guests who haven't responded yet.
Our wedding is just around the corner on[insert wedding date], and we're overjoyed that we will get to celebrate with you soon! This is a friendly reminder that our RSVP deadline was on [insert date]. If you can let us know as soon as possible if you will be in attendance so we can get a final headcount, we would greatly appreciate it! Submit your RSVP on our wedding website [link to the site here] or reach out to us by email or phone [insert phone number].
Thank you and we hope to speak to you soon,
[You and your partner's names]
Hello there! There are only a few weeks to go before our special day and we're thrilled to be putting the finishing touches on our wedding. But before we can fully celebrate, our wedding planner needs to know which guests can or cannot make it. The RSVP deadline for mailing your response has passed, but you can always reply to this message or complete the form on our wedding website [link to the site here]. Thank you and we hope we get to see you soon!