18 Wedding RSVP Wording Ideas
Get ideas and etiquette tips on wedding RSVP wording and learn how to address wedding RSVP envelopes.
Your wedding day can be as traditional or as offbeat as you want, but when it comes to your invitations and RSVP cards, you do need to follow a few rules. Not only do your guests need to know important information about your wedding, you need to get an accurate guest count to proceed with the menu, seating chart, place cards and other planning details too.
Invitations should be sent out to six to eight weeks before your wedding. This should be enough time for your guests to clear their calendars and make necessary travel arrangements. If you're having a destination wedding, send your invitations out three months before the event to give your guests extra time to plan.
You'll need to include an RSVP card with your invitations. Make the RSVP deadline two to four weeks before the wedding date. This should give you plenty of time to contact anyone who hasn't RSVP'd, give your caterers the final head count, finalize the seating chart and put together the finishing touches on centerpieces and other décor.
To avoid any last-minute surprises, ask your caterers when they need the final head count and factor that into your timeline.
In This Article:
Wedding RSVP Wording
Your wedding RSVP card wording can be straight-laced and formal or creative and funny. No matter what theme you choose, there are a few pieces of information you must include.
1. RSVP date
There are a few ways you can request the RSVP, such as:
RSVP by the Twentieth of June
The favor of a reply is requested by June 20th
Please respond by June 20th
Kindly reply by June 20th
Your reply is requested by June 20th
2.  A space for your guests to write in their names
Traditionally, this is done by writing "M." Alternatively, you can write "Name" or "Name(s)" followed by a line.
3. A checkbox for "Accept" or "Decline." The "accept" and "decline" wording is one spot on the RSVP card where you can have fun and get creative. Read on for examples to fit any theme.
4. Entrée preference. 
If you're serving a buffet, you can skip this section altogether. If you're serving a plated meal with more than one entrée option, you'll need a space for your guests to indicate which meal they would like.
Example 1: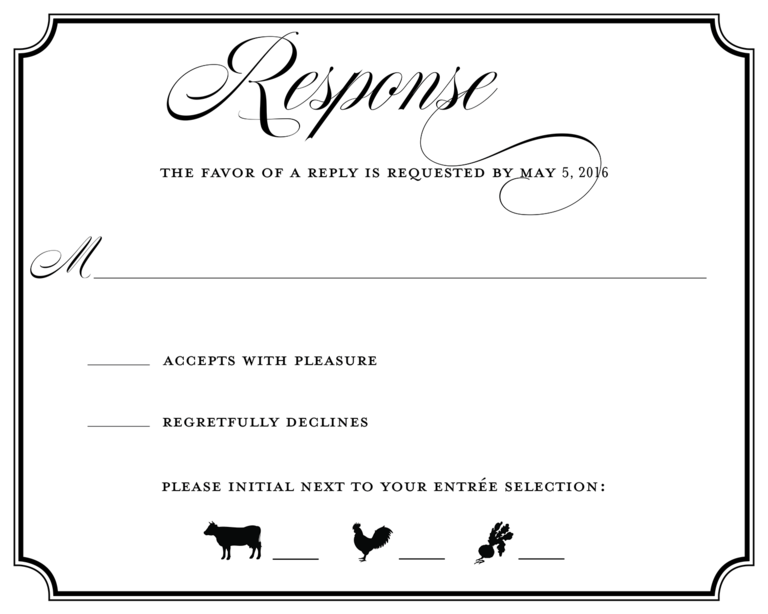 Example 2: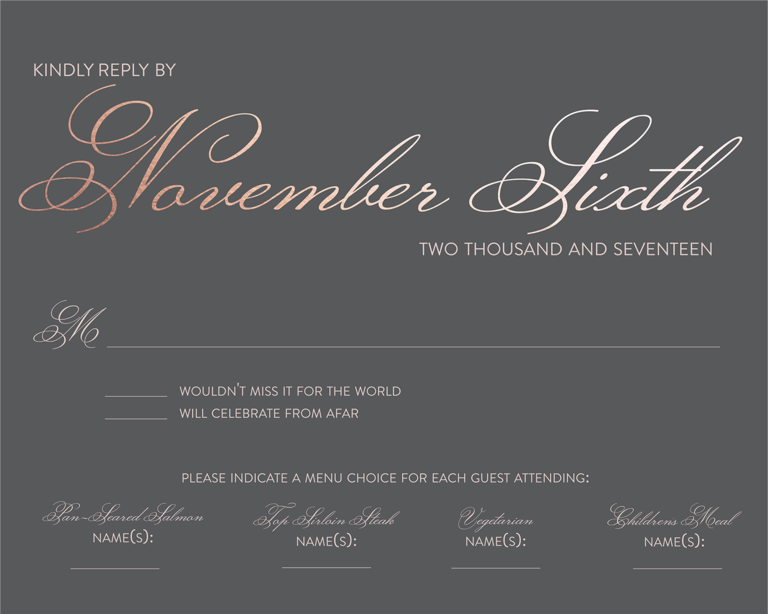 Formal Wedding RSVP Wording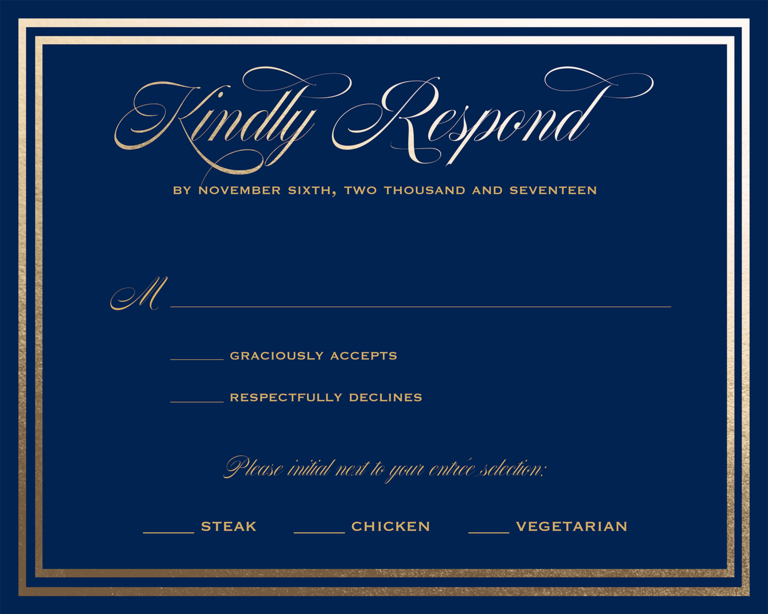 1. Graciously accepts
     Respectfully declines
2. Accepts With Pleasure

     Declines With Regret
3. Will Attend
     Unable to Attend
Funny Wedding RSVP Wording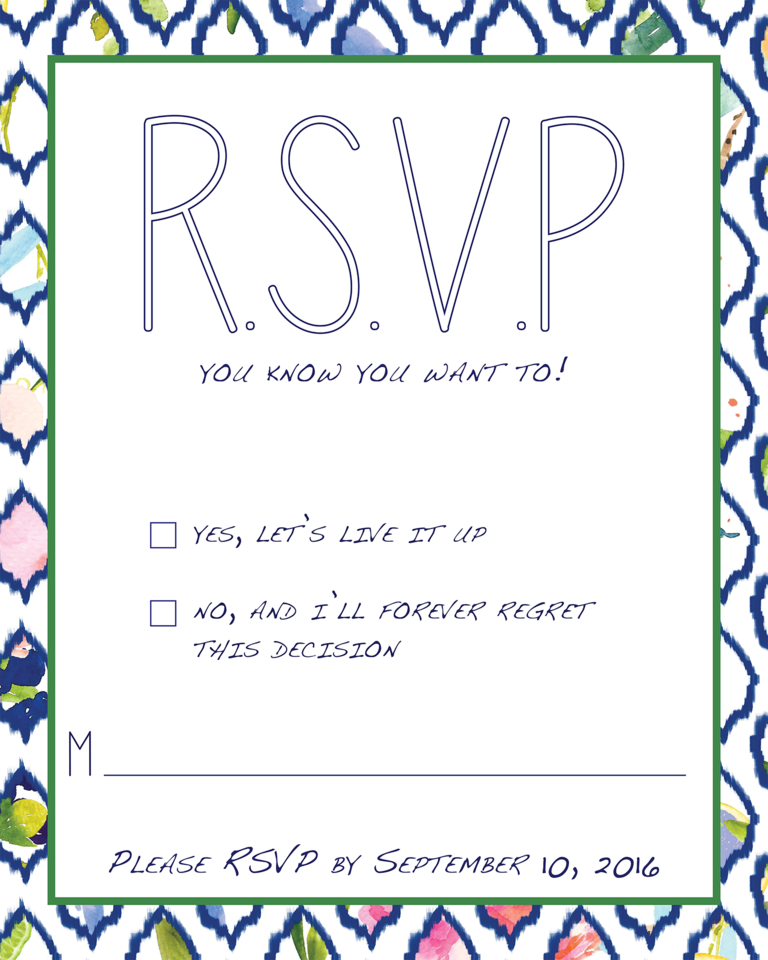 1. Yes, let's live it up

     No, and I'll forever regret this decision
2. Will be there, and will not be square
     Will not be there, and therefore am square
3. Hell yes!
     Damn, can't make it
Unique Wedding RSVP Wording
1. Ready to eat, drink, and see you get married!
    Will toast to you from afar
2. Deal me in
     Sitting out
3. Yes, the party don't start 'til I walk in!
     No, party on without me
Destination Wedding RSVP Wording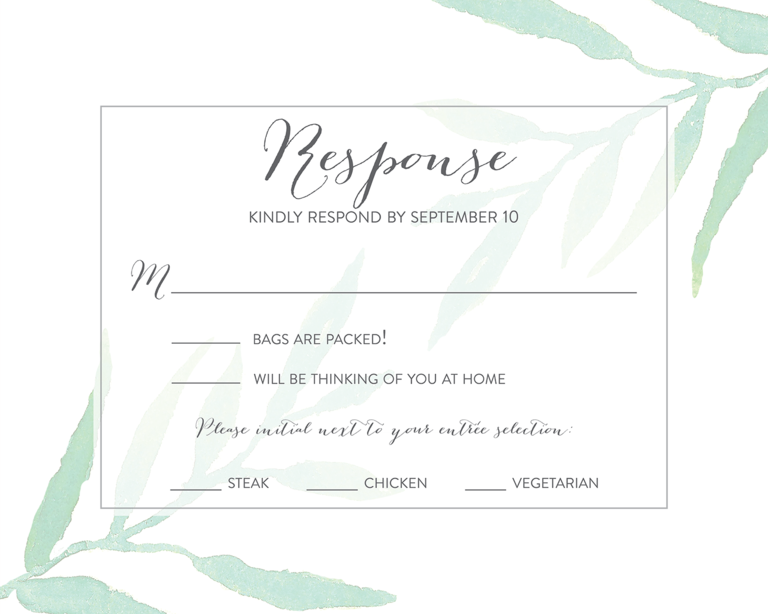 1. Bags are packed!

    Will be thinking of you at home
2. Away we go!
     Sorry, I'll have to say no
3. Ready for take-off!
     Sending best wishes
Online Wedding RSVP Wording
If you're asking your guests to RSVP online, you don't need to include an RSVP card, but a website may look out of place at the bottom of your formal wedding invites. Include a small card with the RSVP information on it instead.
Examples: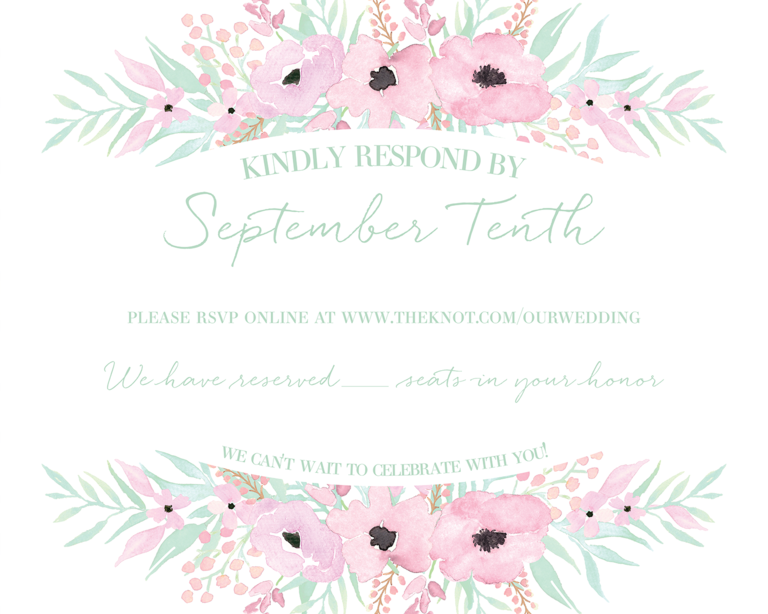 1. Kindly respond by September 10th
    Using the following website:
RSVP Online to Our Wedding Here
2. RSVP online by September 10th
RSVP Online to Our Wedding Here

3. Please visit our website to respond by September 10th
RSVP Online to Our Wedding Here

Wedding RSVP Envelope Wording
The envelopes for your RSVP cards should include your name and address on the front (or the name and address of your parents, if they'll be handling the RSVPs). It's also customary to include a stamp on the envelope.
If you're handling the RSVPs, you may address the cards as follows:
You may also choose to list your full names, or just your name, if you live separately. A cute alternative is "The future Mr. and Mrs. Powers." 
If someone else is receiving the cards, you may address them as:
Mr. and Mrs. Smith
Mr. and Mrs. Scott Smith
Scott and Sylvia Smith
The Smiths
Read more about sending your wedding invitations here.
Not sure where to begin with your wedding planning? Take our Style Quiz and we'll pull together a custom wedding vision and vendors to match, just for you. After that, create a free, personalized wedding website to keep your guests informed (and excited!) about your plans, and a time-saving Guest List Manager to organize your attendees. Even better? You can sync your Guest List Manager and wedding website to update everything at once.