What Does the "M" Mean on Wedding RSVPs?
It's more straightforward than you think.
With so many important to-dos to complete before the wedding day, it can be easy for some couples to forget a wedding detail or two. But ordering RSVP cards isn't one of those things. According to The Knot 2021 Real Weddings Study, 46% of couples purchased RSVP cards. These cards are tiny but crucial, since they help finalize a couple's wedding budget by accounting for which guests are attending and their corresponding meal selections. But what does the "M" mean on RSVP cards? No matter if you were recently invited to a wedding or you're purchasing stationery for your own special day, you've most likely asked yourself this question. (And no, the answer isn't "maybe.") We'll share the simple explanation, plus a couple of response card tips for couples and guests, below.
What Does the "M" Stand for on RSVPs?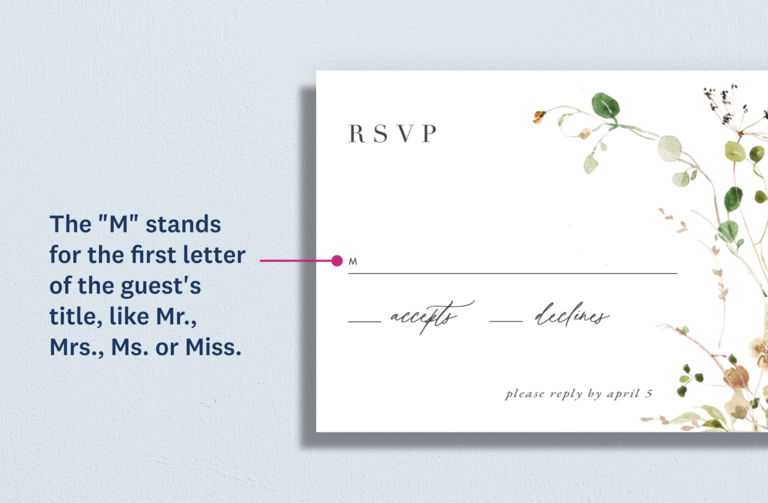 While you're figuring out your RSVP details, like how to word them, who to send them to, where to buy them and so much more, you may notice that many formal response cards have an "M" followed by a line. That "M" stands for the first letter of the guest's title, like Mr., Mrs., Ms. or Miss. The guest writes their full name, along with the names of anyone else who has been invited, on the line. For example, "Ms. Jane Smith" is the correct response if someone is attending the wedding alone. (Grammar fact: Ms. is a neutral way for women to identify themselves without calling attention to their marital status.) You'll have guests with different titles, like Dr. or even Lord, but those guests have to address their name like everyone else when writing out their response cards. But remember: When mailing the invitations, you'll have to make sure those special titles are written on the outer envelope of the invitation suite.
Do I Have to Keep the "M" on My RSVPs?
This is one of many burning questions that couples have about RSVP cards. Simply put, no, you don't have to include the "M" on your response cards. Instead, you can put "Name:" with a line following it on the response card so guests can write down their first and last names. Guests can still include their titles, but it wouldn't be necessary. By excluding the "M," you'll be able to avoid any confusion and be more inclusive to all your guests, which can be especially important for anyone who doesn't identify with a specific title.
How to Fill Out the "M" Line as a Guest
Now that you know what the "M" means on RSVP cards, we'll show you different ways to fill out the "M" line depending on your relationship status. This line should be filled out regardless of if you're accepting or respectfully declining the wedding invite.
For single guests:
Write "Miss Sarah William" or "Mr. Adam Smith." Use Ms. as a neutral alternative to Miss.
For married couples:
Who are of the opposite sex and share a last name: Write "Mr. and Mrs. Adam Smith" or "Mr. Adam and Sarah Smith."

Who are of the opposite sex and don't share a last name: Write "Mr. Adam Smith and Mrs. Sarah William."

Who are of the same sex and share a last name: Write "Mr. and Mr. Johnson" or "Mrs. and Mrs. Brown."

Who are of the same sex and don't share a last name: Write "Mr. Joe Johnson and Mr. Tom Jackson" or "Mrs. Pam Brown and Mrs. Mary Miller."
For unmarried couples:
Who are of the opposite sex: Write "Miss Sarah William and Mr. Adam Smith."

Who are of the same sex: Write "Mr. Joe Johnson and Mr. Tom Jackson" or "Miss Pam Brown and Miss Mary Miller."
For guests bringing a plus-one:
Traditionally, couples send one invitation to guests with plus-ones who are dating or invited together. (A couple would send two separate invitations if they know both guests very well and the guests live at different addresses.) When it's a single invitation, the plus-one will be addressed by their full name on the envelope if the couple knows who the guest is bringing as their date (i.e. a long-term partner). If the to-be-weds don't know who your plus-one is going to be, they'll send you a wedding invitation addressed "[Your Name] and Guest." Either way, the unmarried couple examples above work for you and your plus-one.