What to Include in a Wedding Program to Outline the Day for Guests
Think of it like your very own playbill.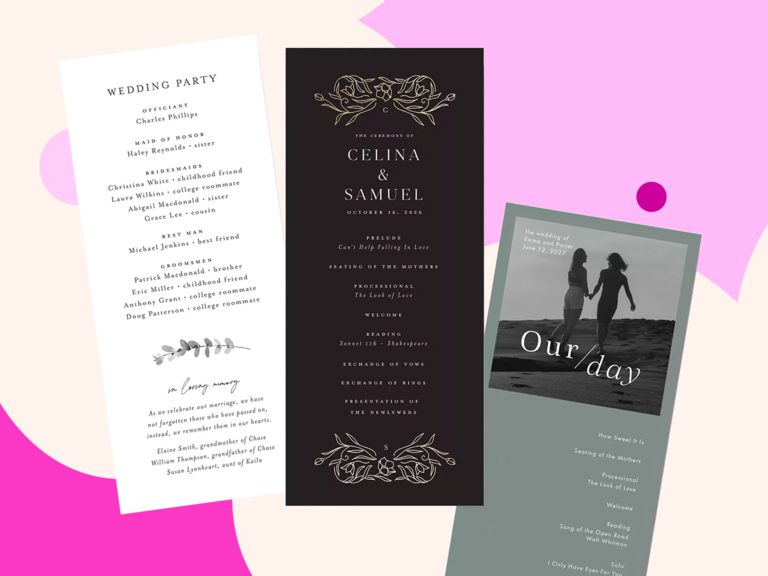 The Knot Invitations | Design by Tiana Crispino
As the big day approaches, it's time to think about the smaller details of your wedding, like your programs. Seriously, what do you write in those? Here's a little comparison to help you decide what to include in a wedding program to make it unique to you. Think of your wedding programs as playbills for a Broadway show. Not only are they fun keepsakes from the event, but they also give the audience (your guests) helpful insight into the performance (your ceremony). Read all about the essential details you should incorporate into a wedding program as well as some fun additions to entertain your guests. And then check out some wedding program examples to inspire your selection. (Psst, they don't have to be on paper pamphlets.) Once you have a style in mind, shop The Knot Invitations for chic wedding programs that can match the rest of your paper suite.
In this article:
Wedding Ceremony Program Essentials
Like we said, think of your wedding program as a playbill. But instead of a plot, song list and actor bios, you'll have your names at the top, event details like the date and location, a list of the ceremony proceedings and information about your wedding party. Keep reading for more details about what goes on a wedding program at minimum.
1. Names, Date and Location
Start with the "cover page". This should include the who, where and when of the event. Write out your names, the venue name and address, the full wedding date and the ceremony start time. While this may seem counterintuitive since all the guests have arrived promptly to your wedding location already, it'll serve as a sweet reminder of the occasion's specifics when you or your guests look at the programs years from now.
2. Outline of the Ceremony Proceedings
When it comes to what to put in a wedding program, a timeline of the day is critical because it lets guests know where to be when and what to expect. The exact wedding program wording of the details, though, is up to you. For the ceremony, you can keep things straightforward by just mentioning the basics—the processional, welcome, readings, vows, pronouncement (AKA "You may kiss…")—or go into detail. Think: the order of the prelude and processional, which readings and songs are included and any additional formalities. If you're having a religious ceremony, you should provide the title, page number and look-up info for any passages, poems or musical selections you may be including in the program so guests can follow along. Additionally, an explanation of proceedings such as the traditional Hindu seven steps could be helpful to guests.
Follow up the ceremony details with information about your wedding reception and after-party, if there'll be one. This could include directions, if it's at a different venue, as well as the timing of events like when cocktail hour begins, when dinner will be served, the time of your first dance, when loved ones will give speeches and your send-off.
3. Names of Ceremony Participants
Shout out the people that have supported you through the wedding planning process and beyond. In this section of the program, you'll want to list everyone in your wedding starting with the officiant, then both of your parents (traditionally, the bride's parents would be first if there's a bride, but you can also go by alphabetical order) and, finally, wedding party members including flower girls and ring bearers. We recommend listing the wedding party in the order they walk down the processional, so guests really get a sense of who is who. If you have readers during the ceremony or ushers (likely handing out the wedding programs), you can add their names at the end. If there's room, add a few sentences about how you know each person to give your guests even more fun insight about your VIPs.
4. Special Requests
Your wedding program should include everything you want your guests to know before the festivities begin. This could include a request to participate in singing or, if you're having a Christian service, take communion. Additionally, if you're having an unplugged ceremony, the wedding program is a great place to tell guests to put their phones and cameras away.
5. Thank-You Note
Last, but not least, you should use the wedding program as an additional place to say "thanks" to your guests. A thoughtful note that expresses your gratitude to your loved ones for attending and supporting your union will make them feel even more welcome. Everyone will appreciate the sentiment, even if it's just a sentence.
Wedding Ceremony Program Extras
So maybe you're a little extra and you'd like your wedding stationery to reflect that. No problem. Your wedding program can have additional details for guests to read and admire and, in turn, feel closer to you and your partner. Plus, it'll keep them entertained as they wait for the event to begin.
6. Stunning Visuals
Adding some photos or illustrations to your wedding program is just one of the ways you can personalize it. Welcome your guests with a picture from your engagement shoot, a colorful illustration of your wedding venue or your custom monogram.
7. Your "How We Met" Story
A crowd-pleaser to include in your wedding programs: the story of how you fell in love. Start with how and where you met, then move to how you fell in love, next talk a little about your lives together and finally how the question was popped.
8. Fun Wedding Facts
It's your wedding, you can talk about yourself all you want! If the location or venue, date, floral arrangements or attire holds any special meaning to your relationship, include an explanation in your wedding program. Not only should you boast about all the thought you put into your big day, but guests will enjoy getting the inside scoop.
9. Poem or Quote
If there's a particular saying—think: a poem, song lyric or famous quote—about love and relationships that's significant to you and your partner, feel free to add it to your wedding programs. It'll be a sentimental way to set the tone of the event for guests. Plus, your wedding day will no doubt be filled with aww-worthy speeches from loved ones, so why shouldn't you add your own exclamation to the pile?
10. Memorial Tribute
If you have loved ones who have passed away but would've gushed over your wedding, you can honor them in your program. Simply include their name(s) and a heartfelt message about your relationship with them for a sweet tribute on your important day. Guests who knew them will be particularly moved by the gesture.
Religious Wedding Program Wording
Different religions and cultures have certain wedding customs that you and your partner may be including in your ceremony and, thus, should be added to your programs. Listing out the order of events or an explanation of certain traditions can help your guests follow along during the ceremony and feel included. If you're having a religious ceremony, consult our roundup of programs detailing different religious wedding ceremonies to inspire your own structure and wording. While this isn't a comprehensive list, it does contain some of the most common types of religious wedding ceremonies.