20 Wedding Program Ideas From Real Couples to Inspire Your Stationery
The more creative, the better IMO.
PSA: Wedding programs don't have to be generic. If a two-sided sheet of paper with a simple black typeface is your style, that's great, but it's not your only option. That's why we've sourced the best wedding program examples to inspire a template that's unique to your relationship and special day. While there are guidelines on what to include in a wedding program, you have free rein on the design. From color and font to material and shape, the sky's the limit when it comes to wedding program ideas. Once you have all the inspiration you need, work with your vendor team to bring your plan to life. Alternatively, browse The Knot wedding programs to find a design that aligns with your vision.
1. Caricature Motif Wedding Programs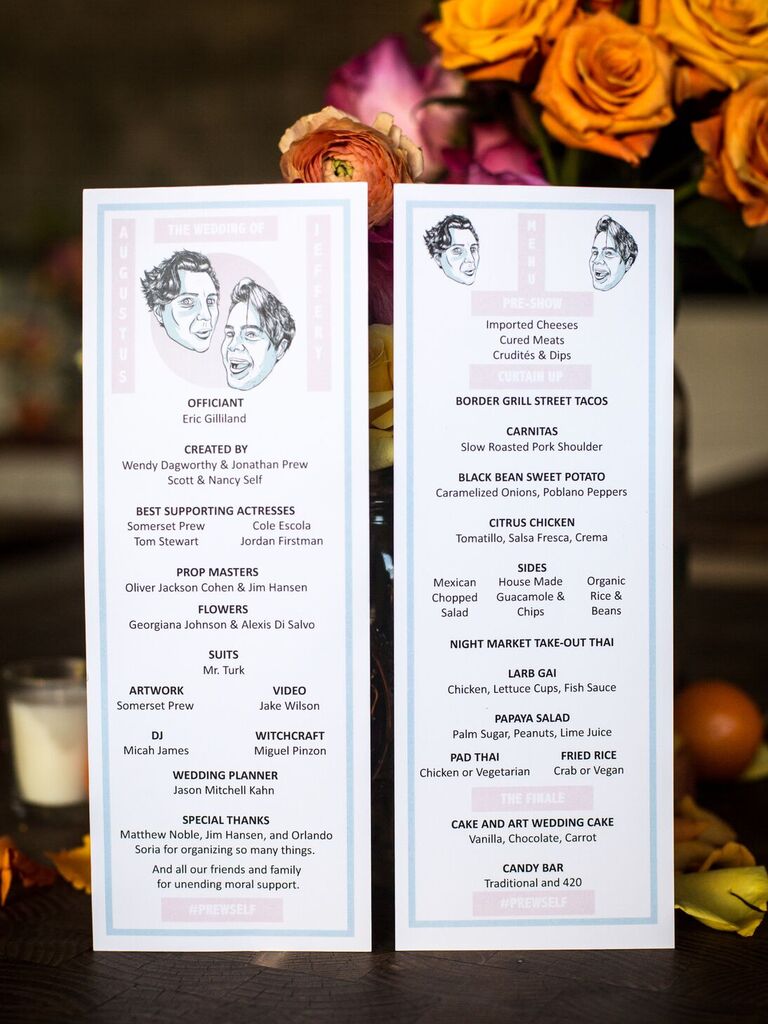 One easy way to make your wedding programs your own is with custom artwork. An illustration of you and your partner, whether it's a romantic watercolor painting or an amusing caricature like this wedding ceremony program example, will bring extra charm to the stationery. You can find a bespoke artist to create the drawing or look for online retailers. Just make sure you give yourself enough lead time since custom art can take longer.
2. Ribbon Wedding Programs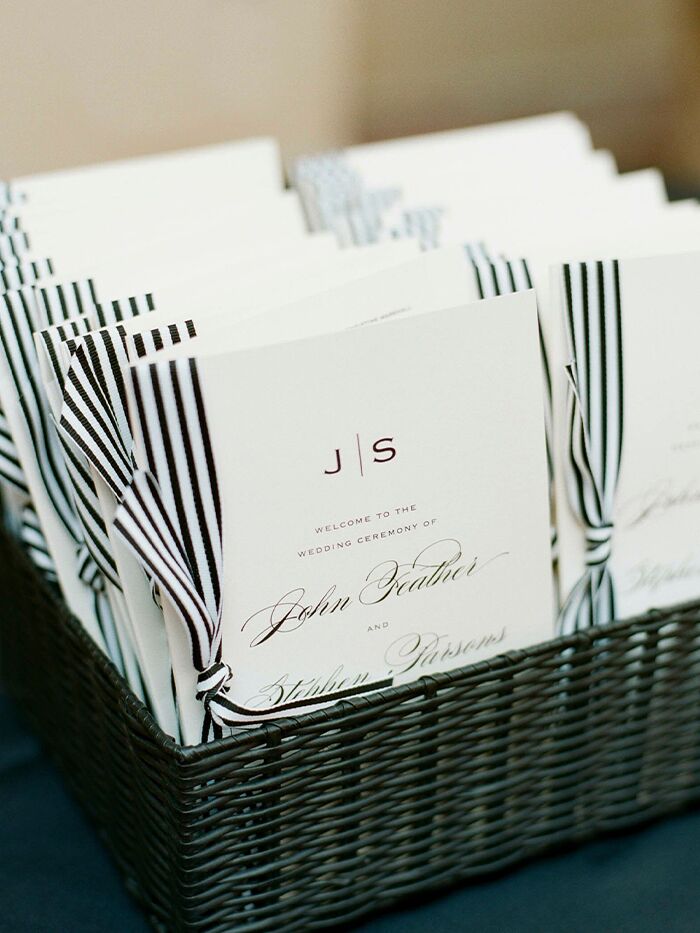 Tied together with a smile—and bow. Add a little dimension and color to your wedding programs with a ribbon. This couple tied a black and white striped ribbon to the vertical seam for a lil' detail that matched their wedding aesthetic. It's easy to recreate this look yourself. Just run to your local craft store to find a ribbon you like, then enlist some loved ones to help cut and tie it.
3. Playbill-Inspired Wedding Programs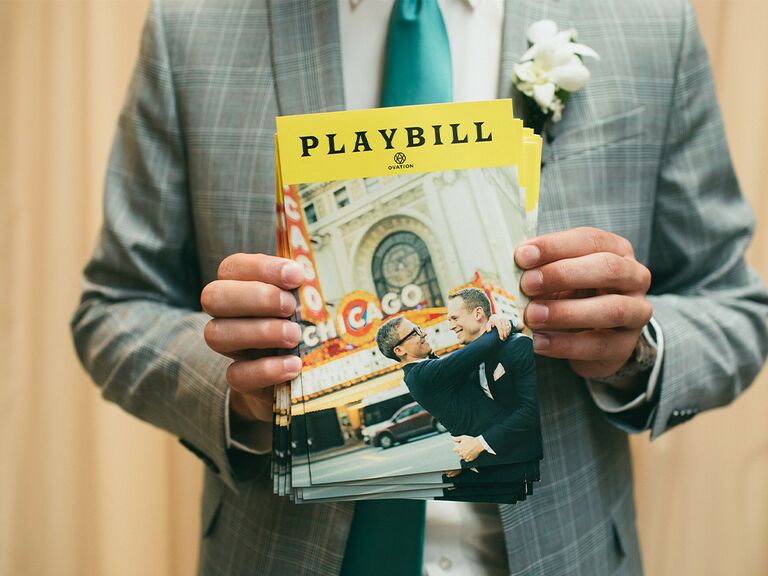 Are you and your partner fans of the theater? Perhaps you even met on stage? A playbill is a great idea for your wedding programs. This ultra-creative booklet puts you two—as the stars—on the cover, then you can include your ceremony details and wedding party bios inside.
4. Confetti-Stuffed Wedding Programs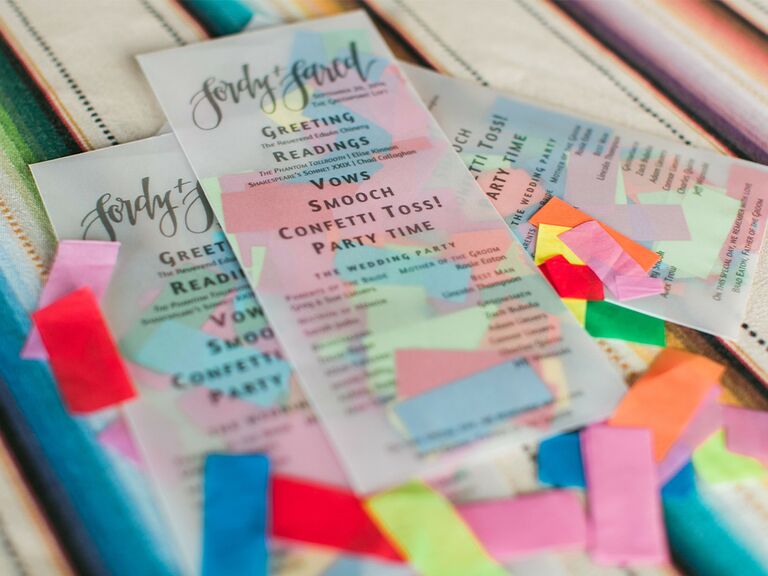 These wedding ceremony programs scream "good time!" to us. The program itself is actually a vellum envelope that's stuffed with confetti. Guests can then toss the confetti as you and your now-spouse exit during the recessional. Talk about a picture-perfect moment.
5. Bold Monogram Wedding Programs
Celebrate your union with a custom monogram. A motif of your initials boldly displaying your now-shared last name will feel like a very official stamp of your marriage. And if you make it an actual stamp, you can use it for the rest of your lives.
6. Party Favor Wedding Programs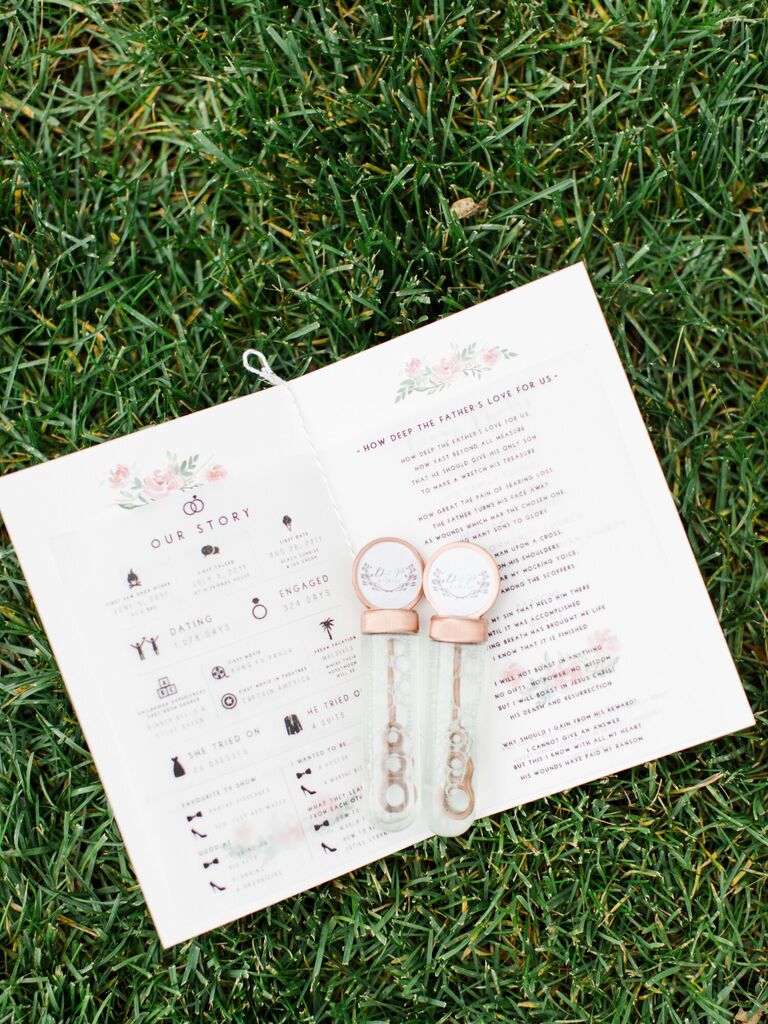 Surprise your guests with a small gift inside each wedding program. This couple gave each of their attendees bubbles packaged to match the stationery. It'll be an especially fun favor for them to use during the recessional. Of course, you can choose any small favor you like—and think your guests will enjoy—such as bottle openers, magnets or candy.
7. Stationery Suite Coordinating Wedding Programs
It's called your wedding paper suite for a reason. Make your wedding ceremony programs match your invitations—and menu and place cards—for consistent stationery that'll emphasize your oh-so-elegant theme. This particular wedding ceremony program example is simple and chic, incorporating the couple's primary wedding color, blue, with a classic serif font.
8. State-Shaped Wedding Programs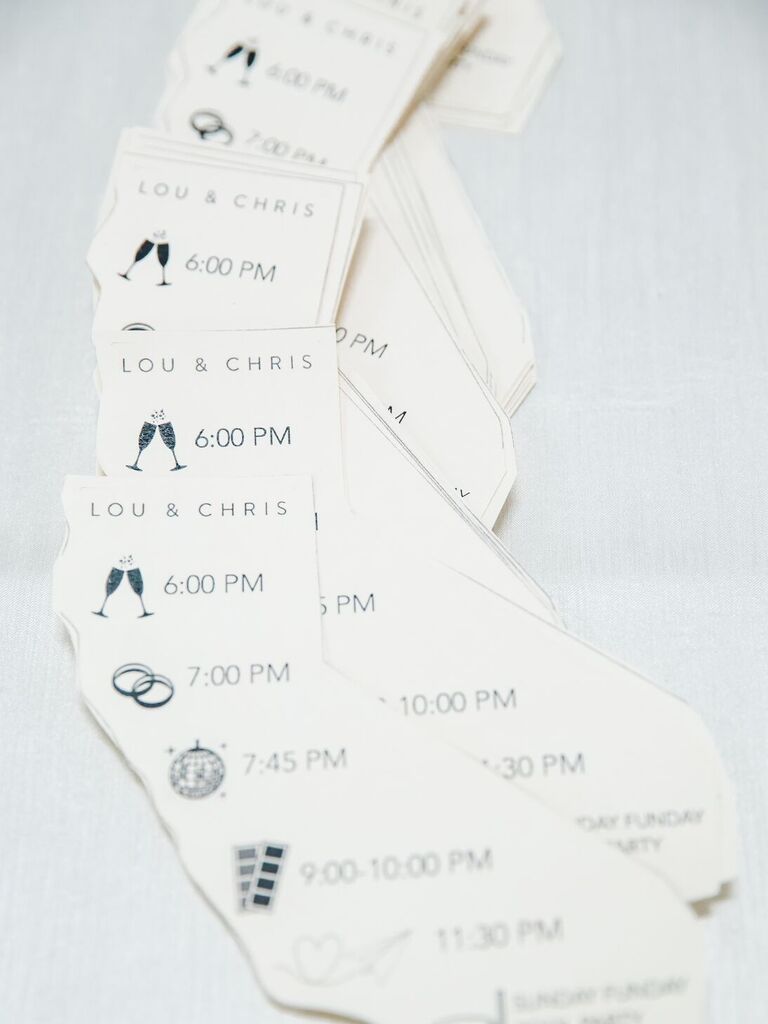 Proud of your hometown? Honor your state with your wedding programs. This couple swapped the typical rectangular paper shape for an outline of California. Feel free to copy them with your own state, just be prepared for some fussy cutting. (Unless your wedding programs will be in the shape of Colorado or Wyoming.)
9. Newspaper-Inspired Wedding Programs
Extra, extra! This wedding program is inspired by a newspaper with your wedding as the cover story. Then write "articles" about your relationship to fill the page. This couple even had them handed out by an actual paperboy who looked like he was from the early 1900s. (You don't need to go that far if you don't want to, though.)
10. Gratitude-Forward Wedding Programs
We recommend adding a thank-you note to your guests in your wedding program. It can be short and sweet, or you can follow in this couple's footsteps and go above and beyond. Their front page reads, "Dear friends" followed by a heartfelt note expressing their appreciation for everyone's support. The back can then include the timeline of events and any other relevant information.
11. Locale-Inspired Wedding Programs
There's so much to be said about this stunning wedding program example. The couple drew inspiration from the city of Detroit, specifically the Fisher Building whose architecture was reflected in the wedding programs. (Notice the image of its archway across two of the program's pages.) If you're in love with your wedding location and venue, incorporate those details into your wedding program, too.
12. Sheet Music Wedding Programs
This wedding program idea is for music lovers. The couple used vintage sheet music as the body of the programs before rolling them into scrolls, tying them with twine and then fastening them with a wax seal. Our suggestion? Print your wedding programs on the back of your favorite love song's sheet music—or even the notes of your first dance song.
13. Paper Fan Wedding Programs
This couple turned their simple wedding programs into practical fans—a welcome touch for guests sitting down to an outdoor ceremony in the heat of summer. You can choose any design that fits your wedding theme, print it on cardstock and then attach a popsicle stick to each. If you're not up for some DIY, some online retailers sell custom fans.
14. Favor Bag Wedding Programs
Here's another wedding program idea that has a double purpose. The couple printed their day-of details onto craft paper favor bags. Each bag was then filled with customized lip balm, mints and tissues that the guests could use right away. We also love the idea of filling each bag with a little pre-ceremony snack.
15. Infographic Wedding Programs
There's no way guests could lose track of when they should be where with these wedding programs. The couple turned their weekend timeline into a fun infographic. And they incorporated their primary wedding colors, so it fit with the rest of their decor. Seriously, look how well it matches the flowers.
16. Custom Venue Painting Wedding Programs
As aforementioned, custom artwork is a great way to personalize your wedding ceremony programs. This particular example features a beautiful watercolor painting of the couple's wedding location, Landgrove, Vermont. It really helped emphasize their backyard bash. Consider recreating this wedding program example if you also love your venue's landscape, like a snowy mountain or tropical beach.
17. Cootie Catcher Wedding Program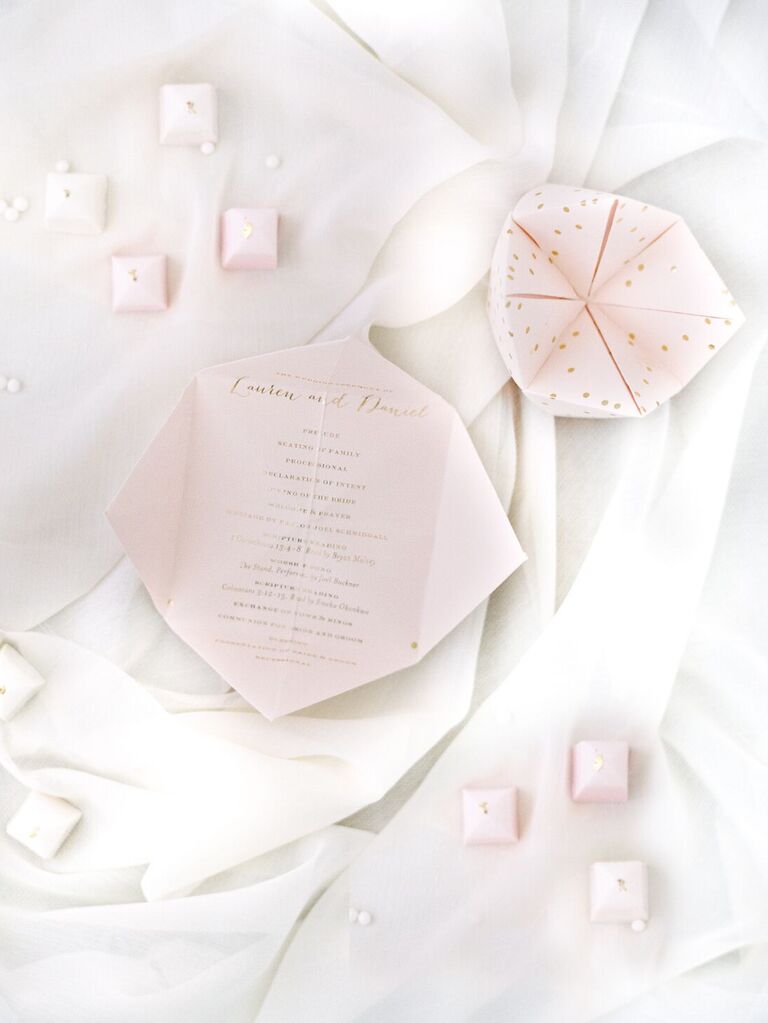 If you're looking for a super-unique wedding program idea, a cootie catcher is a top choice. Plus, it's a cute nod to the feelings of young love. This couple kept the shape, but put all the details on the inside. Alternatively, each outside corner could have a question, like "Who's in the wedding party?," while the inside gives the answer.
18. Religious or Cultural-Inspired Wedding Programs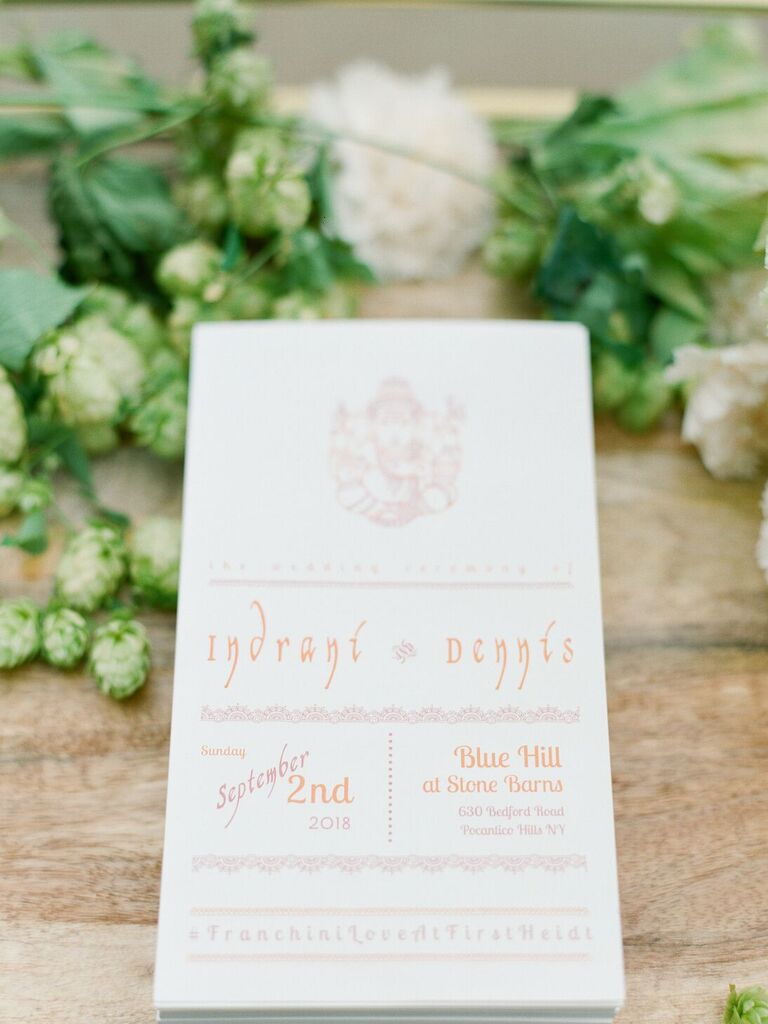 This couple had an Indian fusion wedding that incorporated their Hindu culture. As such, their ceremony programs featured their warm color palette and henna patterns. We recommend briefly explaining any cultural traditions you plan to incorporate in your ceremony, like this groom's baraat, in your wedding programs so guests can really follow along.
19. Round Wedding Programs
Your wedding ceremony programs don't have to be rectangular. This couple chose to print their union details on round paper in their vibrant wedding colors. Too fun! Of course, you can choose any geometric shape you like, such as a heart—very fitting.
20. Wooden Wedding Programs
Hosting a rustic-themed wedding? Consider taking your burlap, twine, leaf and wood accents and making them part of your ceremony programs. This couple engraved their ceremony information into slaps of wood before tying them with herbs and twine. Talk about attention to detail!