16 Wedding Menu Cards That Bring the Eat, Drink and Be Married Mantra to Life
Chicken, beef or fish—but make it chic!
When you started planning and considering venues to host your wedding reception, food was probably one of your biggest deciding factors, right? It always is! Truth is, you'll spend a lot of time strategizing what to serve on your big day, so you shouldn't discount the merits of including wedding menu cards at each place setting. If your wedding invitation RSVP cards included meal options guests could select in advance, then menus are a great way to remind them of the fare they opted for all those weeks ago. If your guests will be hearing entrée choices tableside, they'll probably appreciate having a menu handy to help them decide among the dishes. Plus, a table setting isn't truly complete without the final finishing touch of a menu gracing each plate.
Your venue—especially if it's a traditional spot like a banquet hall, country club or hotel—may offer printed menus, but with a more unconventional event space (or an independent catering partner), you'll usually have to DIY your own menu designs. So, whether you need to create personalized menus because your reception site doesn't provide them or would just like to match the rest of your wedding stationery and day-of signage, you can visit The Knot Invitations for a delicious set of wedding menu templates.
We've peeped hundreds of our editable menu card designs—from designs that boast elaborate embellishments fit for an elegant wedding, to ones adorned with minimalist motifs for a more modern soirée—and these are the ones we think your guests will just eat up! Before you checkout, be sure to browse for matching wedding programs, table numbers and place cards that will match flawlessly with your wedding theme.
The Knot Palm and Protea Menus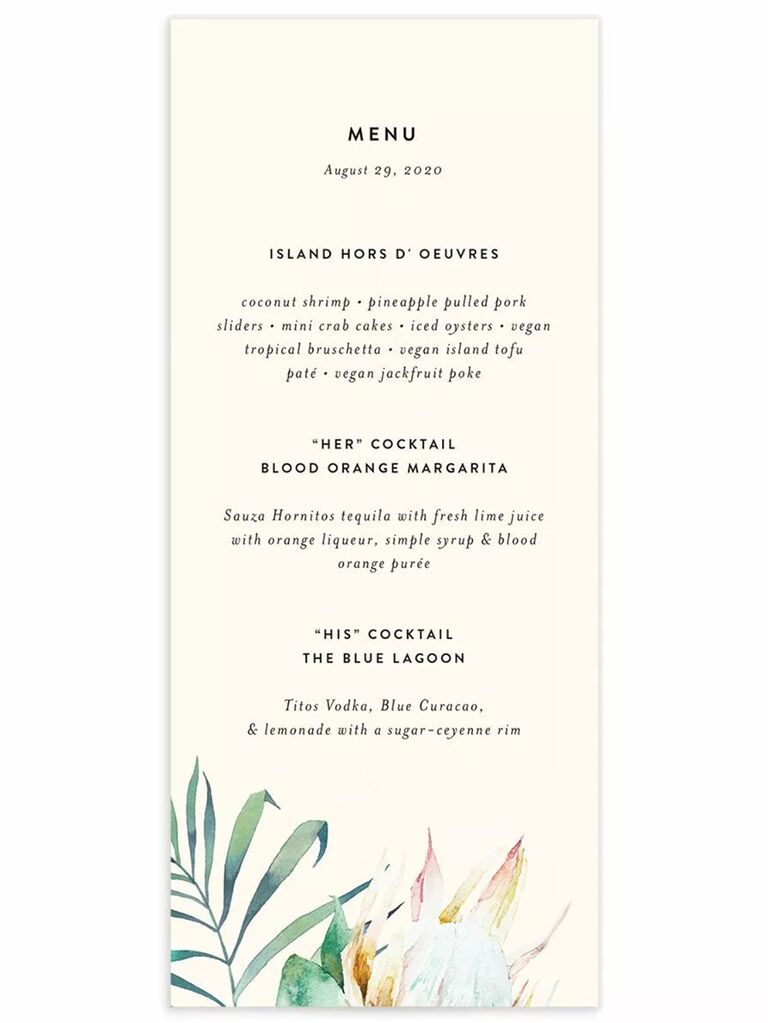 Hosting a beachside destination wedding or just looking to bring island vibes to your venue? Either way, the protea and palm leaves on this cocktail hour menu curate a totally tropical look.
The Knot Modern Balance Menus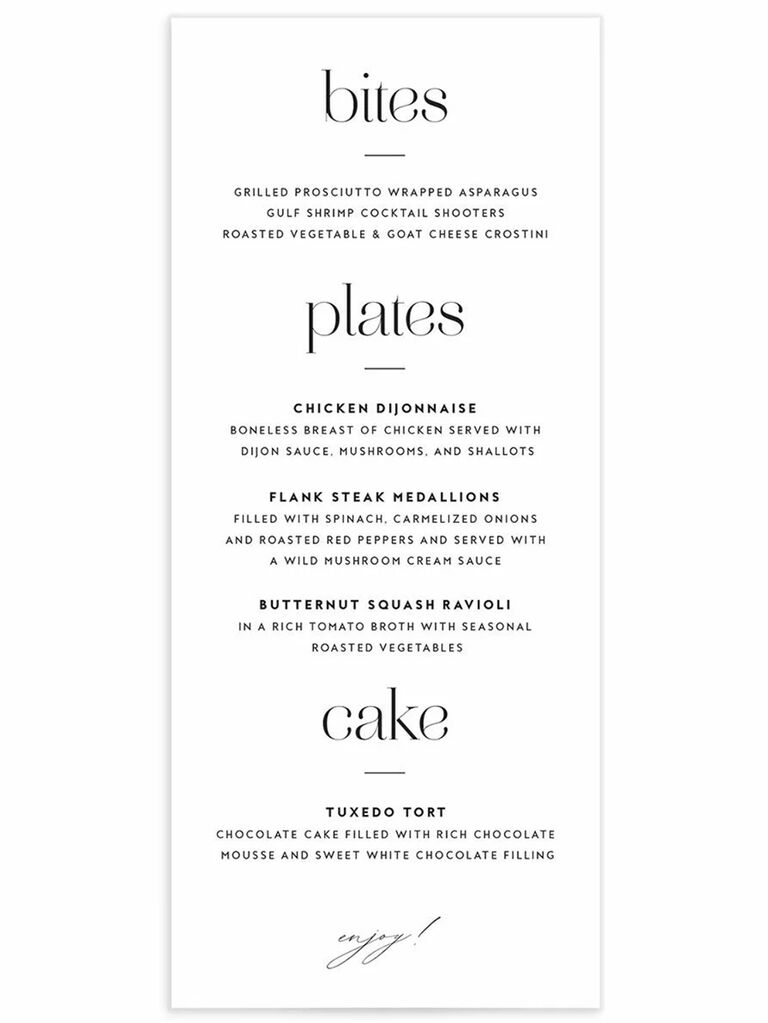 This design features a range of modern fonts and bold headers for a truly contemporary aesthetic. Bites, plates and cake—what more could your guests want? Available in a slew of chic shades (like boho terracotta or vibrant teal), you're sure to find a style that suits your vibe.
The Knot Modern Photograph Menus
These simple cards feature sans serif type paired with a relaxed cursive font for an elegant and classic effect. With familiar headings like "Hor d'oeuvres," "Mains and Sides" and "The Cake," the menu is a great canvas for food that skews upscale.
The Knot Natural Monogram Menus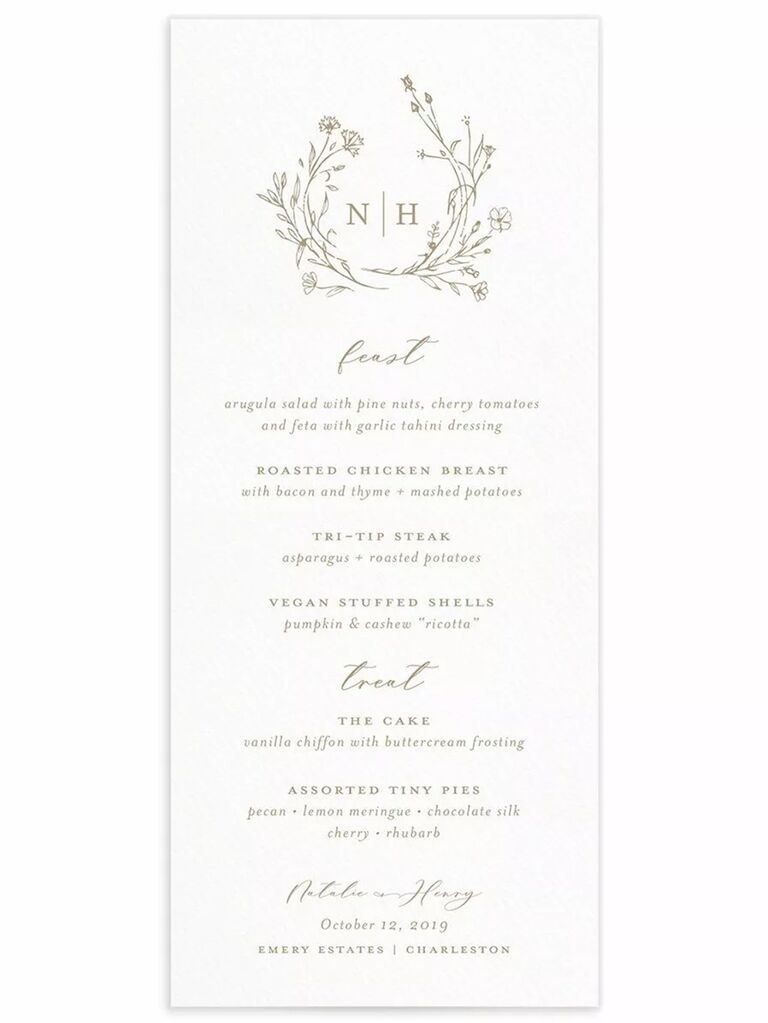 It's the wildflower frame and gorgeous two-initial monogram that do it for us with this one. Plus, with the option to include your names, wedding date and venue locale, these custom menus have all the makings of a cherished keepsake.
The Knot Painterly Blooms Menus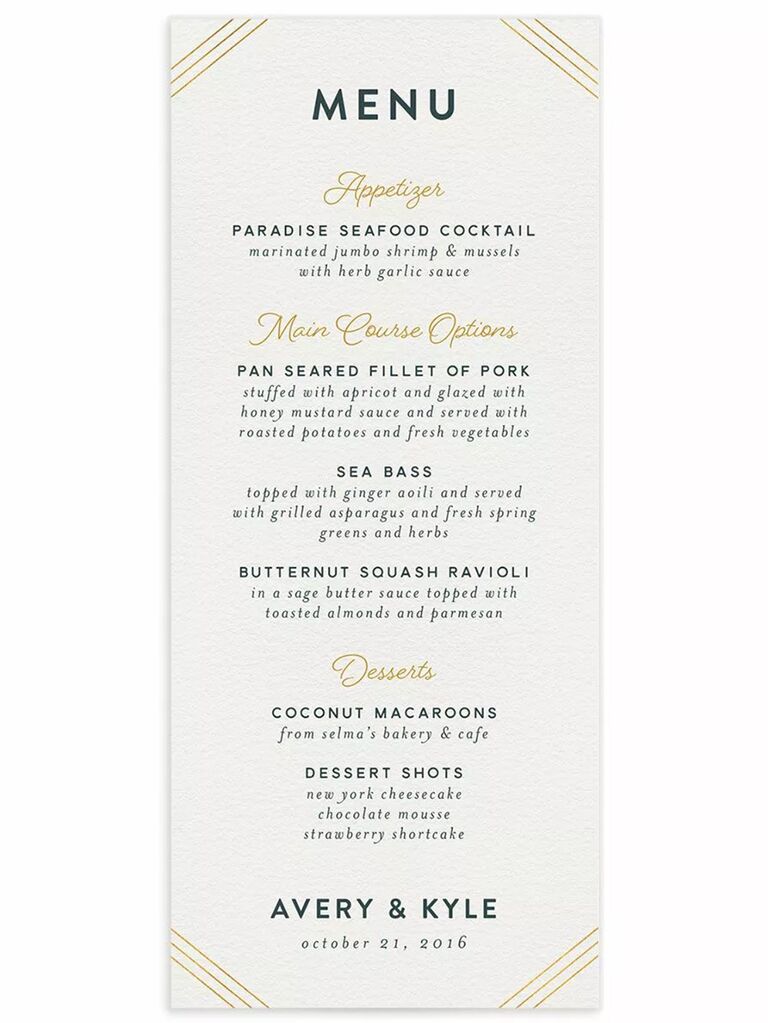 The blend of wedding vibes on this next template is really something special. Art Deco, boho and rustic elements all collide, resulting in a dynamic design that is super unique. One look and guests will know a delicious (and beautiful!) dining experience awaits them.
The Knot Coastal Love Menus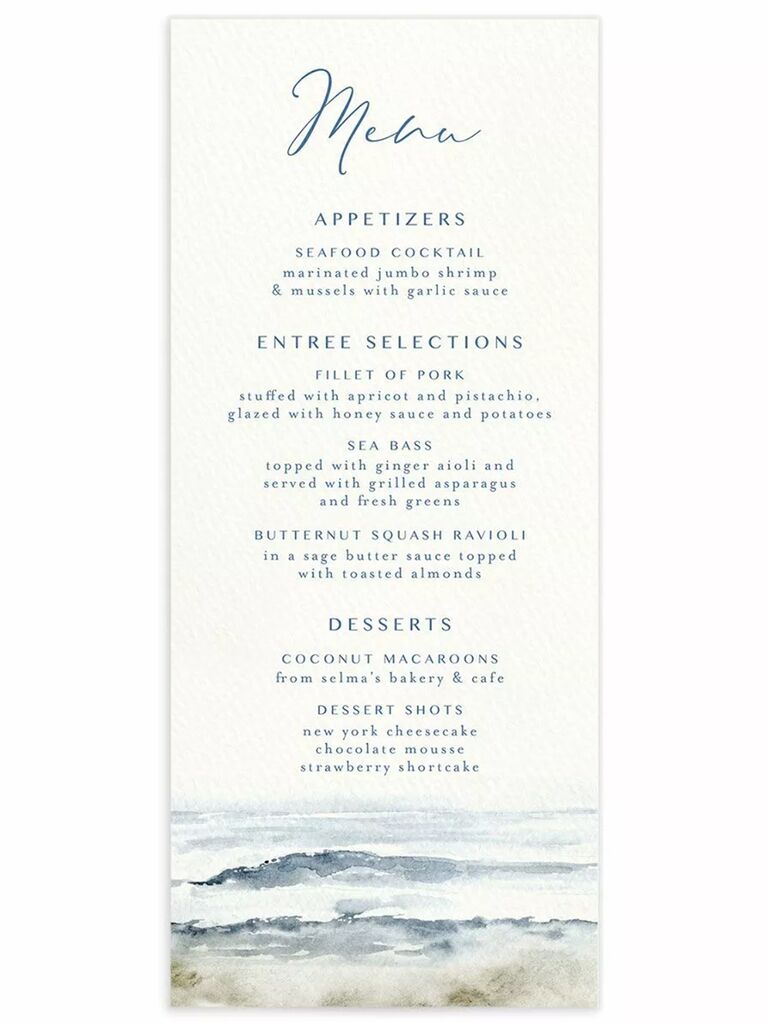 If a Cape-style celebration is on deck for you, you'll need an elegant nautical wedding menu to match. The watercolor painting of crashing waves along the bottom of this design has our hearts soaring (or should we say sailing?), as does the back, which highlights a textured wash of color with your monogram around an anchor.
The Knot Modern Eucalyptus Menus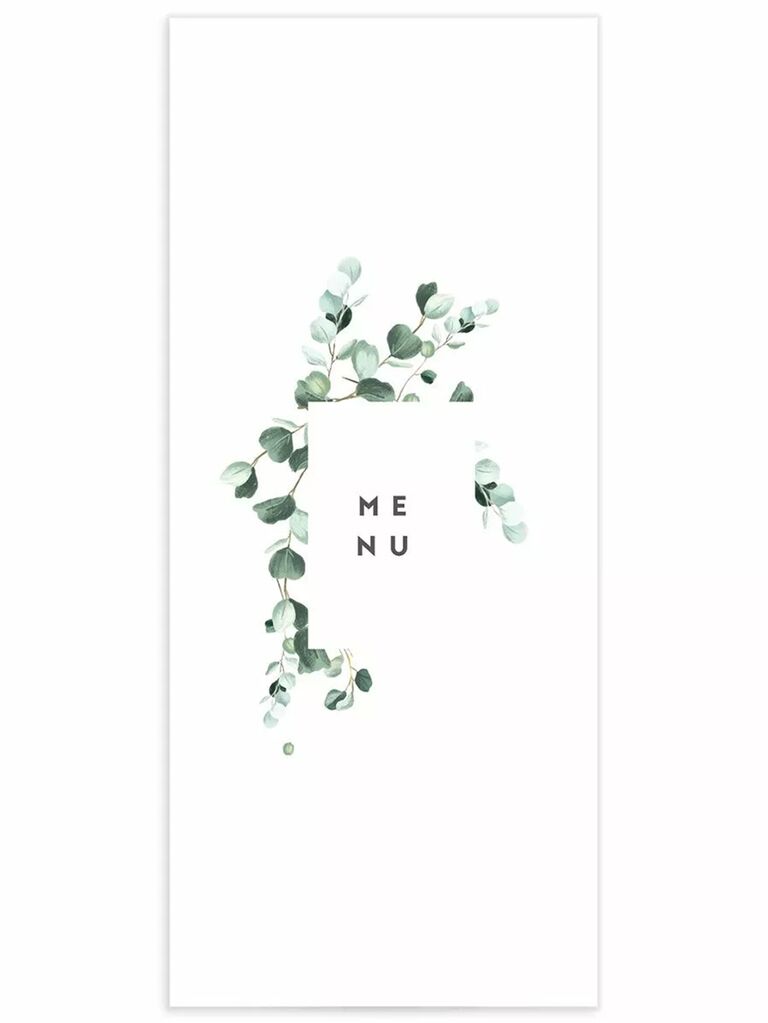 Simplicity takes center stage on this beautiful greenery-adorned menu. Outline your meal offerings on the reverse side with elegant script and romantic eucalyptus leaves cascading from the top (those single falling leaves are divine!).
The Knot Dark Wreath Menus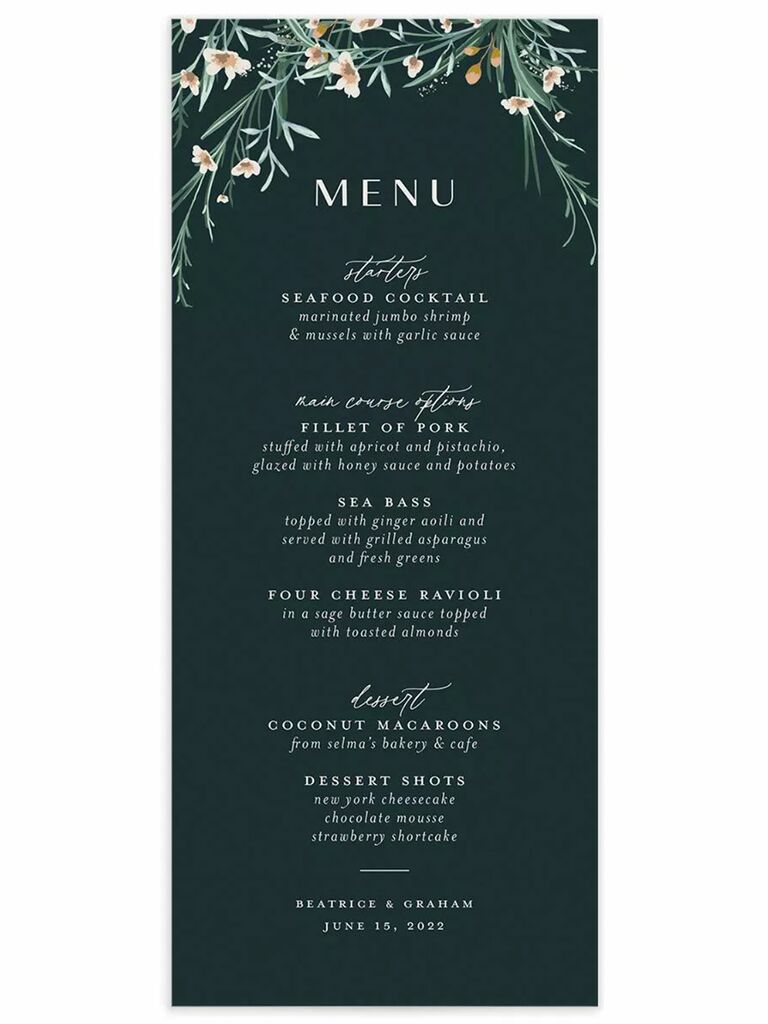 The whimsical notes of greenery and pastel florals on this menu call to mind a dreamy, fairytale-like aesthetic. Choose this design for a tented black tie fete at dusk or a secret-garden-style soireé hosted at a storied estate.
The Knot Minimal Brush Menus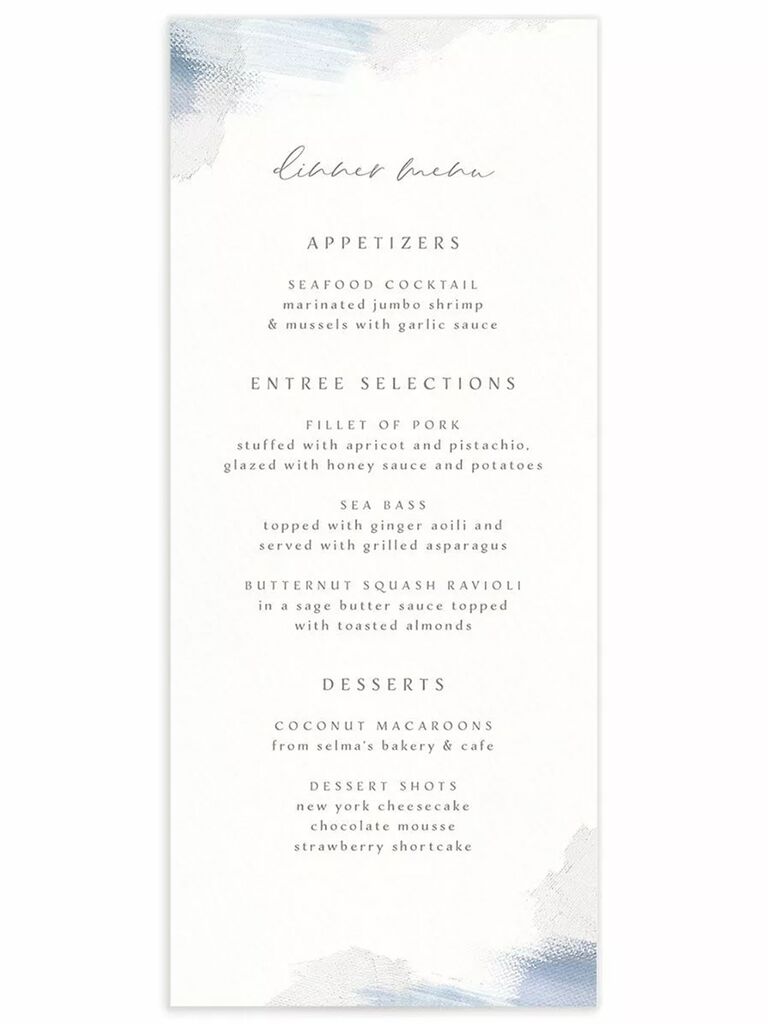 Available in eight different color combinations, this lovely wedding menu features soft brushstrokes and modern fonts that lend a very ethereal look. If you usually avoid modern mainstays like watercolor, this option allows you to try the trend out without going overboard.
The Knot Decorative Garden Menus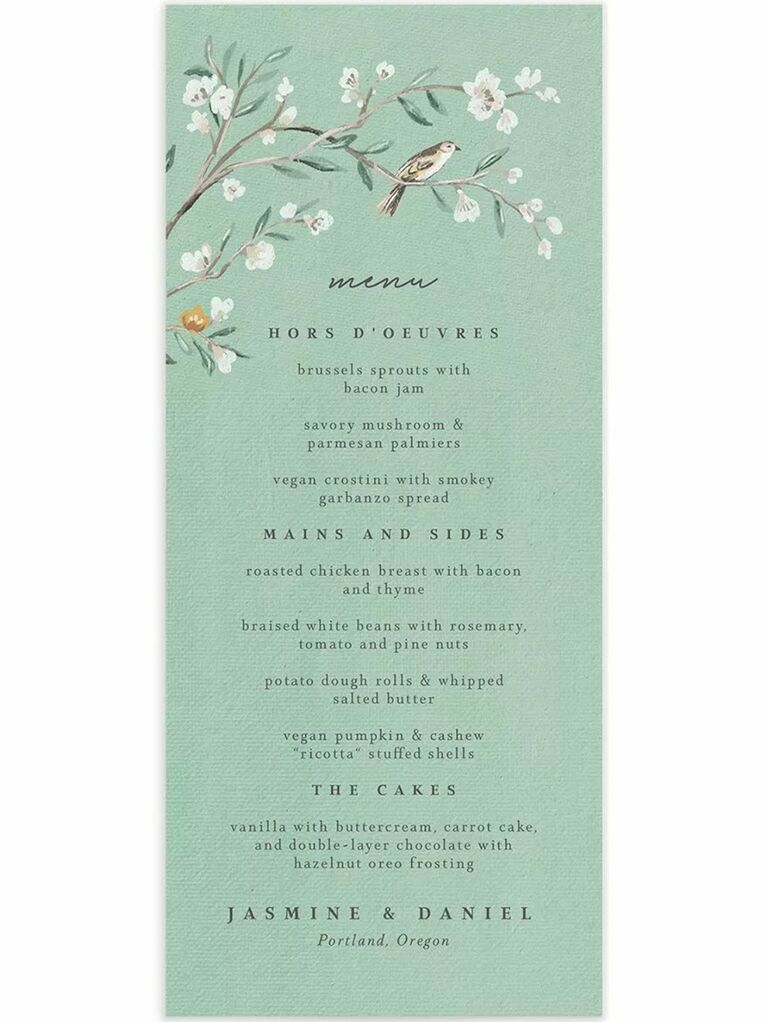 Painted florals and tree branches with a bird perched on top make this invite the personification of spring. We can easily picture the elegant printable set atop your guests' plates in an elegant ballroom. If your budget allows, use the menu's design as inspiration for your tabletop rental and spring for some chic floral china chargers.
The Knot Classical Script Menus
The drinks don't have to stop after cocktail hour ends. Keep your guests' spirits high well into the night with a "Libations" menu at each of their seats. Adorned with an elegant script and romantic serif for your elixir mix-ins, your guests will easily be able to select their drink choices throughout the reception.
The Knot Delicate Wildflower Menus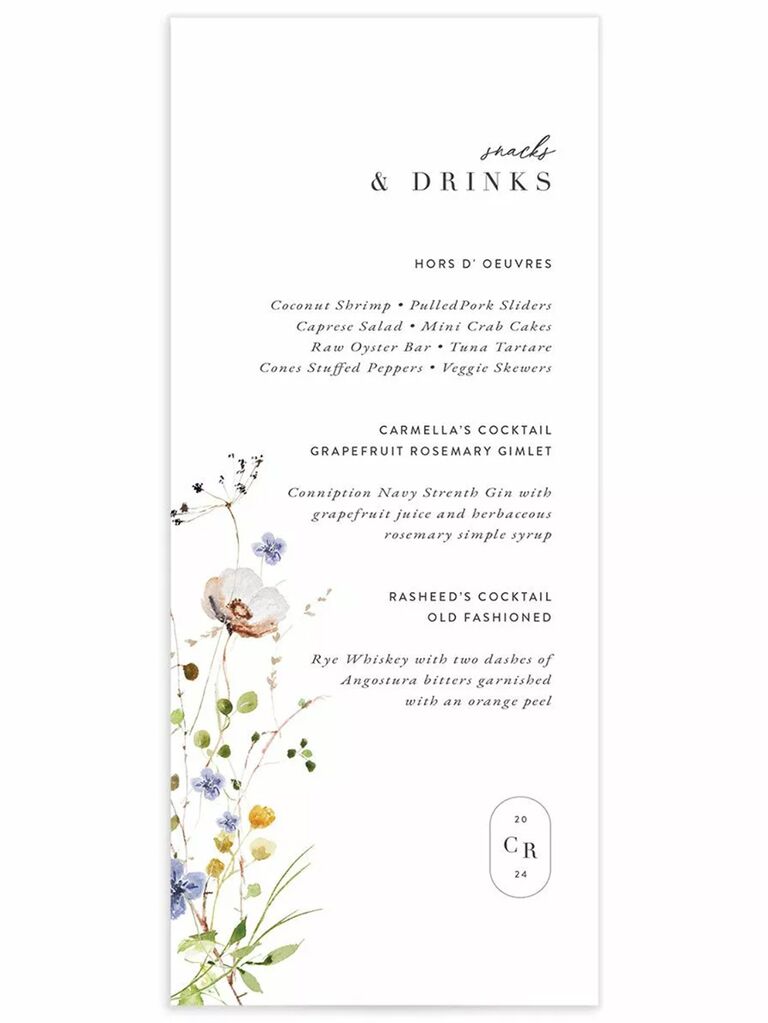 Snacks and drinks make the world go round, and delicate wildflower details usher in a wedding-worthy finishing touch. Here, you can include your signature drinks and cocktail hour snacks, all while the artsy organic florals climb up beside their choices.
The Knot Classic Landscape Menus
Venue illustrations will be hot in the world of weddings for years to come and this well-appointed menu capitalizes on that charming trend. The front of the menu spotlights your pick of four modern illustrations: a church, a farmhouse, an estate and a sprawling garden/barn.
The Knot Painted Winery Menus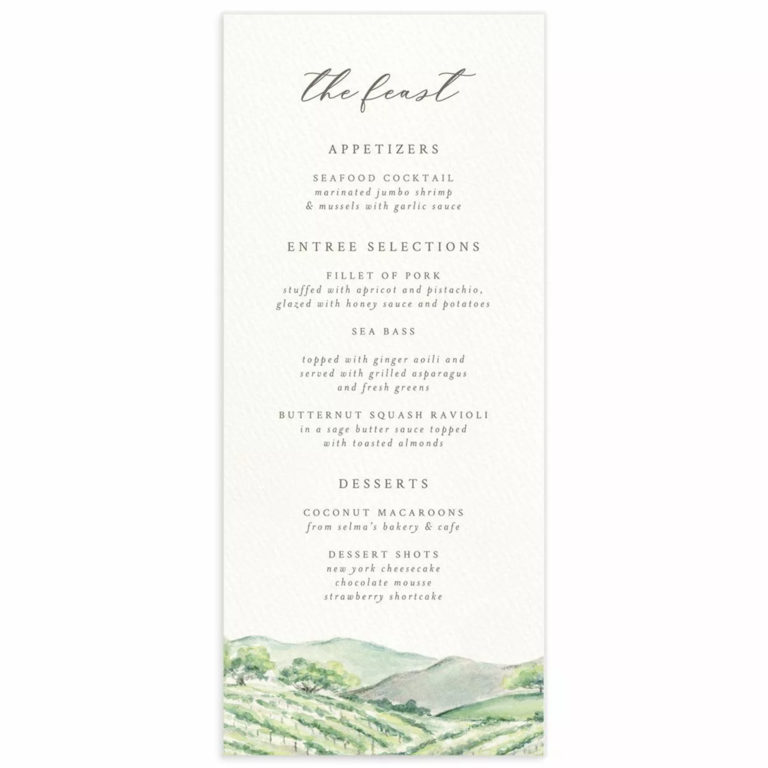 Speaking of hand-painted horizons, a gorgeous winery landscape sprawls along the bottom of this menu design for added charm and context. Personalize the design with all of your delectables noted below the main header, ''The Feast.''
The Knot Subtle Romantic Menus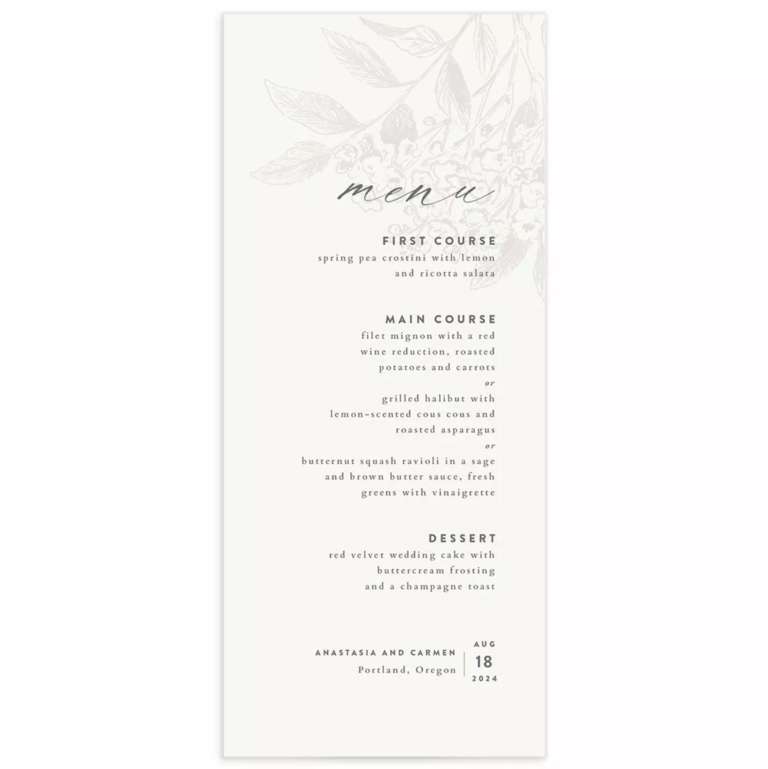 This beautiful botanical design can absolutely work for a bridal shower or milestone birthday party: It's feminine, dreamy and delicate. But we like it even more for a polished and couture-style reception worthy of romantic calligraphy and a blend of modern serif and sans-serif fonts. The stamp at the bottom, commemorating the occasion with your names and wedding date, can inspire stickers for your wedding favors, too.
The Knot Vintage Luxe Menus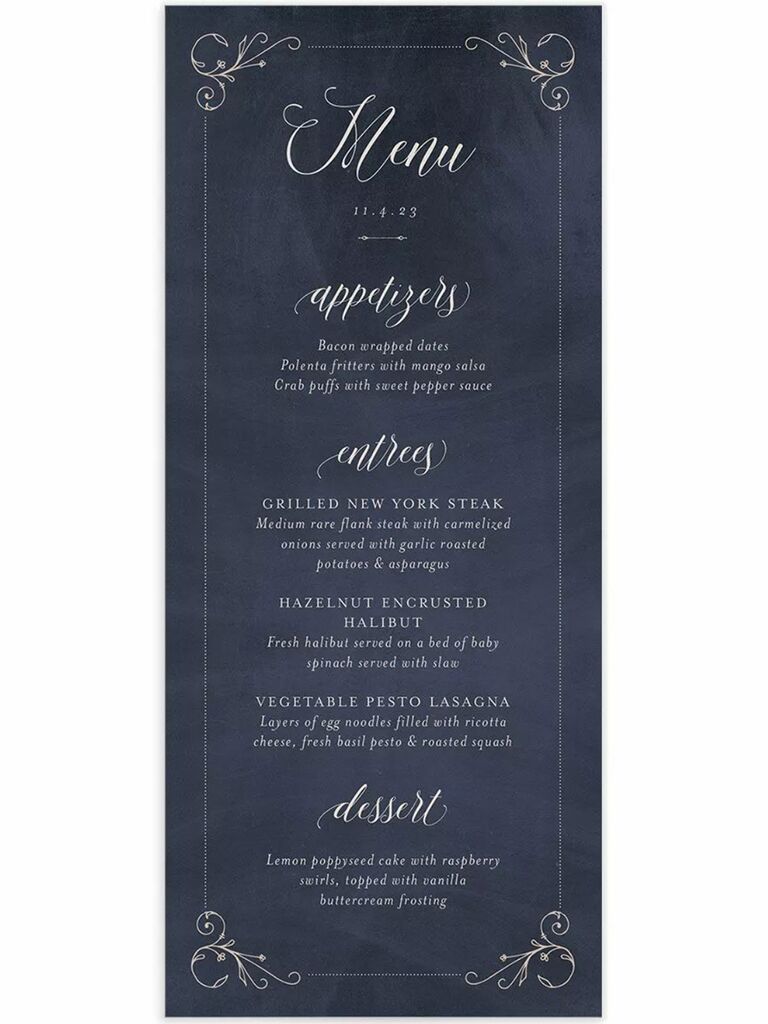 We're smitten with this menu surrounded by a frame of beautiful flourishes. The back even gives a gilded gold impression, which makes the card equal parts vintage and luxe.