Here's Exactly When You Should Start Your Wedding Registry
Psst: It's earlier than you think.
Shortly after you get engaged, you'll likely look for a wedding planning timeline to keep you on track as you bring your big day to life. And one of the first things you need to know is when to make your wedding registry. While you might be excited to start shopping for an outfit or hiring your team of vendors, this key task should take precedence in your planning process. In addition to setting your budget and finalizing a wedding date, making your wedding registry will set you up for the journey ahead (and let guests start congratulating you ASAP). Not sure when to start your registry? We're here to help.
Making a curated list of gift ideas is essential, especially for your wedding guests. They'll use your wish list to shop for gifts for the majority of your events, from the engagement party to your bridal shower and your actual wedding day. Luckily for you, The Knot Registry is the best tool on the internet to compile all of your gift requests in one list. So, if you're wondering how far in advance you should register for your wedding, you're in the right place. Find out below—and once you're ready to start requesting gifts, create your all-in-one registry on The Knot to make your experience as easy as can be.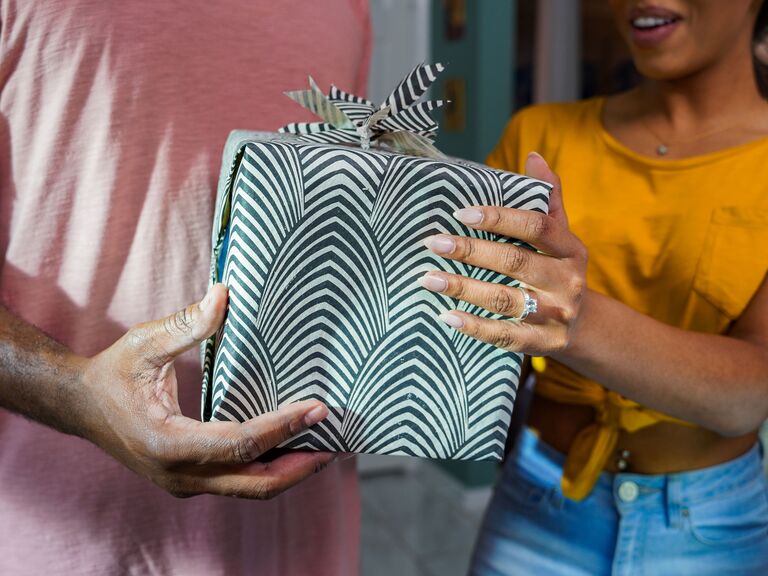 When should you make your wedding registry?
It's one of the most common wedding registry etiquette questions: How soon should you register for wedding gifts? Believe it or not, you should make your wedding registry as soon as possible. After you get engaged, loved ones will want to congratulate you with gifts and well-wishes, especially if they'll be attending a wedding shower. While your registry will primarily be used to find wedding presents, guests want as much help as possible, which means they'll use your wish list to shop for prewedding gifts too.
If you're confused as to how early you should register for wedding gifts, consider this: Your list will help you get all of the gifts you need and want for married life. Perhaps you already have a fully stocked kitchen, and you don't have space for more cookware and dinnerware. Without a registry to use as a guide, guests might buy items you already have (or you might end up with duplicate gifts).
Plus, some engaged couples prefer to register for cash and honeymoon funds in lieu of traditional gifts. If you'd rather receive monetary gifts or charity donations over physical items, set up your registry as soon as possible so guests know exactly what's at the top of your newlywed wish list. When you're ready, get started with the items and funds our couples and editors love the most by browsing The Knot's Registry Award winners. Then, use our comprehensive wedding registry checklist to make sure you've got all the bases covered.
Is it possible to register too late?
Now you know how far in advance you should register for your wedding, but is there such a thing as registering too late? Technically, you can make your registry at any point in the planning process. But keep in mind that the longer you wait to start your registry, the more likely it is that guests will buy something you don't want.
While each couple's wedding timeline is different, aim to have your registry set up by the time you send save-the-dates at the very latest. While traditional etiquette indicates that your registry information shouldn't go on your save-the-dates or wedding invitations directly, you can share your wedding website instead. Guests will start looking for gifts as soon as they receive day-of details, and if you've opted to link your registry to your website (which we highly recommend), they'll be directed to your gift list as soon as their invite lands in the mailbox. (Pro tip: Set up your wedding website and registry with The Knot for seamless integration.)
On the flipside, it's acceptable to include registry details directly on the invitations for a wedding shower. Since this event is hosted by someone other than the couple, it's not considered improper etiquette. If your family or friends are planning a shower in your honor, it's vital to have your registry up and running by the time the invites go out to guests.
Setting up your registry as early as possible comes with plenty of perks for you and your guests. Not only will loved ones appreciate the ease of shopping with a curated wish list, but you'll also be more likely to receive the presents you really want, from cash gifts to bedroom essentials or even gift cards for your favorite retailers. And while entering newlywed life with your spouse is a priceless experience, receiving great gifts will make it that much sweeter.