A Comprehensive Guide to Using The Knot Registry Store as a Couple or a Guest
Because, yes—you can purchase gifts directly from our site.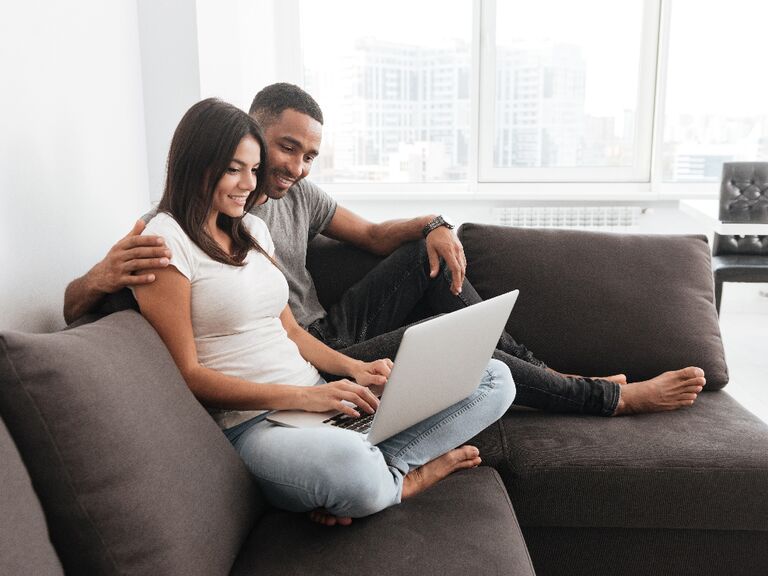 Dean Drobot/Shutterstock.com
When it comes to your wedding registry, we don't blame you for wanting to ask for a little bit of everything. While you might dream of receiving a brand new standing mixer or state-of-the-art air fryer, you may also want to set up cash funds for a home renovation or a couple's massage on your honeymoon. Narrowing down your most wanted gifts may feel downright impossible, but we have good news: You don't have to!
As the most-trusted brand in the registry space, we have every tool you could possibly need to register for the gifts you want most—including a comprehensive online store. That's right: In addition to curating your registry selections in one, shoppable list, The Knot Registry Store also allows you to shop for items without leaving our website.
Or, if you're a guest searching for the perfect wedding gift, you can also use The Knot Registry Store to purchase items directly from our site like they would at any other retailer. (This means less browser hopping for couples and guests—a win-win for everyone.)
So, how do you use The Knot Registry Store? Don't stress. We've created a complete guide to using our registry service, whether you're a guest or a couple.
In this article:
How to Use The Knot Registry Store as a Couple
Before you get to take advantage of all the perks found in The Knot Registry Store, you have to create an account first. In fact, making an account on The Knot will help you with all aspects of wedding planning, not just with your registry. In addition to making gift requests, you can also link your wishlist to your wedding website, order invitations and other wedding stationery, and use our helpful planning tools like the Vendor Marketplace, Checklist, Budgeter and even our Style & Vision Quiz.
When it comes to your registry, you can house all of your gift requests in one, shoppable list. Since The Knot Registry is an all-in-one tool, you don't have to worry about making multiple registries at various retailers to make sure your bases are covered. Instead, start by adding gifts directly from The Knot Registry Store. We offer the most coveted items from buzzy brands like Dyson, Le Creuset, OXO, Bed Bath & Beyond, Nespresso and YETI.
Beyond that, The Knot Registry Store also offers non-physical gift options like cash funds, gift cards, experiences and charity donations. If you value memories over objects, you and your S.O. might prefer to register for a sunset cruise, Airbnb gift cards for a future getaway, or cash funds to adopt a pet. The best part is that these items can be purchased just like a physical gift. Guests have the option to purchase a gift or donate what they can afford to one of your cash funds.
With so many options, The Knot Registry Store makes it easy to personalize your registry and ask for gifts you know will get plenty of use. After all, guests want to make sure you'll love their wedding present, and using The Knot Registry will ensure that you get exactly what you want most.
How to Use The Knot Registry Stores as a Guest
We know how important it is to find the perfect wedding present. But when you open up a browser to shop for a gift, you might feel at a loss, especially with so many recommendations out there. That's why we always recommend using the couple's registry as a guide. And if the to-be-weds have registered with The Knot, you can purchase gifts directly from The Knot Registry Store the same way you would go to another site. Start by browsing the couple's registry for a gift in your price range, and follow the steps to purchase the item as you would normally do while online shopping.
If there are no more gift options available on the couple's registry (or there's not one in your price range), we have plenty of curated lists to help you select an item they'll love. Start by browsing winners of The Knot Registry Awards, which are vetted by editors and real couples. Or, check out niche curated collections in our store, like Most-Wanted Gifts or Budget-Friendly Gifts.
One of the biggest perks of shopping through The Knot Registry Store is that we make it super easy to track your purchases and have them delivered directly to the couple. Plus, if you purchase a non-physical item like a gift card, an experience or you donate to a cash fund, the gift is delivered immediately. (Read: No worrying about tracking the shipment or wrapping the gift the night before the big day.) Regardless of what gifting option is right for you, we're here to help you find a great present in your price range that the to-be-weds will love.