The Knot Cash Funds Are the Easy Way to Ask for Money
And etiquette-friendly, too!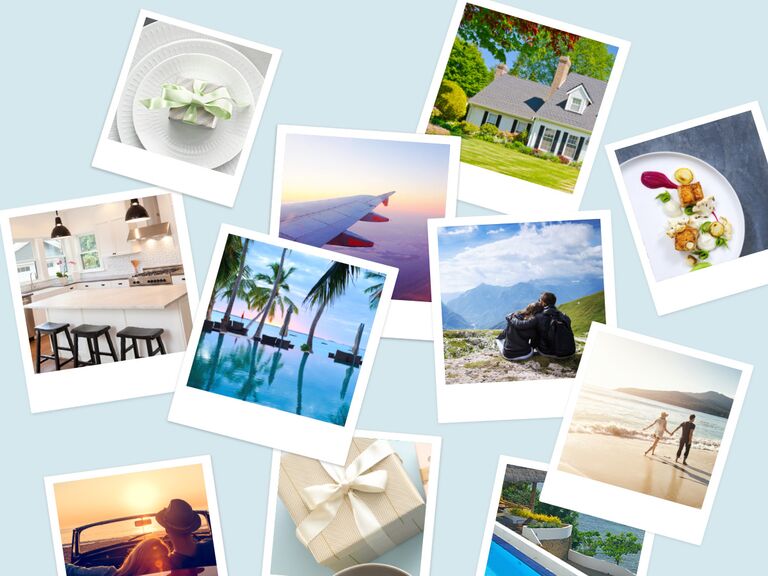 Everyone knows traditional wedding registries include kitchenware, bedding and other items for your home—but for couples who've been living together for a long time or simply already have everything they need, asking for cash has always been tricky etiquette-wise. Not anymore. Thanks to changing times and technology, traditional gift-giving expectations have been given an overhaul, meaning you can and should ask for both. After all, who says the two can't live together peacefully? 
At The Knot, we always recommend having a traditional registry for those guests who will want to get you a gift they can wrap, but we also think it's a great idea to start a fund for your honeymoon, new home or some other special item from your newlywed wishlist. The best way to do this? Enter The Knot Cash Funds. The money-based offering allows you to ask for cash (and for your guests to gift it) in a more meaningful way by specifying exactly what each monetary gift is going toward, be that a new car or dinner at your favorite local resturant. And better yet, it appears right alongside your traditional registry with The Knot, so guests can conveniently see what's been purchased and what's still available to give. Insider tip: Display the entire registry, both traditional and cash, on your wedding website to keep things stress-free and easily accessible. 
Setting up your own digital cash registry couldn't be easier, and you can add in as many cash funds as you'd like—we even give you suggestions, like cocktails on the beach, a wine tasting tour or snorkeling, or you can simply customize your own, like home renovations, a wine subscription, cleaning services for your new home, or any other meaningful gifts. Plus, if you have a bigger ticket item, The Knot Cash Funds allows multiple guests to contribute to the total. 
Then, link your bank account so your guests' contributions will be transferred directly to your account. (The Knot works with a PCI compliant processor in order to securely handle your information and protect you from fraud.) From there, your account information is verified and your funds go live. And just FYI, for every transaction The Knot processes, we get charged by the credit card company and credit card processor. We pass this fee directly to the gift-giver with no markup, so the couples keep 100 percent of the gift amount requested. The Knot charges the lowest fee in the wedding industry at 2.50 percent, and we don't take any commission. 
You can add and edit funds at any time, plus track contributions in the Gifts Received section. We'll also send you an email each time a guest contributes so you can see the gift-giver's name, amount of contribution and an optional personalized note. And even though it can take up to three weeks for the contribution to be available in your bank account, you don't need to wait to thank your guest—send a thank-you note as soon as you like.