18 Wedding Registry Tips Every Couple Needs to Know Before Making One
Follow our expert advice to create a wish list that works for you.
You're engaged, congrats! Now comes planning a wedding—and seriously, how the heck does one do that? Don't worry, we have all the answers for you, starting with how to make a wedding registry—AKA your first to-do as a couple (besides posting the news on social media, of course.)
Creating a newlywed wish list should be fun. After all, when else will you get an opportunity to ask for a luxury grill or the pastel coffee maker that matches your kitchen backsplash? Of course, there are some etiquette rules to know and follow—like not only registering for big-ticket items—before you start your wedding registry. Luckily, we're sharing all our wedding registry tips on how to set up a wedding registry and manage it below. With the help of our wedding registry guide, you'll be on your way to creating a wish list that's perfect for your married life.
In this article: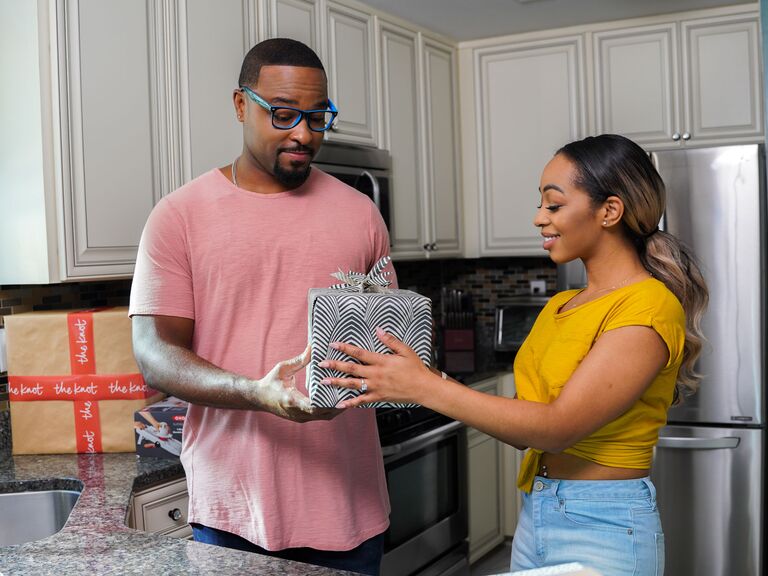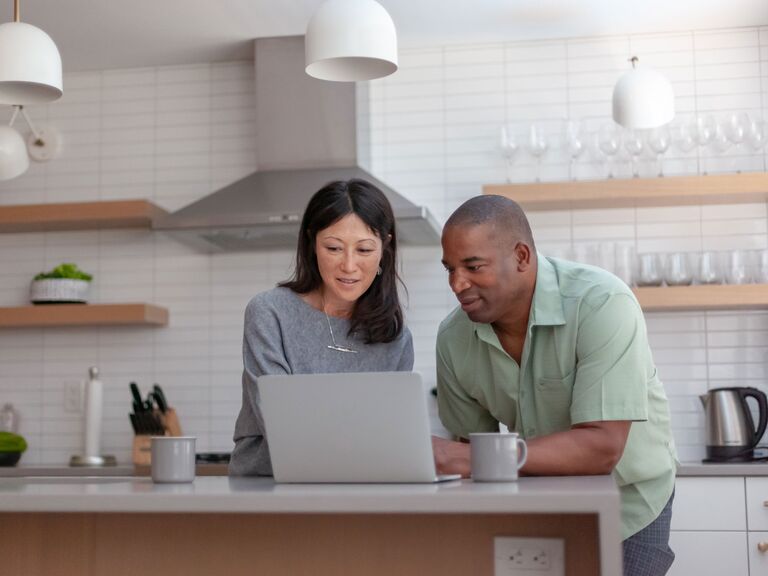 The Wedding Registry Tips You Need to Know
For even more help, we're sharing the top wedding registry tips that every couple needs to know. Follow our expert advice to get the most out of your newlywed wish list—we promise it'll make for a fulfilling experience.
1. Make It Right Away
Now that you know how to start a wedding registry, do it right away—like right now. This is because a wish list makes it easier for friends and family to shop for any prewedding celebrations, like an engagement party or couples shower. Guests want to give you something you'll actually use and enjoy, so the sooner you create your wedding registry, the sooner they can start showering you with tokens of congratulations.
2. Take Stock
One of the most important wedding registry tips is to take inventory with your partner. If you're already living together, you might want to skip traditional items like a blender and stock pot because it's likely you already have them. So, rather than getting click happy while scrolling through marketplaces, make a list of what you have versus what you still need and want to help you stay organized and efficient while making registry selections. That said, it's a-okay to want to upgrade some of your home goods. (Perhaps you already own a simple coffee maker, but if you've been eyeing a brand-new espresso machine, it deserves a spot on your wish list.) Also consider the need for "everyday" and "formal" versions of dinnerware, glassware, table linens and serving items. If you love being the go-to house for dinner parties, you might want to register for some extra serving sets for the next time your friends stop by unexpectedly.
3. Research Your Picks
Once you add something to your wish list and it's purchased by a guest, it's officially yours! As exciting as that sounds, it also means that you should be thoughtful about which items make the final cut. If you've been dreaming of the perfect Dutch oven, don't just choose the first one you see. Pay attention to the specs given by each brand as well as the available colors and sizes. Want an easy hack for finding the best of the best? The Knot Registry Awards has crowned tried-and-true favorites for your kitchen, bedroom and beyond.
4. Do It Together
You and your partner should register for gifts you'll both enjoy. That means you should talk about the style of home you'd both like and get on the same page about design choices such as your bedroom color scheme and thus, sheet color. (Need help? Take our wedding registry style quiz for inspo.) While you might receive input from well-meaning family members and friends, remember that your wedding registry is for your home, not theirs, and such decisions should be made with your partner. Set aside time specifically for curating a list that feels tailored to both of your interests.
5. Over-Register
As you begin shopping online, you might wonder exactly how many gifts should be added to your registry. There's an easy way to figure it out and all it takes is a secret math equation: Simply multiply your guest list by two, then add a few extra. You might worry that over-registering feels greedy, but that's far from the case. It's better to have too many choices than not enough. This also ensures that gifting options won't run low as guests start to purchase presents.
6. Include Multiple Price Points
A great wedding registry includes gift ideas for all price ranges. Guests will be able to spend different amounts on wedding gifts, so give them plenty of options at a variety of price points. We recommend having gifts that fall between $25 and $200 or more. Our data indicates that the average guest spend on a wedding gift is $160, so keep this in mind as you make selections. Don't shy away from adding a few luxury items, because some guests will want to splurge. (Plus, big-ticket products make for great group gifts.) But don't forget to add some budget-friendly options as well. Guests will appreciate your attention to detail.
7. Know Yourself
It's okay to shy away from traditional registry items. If you're not planning on hosting around the holidays, but love to camp, it makes more sense to register for a tent than to request a crystal gravy boat. But, be open to the fact that your tastes may change in the future. Even though you can't imagine a need at this moment in your life for that gravy boat, it may become indispensable for future Thanksgiving dinners with your in-laws. You can also use our roundup of the best registry ideas for some preliminary inspiration.
8. Update Often
Since it's important to have plenty of gift options at a variety of price points, check your registry often to make sure there are still enough choices for guests. Selections will dwindle as your loved ones buy items leading up to the big day, so check back periodically to make sure there are options at all prices always.
9. Guide the Gift-Giving
A good point to keep in mind when you start your registry is to select products you really want or need first, like a new mattress or a high-tech vacuum. Then, as the items on your checklist start to dwindle, add more. That way you won't be stuck with a fruit basket when you really need those extra salad plates.
10. Browse Other Registries
You can definitely steal registry ideas from other couples. It's super easy to find your friends' registries and wedding websites on The Knot. We've also rounded up the most popular registry items by state to help you see what's trending in your area. Use these guides to see what other to-be-weds are asking for and add some of your favorite selections to your own wish list.
11. Stay in Season
If you have longer than one year before the wedding, try to avoid registering for seasonal items that might be sold out or discontinued in a few months. When guests go to purchase gifts, they may find those things are no longer available. This is another good reason to check your registry often.
12. Ask for Cash
No, really. It's perfectly acceptable to register for money. In fact, we encourage it. Asking for cash for your wedding used to be a taboo topic. In years past, it was actually deemed inappropriate to ask for monetary gifts. But registry etiquette has evolved and cash gifts are more common than ever. You can put cash funds toward anything, from puppy adoption fees to a kitchen remodel or even newlywed experiences, like cooking classes or concerts. We'll let you in on a secret: Guests want to give wedding gifts that'll actually be used, so if you'd benefit more from a monetary gift than another set of wine glasses, add cash funds to your registry. You'll thank yourself later.
13. Think Outside the Box
Already have everything you need for the home? Get creative with your registry ideas. Consider asking for gift cards to your favorite restaurants or home decor stores to enjoy after the wedding. Or, if there's a charity close to your heart, invite guests to make a donation in lieu of sending a gift. You can even set up a honeymoon fund to cover airline tickets or resort activities for your newlywed getaway. It's easier than ever to personalize your registry with gifts that make sense for your lifestyle, so take full advantage of this as you select items.
14. Ship Smart
Ensure that your registry items can be shipped to your home address. This will spare guests the hassle of going to a store to pick up their gift for you and then to the post office to send it.
15. Know How To Spread the Word
It's not appropriate to flat-out ask for wedding gifts, so don't include registry information on your wedding invitations. Word of mouth is one appropriate way to relay the details (and is typically undertaken by parents of the couple and wedding party members). So long as your VIPs are up to date, your other guests should be, too. Your registry info can also be listed on your engagement party and wedding shower invites, since the invitation doesn't come from you, but rather from the person hosting the shower. The best place to share your registry information, though, is on your wedding website. Include the link to your custom wedding page on your invites to guide guests to your newlywed wish list.
16. Plan for Late Shoppers
Traditional wedding etiquette says that guests have up to one year after your wedding day to buy a gift, so that's at least how long your registry should remain active. Even after you say "I do," make sure your registry still has options for late-gifters.
17. Weekend Update
Fun fact: Most wedding gifts are bought within two weeks before and two weeks after a wedding. Knowing this, check your registry during this timeframe and add additional items if necessary.
18. Be Gracious
Sending thank-you notes is the most important task on your postwedding to-do list. Thank your guests adequately—a text message or email won't suffice here. Handwritten thank-you notes for gifts received before the wedding should be sent within two weeks of arrival. Notes for gifts received on or after the wedding day should be sent within two months of your return from the honeymoon or two months after the wedding if you're taking your honeymoon at a later stage.