The Ultimate Wedding Registry Checklist for Every Couple
Get ideas for every room in your house, as well as unique gifts for those who have everything.
We have included third party products to help you navigate and enjoy life's biggest moments. Purchases made through links on this page may earn us a commission.
Fact: Registering for wedding gifts is actually one of the most exciting parts of planning your big day. While making your registry might seem like a low-level project on your to-do list, it's one of the first wedding planning tasks you should tackle after getting engaged. Luckily for you, The Knot makes it as easy as possible to register for everything you want with our all-in-one registry tool. But, with so many products out there, you're probably wondering what to put on your wedding registry. Fear not: We've created the ultimate wedding registry checklist to ensure you've registered for everything you could ever need for newlywed life.
If you're not sure what to put on your registry, browse our roundup of the most popular wedding gifts based on our data (AKA the tried-and-true products couples register for directly from The Knot Registry Store). You'll also find plenty of gift inspo from The Knot Registry Award winners, which are vetted by experts and real couples. But, while these resources are full of ideas and advice, you might want a simple checklist to reference as you add items to your wish list—and that's where we come in.
Below, you'll find lists of registry items for every room in your home. And, if you feel like you already have everything, we've also compiled a unique wedding registry list of non-physical gifts that you'll love to receive. To get started, create your registry with The Knot. (It's totally free, and it's the most efficient registry tool on the internet.) From there, browse The Knot Registry Store to add items from our site directly to your registry. You can also add gifts from any online retailer, meaning there's no limit to what you put on your wedding registry. Once your registry is set up, use this all-encompassing wedding registry checklist to ensure your wish list has absolutely everything for life after the big day.
What to Put On Your Wedding Registry
If you're not sure what to put on your wedding registry checklist, you're not alone. You probably need things for your kitchen, dining room, bedroom and bathroom—but there's no need to stop there! If you need wedding registry ideas, look no further than our essential list below.
Before you get started, though, it can be helpful to brush up on some wedding registry etiquette rules. While you can register for just about anything, avoid adding specific things you need for your wedding day, like decorations or cash funds for paying vendors. It's also recommended to avoid registering for personal items, like clothes or big furniture pieces for your house. Your wedding registry gifts should be items you and your S.O. can enjoy together.
This ultimate wedding registry list includes everything from china to sheets and cash funds. But no matter what you decide to register for, enjoy the process—making your registry should be a fun task for you and your S.O. to complete together in the months leading up to the wedding.
In this article:
Kitchen Registry Checklist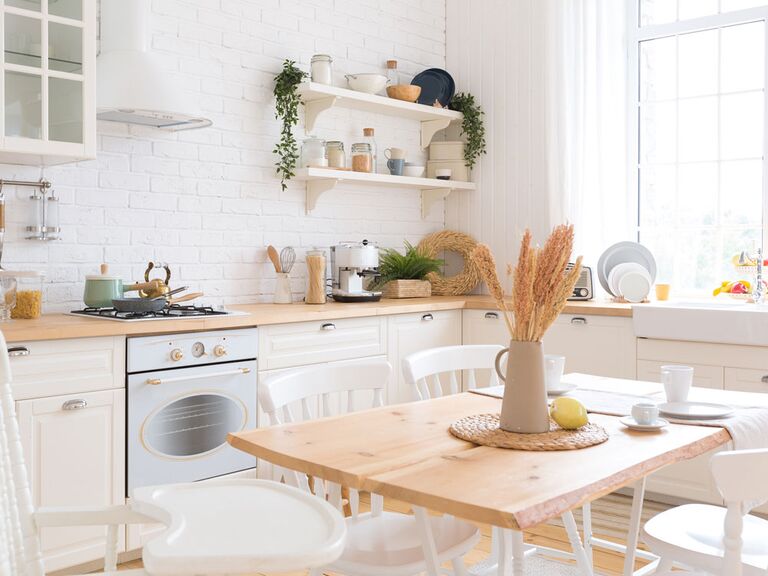 Kitchen items are popular registry additions, and for good reason. "The kitchen is the heart of the home, and it's great to start fresh after a wedding," says Mark Gudaitis, co-founder of Evermill. "Registries are perfect for adding the kind of purchases you only need to buy once, or the pieces you've been eyeing for a while. Equipping your kitchen with the right elements sets you up for success. Plus, a well-stocked kitchen that you're excited to use makes a more beautiful place to spend your time."
So, where do you start? Use this kitchen registry checklist to create the Nancy Meyers-inspired cooking haven of your dreams. Whether you've always wanted a standing mixer in a vibrant shade or a margarita machine for happy hour at home, tailor your registry additions to what you and your S.O. need (and want) most.
Cookware (pots, pans, skillets)
Bakeware (cupcake and cake pans, silicone mats, measuring cups)
Stand mixer (or hand mixer)
Air fryer
Coffee pot
Tea kettle
Espresso machine
Toaster
Kitchen tools (spatula, whisk, tongs, ladle, cheese grater, peeler, can opener, grinder)
Measuring cups
Knives
Dishtowels
Dish rack
Spice rack or organizer
Cutting board
Barware (corkscrew, strainer, jigger, scoop)
Apron
Mixing bowls
Blender
Food processor
Dutch oven
Ice cream maker
Waffle iron
Wok
Toaster oven
Slow cooker
Rice cooker
Stockpot
Food storage organizers
Pasta maker
Dining Registry Checklist
What are good things to put on a wedding registry? You can never go wrong with dining essentials. For breakfast, lunch or dinner on the daily, this is what you'll need to set the table and fill your cabinets.
6 to 12 dinnerware place settings (dinner plates, cereal bowls, soup bowls)
12 casual drinking glasses
6 to 8 coffee or tea and beer mugs
Salt and pepper shakers
Salad bowl and tongs
6 to 12 5-piece flatware sets
Additional steak knives
Paring knife
Chef's knife set
Serving utensils
Butter dish
Formal Dining Registry Checklist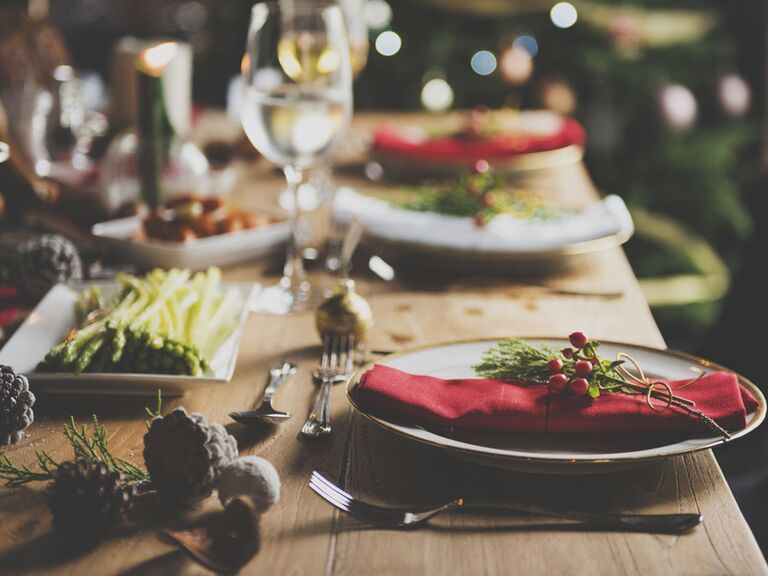 There's everyday dining, and then there are special occasions when you really want to dress your table to impress. Formal dining registry items may feel more traditional, but it doesn't hurt to have a few elevated serving tools at your disposal, especially if you ever plan on hosting holiday dinners. For those moments, consider adding the following items to your wedding registry list.
4 to 8 china place settings (dinner plates, salad plates, soup bowls)
Placemats
China cups and saucers
China teapot
China coffee pot
Creamer and sugar bowl
White wine glasses
Red wine glasses
Champagne flutes
Highball glasses
Cocktail glassware
Decanter
Gravy boat
Casserole dish
Platters
Table linens
Napkin rings
Large serving bowls
Home Registry Checklist
Your wedding registry list isn't complete without some basic items for the rest of your home. Now's your chance to ask for that high-tech robot vacuum you've always dreamed of having, or gallery wall picture frames to display your favorite wedding photos.
Vacuum cleaner
Home decor
Throw blankets
Decorative pillows
Picture frames
Coasters
Storage bins
Bar cart and accessories
Candles
Vases
Lamps
Bathroom Registry Checklist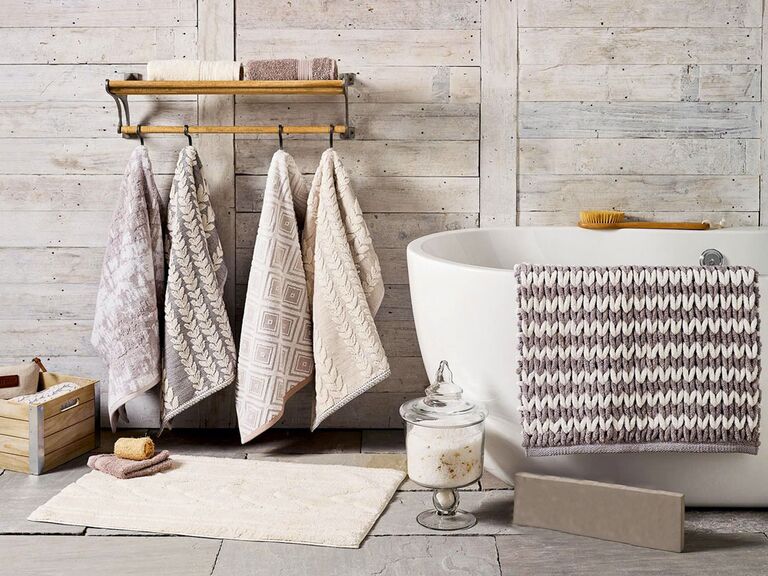 For your pampering domain, you'll need so much more than just plush, luxurious towels (though new towel sets are a great start for any bathroom registry checklist.) While you should have a sizable stock of extra towels and washcloths on hand, so much more goes into furnishing your bathroom linen closet. "I recommend that all couples register for new linens and bath towels," says Katie Elks, Director of Design and Product Development for Brooklinen. "Bedding and bath towels are such personal pieces of home decor, and picking new products creates individuality within the home, especially for new couples. I suggest couples have one sheet set and towel for use and one sheet set and towel in the closet per person. If you have more space for extras, it's also nice to have one for use, one in the wash and one in storage of each." Use this guide to brush up on the essential bathroom registry items for your home.
Bath towels
Hand towels
Washcloths
Bath mat
Shower curtain
Shower liner
Shower curtain rings
Toothbrush holder
Soap holder or dispenser
Toilet brush holder
Toiletry drawer organizer
Extra cabinet storage
Garbage can
Bedroom Registry Checklist
Your bedroom should be a cozy oasis for you and your spouse. If you're living together before the wedding, you might think that bedroom registry items aren't necessary since you already have them—but that's not the case! Use this opportunity to register for fluffy new pillows or that luxurious set of sheets that'll make you never want to leave your bed. "Investing in high-quality linens is a form of self-care," Elks adds, noting that it's best to request durable bedding that will withstand years of washing and normal wear. "To-be-weds should prioritize bed and bath essentials on their registry because these are items needed for everyday use."
Your registry is a great place to ask for fun bedroom extras as well. "Don't forget more utility items like pillows, comforters and mattress pads," Elks suggests. "It's also great to have different comforters based on the season, as well as pillow options suited to different sleep styles for you, your partner and guests."
Below, we outline the most important bedroom registry items that'll elevate your space and any guest rooms in your home.
Comforter or duvet cover
Flat and fitted sheets
Bed skirt
Mattress cover
Mattress pad
Pillows
Pillowcases
Pillow shams
Throw blankets
Decorative pillows
Linens and sheets for guest bedrooms
Outdoor Registry Checklist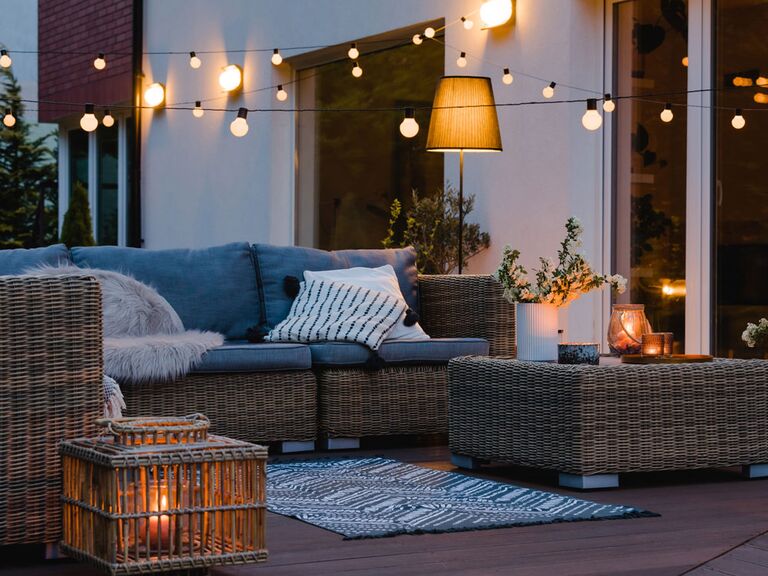 Want your backyard to be the go-to destination for summer cookouts and late-night porch chats? Use your wedding registry to turn your patio into a retreat that's perfect for entertaining. "One of the basic premises of entertaining is making sure your guests feel comfortable in your home so that everyone can have a good time, and this holds true for hosting outdoors as well," says Michael Hillel, founder and CEO of SunHaven. "Your outdoor space is an extension of your home and should be thought of as an additional space to entertain, eat and hang out just like your living or dining rooms."
Whether you have acres of land or you're working with a small balcony, registering intentionally will help you transform your space into a great hang-out spot your friends and family will love visiting. "Couples that are furnishing their patio from scratch should start by taking the size and shape of their space into consideration," he adds. Start here with this outdoor registry checklist that'll transform your backyard.
Grill and grill pan set
Lounge chairs or chaises
Patio table and chairs
Lawn games
Garden tools
Firepit
Plant pots/terrariums
Outdoor speaker
Decorative lights or candles
Outdoor storage sets
Travel Registry Checklist
Fuel your wanderlust by registering for travel must-haves. Believe it or not, it's perfectly acceptable to ask for new luggage, passport holders and airfare gift cards. In fact, we recommend it—especially if you and your S.O. value experiences over things. "As newlyweds look forward to their honeymoons, only the best luggage will do for the trip of a lifetime," says Serkan Anders of luggage brand Briggs & Riley, noting the importance of registering for durable, high-quality products (preferably with lifetime guarantees) that will withstand years of packing and traveling. Use this travel registry checklist to ensure you've got everything you need for your next getaway.
Luggage sets
Carry-on bags
Passport holder
Suitcase organizers
Toiletry bags
Airline gift cards
Airbnb gift cards
Unique Registry Checklist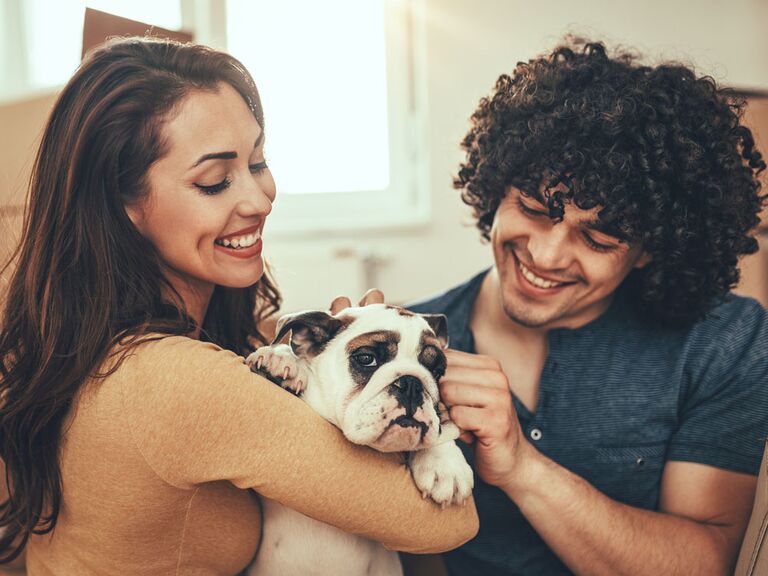 So, what are good things to put on a wedding registry when you have everything? We're glad you asked. Below, find non-physical wedding registry checklist ideas, like cash funds, charity donations and gift cards. Your registry should feel tailored to your lifestyle—so if you have a small space or you just don't need more things, you can register for alternative gifts instead. And, as an added bonus, you can add all of these unique wedding registry gifts to your wish list on The Knot.
Date night cash fund
Pet adoption cash fund
Home renovation or starter home cash fund
Newlywed experiential cash funds (for concerts, cooking classes, vacations, etc.)
Honeymoon funds
Travel gift cards (Airbnb, airlines)
Restaurant gift cards
Retail store gift cards
Charity donation fund