Wedding Registry Checklist: Kitchen, Dining, Bed and Bath Essentials
Wondering what to put on a wedding registry? Use The Knot's wedding registry checklist to get tips and advice and see wedding registry essentials.
by Rose Walano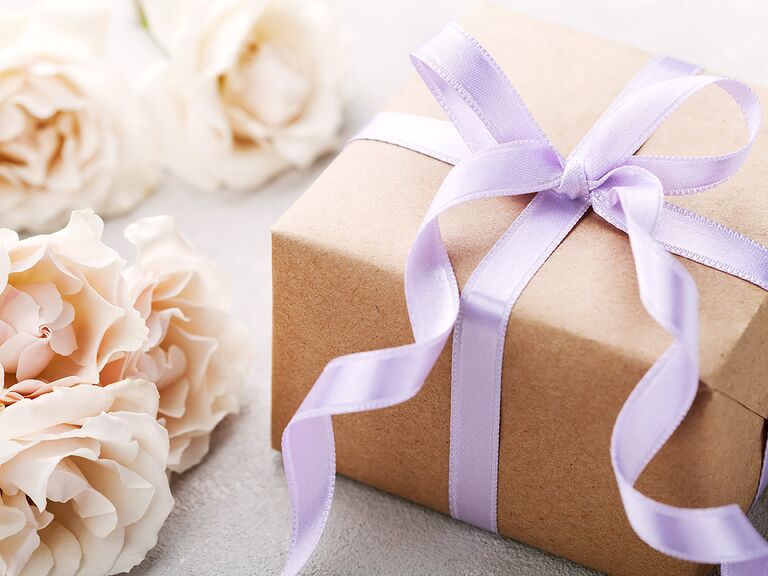 Pop those champagne bottles—you're engaged! That means you're about to get super busy planning the wedding of your dreams. While choosing your wedding venue and finding the wedding dress of your dreams is surely on the top of your to-do list, you might be surprised to learn that compiling the items on your wedding registry should be one of your very first tasks. Here, you'll find everything you need to know about wedding registry etiquette, how to register for your wedding and the essential items that should be on your wedding registry checklist.
Wedding Registry Etiquette
There are no rules when it comes to what to put on a wedding registry—anything from formal china to a honeymoon in Bora Bora are totally okay to include! Still, there are some guidelines to keep in mind when creating your wedding registry:
Register shortly after your engagement. If you're having an engagement party, people will want to buy you wedding gifts. Give them the opportunity to gift you exactly what you need (and want!).
Register at more than one place. This way, your guests will have a variety of gifting options. And try to choose at least one big-name retailer (like Bed Bath & Beyond or Amazon.com). Your guests who don't live locally will thank you.
Select gifts at a variety of price points. While you should absolutely feel free to add pricier items to your registry (we're looking at you, stand mixer), you'll want to offer a full range of items so that all of your guests can find something they can afford.
Connect your registry with your wedding website. Put your wedding registry information on your wedding website so that your guests have easy access to it.
Feel free to keep adding! While some people will be purchasing gifts for your engagement party or shower, many will also continue to use your wedding registry to purchase gifts up to or even after your wedding day, so it doesn't hurt to keep adding as inspiration strikes or available items dwindle.
Thank-you notes. Don't forget to send a thank-you note for each gift you receive. Send a card as soon as the gift arrives, even if that's before the wedding day. It will also make it easier than coming home from your honeymoon with a pile of thank-yous to write all at once.
How to Register for a Wedding
Registering for your wedding is easier than ever! That's because most retailers offer online wedding registry tools that make it easy to select, add and update your registry. The Knot Registry allows you to create registries with several of your favorite retailers and have it all in one place. Even better, we help you give back—now, when someone purchases a gift for you from a qualifying retailer, The Knot will donate a percentage of the purchase to the charity of your choice. So getting more means giving more too!
What to Put On Your Wedding Registry
If you're not sure what to put on your wedding registry checklist, you're not alone. You probably need things for your kitchen, dining room, bedroom and bathroom—but there's no need to stop there! If you need wedding registry ideas, look no further than our essential list below.
Wedding Registry Essentials
This wedding registry checklist, which includes everything from china to sheets and toothbrush holders, boasts all the most important items you'll need as you start your life as newlyweds. But no matter what you decide to register for, enjoy the process—registering can be super fun!
Wedding Registry Essentials In this article:
Kitchen Essentials
Before you get into the kitchen and starting cooking up a storm, you're going to need a few things to help you get down to business:
Cookware (pots, pans, skillets)
Bakeware (cakes and cupcake pans, silicone mats, measuring cups)
Stand mixer
Coffee pot
Tea kettle
OR a brewer that makes both
Toaster
Kitchen tools (spatula, whisk, tongs, ladle, cheese grater, peeler, can opener)
Knives
Dish towels
Dish rack
Cutting board
Barware (corkscrew, strainer, jigger, scoop)
Apron
For a more complete list of kitchen essentials, visit our Ultimate Registry Checklist.
Dining Essentials
For breakfast, lunch or dinner on the daily, this is what you'll need to set the table:
6 to 12 place settings (dinner plates, cereal bowls, soup bowls)
12 casual drinking glasses
6 to 8 coffee or tea and beer mugs
Salt and pepper shakers
Salad bowl and tongs
6 to 12 5-piece Flatware sets
Serving utensils
Butter dish
Formal Dining Essentials
There's everyday dining, and then there are those special occasions when you want to dress your table to impress! For those moments, you'll need to add the following to your wedding registry checklist:
4 to 8 china place settings (dinner plates, salad plates, soup bowls)
China cups and saucers
China teapot
China coffee pot
Creamer and sugar bowl
5-piece stemware sets
Gravy boat
Platters
Table linens
For a more complete list of dining essentials, visit our Ultimate Registry Checklist.
Bathroom Essentials
For your pampering domain, you'll need so much more than just plush, luxurious towels. (Though that's a strong start!) Add these to your wedding registry checklist for the bath:
6 Bath towels
6 Hand towels
Bath mat
Shower curtain
Shower liner
Shower curtain rings
Toothbrush holder
Soap holder or dispenser
Toilet brush holder
Garbage can
For a more complete list of bathroom essentials, visit our Ultimate Registry Checklist.
Bedroom Essentials
Last but not least, create a bedroom that's a cozy haven for you and your new spouse! Start by finding bedding that's so comfortable you can't wait to crawl into it. Then fill out the rest of your bedding basics on your wedding registry checklist.
Comforter or duvet cover
Flat and fitted sheets
Bed skirt (if necessary for your bed)
Mattress cover
Pillows
Pillowcases
Pillow shams
Of course, these items are only the essentials. You're not limited in what to put on a wedding registry, so be sure to add items that speak to your unique lifestyle and personalities. Check out The Knot's Ultimate Registry Checklist to get a full list of items you should consider for your registry, from luggage to patio furniture.