This Essential Wedding Registry Checklist Covers All the Must-Haves
Thank us later...
Registering for wedding gifts can feel like a daunting task after getting engaged. You want to make it easy for loved ones to give you an engagement, couple's shower or wedding gift, but you're not sure what you need for married life. Worry not, we've created the best wedding registry checklist for you to scroll, print and mark up. It won't just help you source wedding registry ideas, it'll also make sure you haven't forgotten any wedding registry items. (Looking at you, food storage containers.)
Below, you'll find wedding registry lists for every room in your home, plus unique gift options you might not have thought of, but will definitely use—like new couples camping gear if you're outdoorsy or gift cards to help cover date night costs. It's a big checklist, but that's actually a good thing! When it comes to how many gifts to put on your registry, you'll want to multiply your guest list by two and then add a few extras. This gives friends and family plenty of options to shop, so they can find something that excites them and fits nicely within their budget.
That said, our checklist of wedding registry must-haves is ultimately a jumping-off point. While we feel we've included all the important wedding registry essentials, every couple is different. Take stock of what you have, what you need and what you want before adding items to your wish list. And just because something is a traditional wedding gift, doesn't mean it's the right wedding gift for you. No matter what you decide to register for, enjoy the process—making your registry should be a fun task for you and your S.O. to complete together in the months leading up to the wedding. So open up the laptop, pull up The Knot Registry, grab your partner and get started.
In this article:
Kitchen Registry Checklist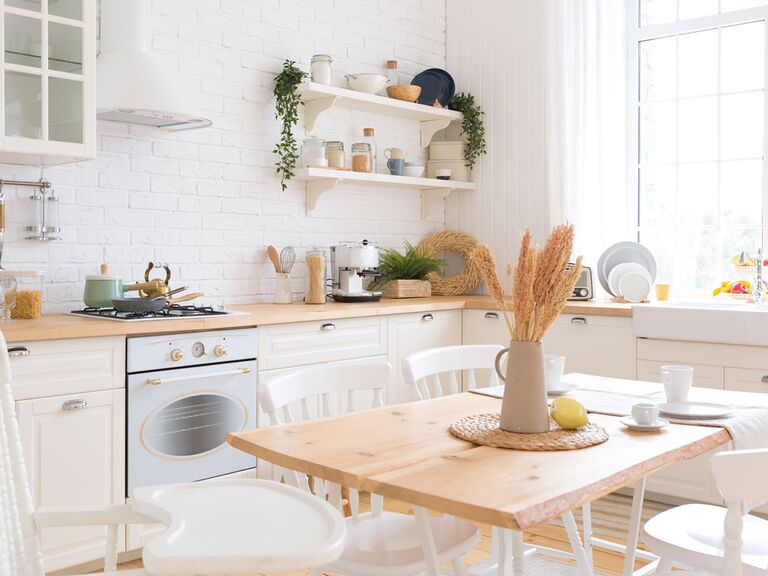 Start your wedding registry in the heart of the home: the kitchen. Equipping your kitchen with the right cookware, tools and small appliances will help motivate you to make homemade meals (and desserts) with your partner, which in turn can be valuable time together, especially if you're both busy. And must-haves for your kitchen registry checklist aren't all cooking and baking supplies. Add spice racks and drawer organizers to keep the space tidy and even bar tools, if you're both budding mixologists. Browse the essentials below and customize your list to your liking—maybe you don't need the espresso machine, but really want a cold brew coffee maker.
Air fryer

Aprons

Baking sheets

Bar tools (corkscrew, jigger, strainer, etc.)

Basting brush

Blender

Cake pan

Can opener

Carving set

Casserole dish

Cheese grater

Citrus zester

Coffee grinder

Coffee maker

Colander

Cookie cutters

Cooling racks

Cupcake or muffin pan

Cutting boards

Dish rack or drying mat

Dish towels

Drawer organizers

Dutch oven

Espresso machine

Food processor

Food storage containers

Garlic press

Handheld juicer

Hand mixer

Ice cream scoop

Ice tray

Indoor grill and griddle

Kitchen shears

Knives

Bread knife

Chef's or santoku knife

Paring knife

Steak knives (6 to 12)

Utility knife

Knife block

Knife sharpener

Ladle

Loaf pan

Measuring cups and spoons

Meat thermometer

Mixing bowls

Oil and vinegar dispensers

Oven mitts

Panini press

Paper towel holder

Pie dish

Pot holders

Pots and pans

Saucepans (1.5 and 4 quarts)

Sauté pan

Skillets (8 or 10 inches and 12 inches)

Stir-fry pan or wok

Stockpot (8 quarts)

Pressure cooker

Ramekins

Recycling bin

Rolling pin

Salad spinner

Salt well

Slotted spoons

Slow cooker

Soap dispenser

Spatulas

Spice rack or organizer

Stand mixer

Stand mixer attachments (ice cream maker, pasta roller, spiralizer, etc.)

Tea kettle

Toaster or toaster oven

Tongs

Trash can

Veggie peeler

Waffle maker

Whisk
Tabletop Registry Checklist
What's a home-cooked meal without a nice table setting? From breakfast, lunch and dinner with your spouse to hosting holidays and parties for your friends and family, this is all the serveware you need. Plus, we list quantities! The general rule of thumb is to have eight to 12 place settings—matching that quantity for flatware, drinkware and table linens. Of course, you can account for what you already own as a couple and assess your anticipated hosting needs to determine your final number. If you won't be in charge of Thanksgiving dinner, there's no need to stock your cabinets with a dozen charger plates.
5-piece flatware sets (6 to 12)

Beer glasses

Butter dish and knife

Cake stand

Cereal or soup bowls (6 to 12)

Champagne flutes

Charcuterie board and cheese knives

Coasters

Coffee or tea mugs (6 to 8)

Creamer and sugar bowl set

Decanter

Dinner plates (6 to 12)

Espresso cups and saucers

Gravy boat

Highball glasses

Ice bucket with tongs

Juice and water glasses (12)

Napkins and rings

Pitcher or carafe

Placemats

Red and white wine glasses

Rocks glasses

Salad bowl

Salad or dessert plates (6 to 12)

Salt and pepper shakers

Serving bowls and platters

Serving utensils

Soup tureen

Specialty cocktail glassware

Tablecloths

Trivets

Wine chiller
Bedding Registry Checklist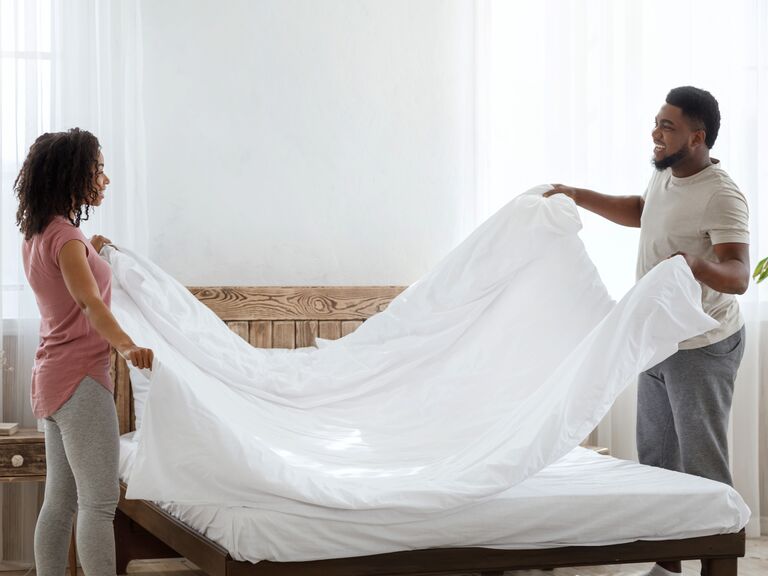 Your bedroom should be a cozy oasis for you and your spouse. Even if you already live together, bedroom registry items are still necessary. After all, this is an opportunity to register for that silky, thermoregulating sheet set you've been eyeing online and fluffy new pillows that'll help with your postwedding R&R. Plus, you'll want to think about guest rooms if you have them. It's said you should have two to three sheet sets per bed so that you'll always have fresh ones to use. First things first: Check your linen closet. Could you use more pillowcases? Do you want both a comforter and a quilt so you can swap your bedding with the seasons? This is your time to ask for anything that'll elevate the bedroom(s) and aid in better sleep. Just make sure to specify each linen's color or print so everything will match.
Bed skirts

Comforters or duvet inserts and covers

Decorative pillows

Fitted sheets

Flat sheets

Mattress covers

Mattress pads

Pillowcases

Pillow shams

Pillows

Quilts
Bathroom Registry Checklist
For your pampering domain, you'll need so much more than just plush bath towels. (Though, new towel sets—specifically three per individual in the household—are a great start for any bathroom registry checklist.) Some other bathroom wedding registry essentials: a bath mat, linen hamper and vanity organizers. Of course, there are also little luxuries for your bathroom that aren't essential, but fun to have—like a heated towel rack, a bathtub caddy and matching couples robes.
Bath mat or rug

Bath sheets

Bath towels (6 minimum)

Garbage can

Hamper

Hand towels (6 minimum)

Miscellaneous storage and organizers

Shower curtain and liner

Shower curtain rings

Soap holder or dispenser

Toilet brush holder

Toothbrush holder

Washcloths (6 minimum)
Living Registry Checklist
While cash funds are a great way to cover some big-ticket items like a giant sectional or flat screen, there are still plenty of home furnishings you should register for to decorate the rest of your newlywed nest. Think: picture frames, curtains, lamps, throw blankets, planters—the list could go on and on. This is also where you can include that high-tech robot vacuum you're convinced will help you clean more. Start checking off some basic home items below.
Accent chair

Air purifier

Bar cart

Bookshelf

Candles and candle holders

Clock

Closet organizers

Coffee table

Curtains

Dining chairs

Doormat

Entertainment console

Floor lamps

Humidifier

Indoor planters

Iron and ironing board

Kitchen table

Mirrors

Ottoman

Picture frames

Rugs

Runners

Side tables

Smart home gadgets (security cameras, speakers, thermostats, etc.)

Sofa

Steamer

Storage baskets

Table lamps

Throw blankets

Throw pillows

Vacuum

Vases

Wall art

Wall hooks or coat racks
Outdoor Registry Checklist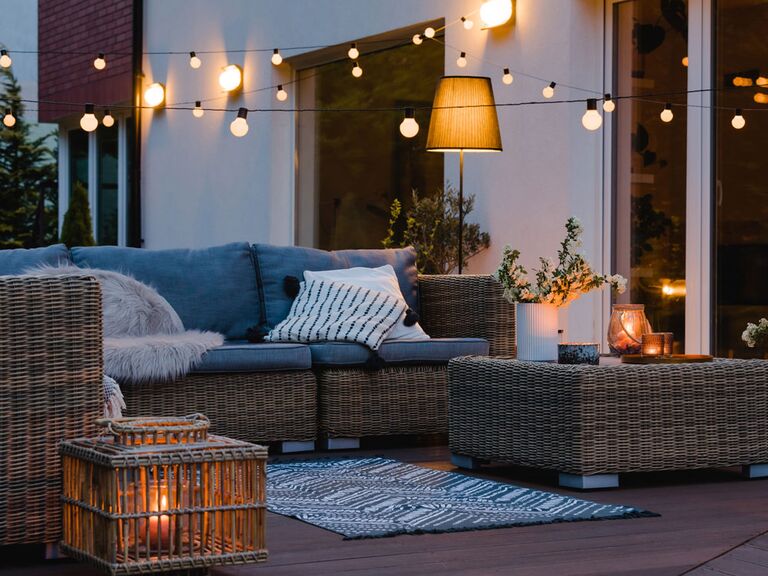 Want your home to be the go-to destination for summer cookouts and late-night porch chats? Use your wedding registry to turn your outdoor space into a nature retreat that's perfect for entertaining. Whether you have acres of land or you're working with a small balcony, registering intentionally will help you transform your space. This means you'll need to know the area's measurements and HOA restrictions before adding patio furniture and a firepit to your wedding registry. Feel free to think outside the box a little here, too. If you have the essentials covered, consider asking for fun lawn games, a waterproof speaker or a pizza oven (a must-have for a wedding registry, in our opinion) to take it to the next level.
Decorative lighting

Firepit

Garden tools

Grill and barbeque tools

Lawn games

Lounge chairs or chaises

Outdoor planters

Outdoor rug

Outdoor speaker

Outdoor storage

Patio table and chairs

Patio umbrella

Pizza oven

Wheeled cooler
Lifestyle Registry Checklist
So, what are good things to put on a wedding registry when you have everything? We're so glad you asked! Below, find your checklist for unique wedding registry must-haves like cash funds, charity donations and gift cards as well as travel essentials for your honeymoon and treats for your furry BFF. Your registry should feel tailored to your relationship and lifestyle—so if you have a small space or you just don't need more things, it's A-OK to get creative. After all, your friends and family want to get you things you'll actually use.
Camera

Camping gear

Carry-on luggage

Cash funds

Charity registry

Checked luggage

Experience gifts

Garment bags

Gift cards

Luggage tags

Pet gear

Toiletry bags

Tool kit

Travel totes, backpacks or duffel bags