Home

Amy Osaba Floral Event Design
Details
Centerpieces, Plants, Vases, Decorations + Accents, Bouquets, Flower Arrangements
Contact Info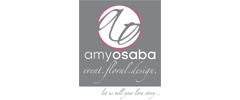 Reviewed on

5/25/2017
Gwen H
I could see upon meeting Amy Osaba and Mary Wynn, that if I decided to work with them for my wedding, I would be working with absolute experts in the field of florals and design. We talked in terms of concepts rather than specifics and I didn't micromanage them because I could... Read More tell by the quick sketches Amy made that she completely "got" what I was looking for, although I wasn't even fully able to express it myself. Her creativity is truly amazing! Once I met them and booked them for my big day, I knew that although there might be some vendors who "dropped the ball", it wasn't going to be them! On the day of my wedding I was completely overwhelmed and blown away with the beauty of the venue once they transformed it! It was as if they had reached into my mind and heart and pulled out ideas that I didn't even know were there. It was absolutely perfect! More beautiful than I could ever have imagined! My life would be complete if I could just go back and really take time to look at the room again :) Amy and Mary were an absolute dream to work with every step of the way. Nothing was a problem and they made every challenge seem easy. I can see why everyone I talked with recommended them. When I was interviewing design companies, it was as if all roads led to Amy Osaba, and now I can see why! I would highly recommend this team for any event!
---
Reviewed on

3/14/2017
Larissa W
This was an incredibly disappointing experience. From the moment my now-fiancé and I began discussing getting married, I had already known who I wanted to be our florist. Fast forward to now, and I am an extremely disappointed prospective customer. I was put in touch with Ashley... Read More after I expressed wanting to use them as our florist. Ashley was great... at first. Until she just stopped responding to my e-mails for over a week. Finally, after sending 3 e-mails following up about meeting with her, she scheduled a time to meet with me. We sat down a few weeks later and I felt like she was just trying to get us out the door the entire discussion. I still had a feeling that maybe the Amy Osaba touch could come through, so I persisted through all of the red flags. She said she would have a quote to us within a week. It's been 2.5 weeks and we have received nothing. I have sent her 3 e-mails asking for a follow up, as well as an e-mail to Amy herself letting her know of our disappointment. We cannot afford to have an unreliable florist for our wedding, because who knows if they would have even shown up or had the opportunity to hear us out. With that being said, we will not be using Amy Osaba events and we will not be recommending their services to anyone.
---
Reviewed on

10/28/2016
Krystina M
Absolutely breathtaking. There will never be a review good enough for, the Amy Osaba team, Mary McLeod, or the amazing job that she did for my wedding ceremony and reception florals and design. If you are looking for the best, without a doubt, they are it. They are highly sought... Read More after and well-known within the wedding industry. I met with Mary before my wedding at the Amy Osaba office/warehouse space and discussed in detail what I wanted for my day. I felt that she truly took this vision and ran with it, even on short notice. (I had recently moved to Ga and had a hard time finding a vendor I loved). She even took the time to look over my Pinterest inspiration board, and ultimately brought my dream to life. I knew I could trust her wholeheartedly with this important job, which is every bride's dream! (She also tries to be realistic with you and conscious of your budget?! WOW.) Stunning doesn't even begin to describe the florals and design that she created for my wedding. Everyone from my guests, photographers, videographer, and other vendors were in awe with how beautiful everything was. It was exactly what I had hoped for, and then some. It was modern, with a touch of southern elegance. She was able to turn my barn venue into a simplistic, organic, whimsical, and romantic setting straight out of a wedding magazine, and even that description doesn't do it justice. If they are available and your budget allows, book them, it will be the best decision you will make for your wedding.
---
Best Decision We Made!
Reviewed on

1/05/2016
Kate P
We hired Mary from Amy Osaba to be our florist and day-of coordinator. Hiring Mary was hands down the best wedding decision we made! Truly. My mom and I couldn't be happier with Mary's gorgeous work. The flowers were absolutely stunning. More beautiful than I ever could've... Read More imagined. The table settings looked idyllic, with no detail left undone, and I was just so thrilled with all of the decor--the florals on the escort card stand, the arrangements at the bar and guest card table, and the jaw-dropping altar installations. Perhaps even more important than Mary's talent was her warmth, kindness, thoughtfulness and eagerness to help and please. Her relaxed demeanor helped keep everyone calm on the big day and she knew just how to put everyone at ease. All the while, GETTING THE JOB DONE. Mary did a lot of extra work on our wedding day due to weather issues and we are eternally grateful for her flexibility and willingness to do whatever it took to make our day perfect. Mary made our day so wonderful and we couldn't have done it without her. I highly recommend anyone planning a wedding hire her!
---
Reviewed on

12/17/2015
Shelbi B
Amy Osaba Events is fantastic, in particular Mary McLeod! She helped to imagine and create such a beautiful vision for my wedding. From the very beginning, Mary worked to create a floral and decor plan that would not only be beautiful, but would also incorporate pieces of mine... Read More and my husband's personalities/lives. One example is that, knowing that my husband's family is from South Africa, she used the South African national flower in my bouquet. Little touches like this really show that this company not only has talent, but heart and soul as well. Mary is a lovely person with huge talent; I cannot recommend Amy Osaba Events enough!
---
Wowed by their work
Reviewed on

12/16/2015
Larkin M
Amy Osaba and her teams work absolutely floored us (and our guests). No kidding, there were actual gasps as people walked into our venue and saw what Amy and her team had created. They were a dream to work with and managed several crisis' the I managed to cook up last minute. So... Read More so glad I got the opportunity to have their work at my wedding.
---
Reviewed on

12/08/2015
Anna P
I cannot say enough great things about Amy Osaba Events. I contacted Mary McLeod of AOE after booking my venue at Vinewood Plantation to be my wedding florist and day of coordinator. Flowers: I didn't have a clear direction of exactly what I was looking for in flowers, so she... Read More set up a meeting with me the week after booking my venue to go over colors and what I was overall looking for. She showed me different pictures and got a sense of the overall theme I was looking for. She really listened to every detail that I was looking for, and made it come to life. Mary made all of the bouquets, boutineers, centerpieces in the reception, and beautiful floral garland used as a backdrop during our ceremony and reception. The flowers were so incredibly detailed and beautiful. Day of Coordination: I also hired Mary to do day of coordinating, which she did a phenomenal job! She met with me several times to go over the wedding day, went to the walk-through, make a very detailed wedding day itinerary for myself and all vendors, coordinated the rehearsal ceremony, decorated the reception area, was the primary contact point for vendors in the weeks leading up to my wedding, packaged all of my gifts up, and broke down the reception area after it ended. The day of my wedding, I didn't have to worry about anything! It was pouring down rain the entire day, but Mary and her assistant, Ashley (who is equally awesome), were very flexible and moved the entire ceremony into our reception area and far exceeded anything that I could ever imagine. They both did a wonderful job calming my nerves and making the entire wedding day be perfect. Cost: The cost is higher, but if you want very detailed and unique floral arrangements, this is the place to go! I would recommend Amy Osaba to any friends getting married, I had nothing but a wonderful overall experience.
---
Gorgeous Work!
Reviewed on

12/02/2015
I got married in September 2015 at the Sandy Creek Barn at Lake Oconee. Mary, with Amy Osaba Events, did my flowers. I cannot say enough good things about the gorgeous flowers. I didn't give Mary a lot of direction, just showed her a few pictures of what I liked and she... Read More brought it to life. My bouquet was breathtaking. It was so beautiful and well constructed. She also did an amazing job with the table décor. I had long farm tables that Mary decorated with small centerpieces, beautiful votives, and small bud vases. I could go on about the flowers forever, but the best part was working with Mary. She was so sweet and very easy to work with, I would recommend her to my best friends. At the site visit she came up with some very cool ideas that I never would have thought of. I feel that the price was very fair for the quality and service that you get from Amy Osaba Events.
---
Poor Delivery and Communication
Reviewed on

10/01/2014
Nicole S
I ordered what was supposed to be a small and understated floral halo from Amy Osaba for my wedding day. What I received was a large and dramatic crown, delivered in an old, dented cookie tin. I had expected a little more from such a high end boutique. I communicated my... Read More concerns to the owner and the designer quite a few times, but received zero response from either person. Understanding my $250 order was likely a small blip on their radar, it's still a highly unprofessional practice. Sharing my experience for what it's worth.
---
Awe struck by what all she can do!
Reviewed on

6/18/2013
Ashley H
Amy was absolutely wonderful in making the dream in my head come to life at our wedding! It was amazing what ideas and arrangements she came up with to really fulfill our wishes and wants in our wedding decor. I think she has a great way of going into your head and what your... Read More thinking and then making it better! She was great at communicating changes or thoughts and was extremely helpful on the day of our wedding in making our space come to life!
---
Amy Osaba is a true artist
Reviewed on

5/14/2013
Lauren M
Amy is an amazing artist. She really sees your vision and does her best to implement that! She made a floral garland for our ceremony that was breathtaking, the boquets were gorgeous, my bridesmaids kept them to dry them! She also did our cake decor and it was beautiful as... Read More well.
---
Simply the BEST!!
Reviewed on

5/01/2012
Lisa G
Maria Taylor designed my wedding flowers and she surpassed my expectations!! The table arrangments & settings were unique,exquisite and very detailed! My boquet and my bridesmaids boquets were stunning! I would never use anyone else for any event from this day... Read More forward! They are simply the BEST!
---
Creative and Organic
Reviewed on

11/05/2011
Karin T
Amy takes the time to understand your vision for the wedding and your personality and starts her design from there. We wanted an organic yet luxurious feel to the flowers and Amy came up with gorgeous designs in vibrant colors that didn't feel too "done". Everything was better... Read More than we had imagined. Amy and her team were a pleasure to work with and were creative when we had to reduce our florist budget.
---
Beautiful in White
Reviewed on

6/07/2011
Karen F
Amy and her team of designers did a beautiful job at our daughter's wedding in Atlanta, Georgia. They took her vision and design ideas and transformed them into beautiful displays that were natural and different at each and every table. The design themes were carried throughout... Read More the weeked from the bride's luncheon, dress rehearsal dinner, ceremony, and reception. She and her staff were professional, easy to work with, and committed to making her day as beautiful as she had invisioned. They provided excellent professional and personal service. Karen
---
The most talented artist I know
Reviewed on

1/18/2011
Jennifer U
Amy is, hands-down, the most talented artist I know and I absolutely loved working with her on our wedding. She is a visionary and a collaborator, an artist and a team-player. She knew my aesthetic inside and out and was on-site all day, and all night, long to ensure that... Read More everything looked exactly the way I would want it to. The chuppah she created was truly a work of art, each table had a different arrangement on it, and everything was effortlessly romantic and modern. If you want to work with the best, you want to work with Amy. There is no one else like her.
---