12 Wedding Pinatas We're Obsessed With
We have included third party products to help you navigate and enjoy life's biggest moments. Purchases made through links on this page may earn us a commission.
One of our favorite new trends is the wedding pinata! We're not talking about a donkey or a cartoon character you find at the generic party store down the street. These are serious paper art pieces designed and constructed to complement your wedding. And couples aren't stopping there — fill it with small favors for your guests like lottery tickets, personalized pins, small toys (for the kids) and mini plastic liquor bottles (for the adults). For a twist on traditional garter toss, we've even seen couples fill their wedding piñata with garters! Take a look at a few of our favorites.
Ombre Wedding Cake Pinata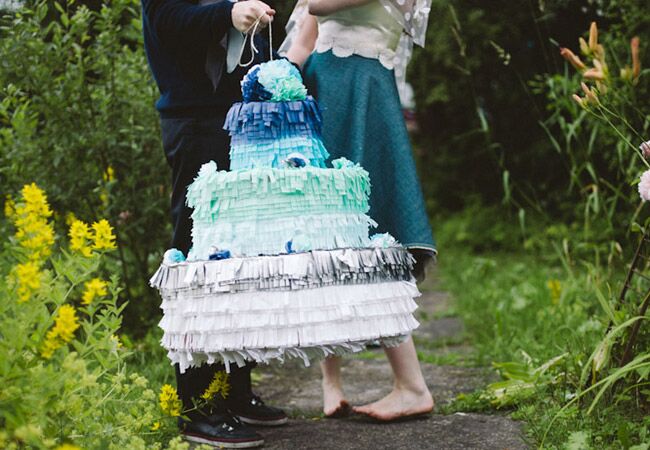 Photo by: Amanda Thomsen via Etsy
Make your own amazing wedding cake pinata with this tutorial to guide you. (This couple filled theirs with fortune cookies!)
Colorful Post-it Note Wedding Pinata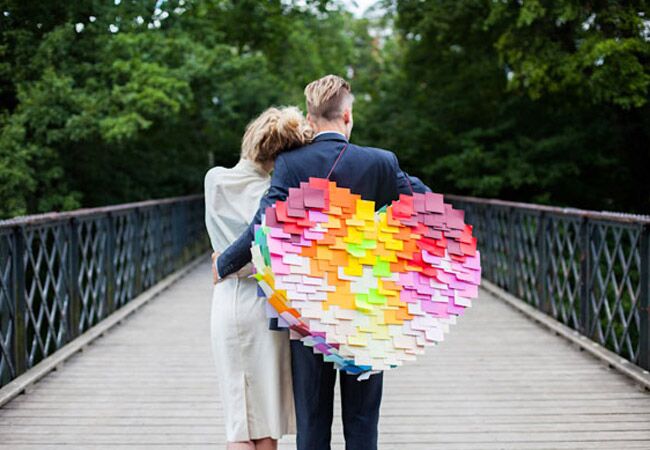 Photo by: Amanda Thomsen via Brooklyn Bride
Talk about maximizing what you have — grab some Post-its and create this funky heart pinata yourself! Follow along with the how-to here.
Tissue Paper Rose Wedding Pinata
Photo via: Forty Weeks and Then Some
It's like an oversized wedding pomander made out of paper. Cover a balloon with papier mache and DIY tissue paper flowers for this pretty floral pinata. This tutorial shows you how!
Hot Air Balloon Wedding Pinata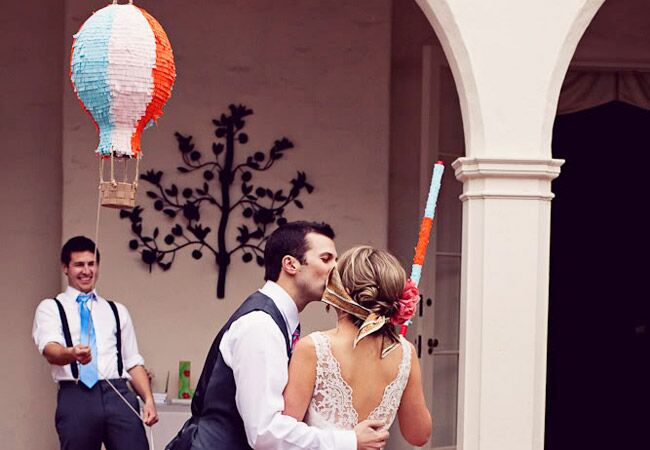 Photo by: He & She Photography via Carter and Cook Event Co
The groom made this hot air ballon pinata and they filled it with tooth brushes, floss and toothpaste in honor of the bride's beloved grandpa who was a dentist!
The Ampersand Wedding Pinata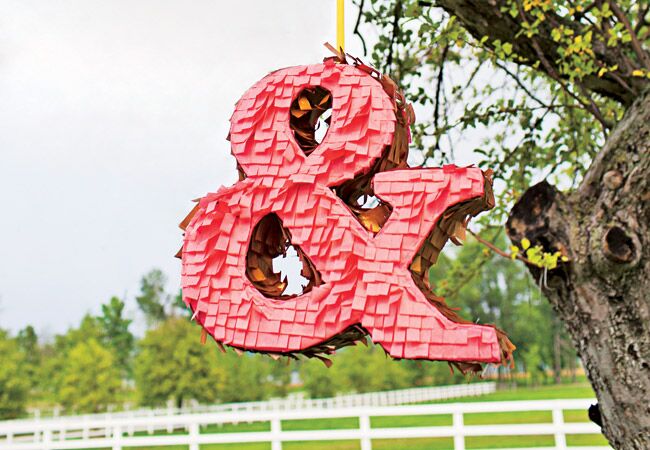 Photo by: Amy Carroll Photography
Symbolize the union with the ultimate uniter — the ampersand!
Day of the Dead Wedding Pinata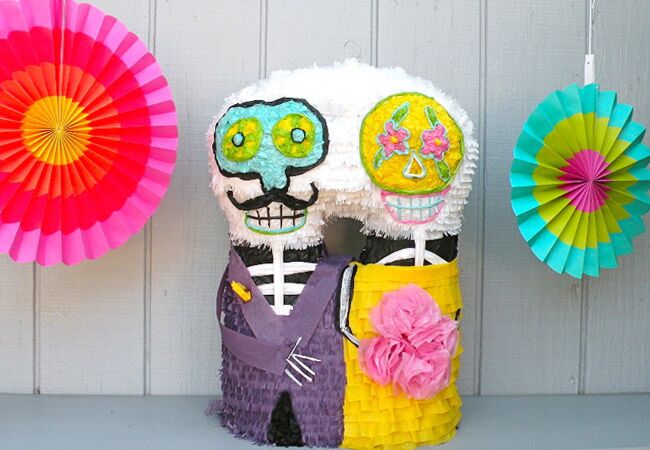 Photo via: Wack Pinateria
Til death do you part! Instead of whacking these sugar skull figures, you just need to pull the strings — only one string breaks the pinata!
White and Gold Star Wedding Pinata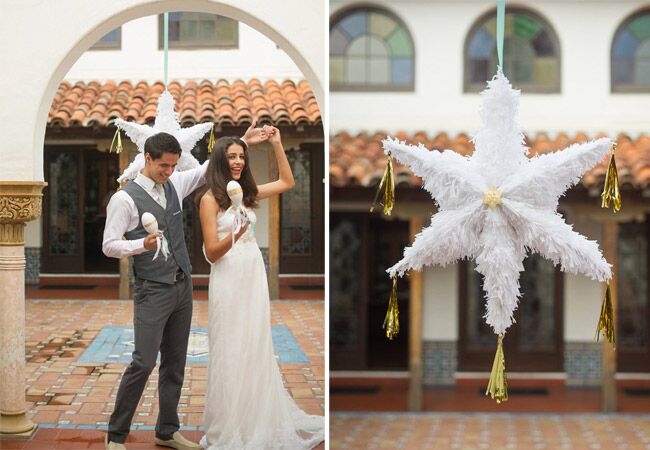 Photo by: Flutter Glass Photography via 100 Layer Cake
Bust out the maracas to shake in celebration around this simple star pinata!
Silver Shiny Heart Wedding Pinata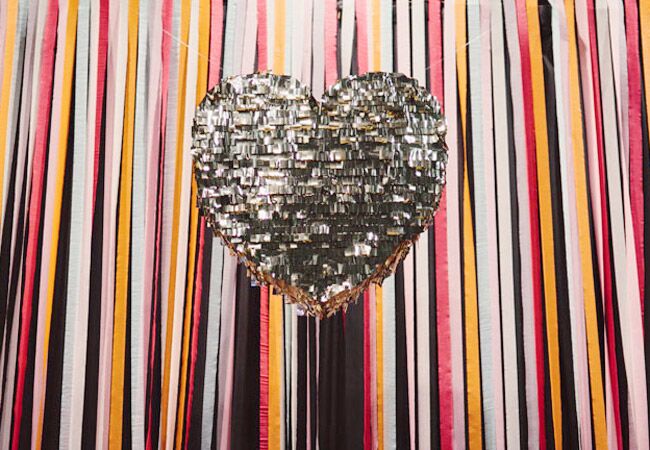 Photo by: Sarah Culver via Green Wedding Shoes
This bride decided to make her own glitzy heart pinata to hang above the head table at the reception. She used this easy step-by-step guide.
Engagement Ring Pinata
Photo by: Kitiya Palaskas
It's the ultimate sparkler! Commission an artist to make a custom pinata for you in and work with them to get the shape that mimics your ring.
Blue Striped Wedding Pinata
Photo by: Eric Kotara Photography via Wedding Chicks
Bring back your favorite childhood memories by adding a pinata to a casual backyard reception. (Awkward spare lumber bat not included.)
Monogrammed Heart Wedding Pinata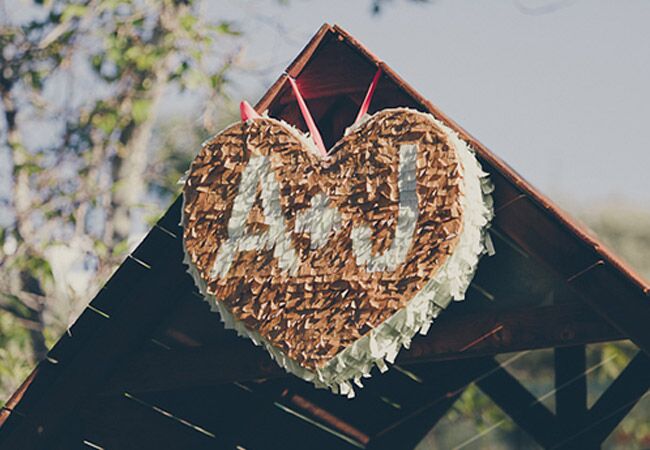 Photo by: Steve Cowell Photo via Wedding Chicks
Choose a pinata in your wedding colors and get even more personal by adding your initials.
Classic White Wedding Cake Pinata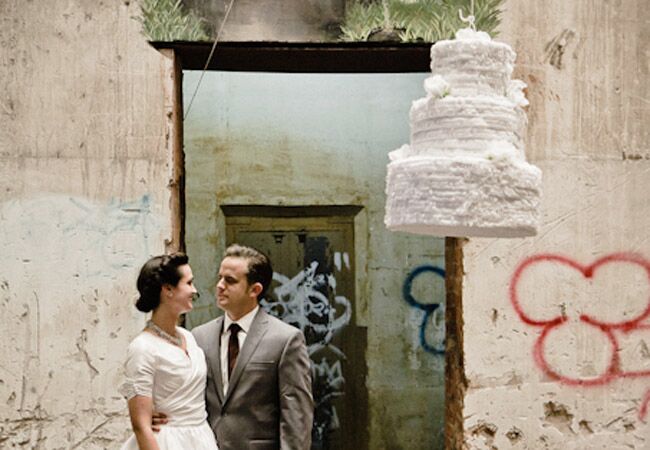 Photo by: Jared Platt
A traditional white wedding cake can fit in with any reception decor. It looks chic against the urban graffitied venue too!
Fringed Blindfold (For Your Wedding Pinata Of Course!)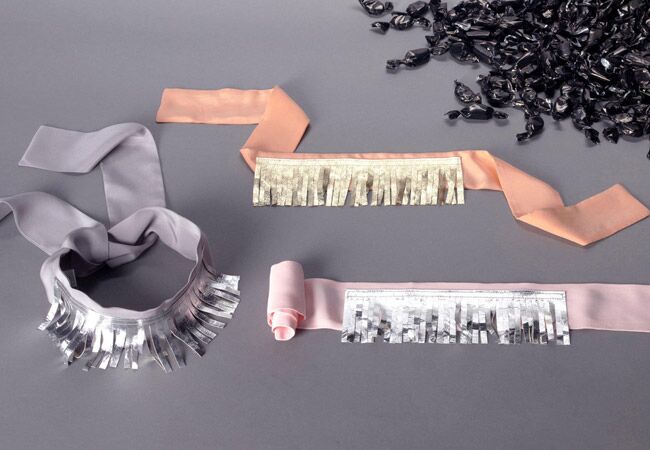 Photo via: Confetti System
As the star of the day, you've gotta look cute while smacking the beautiful pinata! These fun and frilly blindfolds bring major style points to the game.
Can't get enough? See more reception ideas!
> See how this couple incorporated a pinata at their reception
> Check out our dos and don'ts of DIY
> Learn the 17 ways to spruce up your reception space