All the Wedding Games Your Guests Will Actually Want to Play
Want everyone to have nothing but fun at your special event? Fill it with these fun, must-play wedding games that are sure to score big with your guests.
Get—and keep—your guests engaged and entertained during your wedding day's downtime with wedding games. Offering wedding games to play can keep guests entertained while you and your wedding party are off being photographed, making the meet-and-greet rounds, or changing outfits from ceremony pretty to party perfect. And if you've got friends and family who've never met one another, wedding reception games can be a fantastic way to break the ice—just don't overdo it; remember, it is still a wedding, and the focus should be on you! Unsure how to tow the line between super fun and just plain silly? Check out our comprehensive guide to the best wedding games for your crowd.

In this article:
Yard Games for Weddings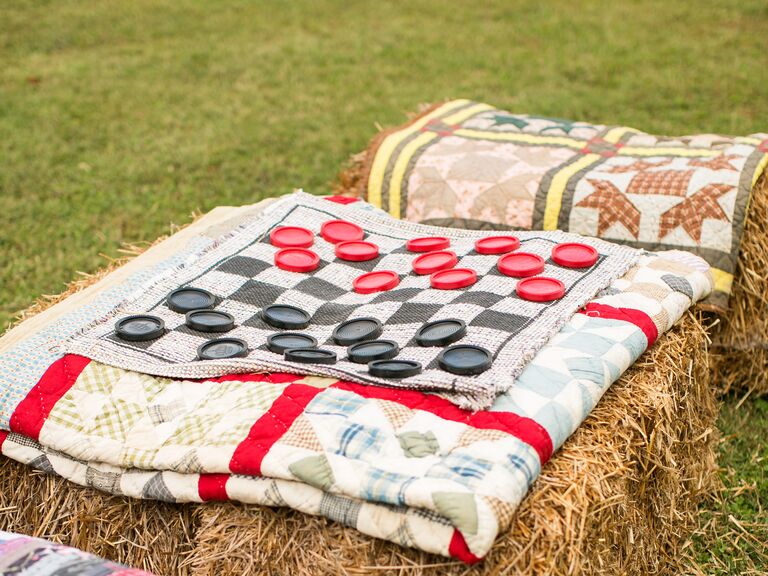 Take advantage of beautiful weather and a gorgeous outdoor venue by kicking off the post-ceremony celebration with wedding lawn games. Set up on the grass for couples or groups, yard games for weddings are not only fun to play but can also act as an extension of your décor, be it rustic, beachy or boho. When selecting outdoor wedding lawn games, play up your theme, wedding colors and anything that helps to tell your love story.

Ring Toss: Honor the exchanging of rings with the wedding games version of ring toss. Make your own ring toss set with painted glass wine or soda bottles in your wedding colors and decorate with faux jewels to make the tossers reminiscent of your wedding rings.
Cornhole: Turn this tailgating favorite into a great wedding game for guests. Customize the boards with your wedding date and your new last name, and you'll have a memorable backyard game to use in your own yard for years to come.
Giant Connect Four: Step this classic childhood game up a notch by making it giant-sized. For a fun touch, paint the playing pieces in two of your wedding hues and let the connecting fun begin.
Badminton: Set up a net to encourage guests to volley the birdie back and forth. If you're looking to round out a boho vibe, have a bit of fun with your net choice by hanging a wide macramé curtain from a rod on stands. For a nighttime option, lace twinkling lights into the net to keep the wedding lawn games going long after sundown.
Giant Checkers: Create this well-known game board using spray paint on grass or chalk on pavement, or even roll out a checkered game board rug for a reusable option after the wedding lawn games are done. Incorporate your wedding colors by painting the pieces accordingly.
Ladder Golf: Another popular game played at parking lot parties, ladder golf is fun for two or more people to play. Teams take turns throwing bolas (two golf balls attached at either end of a nylon rope) at the ladder. First team to 21 points wins!
Giant Jenga: Marriage is a game of balance, and no game better represents that than Jenga. Use a large, outdoor-sized version as a wedding game and include "Did You Know" facts about you and your partner on each block for a personalized touch.
Wedding Table Games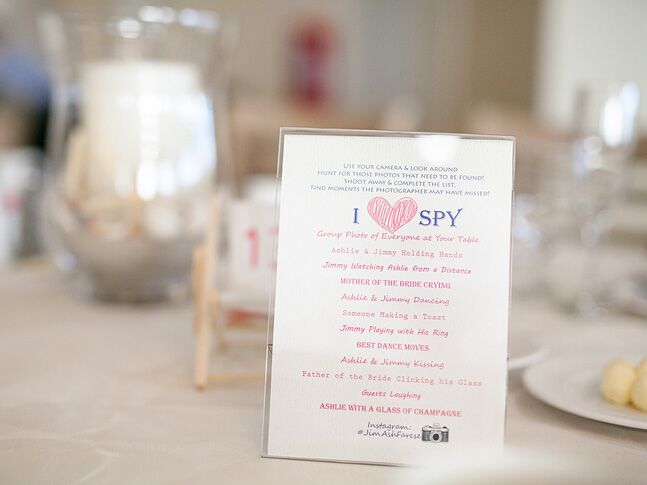 When the guests are seated for dinner, there can be a lot of downtime before food is served or before tables are called to the buffet. Stave off hunger and awkward moments by providing wedding table games to encourage your guests to mingle and have fun.

I Spy Wedding Game
One of the more popular wedding table games, the I Spy Wedding Game is a win-win for guests and the newlywed couple. Similar to a scavenger hunt, this wedding games activity instructs guests to use their personal cameras or disposables provided by the couple to seek, find and snap pics of different moments from your memorable day. The guests have fun doing it, and you get to see events from the day you might've missed. Win-win! Below are a few pictures to include on the guests' I Spy Wedding Game hunt:
A group selfie
A picture of the bride in her dress
A funny face
A kiss
A sparkling drink
A tasty treat
An old-school dance move
A person laughing
A table clinking glasses
A favorite decoration
DIY Tip: Print up cards to place at each guest's seat or create a sign or chalkboard with the instructions. If you want your wedding photos shared on social media, include a hashtag so you can see all the fun from your wedding games.
More Wedding Table Games
Wedding Couple Mad Libs: Want marriage and love advice from your family and friends? Create a Mad Libs-style template for guests to fill out at their tables. This is one of the wedding games guests can do alone, or the whole table can get in on the fun, sharing their tips on how to keep the spark alive, where to go on "married dates," and other words of wisdom.
Bored-No-More Board Games: Take a playful—and colorful—approach to your centerpieces by using board games as mid-table eye candy. Dominoes, decks of cards, Trivial Pursuit, Life and Yahtzee all make for crowd-pleasing wedding games guests can play.
I Dare You: Have a few wallflowers among your guests? Help them join in the fun by placing fun dare options on each table. Keep in mind who will be seated at each table when you prepare the dares. Ideas include: "kiss the person to either side of you," "take a selfie with a funny face," "bust a new move on the dance floor," and "do a group shot at the bar."
Bride and Groom Trivia: Let one lucky guest from each table make a play to take home the centerpiece or a prize. Create a list of trivia questions about the bride and groom for guests to answer. Have the DJ or a wedding party member read the answers. The person at each table with the most correct answers wins.
Couple's Crossword: Another way to test your guests' newlywed knowledge is to create a crossword puzzle entirely based on information about the bride and groom. Winners with the most correct answers for this wedding game don't have to win anything beyond bragging rights.
Big Group Wedding Games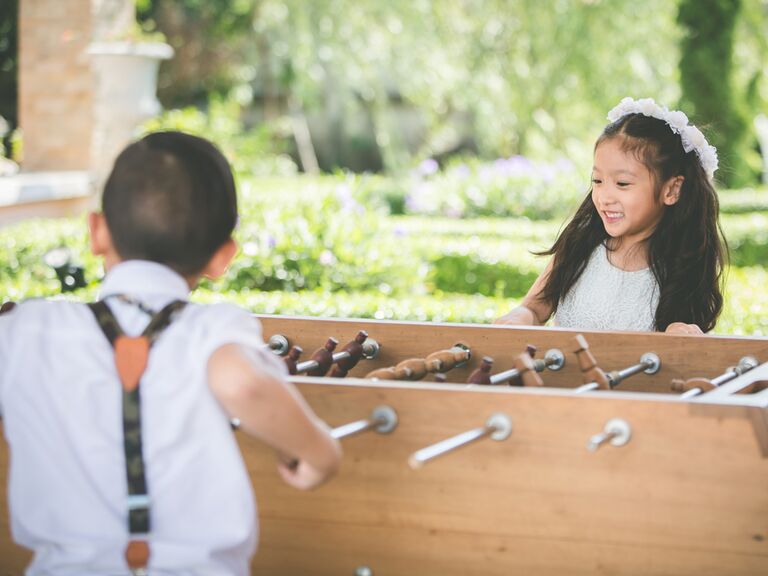 When you want more than just guests from each reception table to interact, bring in the entire group with wedding games to please the masses.
Wedding Shoe Game
Ice breakers aren't just for business meetings; they can also be wedding games to help guests get to know the bride and groom that much better. One popular example is the Wedding Shoe Game, in which the bride and groom are seated in chairs back to back. Shoes are removed so that the groom holds one of his own and one of the bride's, and vice versa for the bride.
Either the DJ or a member of the wedding party reads the questions out loud for the entire reception group to hear. In response, the couple raises the shoe of the person who the answer to the question best represents. To get your guests more involved, have them submit questions into a box prior to the start of the game. For preset questions, consider the following:
Who has more clothing?
Who is most likely to fall asleep during a movie?
Who has the better shower singing voice?
Who is the better dancer?
Who made the first move for a kiss?
DIY Tip: A great way to get guests involved is by giving each person a stick with a picture of the bride's face on one side and the groom's on the other. When each question is asked, guests can hold up the picture that corresponds to their guess.
Wedding Bingo
Want to encourage mingling among your guests? Another wedding games ice breaker is Bingo. In this version, guests don't sit and mark off a card as numbers are called. Instead, they have to take their card around to the other guests to find someone in the room who can claim "That's Me!" given the clue provided, and then making it official by writing in their initials. When creating the cards, try to avoid being too generic with descriptions and think about unique clues to describe your guests. Here are some ideas:
Birth months
Instruments played
Tattoos
Sports fan
Odd talents
Other Large-Group Wedding Games
Flip Cup: Back to those college glory days! If your guests are the imbibing type, you may want to include wedding drinking games like Flip Cup. To keep things from getting too out of control, fill a few of the red party cups with water or unspiked punch.
Video Games: Not just for playing from the comfort of your couch, video games like Just Dance, Rock Band or Guitar Hero are a high-tech way to approach wedding games. You'll need a little A/V help to get it set up in a way that's both fun to play and watch without it stealing the reception focus.
The Kissing Game: Not a fan of kissing when guests clink their glasses? Break out a giant DIY die (basically a large decorated square box) to decide the pucker up type. Label each side with "peck on the cheek," "showstopper kiss," "take a selfie kiss," "roll again," "bride kisses guest," and "groom kisses guest"—or come up with your own options. Roll the die every time you hear that familiar clinking sound!
Stand Up, Sit Down: All that sitting during the reception can be hard on guests' backsides. Get them on their feet with a trivia game that instructs people to stand or sit in response to questions about the bride and groom.
Wedding Games for Kids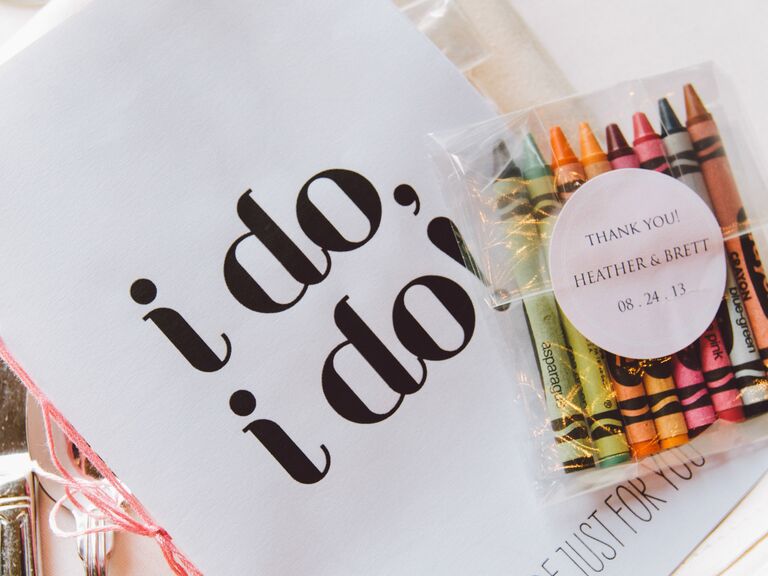 Don't forget about the wee ones at your wedding! Not only do they bore easily, but sitting still during ceremonies and dinners can lead to antsy pants. Set up a wedding games area just for them or pack their table with wedding games and fun activities to keep them entertained.
Chalkboard Games: Turn the games you'd find on a children's restaurant placemat— tic tac toe, hangman, dots and squares—into fun wedding games by creating erasable chalkboard versions so kids can play, wipe away and start again.
Mini I Spy: Create an I Spy Wedding Game just for the kiddos by creating scavenger lists filled with pictures instead of words. Pictures can include the wedding cake, a ring, shoes, a dress, balloons and food. Supply them with disposable cameras and watch the hilarity ensue!
Just Hitched Hopscotch: For an outdoor wedding, draw out a hopscotch grid or create one using large foam tiles for kids to burn off some energy. If the party is strictly indoors, find a low-traffic hallway or even a long coat closet to set up an inside design using easy-to-remove painter's or paper tape.
Dance Off: Adult guests can be slow to the dance floor, but that's where kids can come in handy. Gather everyone around for a kids dance-off. Have kids dance together, or pair up an adult and kid to challenge one another to the best moves. You'll tucker the little ones out quickly all while getting the party started without a lot of pressure.
Couple's Coloring Book: For the itty bitties of the kid's group, create a wedding-inspired coloring book based on the details of your special event. Pair it up with a favors box filled with crayons, colored pencils and stickers to help them personalize their takeaway activity book.
Cake Piñata: What says "kids" more than candy? And when that candy comes flying out of a wedding-themed piñata, it makes for the highlight of the kids' wedding games. Pick a design that doubles as décor, features the couple's initials, or looks like a giant wedding cake. Call everyone—adults included—to the dance floor to take a whack at spreading sweet treats to the crowd.
Cootie Catchers: Also known as paper fortunes, these origami fortune tellers get a cool new look from the old junior high notebook paper version. Design your own or purchase printable custom designs. Fill a batch with questions for the kids and reserve others made just for the adults.
Not sure where to begin with your wedding planning? Take our Style Quiz and we'll pull together a custom wedding vision and vendors to match, just for you. After that, create a free, personalized wedding website to keep your guests informed (and excited!) about your plans, and a time-saving Guest List Manager to organize your attendees. Even better? You can sync your Guest List Manager and wedding website to update everything at once.