Exactly How (And Where) to Register for Your Wedding Shower
Your guests will thank you.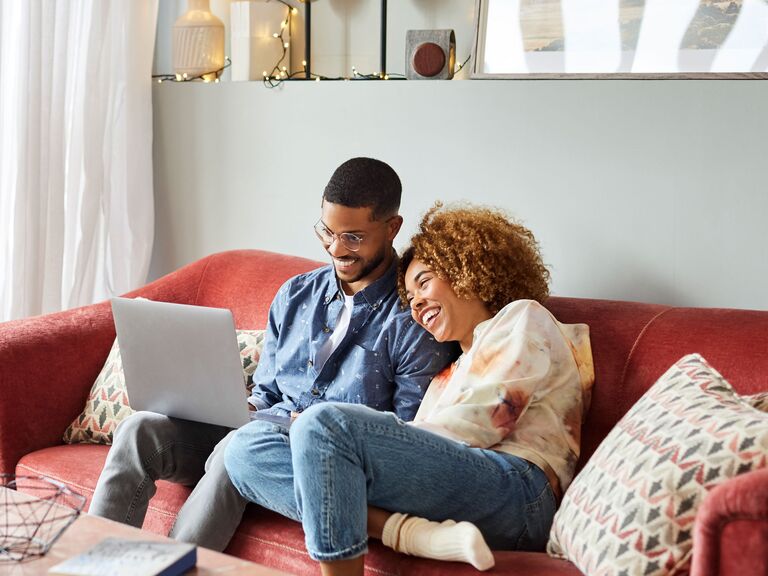 Morsa Images / Getty Images
Celebrating your upcoming nuptials is an exciting prospect. But before your wedding shower invitations go out, it's a good idea to have your bridal shower registry set up and ready to go. The details of a couple's wedding wish list are generally included in their bridal shower invitation wording, so having your wedding shower registry in order ahead of time is a big help. That said, you might have a few questions before you can get to that point. To help you out, we're sharing etiquette tips about how to register for your wedding shower and—most importantly—the best place to create your bridal shower registry below.
In this article:
Wedding Shower Registry Etiquette
If you're on the fence about creating a wish list for your wedding shower, unsure about timing or confused about what a bridal shower registry actually is, you've come to the right place. We're sharing the answers to etiquette FAQs so that decision-making is a whole lot easier for you and your fiancé.
Do you have to register for a wedding shower?
Creating a registry for your bridal shower isn't mandatory, but it is incredibly helpful for both you and your loved ones. For starters, you and your S.O. will receive the gifts you actually need and want (think: those beautiful colored wine glasses you've been eyeing instead of yet another set of tea towels). Secondly, your family and friends will have a much easier time picking out the right wedding shower gift (and they'll have the added confidence of knowing it's something you'll really appreciate).
Is a bridal shower registry different from a wedding registry?
One of the biggest etiquette questions of all: Do you have a separate registry for the wedding shower? If you're confused about the difference between a bridal shower registry vs. a wedding registry, we've got you. Generally, it's fine to use the same registry for your shower and wedding (as well as other prewedding events that guests might bring a gift to).
Having separate wish lists might actually cause confusion for guests, and since sharing registry information on your wedding invitations is an etiquette faux pas, some of your loved ones will rely on the details you provided on your shower invites to buy a gift for the wedding too. Just make sure you're keeping tabs on how many items are left on your registry after the shower, as you may need to add some additional options for guests ahead of the nuptials.
Of course, there's no hard-and-fast rule about using the same registry for your bridal shower and wedding. Some couples do choose to keep them separate, especially if the shower has a specific gifting theme like lingerie or stock the bar. Ultimately, it's about whatever is easiest for you and your guests.
When should you register for your wedding shower?
Knowing that most couples use the same registry (or registries, if they're creating wish lists at multiple stores) throughout their engagement and wedding, figuring out the right timing is pretty straightforward. So, when should you create your registry? Ideally, it's a good idea to set up your wish list soon after getting engaged. Guests may want to use it for prewedding events other than your shower (like an engagement party), or they might just want to start planning ahead.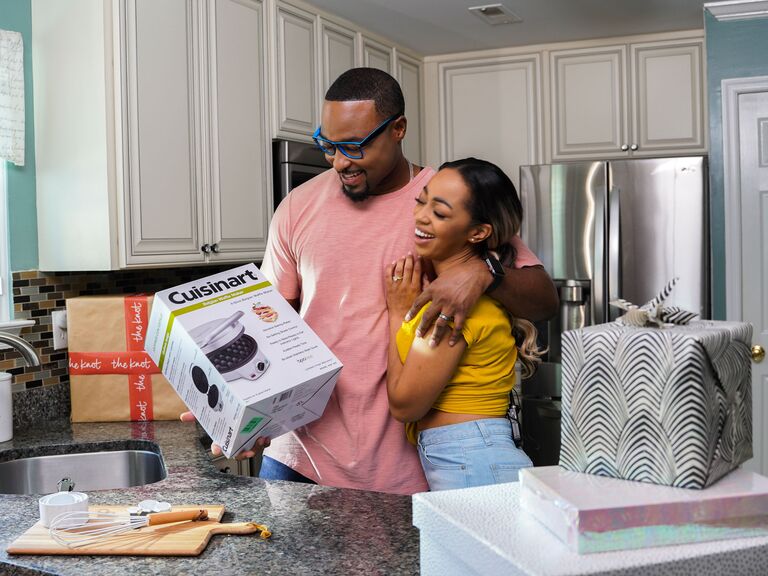 Where to Register for Your Wedding Shower
You've decided to create a wish list, but where do couples register for their wedding showers anyway? We might be a tad biased, but we just happen to have one of the best wedding and bridal shower registries on the web. The Knot has helped over 25 million couples plan their nuptials, so it's no surprise that our site is the most trusted and highest rated wedding planning platform there is.
Creating your online bridal shower registry on The Knot comes with a lot of perks. You can add gifts directly from our expert-curated store, featuring favorite brands like KitchenAid, Cuisinart, Le Creuset, Dyson and more. And because we know browsing through lots of ideas can be overwhelming, we've also created specific collections tailored to different styles and themes, like "Gotta Have Gadgets," "Adventure Awaits" and the winners of our Registry Awards.
But that's not all: You can also add experiences, gift cards, cash funds and tickets for sporting events directly to your wedding shower registry—how cool is that? And if there's something that's not in our store that you really, really want, you can have that too. By using our handy browser button, it's possible to add items from any website to your all-in-one wish list on The Knot. Our registry also syncs with other retailers, so wish lists at Amazon, Bloomingdale's, Traveler's Joy and more will automatically show up in one convenient place—it's easy for you and your guests.
Another reason The Knot is a good place to register for your wedding shower? We'll give you personalized suggestions tailored to you and your budget to help you complete your wish list. Our bridal shower registry website also allows you to mark the gifts you're most excited about receiving as a "Top Choice." That means guests can see your most-wanted items and pick out a gift accordingly. Finally, enable gift tracking so you're not left scratching your head about who gave what as you're writing wedding shower thank-you notes.