5 Ways to Get Your Partner to Propose
Ultimatums are scary—and they can backfire. There are some scenarios, of course, where your partner is really dragging their feet and needs a little extra nudge. Let's assume that's the case here. So how do you get them to propose?
by Jeff Wilser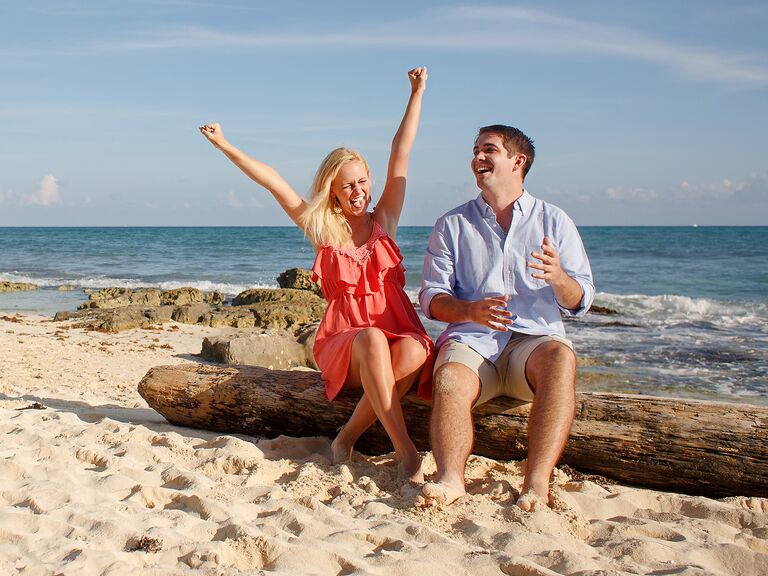 Melissa Mercado Photography
Full disclosure: Honest communication is always key in any relationship. But when you're ready to get engaged and you're not sure if your partner is too, it might not be the kind of topic you feel comfortable about casually bringing up. And as much as we'd like to say that some magic word will guarantee a proposal, people aren't mind readers. If you're not quite ready to flat out say, "Are you ready to get engaged yet?" here are five tips for the taking.
1. Give your partner a signal.
There are loads of possible reasons why your significant other hasn't proposed yet, and fear of rejection might be one of them—seriously! Eliminate this fear by giving a signal that you're ready to get married—you can do this more subtly than saying: "I expect you on one knee by midnight of December 31." Start by casually working marriage and weddings into normal conversations, whether it's talking about a friend's wedding or a new movie or book with an interesting take on marriage. Take it a step further by applying the topic to your own life and see what your partner's views are on your future together. Your partner might see through your little ruse, but so what? A signal is a signal! And if that doesn't seem to work...
2. Let your partner know what kind of ring you want (or don't want).
For many, the idea of ring shopping is perplexing and terrifying. The generalization that you're supposed to be presented with an expensive diamond is ingrained in some people's minds, so you can help to ease any possible fear. What kind of shape, setting and style do you want? Do you like diamonds, or do you like sapphires? Or do you not want a gem stone—or a ring—at all? This is your chance to speak up and make your stance known, since the ring is likely to be a factor in when you'll get proposed to, depending on how long it will take to save up for it. You can say something like, "My friend Julie just got engaged—her ring is gorgeous. It's just perfect; it has yada yada yada…" You can also visit our ring gallery to create your Hint profile where you can get style recommendations, "favorite" rings and find jewelers near you. When you're ready, drop a hint for your partner and share your selects. This way, most of the work is already done for them!
3. Be comfortable with a proposal next year, not this year.
You'll likely spend the next 50 plus years together, so think of the big picture: Does it really matter if you get engaged in December or June? Of course, if your partner has been waffling about getting engaged for years and you know in your gut that it's time, there's really only one strategy that can help…
4. Have an honest conversation.
Again, this is the most important tip with no tricks involved. Without framing it as an ultimatum, talk about how you both envision your future together. Where is this going—and when? Try not to nail down a specific concrete date (this can zap the spontaneity and romance of the proposal), but you can have the conversation in broad strokes to make sure you're both on the same page. And if you're resorting to thoughts like withholding sex or having your parents confront your partner for leverage (both bad ideas, trust us!), take a step back and see if there are any other issues at play. If so, you have nothing to lose from seeing a couple's counselor to talk it out.
5. Don't frequently talk about your dream wedding.
Unless your partner is Franck from Father of the Bride, don't show him or her photos of ice sculptures, wedding dresses, flowers or wedding cakes. The idea of marrying you might be appealing, but the specific logistics (and cost) of a wedding can be overwhelming to some people at first. It's best to keep mum on your wedding Pinterest boards and refrain from tagging your significant other in wedding inspiration Instagram posts—for now.
Want More? Of Course You Do
> 7 ways not to announce your engagement
> How to drop hints to get the ring you want
> 9 signs he's about to propose
> How to find your engagement ring style