Wedding Customs to Reconsider Amid COVID-19 and What to Do Instead
You'll appreciate the cake cutting alternative.
Shutterstock
Mostly anything goes with weddings during COVID, whether you choose a minimony, a virtual wedding or an outdoor occasion. The same, then, applies to wedding customs and traditions, especially those that may add risk to the health and safety of your guests. Here, The Knot Editors have compiled a list of wedding customs to skip amid coronavirus, with options for what to do instead from bespoke event planner Charlotte Ricard-Quesada, founder and creative director of La Fête.
Rest assured: the alternatives are endless especially as wedding pros are being more cautious and creative than ever before, while helping you plan and safely execute your wedding vision amid COVID-19.
The Receiving Line (Traditional)
It's etiquette to greet and thank your guests for coming to the wedding. However, COVID-19 calls for limited interactions all-around and keeping the health and safety of your loved ones in mind. The good news is numerous receiving line alternatives exist—whether you throw a virtual wedding, a minimony or a microwedding.
What to do instead: Both couples and pros have collaborated to come up with incredibly creative ways to "receive" guests at a wedding. Some have arranged carpool greeting lines where they can wave and "pods" of families can greet from their respective vehicles, while others have considered the often-hilarious gesture line. In short: no hugs or cheek kisses, but has there ever been a more relevant time to display baby hearts and air kisses from afar?
Finally, a rather practical option is greeting guests per table. This is a time-effective approach that couples have previously adopted at their weddings pre-COVID. "As great as it is to meet and greet everyone, they also take forever," laughs Ricard-Quesada. "So maybe, the table-by-table visiting by the couple is a quicker and more COVID-friendly way to proceed."
Petal/Rice/Confetti Toss
The wedding recessional "toss" is a lively ceremony tradition that colorfully "showers" the newlyweds in good intentions and celebration. While in the past, aisle-seated guests were distributed everything from petals to rice, biodegradable confetti even, there are some concerns about "showering" couples in possible germs during COVID.
What to do instead: Believe it or not there are safety precautions and alternatives to still gather the intended effect. First, consider confetti "cannons" and push-up options to limit hand contact. Designate who will be tossing or handling these devices and for added measure, perhaps ask them to wear clear gloves. "This one is a tough one to replace," says Ricard-Quesada. "Unless you have everything inside a pouch so that guests don't touch the contents, it could be tough."
Traditional Dance Floor
For couples who value a dance party, what's a wedding without a hyped up dance floor with a friend doing the worm at midnight? We hear you, and the good news is there are ways to approach dancing in the time of COVID. In fact, pros have been rather creative about making it happen.
Find your kind of venue
From barns to ballrooms, discover reception venues that feel like you.
What to do instead: Welcome the satellite dance floor option, where people are able to safely dance on sprawling floors from a safe distance. The effect and feel as prescribed by the designer, the venue and the sound/lighting technicians still allows a satellite dance floor to feel like a cohesive experience.
"Dance floors will need to be bigger to accommodate "bubbles" and to socially distance from other bubbles," explains Ricard-Quesada. "Another option is to have dancing areas around each table so that clusters can stay together."
The Garter Toss
Yes, the garter toss: a rather public tradition from decades' past, has been dwindling in presence at ceremonies with couples instead opting for a private moment. However, if you've decided to move forward with this wedding custom at your nuptials, consider a pre-packaged garter "toss" instead.
What to do instead: "This has partially disappeared," says Ricard-Quesada. "However, if the couple did want to still do this, a way around it would be to have a brand new one in a box of some sort. Have it handed directly to someone with a specific intent in mind." Of course, there's also the option of having your own "garter" moment on your own as newlyweds without the publicity too.
The Bouquet Toss
A sibling, a colleague and your bestie: Anyone can catch the bouquet, but it requires a group huddle and possible interaction that's unnecessary during COVID-19. However, this wedding custom is approached differently in various cultures.
What to do instead: "This is a tricky one. In some countries, this has never been a tradition," says Ricard-Quesada. "Instead the bouquet has been gifted to a sister or best friend, chosen by the bride, as the one that she would like to see get married next."
One rather thoughtful alternative or replacement to the traditional bouquet toss is having an arrangement created and gifted to a preselected loved one, whether it be a sibling or a bestie.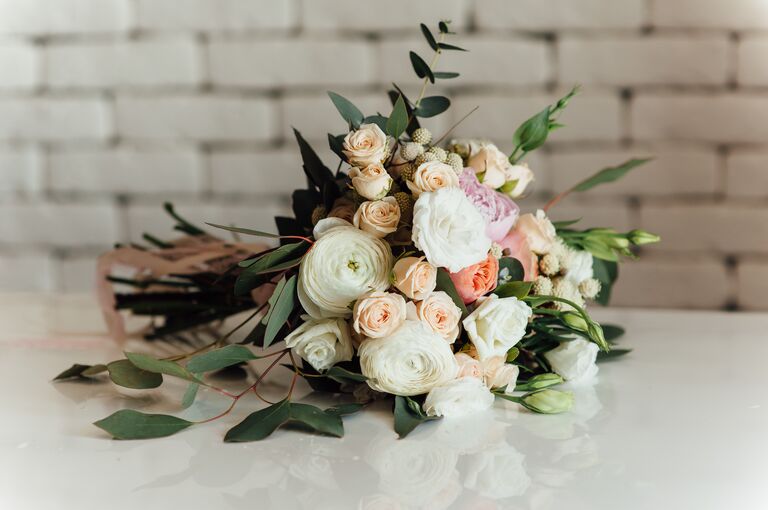 The Cake Cutting
Since the traditional cake cutting requires people to "huddle" around the couple, this tradition will require hand-holding with the guests either with the help of a DJ or emcee, or from you, the couple.
What to do instead: "This shouldn't be an issue: the cake that is cut can be a faux cake just for the picture," says Ricard-Quesada. "The one that is then eaten can be already pre-prepared in the kitchen ready to serve to guests."
Indeed, display cakes have already risen in popularity from the likes of top-tier pastry chefs like Madison Lees Cakes and more. The Knot made this one of our wedding trends of 2018.
Large Group Photos
A loving snapshot of your besties from childhood, the bridesmaid/groomsmen group huddle, large family portraits and more are sometimes required staples from couples especially as they discuss shot lists with their photographers. Considering the behavioral pattern of COVID-19, the traditionally-packed large group photo should be reevaluated during this time.
What to do instead: Welcome, technology. "If your venue is outdoors, you can use a drone and keep people spaced out according to social distancing regulations," says Ricard-Quesada. This would then make for epic shots, especially from an overhead level. Talk to your photographer and/or videographer about alternatives too, as they're constantly innovating on their ends for unique and refreshing imagery.
Father-Daughter/Mother-Son/Parental Dances
In the event of COVID-19's impact on those of a certain age, it's the couple's responsibility to protect their parents and others attending the wedding.
What to do instead: "If the parents have been in isolation with the couple, the dance can take place," muses Ricard-Quesada. "However, I would make sure to have marked spots on the floor for people to understand the distancing necessities."
Another idea is to really elevate the experience. "The dance could be on a stage and everyone could be asked to stay in their seats and watch from there," she adds.
Bach Parties and Bridal Showers
One of the biggest disappointments for couples has been the postponement of bach parties (bachelorette, bachelor and bachelorX bashes) amid COVID. The same applies to the traditional bridal shower, where many family members are often present, including grandmothers. However, couples are reinventing the wheel when it comes to their bach events.
What to do instead: So you didn't get the Vegas pool party or the luxe NYC penthouse experience with your besties. With the rise of wellness-focused initiatives and events, bach parties have also seen a rise in more relaxed getaways and affairs: primarily, ones that value the outdoors and intimacy before marriage.
If you weren't able to throw your dream bach party in 2020, and your extroverted self is devastated, consider throwing a joint bach party at a later datewith your partner. "My opinion would be to hold these as smaller, more intimate backyard parties," says Ricard-Quesada. "You can always do a trip once the situation gets better."
The Traditional Honeymoon
Honeymoons have slowly veered away from the traditional post-wedding getaway in the last few years as travel destinations have democratized with the rise of social media. Instead, millennials and now Gen Z has considered multiple-stage honeymoons, meaning COVID-19 is giving couples opportunities to have more than one honeymoon.
What to do instead: Start with a nanomoon local to your area, then possibly follow up with a minimoon once travel eases a bit more. "This can always wait: if you can do a local staycation to a lovely spa and get pampered, do it," suggests Ricard-Quesada. "Your massive trip can always take place on an anniversary, where you can reminisce about the wedding."
In recent years, a minimoon followed by a larger honeymoon has been affectionately dubbed the "latermoon." Amid COVID-19, however, we now refer to your future honeymoon as a "massivemoon" once restrictions ease and you're able to freely and safely trot to your respective resort or destinations. You deserve an extended vacation.