How to Throw a Wedding Safely During COVID
With Delta, it's important couples establish a health and safety plan.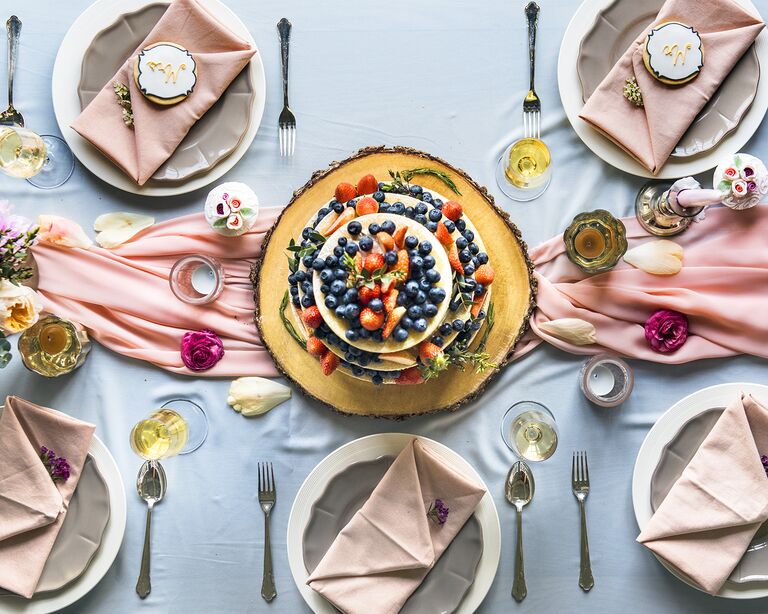 Rawpixel.com / Shutterstock
With the rise of the Delta variant and a jump in cases across the country, event professionals and the industry-at-large are reiterating the importance of health and safety measures at weddings during COVID. In 2020 alone, the vast majority of couples modified their weddings (either with wedding masks, hand sanitizing stations, smaller guest counts and alternative seating arrangements) to mitigate the risk of the coronavirus.
"The Delta variant adds a new layer of second-guessing… to an already exhausted industry," notes etiquette and stationery expert Heather Weiss Alexander of BellINVITO. It may involve evolving restrictions and shifts in mandates. "The obvious consequence is emotional turmoil, but what is surprising to many hosts and couples is the added expense. For many, this means having to rethink how they spend their wedding budget." The average cost of additional health and safety measures at 2020 weddings was $280, though some couples may opt to provide on-site testing or could splurge for a service that tracks vaccinations. As couples move forward with their 2021 weddings, here are the biggest tips for how to safely throw your nuptials during COVID.
Establish a Health and Safety Plan
Over half of all guests surveyed by The Knot in August 2021 said it was important or critical to receive health and safety information before submitting an RSVP response. In fact, 61% of older guests and 51% of younger guests said they preferred to receive this information with the invitation. Bearing these stats in mind, all to-be-weds are encouraged to create a health and safety plan ahead of their nuptials by first turning to their wedding vendors and team to discuss any concerns, local mandates and restrictions.
Together, you'll come up with possible solutions to keep your guests' safety in mind. Topics of discussion might range from guest count to airflow or air filters. You'll also want to bring up wedding masks, hand sanitizing stations, socially distanced layouts and, if necessary, rapid COVID testing or tracking tools. In fact, our internal data reveals hand sanitizer as the top expected safety protocol for upcoming events.
Follow Local Guidelines
It's likely your venue or planner is already keeping a watchful eye on evolving guidelines, and you should too. Some areas are now requiring vaccinations for entry to venues and restaurants. If your area is impacted, it's important to contact the venue immediately to work through modifications or communication with guests.
This is an area where you'll want to discuss everything from guest count to limitations. For example, Hawaii is still at 50% capacity for restaurants and the government restrictions are changing daily. Talk to the venue about their rules regarding masks indoors and social distancing as well. That way, you can tell your guests exactly what to expect on the wedding day.
If Possible: Take It Outdoors
Since the world is still fighting a pandemic, some couples may consider moving their wedding outdoors. This is especially applicable if local restrictions involve mandatory vaccinations for indoor venues, or if your wedding location is battling high levels of COVID.
The good news is tented weddings were one of the biggest trends to emerge from 2020 and these structures are here to stay. Talk to a rentals company, your designer and florist, on-site coordinator and, if applicable, your wedding planner to explore everything from tents to lighting options. (Plus, they make for beautiful photos.)
If Necessary: Adjust Layouts
If your venue is indoors (and you've dreamt of a ballroom wedding for an entire lifetime), you can still throw your wedding safely. Some venues across the US are now requiring proof of vaccination or a negative COVID test to attend an indoor event. You'll want to further mitigate risk by spacing out guests and reinventing seating arrangements by surveying your loved ones about their comfort levels.
Communicate With Your Guests
Based on the restrictions and rules you've built around your health and safety plan, the next step is to discuss this information with loved ones. To alleviate ongoing issues, create a wedding website FAQ page that houses any updated guidelines or information. If urgent, you'll want to resort to additional forms of communication (emails, texts, DMs, even) to relay rules.
Vaccine etiquette, for example, comes into play with weddings when a couple or venue requires all attendees be vaccinated. Within this context, couples should clearly communicate all standards over to guests. "Vaccination etiquette is all the details a host needs to consider in order to make the responsible, considerate calls for their own event," explains Weiss. "[It also involves…] communicating those decisions respectfully and thoroughly, so that guests have appropriate expectations and can make their important decisions accordingly."
Prepare Backup If Needed
After taking the above steps and precautions, one that hopefully will not be necessary on your wedding day is calling in for backup. It could be your wedding planner's team members, a coordinator at the venue or, in some instances, a security team who will keep a watchful eye throughout the premises. You've established rules and if an unruly guest chooses to break your wishes, you'll at least have the peace of mind of a professional staffer requesting their departure.
Be Gracious
Your invited guests are those who've likely supported you and your relationship, and these same loved ones will continue to usher you into marriage. Therefore, it's advised to return the support you've received by acknowledging varying levels of comfort. COVID has impacted our society both physically and mentally. Some have grieved the loss of jobs and family members, while others have dealt with compromised health concerns. Whatever the scenario, take a moment to listen and hear out your loved ones.
The good news is this: couples and wedding professionals have learned that weddings are even better now, especially when safety is prioritized. In fact, the majority of guests surveyed said they're "super excited" and "can't wait to party with friends and family" at upcoming events. While there is some anxiety involved (one in three are both excited and nervous about attending a wedding), you can alleviate those stresses by being prepared.