How to Survive a Bachelorette Party, According to Your Myers-Briggs Type
The INTJ bride or the ESTP bridesmaid will want to read this.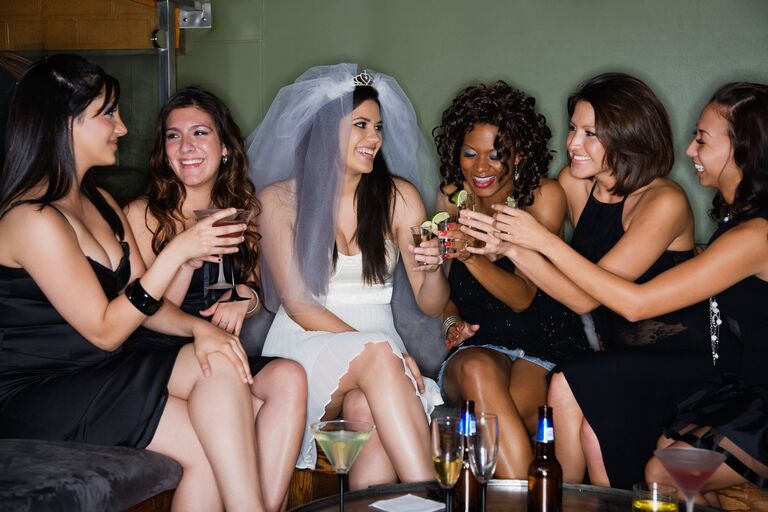 Getty Images
Believe it or not. Bachelorette party rules apply… to different types of personalities. According to the Myers-Briggs Type Indicator, which is built upon Dr. Carl Jung's research, 16 distinct personality types exist and all are accompanied by a different set of motivations and expectations. While some brides and bridesmaids were born to be thrown into the mix of bachelorette party antics, others are much better equipped to handle bachelorette party emergencies or the detailed planning that goes into reservations and bookings. Here, we break down exactly how to survive a bachelorette party, whether you're a bridesmaid, the bride… or a bystander.
In this article:
INTJ
The INTJ is known for being imaginative and strategic, which makes this one of the rarest personality types to exist. (Less than one percent of the population is comprised of this personality type.) Typically, the INTJ dislikes traditions and those pesky bachelorette party rules enacted by the MOH or the bride herself. Here's how to navigate the bachelorette party gracefully.
If you're the bride: You're likely the one creating the bachelorette party rules and you're not accustomed to group travel or being the center of attention, both of which are likely in this case. Tell your MOH in advance that you'd prefer to review the intellectually stimulating itinerary and the guest list comprised of your smart friends. Just don't forget that this is also a great opportunity for you to chill out and put the brain to rest.
If you're a bridesmaid: It's likely you won't see eye-to-eye with everyone in the wedding party, but your bachelorette party rules include feigning it and engaging in lively conversation with others during your downtime. Maybe offer to help the MOH and the bride with planning the itinerary. If this bash is far from ideal, take a shot to relax, because it's a trip after all.
INTP
Like the INTJ, the INTP will likely dislike bachelorette party rules enacted by the group… unless they're the ones to create it. But there are so many strengths to this original, creative personality type. In a pinch and the bride has suddenly lost her purse? The INTP will likely have a solution. This personality type is innovative especially with coming up with new ideas. In fact, they're inventors (likely the same folks to come up with the straw) and they enjoy learning.
If you're the bride: The INTP will most thrive in a spot like Sleep No More or Escape the Room, so voice that you'd like an adventure or a challenge to be included in your itinerary. Maybe request an experiential dinner instead of typical restaurant fare. Also ask your MOH to make executive calls for you, especially since wedding planning might have taught you about how you tend to second-guess yourself with key decisions.
If you're a bridesmaid: Put yourself around people who will help you be wildly enthusiastic about the itinerary and the events. If things aren't quite going your way, keep the emotional reactions at bay and dive into the book you've been wanting to read all along.
ENTJ
Like their ENFJ counterparts, the ENTJ is naturally charismatic, confident and highly rational, making them astounding leaders. This personality type is also rather rare.
If you're the bride: You planned this entire bachelorette party. Heck, you're an entrepreneur so you created the bachelorette kit for this bachelorette party; Plus, the custom itinerary. Even if your bridesmaids didn't want to partake in the activities you've laid out, you've relentlessly advocated for the party to happen. Now, they're along for the ride.
If you're a bridesmaid: The time for you to shine is when there's a challenge of any kind during the bachelorette party. For example, the car rental place has suddenly decided to upcharge you for the vehicle. This is where you can step in for a negotiation with the other party.
ENTP
You know that one friend who loves to argue and debate. If that's you, here's how to navigate bachelorette party rules… especially if you're someone who walks around in a shirt that reads, "I hate bachelorette parties."
If you're the bride: You'll want to strategically place yourself in places where your friends can partake in conversations. This might even involve meeting other people in the room.
If you're a bridesmaid: You'll likely be testing the waters to see who can become a potential friend during the bachelorette party. The good news is you're incredibly easy to talk to so communication will flow naturally regardless of subject matter.
INFJ
One of the rarest Myers-Briggs type is the INFJ, which makes up less than one percent of the population. These warm personas are natural connectors and they really want to help. (Famous examples include Marie Kondo of the KonMarie Method.) Plus, the INFJ is strong-willed, creative and sensitive. They place an emphasis, in fact, on authenticity.
If you're the bride: Take a moment to thank each person who is on the trip with you, whether you have a one-off conversation over coffee or you're able to shout your love at the bar. Remember: like the wedding, things will likely go wrong during your bachelorette party. Because of that, ditch the ideology that everything needs to be perfect. Meet others halfway.
If you're a bridesmaid: You must really care about your friendship with the bride if you're on this trip. It's likely decades of conversations or layers and layers of trust you've built over time. Be as supportive as possible. Even if you intuitively notice something is off about somebody, keep it to yourself and be patient.
INFP
This is precisely the ideal type of friend you want attending all bachelorette parties. The INFP will always find the silver lining… even when things go to hell.
If you're the bride: You've dreamt of having this wildly social weekend with your girls for months, but the reality might be slightly different in that you're an I. You'll want some alone time. Make sure you send a buttoned-up guest list in advance, because it's important to you that the people involved are all of value to you. Ask the MOH to carve in some downtime too. A nap or some time to catch up with your partner might be a nice way to reset.
If you're a bridesmaid: You're here for the ride, which is great because you're not asserting your authority or dominance. Find moments of respite where you can (sleep during a long car ride or meditate first thing in the morning). Also, download bachelorette party apps like Splitwise before the weekend to keep track of who owes what.
ENFJ
Charming, popular and charismatic, the ENFJ is a people person. This personality type has a strong read on others and is the most reliable among personality types. They are naturally intense visionaries who are great at asking questions, making it rather effective to have an ENFJ at your bachelorette party--especially if he or she is planning or gathering a group together.
If you're the bride: Your bonds are strong. Your lifelong best friends have gathered in support of you and your bachelorette party. You'll want all of these people to thrive during the bachelorette party, so part of your role is to temperature set the crew. Now is not the time to be insecure, because others will sense it. Truly lean into your best self and remember that everyone is here because they love you. (A pro tip: Have your MOH make executive decisions.)
If you're a bridesmaid: Dial up the charisma. Some of the attendees might be shy or more reserved, in which case they'll need someone (ahem, you) to regale the group with stories and engaging questions. You certainly help others feel comfortable and accepted, so work it. You're also likely one of the most reliable members of the crew. Be the rock for the bride and the rest of the party without losing yourself to sensitivities.
ENFP
You have these friends: the ones who bring the party to the room. Campaigners are free spirits by nature and they enjoy connecting with just about anyone, so they'll thrive during any bach party. They might even make friends with the other bach parties in the vicinity.
If you're the bride: You're charming and typically the center of attention, so imagine how it's heightened during the bachelorette. Just ask your MOH to keep the schedule exciting as you might not want to be in a position where you're bored at all.
If you're a bridesmaid: While you're hyper intuitive, a bach party isn't the best time to be caught up in the other bridesmaid's motivations or intentions. Instead, kickback, enjoy the bachelorette, and bring all the charm.
ISTJ
There will likely be more than one of this personality type at the bachelorette (or any wedding-related event for that matter). The ISTJ is the most popular Myers-Briggs type—responsible, direct and by the book. This person is the best to have on hand for scheduling or reservations. In the event of a storm, the ISTJ is calm and likes to maintain order. If anything happens during the party, let this person rise to the occasion.
If you're the bride: You will be the center of attention all weekend. You'll want to ascribe to a schedule for all of your wedding-related events. If something goes wrong, exercise patience, which is one of your strengths anyways.
If you're a bridesmaid: Word of caution: Be slightly more sensitive to the various personality types around you and check your temperature, especially if you have to get somewhere on time. Have one of the other attendees who's better at rounding up troops to get the entire party to, say, a swanky dinner or a pool party cabana reservation.
ISFJ
Chances are, you'll have at least one ISFJ in the crowd at the bachelorette. This personality type, however, is nevertheless unique: analytical, a little shy and with a deep desire to do good.
If you're the bride: You'll revel in your natural element since your best friends are all there in support of you. Just remember that as you enter the weekend. That's the bachelorette party rule for you.
If you're a bridesmaid: You're really good at change, so if something doesn't go as planned, you'll be a great voice of reason in the crowd to find an amazing replacement. While you might not know the entire group, you will make friends over time. You're sensitive and social.
ESTJ
It doesn't matter if you're the MOH, you were likely tapped to plan this bachelorette or you've done it before. You take great pleasure in knowing that people will come together for the purpose of something like a bachelorette party making you an integral part of the overall experience.
If you're the bride: Not everyone will want to take shots or will want to dive into the pool, and you'll have to accept that. Just encourage everyone to have a good time and remember that… at the very least.
If you're a bridesmaid: You're likely excited about this gathering, especially if you're the one who's planned this bash. Shine in the way you typically do by facilitating and making everyone feel comfortable (even if some of the other attendees seem a little shy). Your kindness will go a long way for everyone involved.
ESFJ
As one the most common Myers-Briggs personality types, there will likely be at least one ESFJ sprinkled into the mix at a bachelorette party. While they aren't the ones to have likely planned the party in full detail, these figures will make the bach weekend outstanding.
If you're the bride: You just want to see a sea of smiles at your bachelorette party, don't you? While you will take the spotlight, which will make you happy at your bash, in case not everyone is on board for an activity, shake it off.
If you're a bridesmaid: In case of conflict, just remember that people come from different places. Your role is to lighten up the mood, because that's what you do best as an ESFJ.
ISTP
Otherwise known as the Harry Potter Myers-Briggs personality type, the ISTP is an introvert who is both perceptive and likes to think. It doesn't have to be quidditch, but this personality type has multiple hobbies. They're also relatively relaxed and easy to adapt to changing scenery, so bachelorette parties are not an issue.
If you're the bride: You'll likely have a mega group of friends at your bach party, because you're naturally popular. Have fun as long as you go with the flow, which really is no problem with you. Ask you MOH to plan an activity that you especially enjoy, whether it be surfing or sailing with your favorite people.
If you're a bridesmaid: As long as the vibes are relaxed and fun, you'll be in good hands. While you won't be making lifelong friends at this bachelorette party, you are there because you have one, the bride, and that's why you're there.
ISFP
You love adventure, so if this is more of an activity-driven, adventurous, never-before-been-done-before bachelorette, even better. Here are a few bachelorette party rules that may apply to you. (Or not, since… you don't like to be called an ISFP.)
If you're the bride: Play all day. Your friends are likely super comfortable around you so your job is to keep everyone relaxed and ensure they're having fun.
If you're a bridesmaid: You might be a little shy at first, but take note: you're warm, you're fun and very comfortable to be around. You're an asset to this bachelorette party.
ESTP
The ESTP is the social butterfly. They love to be the center of attention (much like the ENFJ and ENFP personality types), but on a more mobile basis.
If you're the bride: Your dry sense of humor has likely attracted quite a funny group of friends. Make as many memories with laughter as you can during this trip. It's truly a special time for all those involved.
If you're a bridesmaid: Rather than staying in one corner all night, the ESTP will likely flit about the atmosphere, where they will get to know everyone on the trip. By the end, they'll have inside jokes with just about most of the group.
ESFP
We believe Britney Spears said it best: "There's only two types of people in the world. The ones that entertain… and the ones that observe." And the ESFP is in the former category.
If you're the bride: You will be the life of the party not only because you're the bride. With the excitement that typically accompanies, well, you, you'll want the entire group to adopt this attitude too. Give the introverts and more subdued personalities in the group a chance to relax too. Maybe go out of your way to spend one-on-one time with them too.
If you're a bridesmaid: Let's just say this group is lucky to have you on the trip. Just be a little sensitive to the introverts and the more shy personalities. Get to know them first before pulling them on stage at a pool party in Vegas.