These Apps Will Help You Plan a Bachelorette Party From Start to Finish
Download these top picks from The Knot editors now.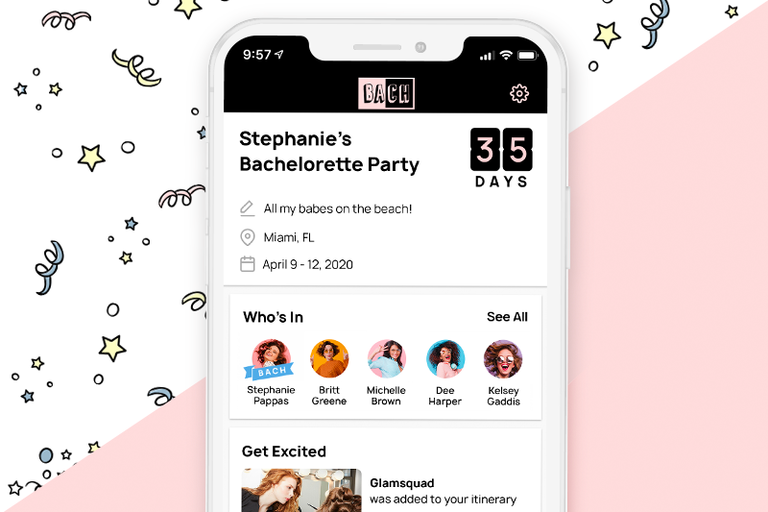 The BACH Party App
We have included third party products to help you navigate and enjoy life's biggest moments. Purchases made through links on this page may earn us a commission.
Bachelorette party planning is no joke especially when you're handling itineraries, travel schedules, budgets, decor and more. In fact, the best group travel planning apps are the ones that encompass multiple aspects of coordination. From transportation needs to budget breakdowns, these are the best bachelorette party apps to download now according to The Knot Editors.
For Scheduling and Invitations
While the bride is busy building her wedding website, follow her lead by sending your own save-the-dates. Since a significant amount of coordination is required for planning a bachelorette, securing a weekend that works best for the bride and the majority of her besties will require advance communication.
Start with Doodle, the schedule polling app that allows participants to mark off the best weekends for them. A plus is the group has a semblance of potential weekends and times. Once the poll is complete, take the extra step by sending a cute save-the-date or invitation to formally announce the weekend and the destination. Paperless Post offers beautiful designs (really, they just partnered with Rifle Paper Co.) and you can manage RSVPs—right from your phone.
Download for iOS: Doodle, Paperless Post
Download for Android: Doodle
For Budgeting and Finances
Finances are tricky—so get ahead of it with the best group travel planning app options in this category. "You want to keep the group posted about funds," says one bride. Plus, you want the group to be aware of what to expect in advance so that they can save and store for the big party. "If you're putting $200 a month aside, after 10 months, you have $2,000," says Kathleen Entwistle, SVP at UBS. "That's enough hopefully for a bachelorette."
Plus, there's the added pressure that comes with calculating total costs. Grab a drink and instead, have an app crunch those numbers for you. With options like Splitwise, individuals can divvy up what's owed to whom—including those who didn't partake in certain portions of the overall itinerary—within one streamlined group planning app. Throughout the trip, the app will update numbers based on what's owed to whom. Once all funds are inputted into the app and the trip is completed, Splitwise will provide numerous payout options based on an algorithm. (And it will note whether that one pesky person hasn't paid well beyond the trip.)
Finally, if you're a millennial who hasn't downloaded Venmo, it's truly one of the easiest ways to transfer funds between friends. If one person is putting a card down to secure, say, an Airbnb home, you'll want to send those funds sooner than later to secure a spot. Make it quick and convenient for all, even for a one-night affair of dinner and dancing.
Download for iOS: Splitwise; Venmo
Download for Android: Splitwise; Venmo
For One App That Handles Everything
We get it, some prefer everything in one easy-to-access place and they're willing to pay for the service. If you're in this category, the best bachelorette planning app singular) is Bach. In fact, it's one of the best group travel apps on the market because developers identified the pain points in big group trips, ranging from accommodations to payments to logistics and more. The app is a one-stop shop where everyone can chat, build an itinerary, share expensive and purchase the coolest local experiences. Bach offers over 1,000 experiences in cities from Charleston to Vegas, and other current hotspots like Austin and New Orleans. They also offer a variety of virtual bach experiences to help your roup celebrate remotely.
Download for iOS: Bach
Download for Android: Bach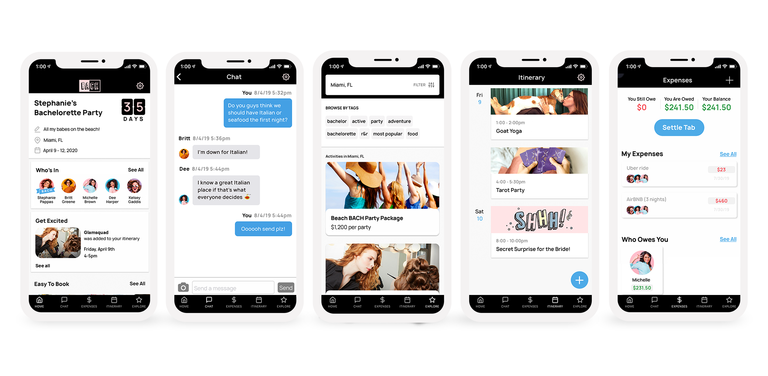 For Home Rentals or Hotel Stays
Speaking of home rentals, there's nothing quite like bonding with your fellow wedding party than renting out a home or booking a suite for, well, a sweet stay. With all the affordable and Insta-worthy options out there, the best bachelorette planning apps include travel apps like Airbnb, which allows users to filter options based on price range, proximity and reviews. An added benefit is that the platform is now offering local experiences, making it easy for you and your crew to book that bike wine tour or that haunted mansion tour in the town of your choice.
If you're more of a hotel crew, the best group planning apps for travel is Hotels.com, which—big perk—offers a free night for every 10 stays you've booked. Since the brand partners with multiple credit cards, you'll want to be aware of the differences between booking online (preferred with card rewards) as opposed to the app. Other viable options also include the travel site aggregator Kayak and Hilton Honors, the latter which allows groups to choose their room of choice—meaning if you want to a corner suite, take your pick.
Download for iOS: Airbnb; Hotels.com
Download for Android: Airbnb; Hotels.com
For Transportation
If you're traveling to a different city for a bachelorette party, chances are—you'll either be renting a car or calling one to take you to each destination. This is where it's smart to prepare for the logistics of transportation in advance by downloading apps like Uber and Lyft. Both connect to your credit card, offer maps and estimates based on proximity, and will help you get from Point A to Point B with a range of vehicle options (whether it's just one person in a Lyft Shared car or eight people in one Uber SUV).
As with any travel (bachelorette parties and beyond), personal and group safety are a must. Look out for one another especially when you're trying to get people home. And if you happen to be in an area that comes with travel advisories, ditch the ride sharing options and consider hiring a transportation service instead that comes with trusted reviews. Be smart and again, plan in advance.
Download for Android: Uber; Lyft
For Dance Parties
That Britney playlist won't play itself. Music is essential to building the best bachelorette party ambiance, especially when you're getting ready for a big night ahead. Have the group download Spotify or Apple Music (ahead of time) and craft playlists that encompass everything from throwback hits (boy bands galore) to current crowd-pleasers. That way, you'll have numerous undisputed options ready to go. And if you're stuck, these services have playlists for every type of activity.
Download for iOS: Spotify; Apple Music
Download for Android: Spotify; Apple Music
For Glam
If you're anticipating a glamorous portrait session with your girls or a super luxe night out where you want everyone to be primped and polished from head-to-toe, then look no further than Glamsquad. Now available in select cities like Boston, D.C., L.A., Miami, New York and San Francisco, you can book your appointments, select products (like their world-class blowout lotion), and hand-pick the services the group prefers. Whether that's hair, makeup and/or nails, you'll be glam with the squad, and that's the point.
Download for iOS: Glamsquad
For Food and Alcohol Delivery
Save time from when you touch down at your destination to when you arrive at your bachelorette party pad by having groceries and alcohol delivered straight to your doorstep. Services like Target's new delivery app Shipt and Minibar will deliver right to the address provided—just hit the minimum and communicate to ensure the exact champagne you ordered is properly aligned.
Download for iOS: Minibar Delivery; Shipt by Target
Download for Android: Minibar Delivery; Shipt by Target