10 Best Beaches in the US for a Honeymoon
Stay stateside for a romantic getaway with these top beach destinations in the US.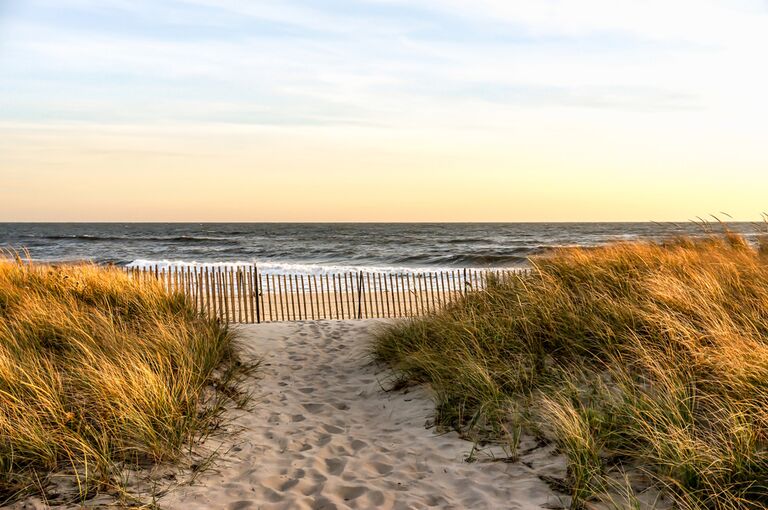 Paula Montenegro Stock/Shutterstock.com
One of the best parts of planning your wedding… is planning your honeymoon. If you want to avoid a day-long plane ride and/or save on travel costs, consider the best honeymoon destinations in the US for your post-wedding trip. The United States is a quilt of fascinating destinations and within our country's wide borders, you can find sizzling beaches that are perfect for a romantic beach getaway. As you start planning your first few days of blissful married life, check out the best beach honeymoon destinations in the USA.
1. Coronado, California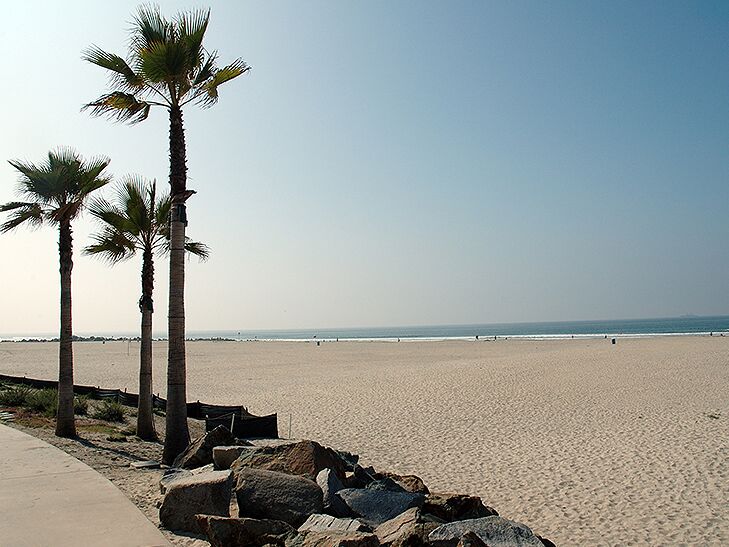 This 1.5-mile stretch of sand located on a quaint peninsula is just a 15-minute ferry ride from downtown San Diego. The beachside city is one of the region's most prized jewels (it literally means "crowned one" in Spanish)—and because of the mica mineral found in the sand, it sparkles like one too. Besides sunbathing, there's plenty that will appeal to active honeymooners. On our must-do list: Taking a sunset stroll along Ocean Boulevard, lined with majestic mansions and the famed landmark Hotel del Coronado, biking along the 24-mile Bayshore Bikeway and taking a romantic ride in a Venetian gondola in San Diego Bay
2. Emerald Isle, North Carolina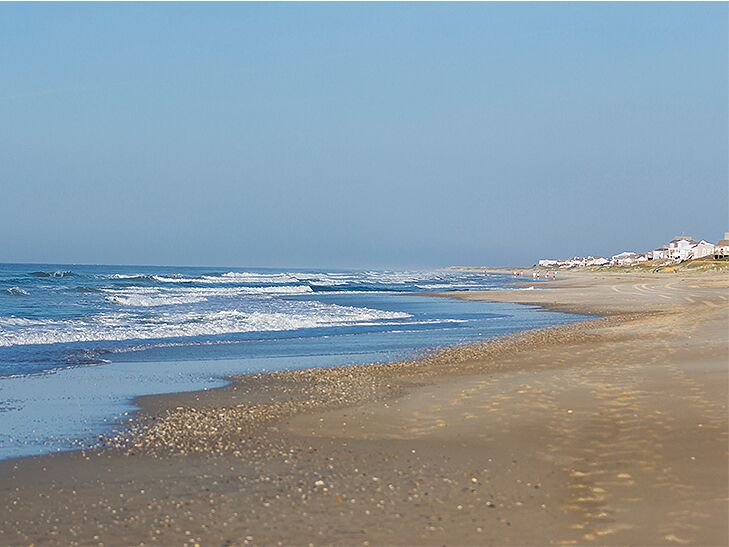 South of the Outer Banks is a chain of barrier islands known as the Crystal Coast, a string of seaside communities perfect for your romantic getaway. Rent a cozy bungalow in Emerald Isle on the island of Bogue Banks, a spot known for spectacular sunsets that rival the Caribbean, with emerald-colored water and golden beaches facing either the Atlantic Ocean or Bogue Sound. Spend days sunning on the beach, surfing or stand-up paddleboarding. You'll also want to make a point to explore the area's maritime history, including scuba diving through shipwrecks and visiting the Cape Lookout Lighthouse.
3. Assateague and Chincoteague Islands, Maryland and Virginia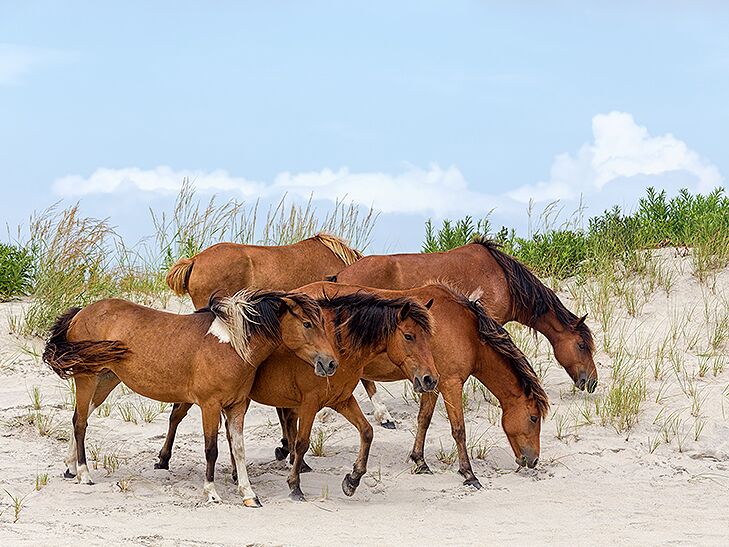 The perfect escape for nature-loving newlyweds, Assateague is a remote barrier island that traverses the Maryland-Virginia border. The northern end of the island's beaches are home to more than 300 of the famed Chincoteague ponies (if you visit in July, you won't want to miss the annual Pony Swim), while the southern end of the island is part of the Chincoteague National Wildlife Refuge. Since the actual island is undeveloped, you can either stay onsite in campgrounds or in the neighboring beach towns of Ocean City, MD, or Chincoteague, VA—each with their own gorgeous beaches.
4. Ogunquit, Maine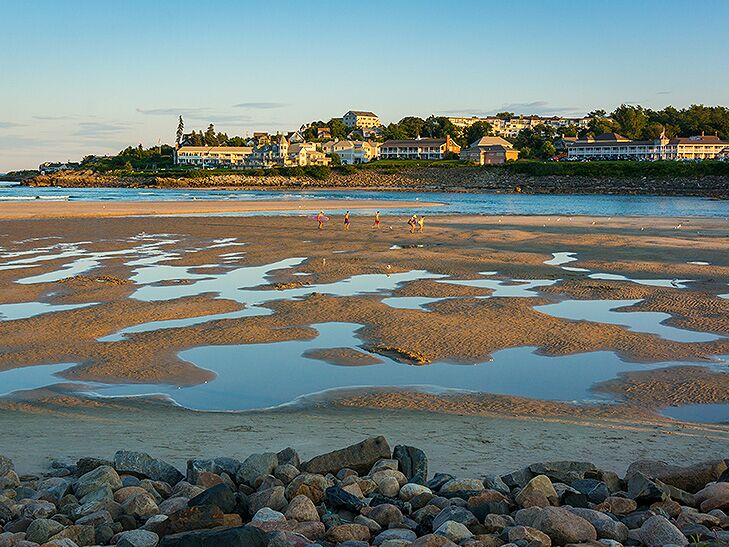 The southern coast of Maine is lined with beaches, but Footbridge Beach, the quiet stretch of white sand at the end of the more crowded Ogunquit Beach, stands out to us as the state's best. Accessible by what else, a footbridge, this fine-grain sand is free of rocks, unlike most of the Pine Tree State's beaches. Ogunquit, which means "beautiful place by the sea" in the local Native American language, certainly lives up to its name, with a burgeoning art and entertainment scene, and charming B&Bs, inns and resorts you can stay at along Main Street and Shore Road. The nearby Marginal Way walking path is a perfect way to explore this coastal village, or you can take in the shoreline from sea by kayak, fishing tour or whale watching cruise.
5. Cape Cod, Massachusetts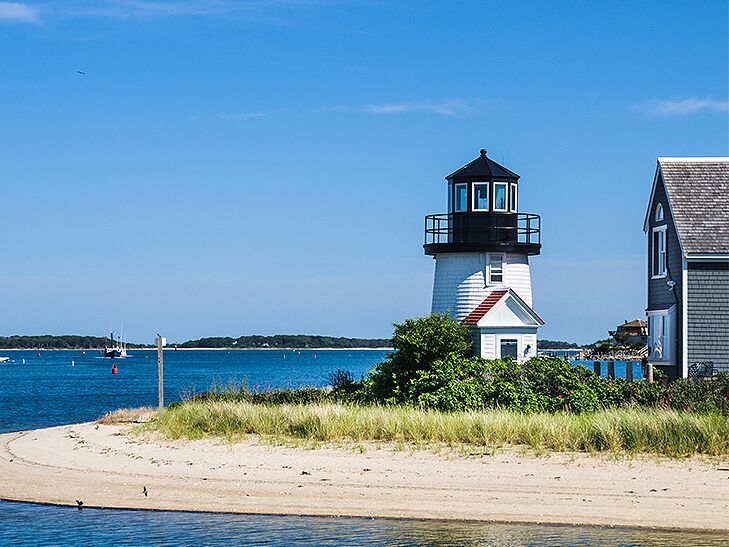 Coast Guard Beach in Eastham is a must-visit picturesque stretch of dunes on Cape Cod. Only accessible to non-residents by bike or free shuttle, this beach is the gateway to the Cape Cod National Seashore—and it's regularly recognized as one of the best in the country. For couples looking to explore and connect with nature, its more remote location in the Outer Cape is ideal, with plenty of walking paths, beaches and biking (including the 22-mile Cape Cod Rail Trail). If you're looking for more activity, it's only a short, scenic drive away from Provincetown (a popular destination for the LGBT community), Chatham and Hyannis (home to the Kennedy compound). And don't forget day trips to Martha's Vineyard or Nantucket.
6. Kiawah Island, South Carolina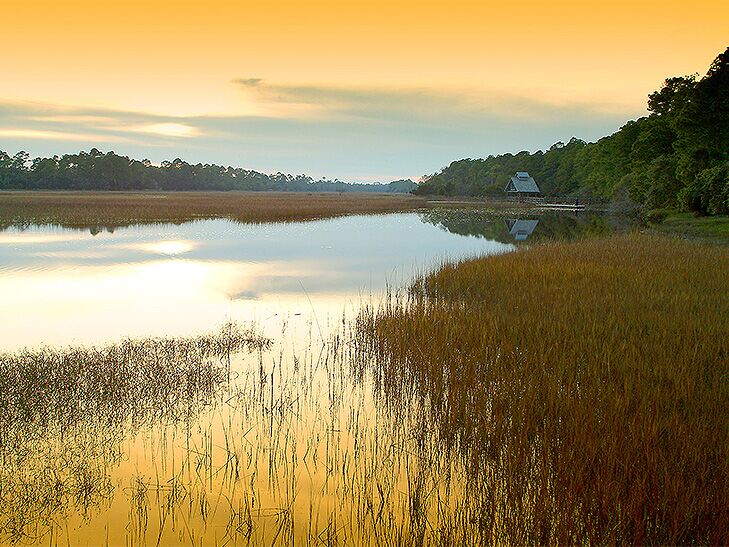 A short drive south from downtown Charleston—one of the most romantic cities in the US!—is the beautiful, exclusive Kiawah Island. Although primarily known for its award-winning private golf courses, the island's 10 miles of beaches, including Beachwalker Park, the island's sole public beach, are top-notch too. Surrounded by sand dunes and marshes that are home to many types of wildlife, boaters and bikers will find plenty to do here, from kayaking through tidal inlets to biking along the shoreline.
7. The Hamptons, New York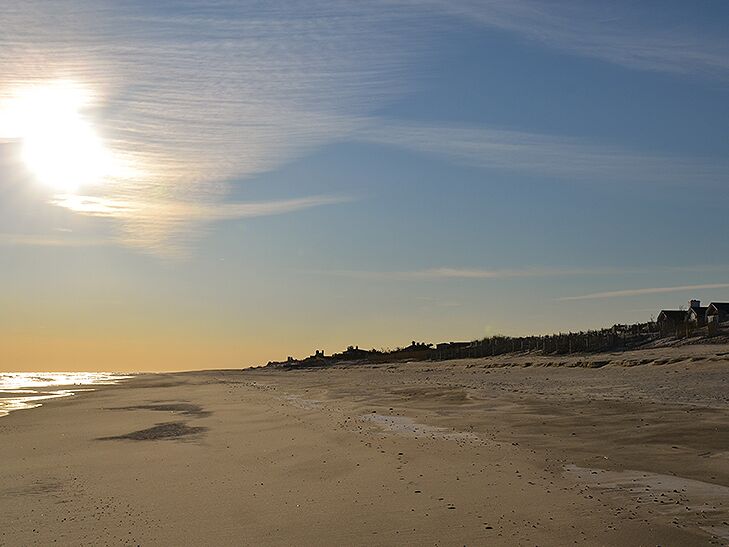 Just 90 miles outside of New York City lies Coopers Beach on Long Island, a majestic quartz white sand public beach and repeat contender on Dr. Beach's annual list of the country's best beaches. Located in the village of Southampton, the largest of the seaside communities that make up The Hamptons, it's a popular weekend getaway for New York elite, as well as vacationers and honeymooners alike. Each town has its own distinct character and a variety of shops and restaurants (Main Beach in nearby East Hampton is another award-winner), but whether you decide to Hamptons hop or just stay put, you'll be able to relax, unwind and enjoy a lobster bake on this renowned beach. Keep your eyes peeled, and you may even spot a celebrity or two.
8. Golden Isles of Georgia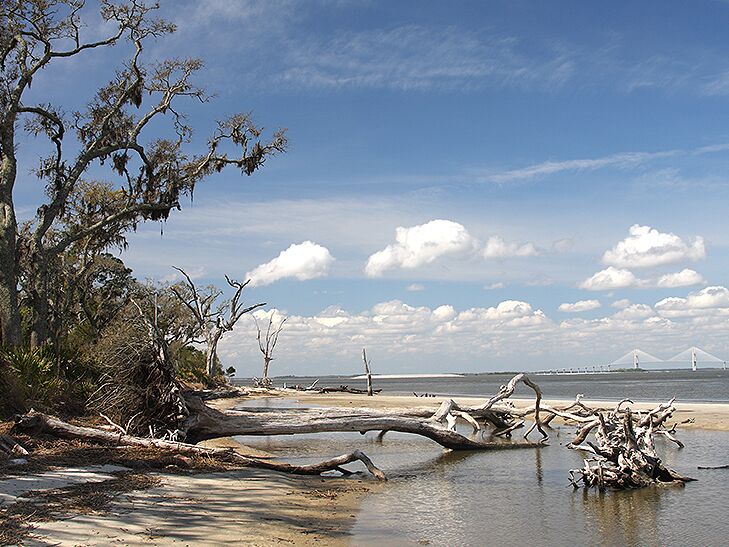 Just off the coast of Brunswick (located halfway between Savannah, GA, and Jacksonville, FL) are four barrier islands: Jekyll Island, St. Simon's Island and Sea Island, which are all accessible by car, and Little St. Simon's Island, which can only be reached by boat. Together, these five places make up a region known as the Golden Isles, known for pristine public beaches including the photogenic Driftwood Beach, sand dunes at Glory Beach and bikeable East Beach, as well as the private beaches on Sea Island and Little St. Simons Island. Like its beaches, there are accommodations for every type of stay, including campgrounds, B&Bs, home rentals, bungalows, hotels and resorts. Whether you're looking for nature, luxury or history, there are spas, nature trails and more to explore on both the islands and in Brunswick.
9. Clearwater, Florida
Florida's Gulf Coast boasts shorelines of beautiful, award-winning white sand beaches and breathtaking sunsets, complete with postcard-perfect palm trees. Two of our favorites: Honeymoon Island, if the name isn't enough to convince you, and neighboring Caladesi Island (accessible by ferry or a walk from equally-regarded Clearwater Beach), which are both home to quartz sand beaches—the kind that never gets hot. If that's not enough, there are also mangroves you can explore by boat and plenty of nature trails. Make your home base at one of the numerous hotels and resorts along the mainland coastline, and then check all of these beaches off of your bucket list over the course of your stay.
10. Nantucket, Massachusetts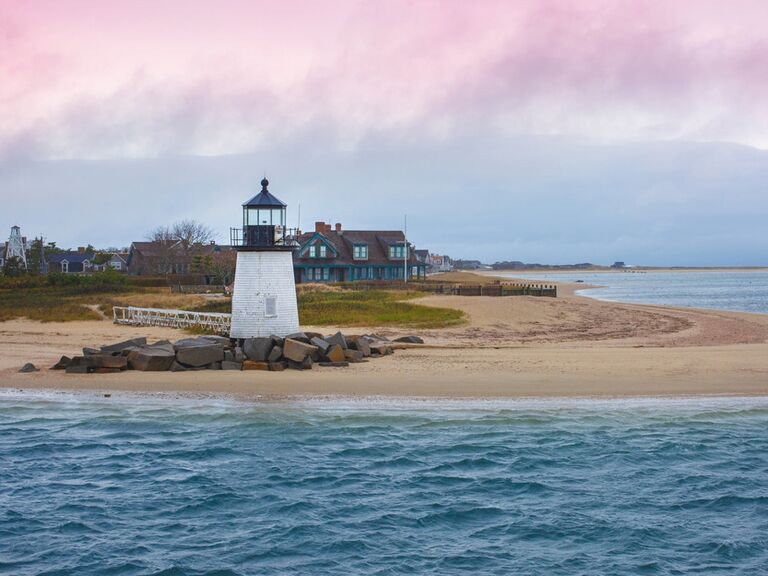 ​Do you like postcard-perfect destinations, complete with cobblestoned streets, sleek boats bobbing in the docks, charming lighthouses and beaches? Then it's time to try the favorite summer getaway for the titans of New York and Boston business titans. That doesn't mean you need to be a millionaire to step foot in Nantucket. If you do have money to spend, however, this glitzy island is the place to enjoy the finest of dining. Take a sailing lesson with your new spouse. Better yet, rent a yacht for a lazy stroll on the open water. When your funds run low, hit the beach and make sure to check out the hopping bars after sundown.