3 Weather Apps For Every Bride — Reviewed!
by Jamie Miles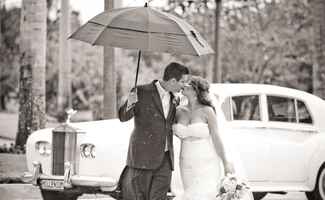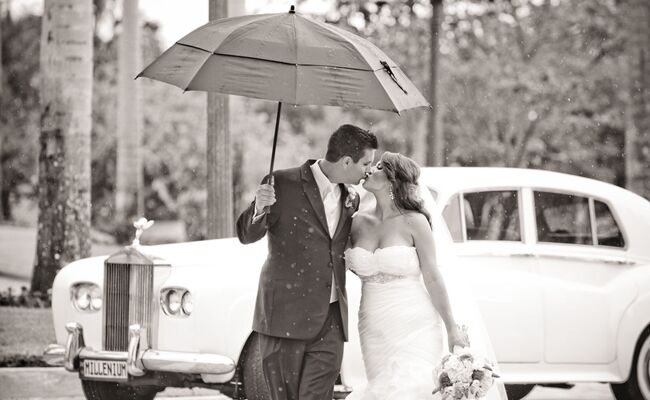 photo by
Poirier Wedding Photography
If your wedding has any sort of outdoor element (we're talking cocktails on the terrace, ceremony on the lawn), you're probably most definitely going to find yourself obsessing over the weather. The reality is that you probably won't be able to get an accurate wedding day weather prediction until 10 days out — but that doesn't mean you can't prep for wedding day weather stalking!
So to save you the time of downloading multiple weather apps, we put three of the most-downloaded talked-about weather apps to the test and gave and gave them scores on the wedding-worthy scale best out of 5. Here's how they stacked up!
1. Yahoo! Weather App (4.5 out of 5)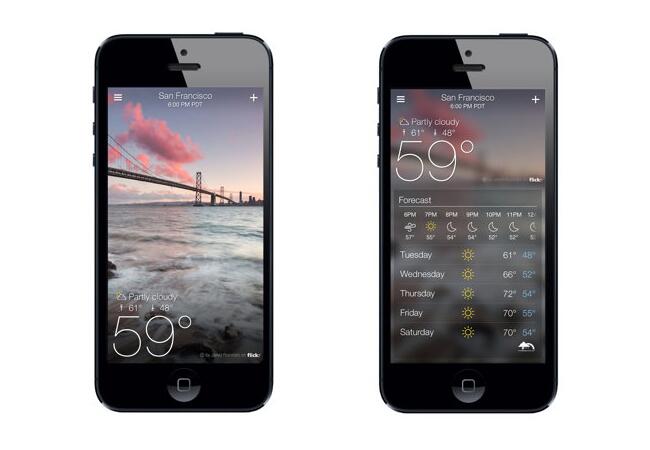 What We Love: Yahoo's new weather app has by far the slickest, coolest design among weather apps available. For starters, it's pretty. There are no advertisements. The background pulls in images from Flickr for a total departure from the assumed weather apps available. It's also super simple. Slide from one city to the next (similar to Apple's weather app) and scroll down to see all the details (hour-by-hour forecast, sunset, wind conditions) on your particular city.
What We Could Do Without: There's one slight issue. If you want to keep an eye on the weather, say 10 days out, you can't. It only pulls up to 5 days worth of weather forecasts (which is probably because 10-day forecasts are hard if not impossible to predict).
You Can Download It For: iPhone, iPad, or iTouch or Android
2. Dark Sky Weather Radar and Storm Alert App (4 out of 5)

What we Love: This app has serious attitude. Giant easy-to-read font size badges at the top of the app tell you exactly what you want to know about the day.The graph wobbles when the forecast is uncertain. Large easy to read font. Simple design makes it feel more to the point rather than cluttered with weather man speak. Notify me alert system (beta) when it's going to rain or snow.
What We Could Do Without: So maybe it's a little too simple for wedding planning — the display is slick but it's missing the all-important extended day forecast. You won't find out the weather very far in advance but you'll get a very accurate prediction. This app tells you exactly when it will rain or snow up to an hour in advance which still gives you time to go with your wedding day "rain plan". It also uses radar animation to display the path of storms nearby.
You Can Download It For: iPhone and iPad.
3. WeatherBug App (4.5 out of 5)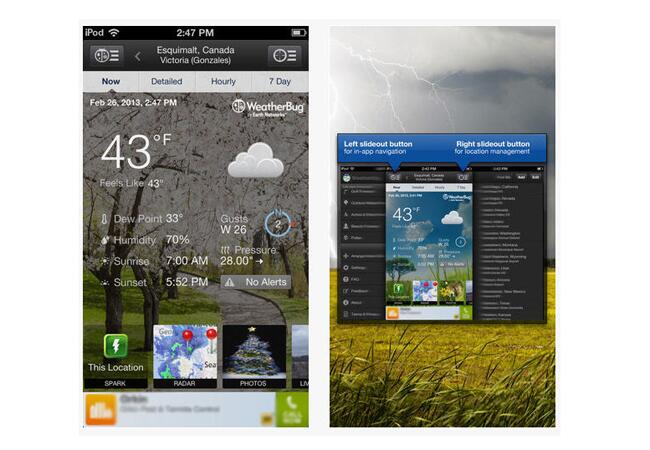 What We Love: It's self-described as the most accurate advanced early warning system weather app (great if you're worried about rain coming your way on the day). The lifestyle forecast feature also personally advises you on how to proceed with plans which helps answer questions like: Should I bring my outdoor wedding indoors?
What We Could Do Without: There are so many features and pieces to this app that it's a little TMI and at times, too cluttered.
Download available for: iPhone and iPad, Android and BlackBerry
Do you have any favorite weather apps we missed? Tell us below!
Get more…
> How one couple embraced rain on their wedding day!
> Your guide to planning an outdoor wedding
> How to word your invite in case of bad weather