The 6 Best Cast Iron Skillets to Use in Your Kitchen
Looking for the best cast iron skillet for your newlywed kitchen? We reviewed seven of the best options out there (you're welcome).
We have included third party products to help you navigate and enjoy life's biggest moments. Purchases made through links on this page may earn us a commission.
After falling out of favor, the cast iron skillet is back and bigger than ever, it is once again considered an indispensable piece of cookware for every kitchen (and on every wedding registry).
Wondering why you should cook on a cast iron skillet? Cast iron skillets are made of—you guessed it—cast iron, an affordable, durable ferrous metal containing carbon, silico, and traces of other elements. The best cast iron pan will be cast in a single piece, making it extremely sturdy. This also means that you can cook directly over a fire or place the whole thing inside a hot oven without any worries about any parts of the pan warping or melting.
Cast iron cookware has heat retention properties even the thickest and most expensive stainless steel cookware can't rival. The heat emission of cast iron cooking is also top of its class, effortlessly penetrating into popular cast iron recipes like thick steaks, whole chickens and cornbread. And even the best cast iron skillet brands are relatively cheap and built to last forever, often being handed down from generation to generation. So what's the best cast iron skillet to buy or add to your registry? We've handpicked a few of the most popular and durable skillets you can buy right now.
Which skillet you want depends on what your kitchen needs and the way you like to cook and eat. You'll also want to consider your aesthetics, because if you love the look of the pan, you're more likely to reach for it when you cook. We've done the research, and we've broken it down by category for you to help you find the best cast iron pan for you.
In this Article:
Best All-Around Cast Iron Skillet
The best cast iron skillet will have the finest craftsmanship, superior cooking quality and good value. Since cast iron must be seasoned with oil prior to use, we gave bonus points to the models that arrived pre-seasoned by hand. For the most part, we found the 12-inch class to be the ideal size cast iron skillet for optimal performance-to-size ratio.
1. Finex Cast Iron Skillet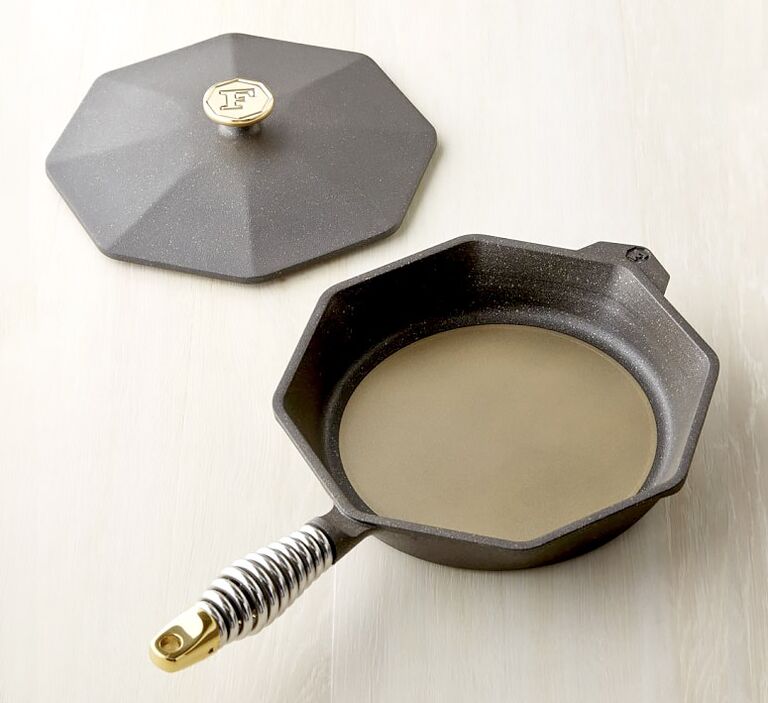 This might just be the world's best cast iron skillet—period. It's expensive, but built to last a lifetime, even with daily use. It's made of the highest quality cast iron with the attractive plated look of a quality antique cast iron skillet. This one arrives properly pre-seasoned by hand, so it's ready to use right out of the box with a finely polished, non-stick cooking surface. We found very little to complain about here, except perhaps the octagonal shape, which ever-so-slightly reduces the overall cooking surface. Other than that, we're not convinced there's a more perfect or classy kitchen wedding gift out there. For couples who want a skillet for multiple uses, and want to be able to use it immediately, this is our top pick.
FINEX 12-inch cast iron skillet with lid, $275, Williams-Sonoma.com
2. Utopia Kitchen Cast Iron Skillet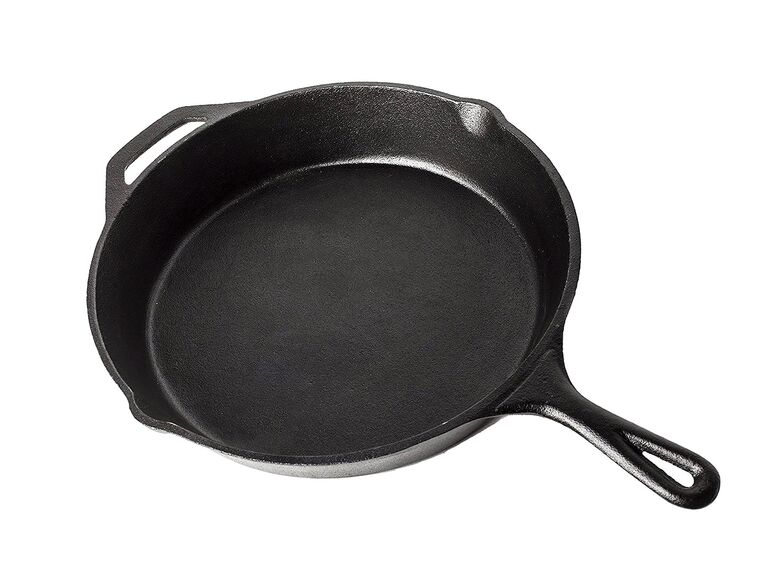 As soon as you open the box, you'll recognize right away the Utopia Kitchen cast iron skillet is well-built and means business. The cooking surface is among the largest in its class, and its superior fine grain develops a non-stick patina over time. Even better, this workhorse is under $25, and the second lowest priced option on our list. If you're looking for a cast iron pan that doesn't break the bank, the build quality is unbeatable at this price. Despite our great experience with Utopia's cast iron skillet, there have been some reports of premature rusting (just something to consider).
Utopia Kitchen 12.5-inch cast iron skillet, $22, Amazon.com
3. Lodge Round Cast Iron Skillet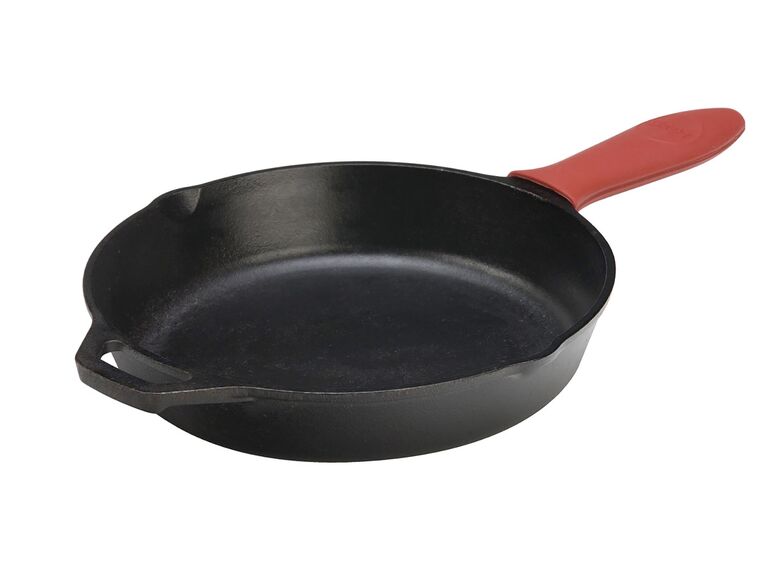 Lodge cast iron is the best brand of cast iron skillet in terms of mass appeal and popularity. You can't go wrong with the iconic Lodge cast iron skillet, with nearly 3,000 rave reviews on Amazon touting its versatility (it can be used in the oven, on the stovetop or over a campfire), durability and easy clean-up. The company boasts this skillet is "unparalleled in heat retention and even heating," and we agree—we weren't able to find many drawbacks on this skillet. And the fact that it's inexpensive doesn't hurt, either.
Lodge 12-inch cast ion skillet, $30, Amazon.com
Best Vintage Cast Iron Skillet
Vintage cast iron skillets can be pricey, and with the array of excellent products available from large retailers, we honestly couldn't find many compelling reasons to choose vintage. That said, the best vintage cast iron skillets like the Griswold can be found on resale sites like eBay and Etsy. The Griswold #10 shows up regularly on these sites—definitely a testament to its durability and landing it on many of the best cast iron skillet lists out there. Cooking using a vintage classic like the Griswold, with its plated cast iron and big, bold logo is an acquired taste, and but it can bring you a feeling of pride and joy if you have a deep appreciation for quality, vintage items.
Best Enameled Cast Iron Skillet
An enamel coating is intended to prevent rust from forming on bare cast iron surfaces. An enameled cast iron cooking surface is more suitable for cooking acidic foods and is generally easier to clean and maintain than its cast iron counterparts. There are some beautiful enameled cast iron skillets to choose from, with many manufacturers like Lodge and Le Creuset entering the market. Some of the drawbacks of enameled cast iron are higher cost, less durability, blocked iron transfer and possible paint chipping at super-high temps.
4. Le Creuset Cast Iron Skillet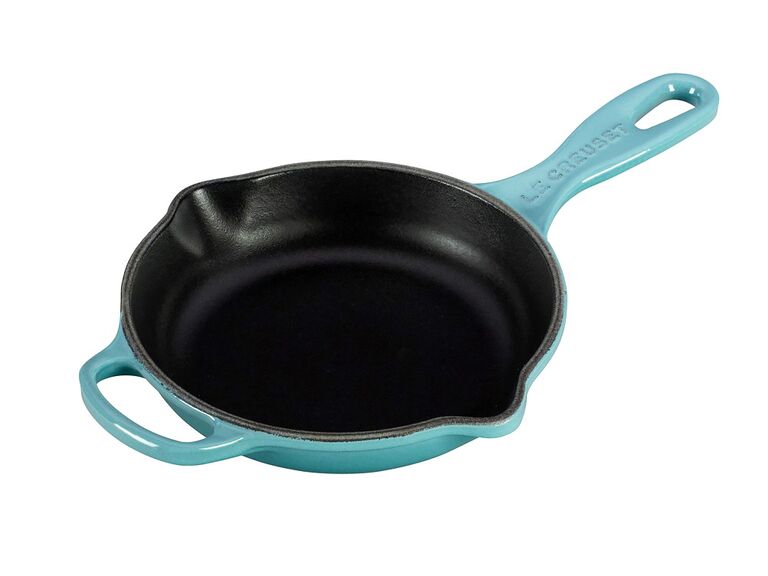 This is a spectacularly built enameled cast iron skillet by the prestigious French cookware manufacturer Le Creuset. The cooking surface is finished in black enamel while the exterior comes in nine attractive color options. Not only is the multi-coated Le Creuset enamel finish crack- and stain-resistant, it was specially designed for steady, even heating that rivals bare cast iron. With its lifetime warranty, everyone seems to agree: Le Creuset makes the best enameled cast iron skillet.
Le Creuset enameled signature 10.25-inch cast iron skillet, $170, Wayfair.com
5. Zelancio Enamel Cast Iron Skillet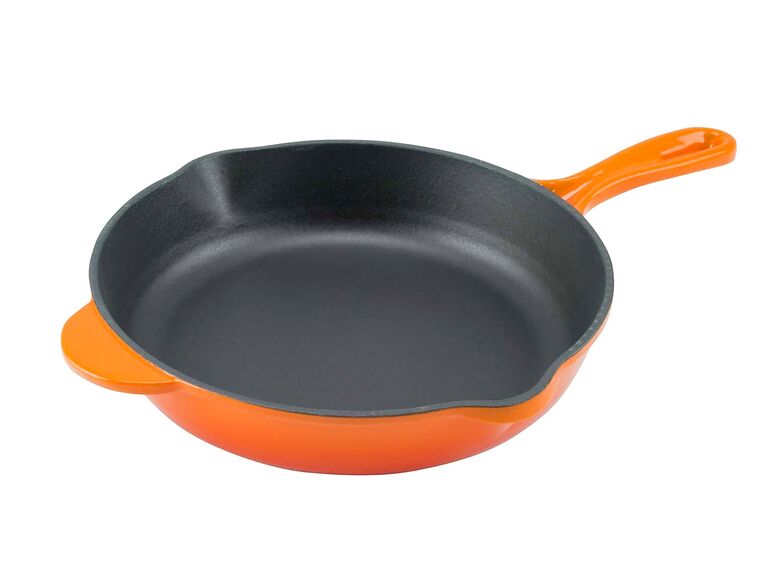 Zelancio is a high-quality cookware company offering affordable, luxury brand kitchen accessories and appliances, so it's no surprise that they've landed on our list. This beautifully finished skillet is built to last with thick, heavy cast iron and topped with three coats of enamel, evident in its hefty weight of nearly sevens pounds. It comes in three particularly cheery finishes: orange, red and teal, and is heat-safe up to 500 degrees. This best-in-class enameled cast iron skillet adds utility and sophistication to any kitchen. Aside from some complaints about food residue after cooking (which can be resolved by simmering baking soda in a bit of water), we highly recommended the Zelancio skillet.
Zelancio 10-inch enamel cast iron skillet, $40, Amazon.com
Best Cast Iron Skillet for Steak
There are a few things to look for if you're wondering, "What is the best cast iron skillet for steak?" T First, just like a grill, the ideal iron skillet for cooking steak should have a ribbed cooking surface. First of all, The ribbed surface it gives the steak professional grill marks when seared, but cast iron also distributes heat more evenly than a grill, which often has hot spots. You can even use your cast iron pan right on the grill, if you prefer, to temper the heat. You'll get a more flavorful steak because the steak is able to marinate in its own juices. And iIf you prefer, cooking steak in a cast iron skillet means you can drain the grease that collects in the grooves. Better yet, as the steak is cooking, pour the accumulated grease out a few times before it becomes stuck. Save the oil and grease for when the steak is done, then pour it over the steak and serve together for Peter Luger Steakhouse–style steaks.
6. Lodge Square Cast Iron Grill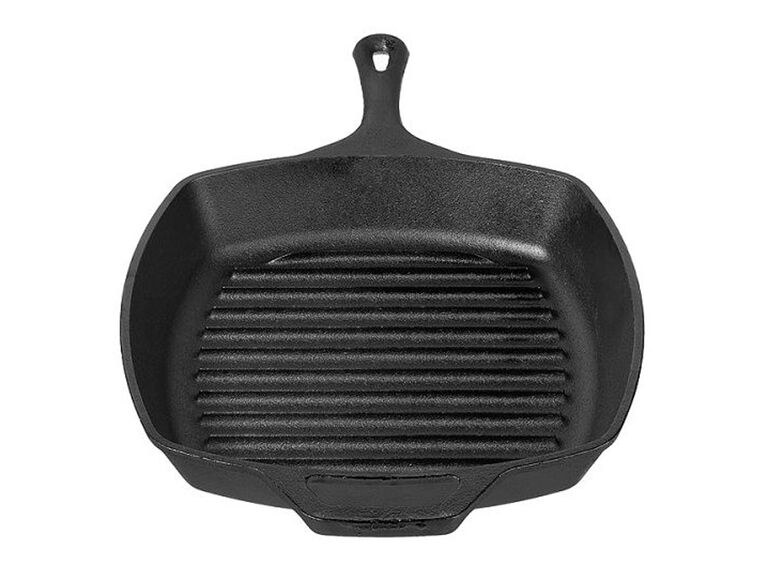 Cast iron pans are the one pan to rule them all. They're useful for so many recipes and so many cooking methods, you might wonder how you ever lived without one.
No matter how you plan to use your cast iron pan in your kitchen, it's clear that cast iron skillets are here to stay. Whether you're registering for your wedding, looking for the perfect gift for a foodie couple or just hoping to add this essential piece to your kitchen.
Lodge 10.5-inch cast iron square grill, $19, Target.com