The 22 Best Wedding Registry Places of 2023
These popular websites and stores appeal to couples and guests.
We have included third party products to help you navigate and enjoy life's biggest moments. Purchases made through links on this page may earn us a commission.
It seems like there are hundreds of places to start your wedding registry—and it's true. With so many retail stores and brands offering registry tools, deciding on the best wedding registry for you might be challenging. Don't stress though—we're the experts here. Not only because we're hip with all things weddings, but because we have The Knot Registry, our very own wedding registry creation platform that lets you add gifts from multiple retailers—including all of the ones on this list—to a singular streamlined list that's easy for you (and more importantly, your guests) to navigate.
All that considered, we know all the best places to register for your wedding to suit your lifestyle and life stage. We've compiled a comprehensive guide of the best wedding registry stores and websites—from big-box retailers to all-in-one online wish lists. Plus, we're breaking down the pros and cons of each service to help you determine which ones are right for you.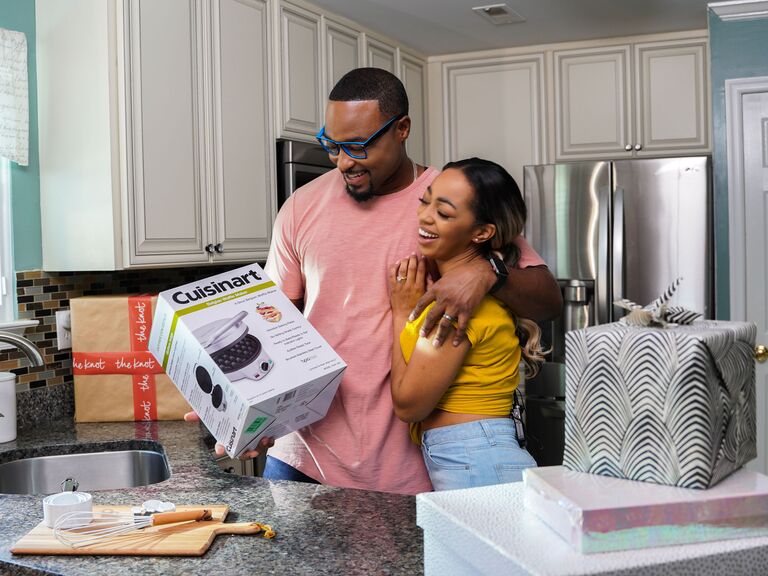 1. The Knot Registry
We've helped 25 million couples celebrate their love to date, so it's no surprise that we have one of the best wedding registries on the market, too. What we adore: it's the most customizable wedding registry out there. First, you can choose items from our in-house registry store, which makes it easy to find items you love and gets your gears turning about what registry categories to cover. Then, register for non-traditional items like gift cards, experiences and cash funds all through the same platform. Lastly, add any other presents from any retailer of your choice. All will live on one central list that's so easy for guests to navigate. Set up your registry on our website or all-in-one wedding planning app.
What you'll love: No need to keep track of multiple retailer registries: Our comprehensive registry means when you register on sites like Amazon and Anthropologie, they'll all be aggregated in the same place on our site. You can also add cash funds if traditional gifts aren't your thing, labeled to let guests know exactly what they're contributing to. To finish making your registry exactly how you want it, browse personalized picks at every price point and check out our expert-curated collections. And our Registry Awards will help you keep up on which products our editors and couples are loving and coveting, updated every year.

What your guests will love: It's SO easy to use. Loved ones can easily access your registry through your wedding website and check out on our safe, secure interface. To help them shop, guests are able to see which gifts you've selected as a "Top Choice." Oh, and there's free shipping and returns on every item from The Knot Registry Store, too.

Potential downsides: You might have to explain to guests who are used to old-school registries that your entire wish list is accessed through a single link.
2. Amazon
We're all familiar with the incredible range of items available on Amazon, but did you know the site also has a great registry program? Qualifying couples get a completion discount of 20% with their online wedding registry and Prime members can take advantage of additional perks, like free shipping on orders over $25.
What you'll love: Deciding where to register for your wedding is step one. Next, you need to choose what to put on your list. Luckily, there are featured collections on the site to inspire your selection, and you can browse the most popular items people are registering for to see what other couples love. Have enough stuff in your home already? Instead, support your favorite charities with Amazon Smile or browse gift cards for airlines, experiences and more.

What your guests will love: It's easy for guests to find your wedding registry on Amazon using the "find a registry" search bar. Guests can also take advantage of group gifting or financing for big-ticket items.

Potential downsides: There's a chance that products from third-party sellers may become unavailable or that prices will fluctuate, requiring you to update your wish list more often.
3. Target
Target is another popular wedding registry with some lovely benefits. We love their generous return policy (free returns for up to a year!) as well as the 15% discount on any registry gifts left over after the big day. Plus, you can create and manage your wish list online, at your local Target store or on the app.
What you'll love: What makes Target one of the best places for a wedding registry? As we mentioned, you'll have up to one year after your wedding to return any gift. There's also a 15% completion code for whatever's left on your wish list that your guests didn't purchase for you. Plus, the store offers automatic registry updates, so you can see which items have been purchased in real time and also track who gave you what and who you've sent a thank-you note to already.

What your guests will love: Target is one of the few great online wedding registries with stores nationwide, so your loved ones can more than likely find a nearby store if they want to. And guests can take advantage of in-store pickup when they buy online through your registry, too.

Potential downsides: While Target has an incredible range of home goods, electronics and more to choose from, there are fewer curated collections than some other online registries.
4. Williams Sonoma
Williams Sonoma is an online and in-store registry option with an impeccable selection of cookware and kitchen appliances, so it's an especially great fit for any eager home cooks. Register online, in stores or through the Williams Sonoma app.
What you'll love: Get your wish list off to a good start by making an in-store appointment with a registry specialist. Then, take advantage of curated collections, gift tracking and digital checklists on the app to support you along the way. After the wedding, Williams Sonoma offers product help, so if you can't figure out how to use that high-tech juicer you registered for, its staff can step in. And you'll get a 10% discount for completing your registry after the nuptials as well as bonus gifts.

What your guests will love: Guests can help you get the things you really need by picking up a gift card. And since Williams Sonoma is owned by the same company that owns West Elm and Pottery Barn, gift cards you receive can be used at any of these three stores. (You can also add gifts from all three stores to one registry, giving guests plenty of options.) Plus, the store offers a price match guarantee, so if the requested fry pan is going for cheaper on another site, guests can get that lower price.

Potential downsides: Your gift list will be updated within one to two hours online, but it can take up to 48 hours for in-store purchases to be marked as purchased on your registry.
5. Crate & Barrel
If you want a wish list that encompasses every corner of your home, Crate & Barrel is one of the best wedding registry stores. The site has stylish furniture and decor as well as kitchen appliances, tableware and outdoor items. Create your registry in stores, online or with the Crate & Barrel Wedding Registry app.
What you'll love: Crate & Barrel offers engaged couples private registry events for one-on-one attention and advice. For even more inspiration, the site has curated collections and examples of real couples' registries. The brand also provides a 15% completion discount in stores and online for three months after your wedding, so you can scoop up any unpurchased goods at a sweet price.

What your guests will love: Your registry will remain active for 18 months after your wedding day, so late gifters won't miss out on helping you celebrate your newlywed status (or can pick up a thoughtful first anniversary present instead). The retailer also lets guests join forces on a group gift, which is another reason Crate & Barrel is one of the top wedding registry stores.

Potential downsides: Couples seeking a less-traditional registry experience won't find experiences or unique gifts to reflect their hobbies at Crate & Barrel.
6. Pottery Barn
Thinking of revamping your living room (or bedroom or bathroom or garden)? Visit Pottery Barn in stores or online to start registering for furniture, decor, lighting and more. Get inspiration from exclusive collaborations or build your wish list using the site's "Our Top 100 Gifts" edit.
What you'll love: When you create a registry with Pottery Barn, you're given access to their team of design specialists who help you curate the exact aesthetic you're looking for, free of charge. Any gift cards you receive will also work at sister stores Williams Sonoma and West Elm. You get a postwedding discount of 10% off your registry for up to six months, too.

What your guests will love: Your loved ones can contribute to a gift card for more expensive pieces of furniture and decor. And, they can take advantage of Pottery Barn's monogram shop to make bedding, barware and more an extra-personal present.

Potential downsides: Pottery Barn products tend to have higher price ranges, so you'll want to be conscious about giving guests gift ideas at a variety of price points.
7. West Elm
Mid-century modern furniture, tableware and decor items for every room in the home? Yes, please. Bring your interior design vision to life with a West Elm wedding registry. You can create and manage your registry online or at a West Elm store.
What you'll love: You're able to book an appointment with an in-store design consultant to help you choose products that merge your and your fiancé's styles. There are also countless sustainable home pieces on offer that deserve a spot on your wish list. If you appreciate flexible store credit, register for gift cards that are good at West Elm, Williams Sonoma and Pottery Barn.

What your guests will love: Gifting at West Elm is ultra personal. Your friends and family are able to include a custom message to be delivered with their gift.

Potential downsides: West Elm no longer offers a completion discount, but your registry will remain active one year after the big day so friends and family can easily shop for anniversary gifts or holiday gifts you're guaranteed to love.
8. Traveler's Joy
Traveler's Joy is a registry service that lets you collect money for your honeymoon as opposed to traditional gifts. It's one of the best wedding registry sites for cash funds. Once you've signed up, take advantage of destination-themed collections you can instantly add to your list or individually add your preferred funds.
What you'll love: Unlike some other honeymoon registry sites, Traveler's Joy lets you book your honeymoon through whomever you'd like. You don't have to use a specific travel agent or company; instead, you get the cash to use toward your purchases. The "gifts" you ask for can be experience-based or practical. If you're going on a cruise for your honeymoon, consider adding extra excursions like scuba diving.

What your guests will love: Traveler's Joy lets you split up the cost of an item, so if your couple's massage is going to be $200, you can turn that into four affordable gifts of $50. As they browse your registry, your family and friends can read personalized notes from you and your S.O. about your travel plans.

Potential downsides: The site is free to use, though, there is a small deduction for credit card processing, which you can opt to take on or have your guests contribute.
9. Anthropologie
Anthropologie believes that creating a registry can be one of the most exciting parts of the wedding planning process. Start your registry online or with the Anthropologie app. Or, scan registry items at your local store.
What you'll love: To help you get started, select locations offer private consultations for one-on-one assistance. After the wedding, your registry stays open for one year and there's also a 15% completion discount for 90 days after your wedding. Plus, this retailer has some of the prettiest wedding gifts around, so you'll definitely find multiple pieces that catch your eye.

What your guests will love: The best wedding gift registries have clever features for guests, too. Your loved ones can have gifts wrapped for $4 a box. Some larger items don't apply, but Anthropologie can include a gift message for free instead.

Potential downsides: Made-to-order and customized items can't be added to your registry.
10. Sur La Table
Add beautiful (and functional!) kitchen supplies to your home with a wedding registry at Sur La Table. It's easy to set up your registry online and start browsing thousands of great products. Anyone who spends their evenings creating feasts in the kitchen, this one's for you.
What you'll love: Sur La Table assigns a registry concierge to see you through the entire process. There's a comprehensive online guide to all the Sur La Table brands and products to help you select everything you need. Bonus: You can earn extra gifts just for registering or when certain items on your registry have been purchased.

What your guests will love: Sur La Table has stores in 21 states, allowing your loved ones to check out the items on your wish list in person before deciding on a gift. The site also has products at lots of different price points, so you can easily cater to guests with different budgets.

Potential downsides: Unique artisanal products may become unavailable between adding them to your registry and guests attempting to make a purchase.
11. Bloomingdale's
If you're after high-end brands, Bloomingdale's is an ideal registry destination. And while you're at it, you can fill your closet with prewedding party attire—the department store gives discounts to registry couples for certain clothing items, including 20% off dresses and suits. Start your Bloomingdale's registry in stores or online, and manage your wish list through the store's app.
What you'll love: Bloomingdale's has consultants that focus solely on wedding registries, and they're a consistent resource while you're going through the process. The store offers completion discounts too: 20% off for the first six months after your event. And those aren't the only perks! You'll also earn bonus gifts when you register for items from certain registry-favorite brands.

What your guests will love: Guests will appreciate how straightforward it is to use Bloomingdale's online registry. That said, loved ones who prefer the traditional experience of shopping in person can do so as well. Basically, your guests can have their cake and eat it too.

Potential downsides: Bloomingdale's may not be the most wallet-friendly option for your guests, but they can choose to purchase a gift card in the amount of their choosing instead.
12. CB2
CB2 is like Crate & Barrel's more modern and urban sister. The brand has items for every room in your home, all with a stylish and chic vibe. Create and manage your CB2 gift registry online.
What you'll love: The top places to register for your wedding are convenient for both you and your guests. CB2 lets you easily share your registry through its "Share My Registry" email notification feature. Another pro? Updates to your wish list made online are reflected immediately and in-store updates take just 15 minutes to appear, reducing your risk of receiving duplicate presents.

What your guests will love: You can make your registry your own by adding a photo and greeting, giving guests a more personalized experience. CB2 will help your guests by including colorful gift tissue and a personalized gift message for free. They can buy online and pick up in stores too, making last-minute shopping simple.

Potential downsides: CB2 has limited brick-and-mortar stores in the US and Canada, so guests who don't live near one will have to shop online.
13. SPUR Experiences

Already have everything you could possibly need? SPUR is a great place to register for your wedding. You can create your registry online through the SPUR website and there are also some amazing SPUR experiences in The Knot Registry Store, if you're already registered with us.
What you'll love: You can sign up for romantic experiences in your honeymoon location or day trips and date nights closer to home, since there are experiences throughout the US as well as Mexico, the Caribbean, Central America, South America and Europe. SPUR also offers sports and concert ticketing, so you really can register for all your bucket-list experiences. Finally, 5% of your registry sales will be donated to the charity of your choosing (at no cost to you).

What your guests will love: Your registry page is highly personalized, giving guests a warmer experience (and making it easier to find, thanks to the custom URL). You can add a profile picture, a thoughtful message and the reason you selected your chosen charity. For gifts amounting to $100 or more, the cost will be split into partial units priced at 10% of the total cost.

Potential downsides: Guests' contributions are delivered to an e-wallet on your SPUR account and can only be exchanged for experiences on the site.
14. Honeyfund
Want to go on a memorable honeymoon? Register for it. Honeyfund allows guests to send monetary contributions toward your honeymoon (or another big postwedding expense, like buying your first home). Create and manage your Honeyfund registry online.
What you'll love: With Honeyfund, you're able to create a wish list for every aspect of your trip, including airfare, hotel stay, car rental, activities and more—with no fee! You'll receive digital gift cards to use throughout your vacation, which can be redeemed for experiences offered by partners like major airlines, hotels and restaurants. But like we said, a honeymoon isn't the only thing you can register for at Honeyfund—request cash for pretty much anything you're saving for together.

What your guests will love: Your guests will delight in the knowledge that you're enjoying an exciting experience together thanks to their contribution. Loved ones can include messages with their gifts to make them feel more personal. And to make shopping as easy as possible, there are various payment options.

Potential downsides: Last-minute or late gift-givers might miss the opportunity to buy you that horseback riding excursion or romantic dinner before you've left for your trip.
15. Macy's
Macy's is another great place to have your wedding registry if you want the traditional department store experience. You can create your Macy's registry in stores or online. If you choose to start your journey in store, enlist the help of expert advisors to choose the right items.
What you'll love: Macy's offers virtual one-on-ones with personal consultants to aid in the registry process. Plus, its Registry Star Rewards program allows couples to earn points as people shop for them, so you'll get 5% of every gift translated into points for you.

What your guests will love: Your guests are able to shop in stores or online, allowing them to choose their preferred option. If you opt to "go green" when creating your registry, guests can ship their gifts without wrapping paper for a more eco-friendly process.

Potential downsides: Macy's has so many products that you may get overwhelmed with the sheer amount of registry potential.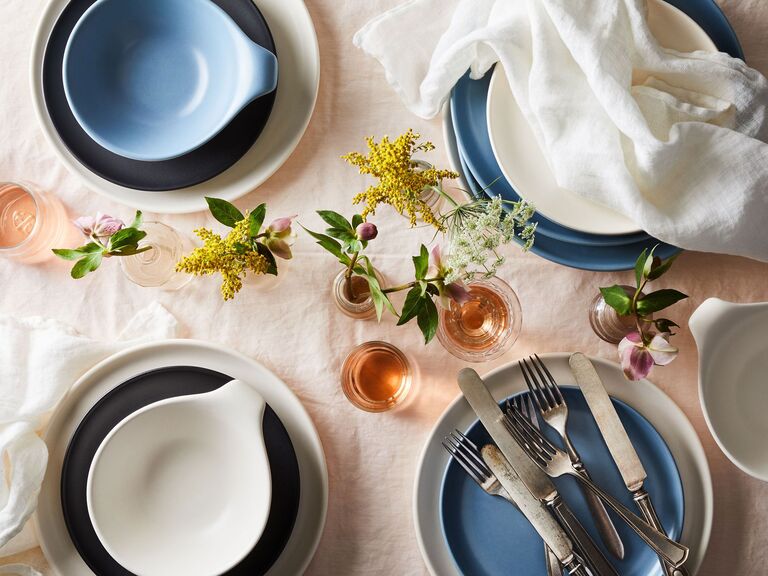 16. Food52
If you love cooking, entertaining and downright beautiful objects, you'll love Food52's curated selection of goods by artisans and small merchants. Register and track your gifts on the store's easy-to-navigate website.
What you'll love: Every little thing at Food52 feels like a boutique find, meaning your kitchen will feel like a whole new space once outfitted with your wedding gifts. If you don't know where to start, the site has tons of curated lists to help you choose registry items based on theme or category. Once your guests have finished spoiling you, download gift tracking information as a handy CSV file that you can import into Excel or Google Sheets to kickstart thank-you note prep.

What your guests will love: You're able to view your registry in guest mode to make sure it's up to scratch before sharing it with loved ones. From there, they can easily pick out a present on the list or spring for a gift card to put toward something pricier.

Potential downsides: There's no permanent storefront, only the occasional pop-up shop, so you won't be able to see items in person before your register.
17. Etsy
Etsy's online marketplace is home to millions of independent sellers offering unique handmade housewares, personalized products and more. In fact, it's one of the few places you can actually register for vintage items—so if antiques are your thing, Etsy is the best online wedding registry for you. You can create and manage your gift list exclusively on the Etsy site.
What you'll love: Register for special items like handmade bowls, unique pillows, personalized wall decor, eco-friendly lighting—the list goes on. Etsy offers variety, craftsmanship and originality that you won't find at the average department store. Plus, you can take inspiration from editor-curated selections designed specifically for registering couples.

What your guests will love: Guests will love knowing that they're gifting you something truly special and, in many cases, one of a kind. They'll also appreciate supporting small businesses and artisans with your wedding gifts.

Potential downsides: Each seller has their own return policy and shipping methods, so you'll want to check each item's listing for all the details before adding it to your wish list.
18. GoFundMe
GoFundMe is one of the most recognizable crowdsourcing platforms. It's a great choice for couples who want to use their wedding as an opportunity to give back. Start your GoFundMe registry online in just a few minutes.
What you'll love: To date, GoFundMe's wedding registry program has raised over $2 million. There are thousands of charities on the site to choose from, so you're sure to find one that resonates with you both. And because of our exclusive partnership, you can easily add your charity fund to your registry on The Knot.

What your guests will love: In addition to feeling good about making a charitable donation, your guests get to learn more about you and your partner through your fundraiser. Knowing what kind of charities are important to you and reading your personal message will give them an idea of your core values.

Potential downsides: GoFundMe's wedding registry service is exclusively available through The Knot (but we won't say that's a bad thing).
19. The Dowry
The Dowry is a good place to register for your wedding if you already have the basics, but are looking to add the finishing touches to your home. The site has a cherry-picked selection of products designed by artisans in the US. Expect stunning handcrafted dinnerware, serveware, barware and more.
What you'll love: With The Dowry, you're sourcing beautiful items for your home while supporting individual artisans, artists and small businesses. The company also contributes resources to help end abuse created by conventional dowry practices. To start your gift list, browse items by style or shop curated collections. The site also suggests syncing your Dowry registry with The Knot Registry for ultimate convenience.

What your guests will love: Registries at The Dowry are inherently unique. You're encouraged to add the items that truly resonate with you and your future spouse, giving guests a glimpse of your one-of-a-kind style. Your loved ones have the privilege of picking out a truly special gift designed to take pride of place in your home.

Potential downsides: Your chances of stumbling across the perfect cheese board are high, but you won't find foundational housewares or big-brand kitchen appliances here.
20. MyRegistry
If you appreciate keeping your entire wish list on one site, MyRegistry is an option. Get started online or using the MyRegistry app, or create a store registry somewhere else, then sync it with your MyRegistry account. It's another one of the best wedding registry websites if you want to manage your wish list at home.
What you'll love: Use the MyRegistry button on your browser to add items from any website to your wish list, or sync your registries from other sites to create a universal registry. You can choose items from any brand while also registering for cash gifts and charity donations. You can also take the MyRegistry app with you to stores and scan items directly to add them to your list. If the store doesn't have a website, snap a photo and fill in a few details about your pick.

What your guests will love: As with other universal wedding registries, your guests will appreciate the convenience of finding all of your preferred gifts in one place. They'll also have a greater variety of gifting options at lots of different price points.

Potential downsides: If you add products straight to MyRegistry (rather than registering with a store directly and then syncing your wish list), you may miss out on a completion discount.
21. Belk
Add furniture, decor, bathroom accessories, kitchen appliances and more to your wedding gift list at Belk. You can start your registry in store, online or using the brand's handy app.
What you'll love: Belk will help you stock your shelves with must-have housewares and appliances from tried-and-true brands like Cuisinart, KitchenAid, Wedgwood and Le Creuset. If you want to create your registry in store, the Belk app lets you scan items with your smartphone to add them to your registry. The app also has checklists to help make sure you don't forget anything.

What your guests will love: If there's a Belk store nearby, your loved ones will appreciate the convenience and versatility of being able to shop online and in stores.

Potential downsides: Belk only has physical stores in certain states (mostly the southern US), but you can always register online.
22. Dillard's
Dillard's offers the typical department store registry experience. If you and your partner want a traditional registry with items for every room of your home, you can't go wrong here. Register and manage your list online or at any Dillard's store.
What you'll love: Dillard's offers a full-service registry experience, meaning specialists are available to help you throughout the process. As you're building your wish list, enjoy beloved brands like Smeg, Ninja and Vitamix. The department store offers a 20% completion discount after your wedding (one of the highest available, FYI), but you'll have to venture into a store to use it.

What your guests will love: Unlike some exclusively high-end department stores, you'll find items for lots of different budgets at Dillard's. This allows family and friends to choose presents at a cost they're comfortable with.

Potential downsides: Dillard's stores are mostly located in the South, so those in the North might have to shop solely online.