Your Ultimate Wedding Venue Booking Checklist
All the little things you need to know before securing your event space.
Choosing your dream wedding venue is more than just an important step in the planning process. Your wedding venue sets the tone for your big day, and can inspire everything from your color scheme to your attire—and once you've booked your venue, you've officially "set the date" for your special day. Throughout the booking process, you'll want to make sure that a space checks certain boxes on your wedding venue checklist before signing on the dotted line. By following this handy checklist (plus a printable version!), you'll ensure you have all your bases covered before securing the best venue for your wedding day.
In this article:
Printable Wedding Venue Checklist
We've been there: You arrive for your venue tour and find yourself totally tongue-tied with no idea what to look for or which questions to ask. The solution? Bring this handy printable wedding venue checklist to every walk through so you'll get all the information you need to make an informed decision.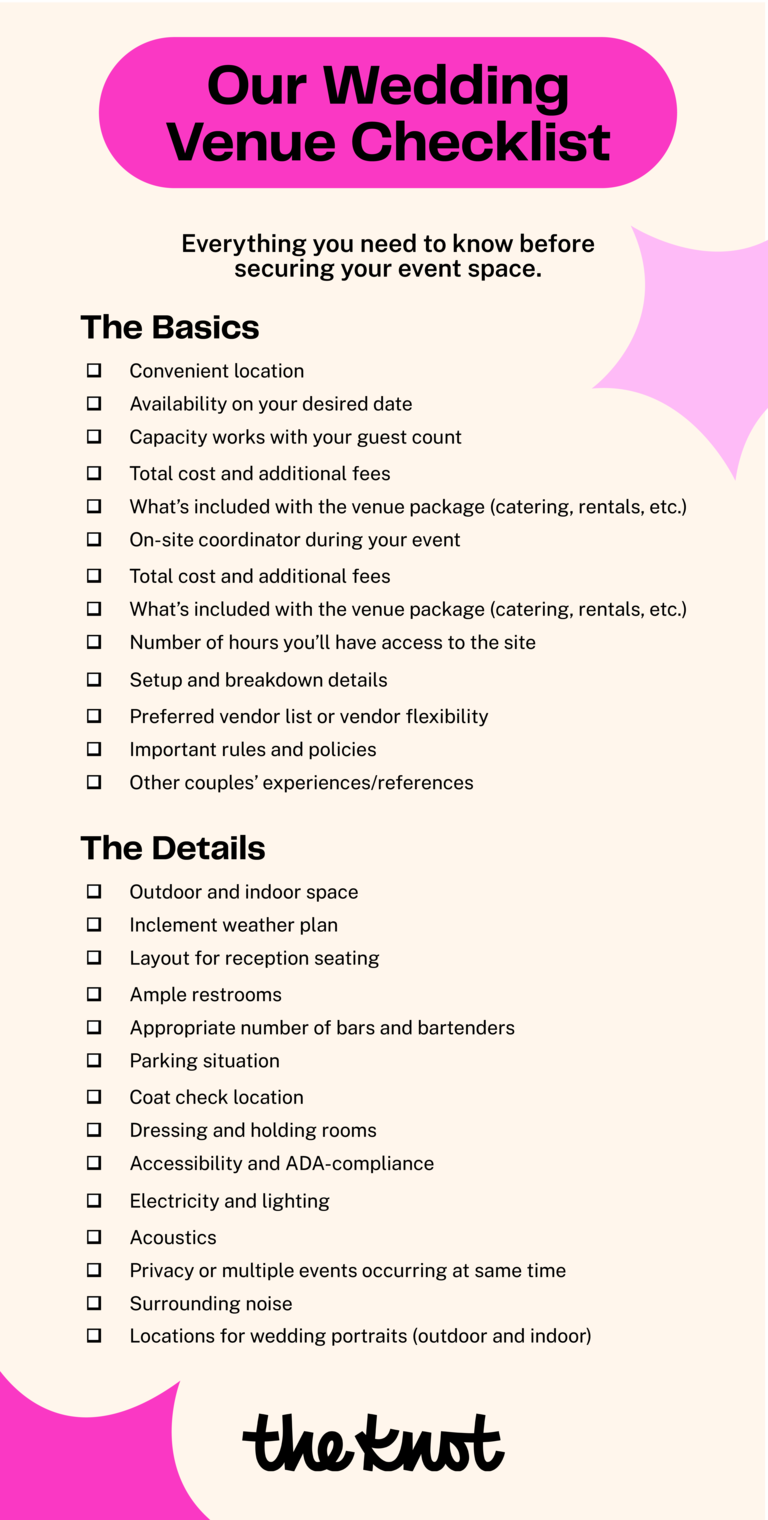 Wedding Venue Booking Checklist
Once you've narrowed down the list to just a couple of favorite venues, you'll want to schedule site visits so you can see the space and ask important questions in person. Here's a checklist of what you'll want to find out before and after booking your wedding venue.
What to Know About a Wedding Venue
There's quite a long list of questions to ask a wedding venue, but a few main pieces of information you'll need to learn from each location you're considering.
Availability: Is the venue available on your desired wedding date, or in the general season/month/year you're targeting?
Location: You'll want to make sure the venue's specific location works for you. Take note if it's near hotels for out-of-town guests, or in a busy part of town that may be prone to traffic.
Rules: A venue may have some specific rules that can affect your big day. For example, they might have a curfew, meaning you can't play loud music after a certain hour. Or they might not allow candles or confetti in the space. It's important to learn all the rules before booking a venue.
Other couples' experiences: One of the best ways to learn about a venue is to talk to other couples who have hosted weddings there. You can read client reviews on The Knot, or ask each venue for a few references.
Hours: How long will you have the venue on your wedding day, and how much time will your vendors have for setup and breakdown?
True Capacity: How many people can your venue seat comfortably? Sure, a venue may say they can host 200 guests, but will guests feel cramped in the space? Ask to see different layouts to make sure everyone will have enough room to dance and dine.
Preferred Vendor List: Some venues require you to choose your vendor team from a list of preferred pros. For some couples, this makes the planning process easier, but others may want to choose their own vendors. Figure out what's best for you.
Personnel: Who will be present on your wedding day? A venue coordinator or facilitator should be on site for the entirety of your event.
All-Inclusive: What does a venue's package include? Is it just the site rental, or are catering and other services included?
Cost: Ask to see a total itemized list of venue-related costs, and find out when payments are due.
What to Look For in a Wedding Venue
As you're touring any type of event space, keep an eye out for these details (and if you don't get your answers, ask the site coordinator!):
Outdoor/Indoor Space: Even if you're hoping for an outdoor wedding, you'll need a backup plan in case of inclement weather. Make sure you're comfortable with all setups, no matter what the weather may be on the big day.
Layout: How can tables and chairs be set up? What types of tables work best in the space? Where will the dance floor be situated? Are there separate spaces for ceremonies and receptions or will the same space be reset post-ceremony? How does that process work?
Restrooms: The last thing you want is your guests spending a long time waiting to use the restroom during your reception. A good rule of thumb is one toilet for every 50 guests.
Bars and Bartenders: Your guests shouldn't have to wait too long at the bar to get a drink. There should be at least one bartender for every 75 guests, and if you're hosting a larger wedding, multiple bar areas to minimize crowding.
Parking: Is there on-site parking? Is valet parking available? How far away is the parking area to the venue itself? If it's far, how do guests get from the parking area to the venue?
Coat Check: Knowing where the coat check is set up is particularly important for colder-weather weddings.
Dressing Rooms: Are there changing rooms where the couple can prep before the big day and stash their stuff? Do these rooms have enough space for the wedding party/close family members?
Accessibility: Does the venue have ADA-compliant facilities and entrances for guests who need them?
Electricity and Lighting: Does the venue have enough power for venues that require it. And is there enough lighting or will you need to bring in an outside lighting vendor?
Acoustics: How will music sound in the space?
Privacy: Will you have the entire venue to yourself or are you sharing the space with other events?
Noise: Is there any additional noise (traffic, etc.) that could be distracting?
Photo Locations: Are there both outdoor and indoor locations for wedding portraits?
How to Book a Wedding Venue
After you've done your initial research and narrowed down the list of wedding venues in your desired location to just a few, schedule in-person tours and make sure all of your questions have been answered. Hopefully, it will be love at first sight when you find the right venue, but it's totally normal to go back and forth between a few, weighing pros and cons to help you make your final pick.
Once you've selected "the one," ask to have a venue contract written up and review it carefully with your partner. Don't be afraid to ask questions about anything that's unclear, and take special note of the payment schedule. When you're ready, finalize your decision and book your wedding venue (meaning, sign the contract and put down a deposit). Make sure you have confirmation of your reservation in writing (email or hard copy contract). And be sure to take a moment to celebrate—you've made one of the biggest decisions of the planning process and officially "set the date" for your wedding day!
What to Do After You've Booked Your Venue
After you've signed your venue contract, you can breathe a big sigh of relief. But there are a few more tasks you'll have to complete:
If your reception will be outdoors in a public place, file for a permit.
Make a list of anything you'll need to rent (tent, tables, chairs and so on) and look into rental companies; visit your site with your rentals pro so they see firsthand what you need (do all this about six to eight months before).
Take pictures of the site to show to other wedding vendors.
Ask for directions coming from various routes (you'll need this to include in invitations or to post on your wedding website). Drive them yourself.
Meet with or call the site manager to discuss decorations and final menu decisions if you're working with in-house people, or to coordinate plans with outside caterers, florists and other vendors (do this at least four months before).