You Need These Points on Your Reception Venue Contract
Your wedding venue will take up almost half of your budget (if not more), so don't leave anything to chance. Before you sign, double-check that your contract covers these key points.
by The Knot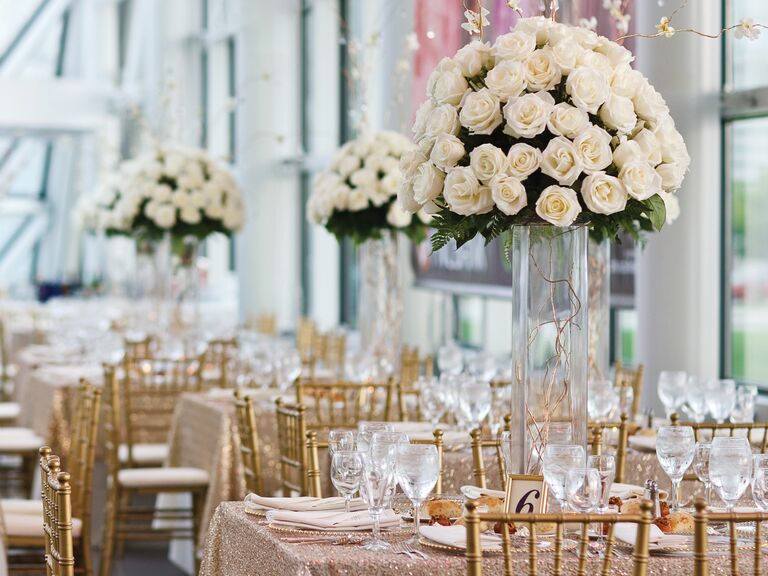 Take our word for it: You want to make sure you're covered down to every last little detail before you sign the wedding venue contract. It's definitely not as fun as taking The Knot Style Quiz, picking out flowers, trying on dresses or tasting cakes, but finalizing your wedding venue contract is quite possibly the most important part of the wedding planning process. Let's put it this way—you don't want it to be the week of your wedding and realize that your venue doesn't have a liquor license. (PS: If you're not there yet and haven't found your venue, use our venue search to find awesome sites in your wedding location.)
Here, the basic points that every reception venue contract should have:
Name and contact information for you and the venue
Date and time frame of your reception (the average dinner and dance reception is about four hours—longer if it includes the ceremony)
Exact names of specific room(s) to be used
A detailed description of your reception space, including the décor (color of walls, type of flooring, chandeliers), plus any amenities, like a stage or bridal suite
What time pros (like the florist and DJ) will be able to set up
Approximate number of guests and number of tables to be set up (include a floor plan if possible)
An itemized list of what the site will provide (from waitstaff to linens, plus special services such as a coat check and valet parking)
The name of the manager who will be on hand on your wedding day and the name of an acceptable substitute
Proof of insurance and liquor license
Anything else you agree to orally that you want set in stone
Setup, cleanup, overtime and any other fees
Total cost (itemized)
Deposit amount due
Balance and date due
Cancellation and refund policy
Sign it and breathe a sigh of relief. Your biggest decision (after choosing to get married, of course) has been made. The rest of your planning will now begin to fall into place—we promise.
Now it's time to put the knowledge to use, and find the best venues in your area here.
Still looking for your venue? Here are the most important questions to ask during your site tour.