You Need These Points on Your Reception Venue Contract
Before you sign, double-check that your contract covers these key points.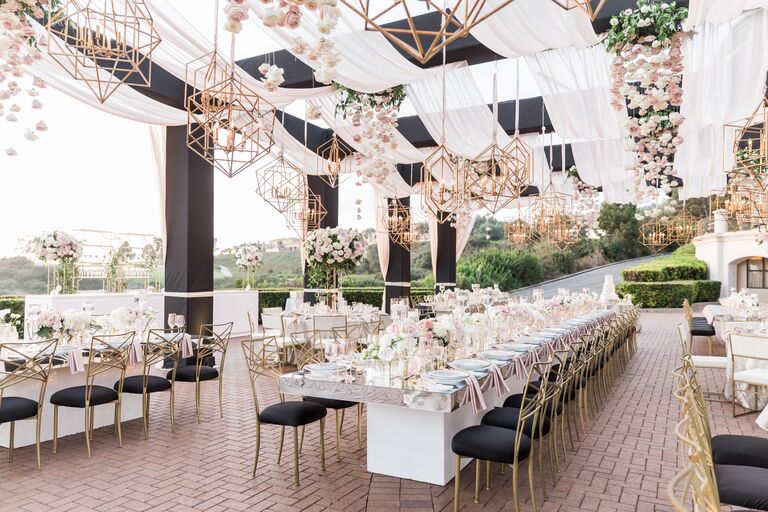 Brandon Kidd Photography
Choosing your wedding venue is a major decision (and a pricey one too). According to the latest data from The Knot Real Weddings Study, booking a venue is the most expensive decision couples make while planning. As such, if you're a couple booking your wedding venue, you'll want to make sure your wedding venue contract is comprehensive. Take our word for it: You want to make sure you're covered and feeling clear on every last little detail before you sign the dotted line.
It's definitely not as fun as picking out flowers, trying on day-of outfits or tasting cakes, but finalizing your wedding venue contract is possibly the most important part of the wedding planning process. After all, you don't want it to be the week of your wedding and realize that your venue doesn't have a liquor license.
To help avoid any last-minute snafus, we've put together a list of everything that should be on your wedding venue contract. See the basic points that every venue agreement should cover, below.
1. Name and Contact Information (for You and the Venue)
This may seem obvious, but it's always a good idea to get everything in writing. You'll likely be in contact with your wedding venue during the planning process, so this will come in handy.
2. Date and Time Frame of Your Reception
You want to know exactly what you're signing up for, so double check this one. For reference, the average dinner and dance reception is about four hours, but it can be longer if it includes the ceremony.
3. Exact Names of Specific Room(s) to be Used
Writing this detail down ensures that you have a firm reservation on the space. (Read: No surprise guests or events on the day of your wedding.)
4. Detailed Description of Your Reception Space
It may seem over-the-top, but it's always best to get everything in writing. Ask for a thorough description of the actual space, but include other details as well. For example, make sure to include your décor—the color of the walls, the type of flooring, the type of chandeliers. Don't forget to include any amentities, like a stage or a getting-ready room.
5. Time Pros Will be Able to Set Up
Timing is everything on your wedding day, so you want to make sure that your pros (like the florist and DJ) can get started when they need to. Confirm with the reception venue that your vendors can come early to set up so you don't run into any issues on the day of.
6. Number of Guests and Number of Tables to be Set Up
Since your wedding is all about celebrating your love with your guests, you want to make sure they're taken care of. Ensure that there will be enough seating for your expected guest count ahead of time. Ask your venue to include a floor plan if possible so you can see what it will all look like.
7. Itemized List of What the Site Will Provide
Again, this may be an uncomfortable ask. Is it really necessary to go through every single detail? Absolutely. Request an itemized list that includes everything the side will provide (from waitstaff to linens, plus special services like coat check and valet parking). Make sure that you're completely aware of what you're purchasing and what will cost extra. This will minimize the possibility of an extra unexpected fees on your wedding day.
8. Name of the Manager Working on Your Wedding Day (and Name of a Substitute)
It's always a good idea to get the names of the people in charge of the space on your wedding day in case you need their help. Get the name of the manager who will be working on your wedding day and the name of an acceptable substitue in case something comes up.
9. Proof of Insurance and Liquor License
Don't just take their word for it—make sure both of these are included in the contract so there's absolutely no risk.
10. Anything Else You Want Set in Stone
Do you want an extra hour of reception time for a little more cash? Do you want confirmation that the venue will remove a rug that clashes with your colors for the duration of your reception? Make sure you write that down in paper so it can't be changed on the day of.
11. Setup, Cleanup, Overtime and Other Fees
We know how important it is to stay on budget, which is why we insist on getting this detail in your wedding venue contract. Be aware of any extra fees or costs that may come up so that you can avoid them.
12. Total Cost (Itemized)
Yes, we're serious about getting an itemized line-up. Make sure every single cost is crystal clear. If something doesn't add up, ask.
13. Deposit Amount and Due Date
It's always good to sign on a due date so there's no confusion whatsoever.
14. Balance and Due Date
Again, getting a deadline on paper is always a good idea.
15. Cancellation and Refund Policy
Sometimes things happen, and you have to cancel your celebration. Make sure you know excactly how the venue handles those situations so you're not surprised in the event it happens.
One of the biggest mistakes that couples makeis shying away from asking questions, according to Danielle Couick, principal and creative director at Magnolia Bluebird Design & Events. Remember that a wedding venue is usually a pretty big investment, so make sure to ask about anything you're not clear on. Don't be afraid to get specific. For example, if they are including the cake in your package, ask to get some more details so you know exactly what you're getting.
Once you feel like you've gotten the answers you need, sign the contract (and breathe a sigh of relief). Your biggest decision (after choosing to get married, of course) has been made. The rest of your planning will now begin to fall into place—we promise.