Here's How Much You Should Expect to Budget for Your Wedding Reception Venue
Not sure how much your reception venue will cost you? We have the answers.
by Sophie Ross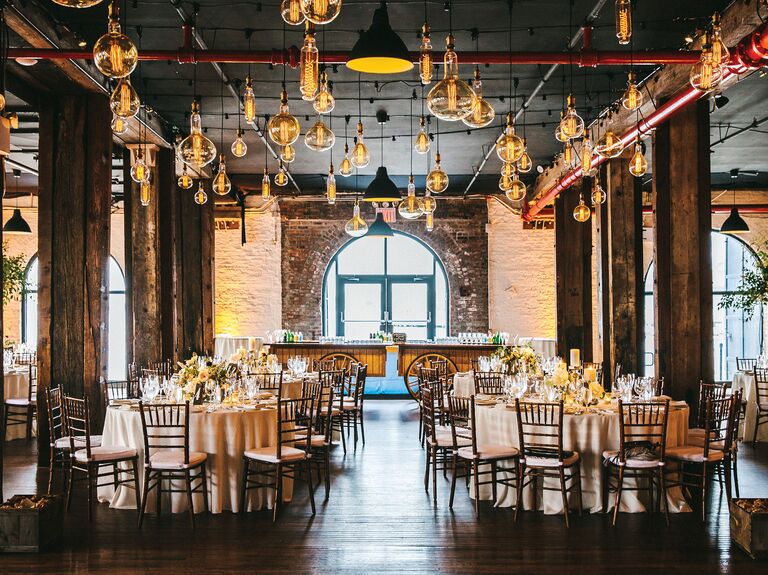 The rumors are true: Your wedding reception venue will likely be the most expensive decision you make during wedding planning.
In fact, according to our 2018 Real Weddings Study, the average cost of a wedding venue is $15,439—out of an average total wedding cost of $33,931—in 2018. That means, on average, couples who got married last year dedicated just over 45 percent of their wedding budget to their reception venue. So, yes—your wedding venue will likely cost you a chunk of change out of your budget. 
Before you panic, know that the price you pay depends on factors like location, the season and how many valuable extras your venue happens to include. Many sites include add-ons in the overall price, like the catering (which is likely to be a part of the reception fee, especially at a black tie event), cake baker and event planner. So you just might get a lot of bang for your buck.
Of course, the price you'll actually end up paying depends on a multitude of factors, including where in the country you're tying the knot. Naturally, more populated and metropolitan areas of the country will have more "competition," and thus, steeper prices for reception venues.
Unsurprisingly, Manhattan tops the list with the highest total average wedding cost in the country (at $96,910), which means a venue in NYC could carry price tag of around $30,000 or more.
On the contrary, you're likely to find some of the most inexpensive reception venues, on average, in more remote parts of the country—the most inexpensive places overall to say "I do" being Idaho (at $16,366), West Virginia (at $7,997 total), Wyoming (at $19,395 total) and South Dakota (at $19,515 total).
Clearly, regardless of where you live, you'll have to allocate a significant portion of your budget to a reception venue—but if you're trying to pay even less for your celebratory space, a gorgeous banquet hall in South Dakota might just be calling your name. And if that's not the case, we have everything you need to help manage your budget, right here.
Ready to party? Find your wedding reception venue on The Knot Marketplace.