A Step-by-Step Guide to Planning an Unforgettable Bravo-Themed Bachelorette Party
It's turtle time.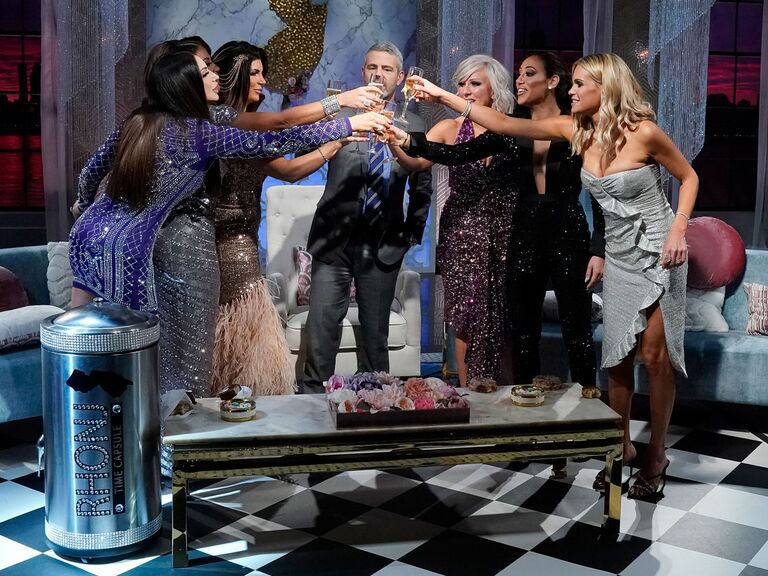 Heidi Gutman/Bravo/NBCU Photo Bank via Getty Images
We have included third party products to help you navigate and enjoy life's biggest moments. Purchases made through links on this page may earn us a commission.
As any reality television connoisseur knows, Bravo's programming transcends traditional entertainment. Shows like The Real Housewives, Vanderpump Rules, Below Deck and Summer House are responsible for multiple pop culture moments that have defined reality TV. Therefore, if you're celebrating a Bravo-lover's upcoming wedding, it's only fair to throw a party inspired by their favorite shows. Lucky for the crew, there's no shortage of inspiration to plan an unforgettable Bravo-themed bachelorette party. Typically, a friend or family member is responsible for planning the bach party, but it's encouraged to consult with the bride about key factors like location, guest list and activities. Once you've secured the important details, bring your dream Bravo-themed party to life.
Whether you're a Housewives expert or a novice to the Bravo empire, we took the guesswork out of planning. Here, we share a step-by-step guide to planning a Bravo-themed bachelorette party that's simply Gone With the Wind fabulous. Whether you're all about a Real Housewives bash or you're working with a Vanderpump Rules party theme, we share the best ideas for thematic food and drinks, Insta-worthy décor, and games to test your Bravo knowledge. Keep scrolling for our top tips, and prepare to whoop it up, Vicki Gunvalson-style.
Choose a Theme
A great theme sets the tone for a memorable bachelorette celebration. When planning a Bravo-themed party, think about the shows your crew loves most and how they match your destination. A Southern Charm theme is perfect for a bach party in Savannah or Charleston, while a nautical Below Deck theme is a no-brainer for a tropical getaway. You also can't go wrong with a theme inspired by your favorite Housewives and their best TV moments. Here, we share our top picks for Bravo party themes to take your bach event to the next level.
The Real Housewives
The Real Housewives franchise is Bravo's most recognizable, so there's no shortage of inspiration for your bachelorette party. If you really want to make it nice (à la Dorinda Medley), look back at the franchise's most memorable episodes to inspire the theme. Host a cabaret-themed party for Real Housewives of New York City fans, or an All-White Seafood Soirée for Real Housewives of Atlanta experts. You can also switch things up by inviting guests to come dressed as their favorite wife. (Wigs are highly recommended.)
If you'd rather keep it simple, there are plenty of cocktails, decorations and games to set the tone of your Bravo-themed party. We highlight the best of the best below.
Vanderpump Rules
Can't get enough of the SURvers? If traveling to WeHo isn't in the budget, bring Villa Rosa and SUR to you with a Vanderpump Rules-themed bachelorette party. Make sure you have plenty of pinot grigio on hand, and create a playlist of songs from Pump Rules stars like Scheana Marie and James Kennedy to make your bach party as good as gold. (Psst: Don't miss this opportunity to create a menu titled "It's Not About the Pasta." Because, let's be real—sometimes it is about the pasta… and SUR's goat cheese balls.)
Below Deck
Channel your inner yachtie with a Below Deck-themed party. Plane tickets to Tahiti aren't necessary—a local Airbnb with a pool can serve as the perfect getaway. If you want to throw a party like Kate Chastain, focus on the details. Organize color-themed dinner parties, serve seafood spreads inspired by Chef Adrian, and transform the space with nautical decorations. Oh, and don't forget apparel emblazoned with "June, June, Hannah" to set the tone.
Summer House
Heading to the Hamptons for your bach weekend? Don't overlook a Summer House-themed bachelorette party. Full send it like Kyle Cooke and Carl Radke and stock up on Whispering Angel rosé, frozen margaritas and jello shots. The Summer House crew has thrown plenty of unforgettable parties throughout the series, so you can easily steal a few party themes for your own (think: Beer Olympics, Christmas Day, or Boston Tea Party).
Southern Charm
It's no secret that southern hotspots like Nashville or Charleston are prime choices for bach parties. If you're traveling to one of these locales, consider a Bravo-themed party inspired by the Charm-ers. Throw a Mardi Gras bash or pull inspiration specifically from the show. We love the idea of getting your squad matching caftans inspired by grand dame and martini-connoisseur Patricia Altschul. For a fun (and unique) activity, try your hand at stitching throw pillows like Craig Conover.
Create the Menu & Cocktails
Once you've set a party theme, use it to guide the menu and cocktail list. Luckily, plenty of Bravolebrities have gone on to pursue side hustles in the food and drink industry, meaning there are plenty of options when it comes to beverages. Serve a pre-made drink with Bethenny Frankel's Skinnygirl Cocktail line, or go for Loverboy spiked tea by Kyle Cooke and Amanda Batula. Pink wine fans might prefer Vanderpump Rosé from Lisa Vandeprump.
As for food, Bravo shows can inspire the snacks too. Make Brittany Cartwright's MeeMaw proud with a bowl of beer cheese dip, or recreate any Top Chef recipe. If you're feeling stuck, you can always go for an Italian family-style dinner that would make Teresa Giudice proud.
Stock Up on Décor
Decorating your space will take any Bravo-themed bachelorette party to the next level. From banners to t-shirts and even temporary tattoos, these items are simply the best. Here, we've rounded up the best Bravo decorations for your event.

What's a bach party without (temporary) ink? Your squad will get a kick out of these Bravo-inspired bridesmaid tattoos.
Pretty Creative by AES Real Housewives Bravo-themed temporary tattoo pack, $17 for a variety pack, Etsy.com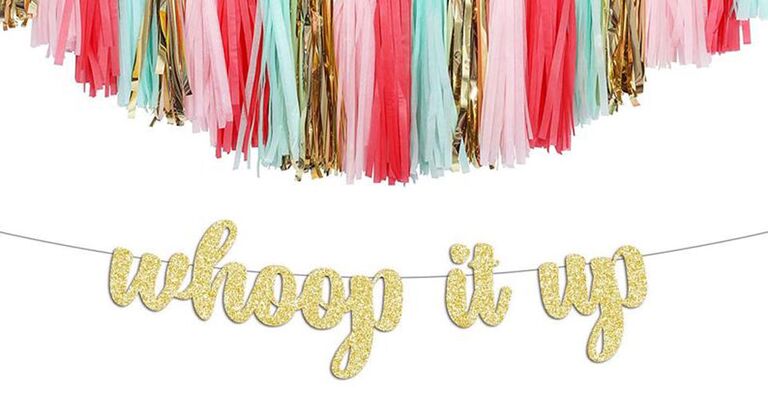 Of all the Bravo bachelorette party decorations online, this one is a must. Hang this glittery banner inspired by Vicki Gunvalson to create an Instagram-worthy photo wall. Browse this Etsy store's extensive list of party banners for other iconic quotes too, like "Yeah, I'm drinking Luann," "Who gon' check me boo?" or "Goodbye Kyle."
Love Bravo "Whoop It Up" glitter banner, $16, Etsy.com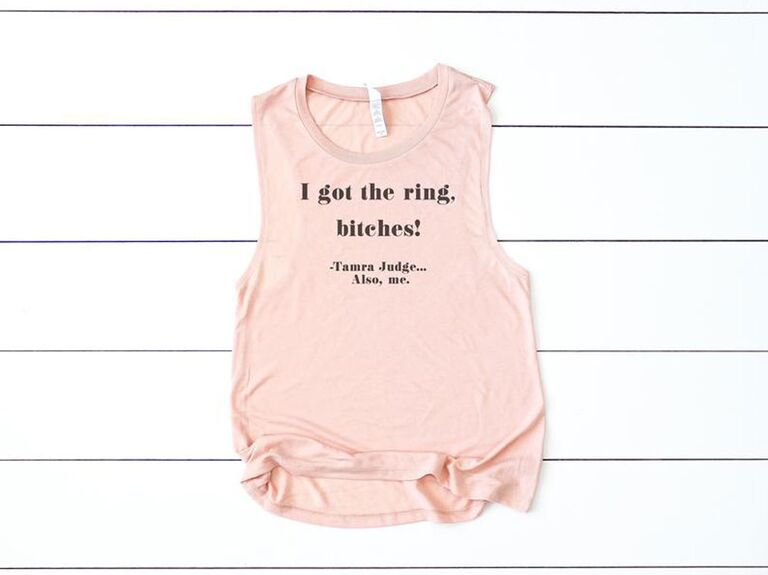 The bride-to-be deserves a special shirt for the bach party, and this Tamra Judge quote perfectly sums up the reason for celebrating.
Punch Drunk Design Co. RHOC engagement shirt, $25, Etsy.com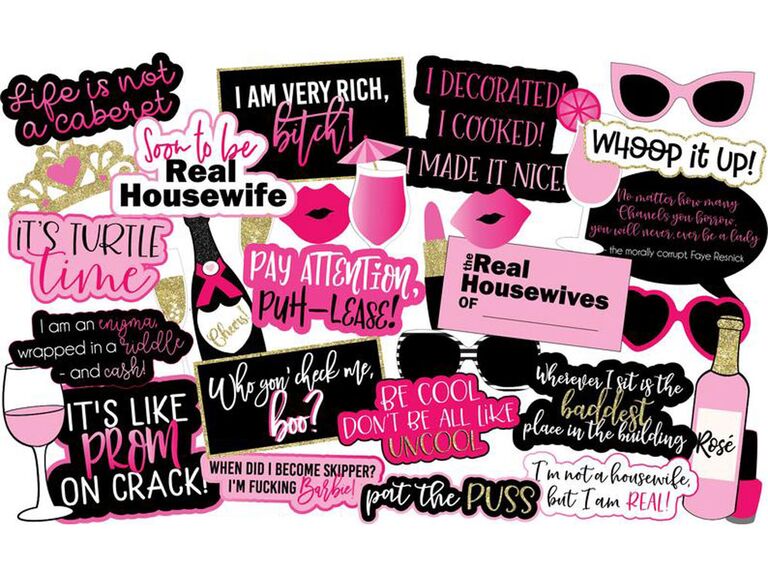 You'll capture plenty of photos for the 'gram with these Real Housewives-inspired props. Since these are digital downloads, you'll get the files upon purchase to print for your party.
Glitter Grain Design Co. Real Housewives photo booth props, $5 for 32 props, Etsy.com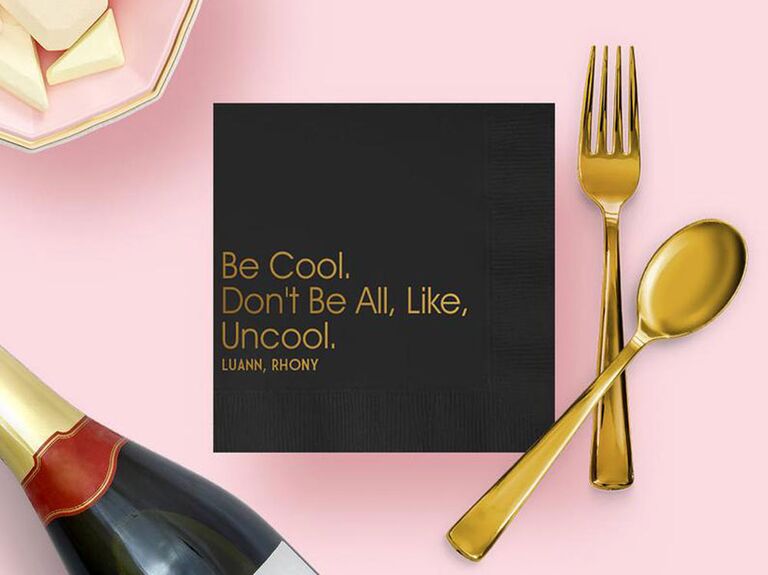 Why serve snacks with plain napkins when you can get them printed with iconic Bravo quotes? Remind your guests to be cool with these Countess-approved gold foil napkins.
Paper Chaser Paper "Be Cool, Don't Be All, Like, Uncool" napkins, $12 for 20, Etsy.com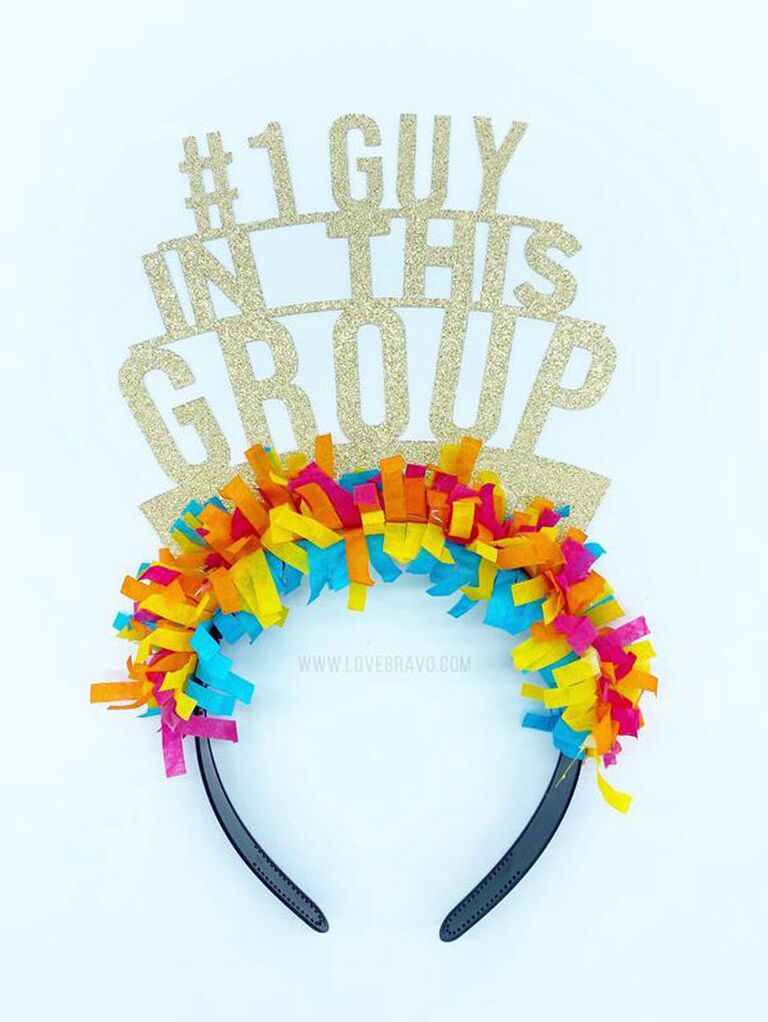 While the number one guy on Vanderpump Rules is up for debate, there's no doubt the bride will love wearing this iconic quote on a headband. We have a feeling Jax Taylor would like it too.
Love Bravo "#1 Guy in This Group" headband, $20, Etsy.com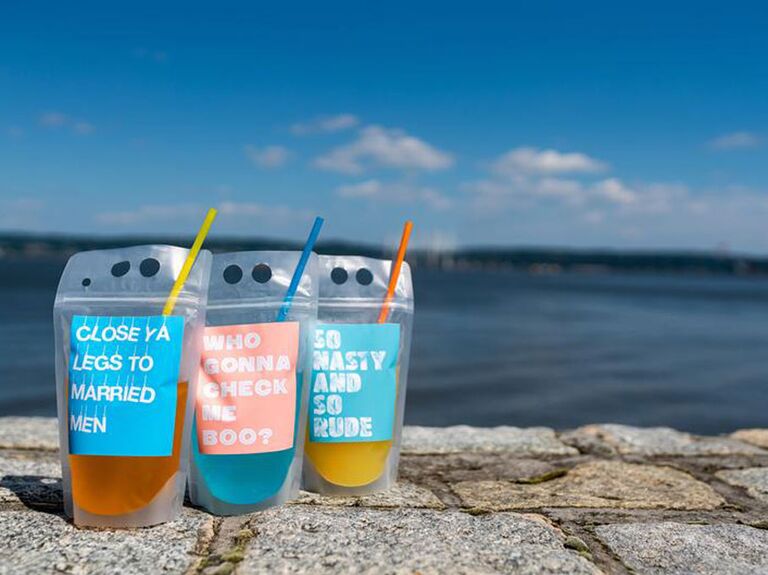 The ladies of Atlanta have delivered some of the most memorable one-liners, so of course they should be memorialized on drink pouches. This set of eight also comes with straws to enjoy your cocktails in style.
Fish Mongers Daughter Real Housewives of Atlanta party drink pouches, $40 for 8, Etsy.com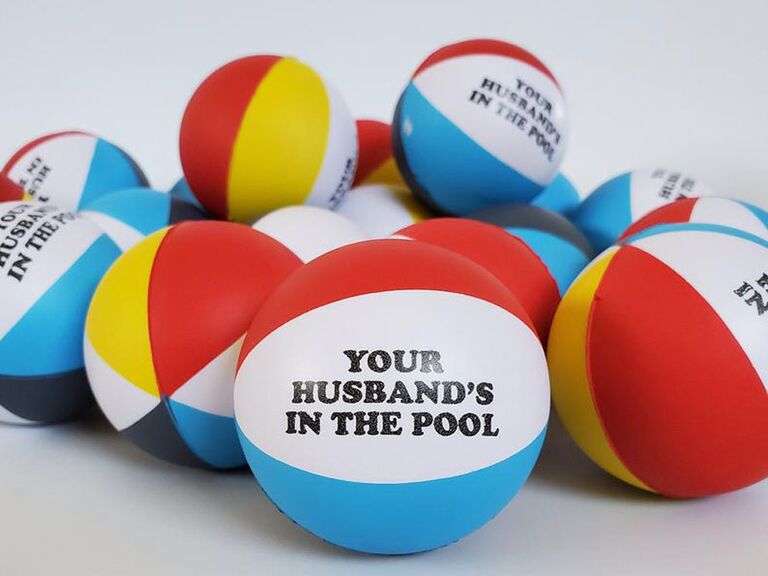 Hosting a beach party? These stress balls, printed with one of Margaret Joseph's best quotes, are a must, especially if there's a pool at your destination.
Ether and Opal RHONJ stress ball, $10 for 3, Etsy.com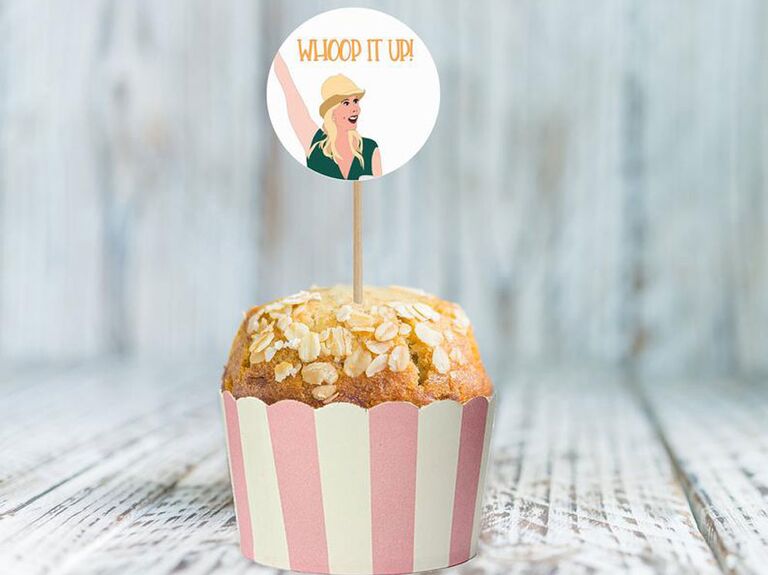 Whether you're serving cupcakes or snack cups, these "Whoop It Up" toppers will make the food taste that much better.
Pop Pastiche Whoop It Up cupcake topper, $5, Etsy.com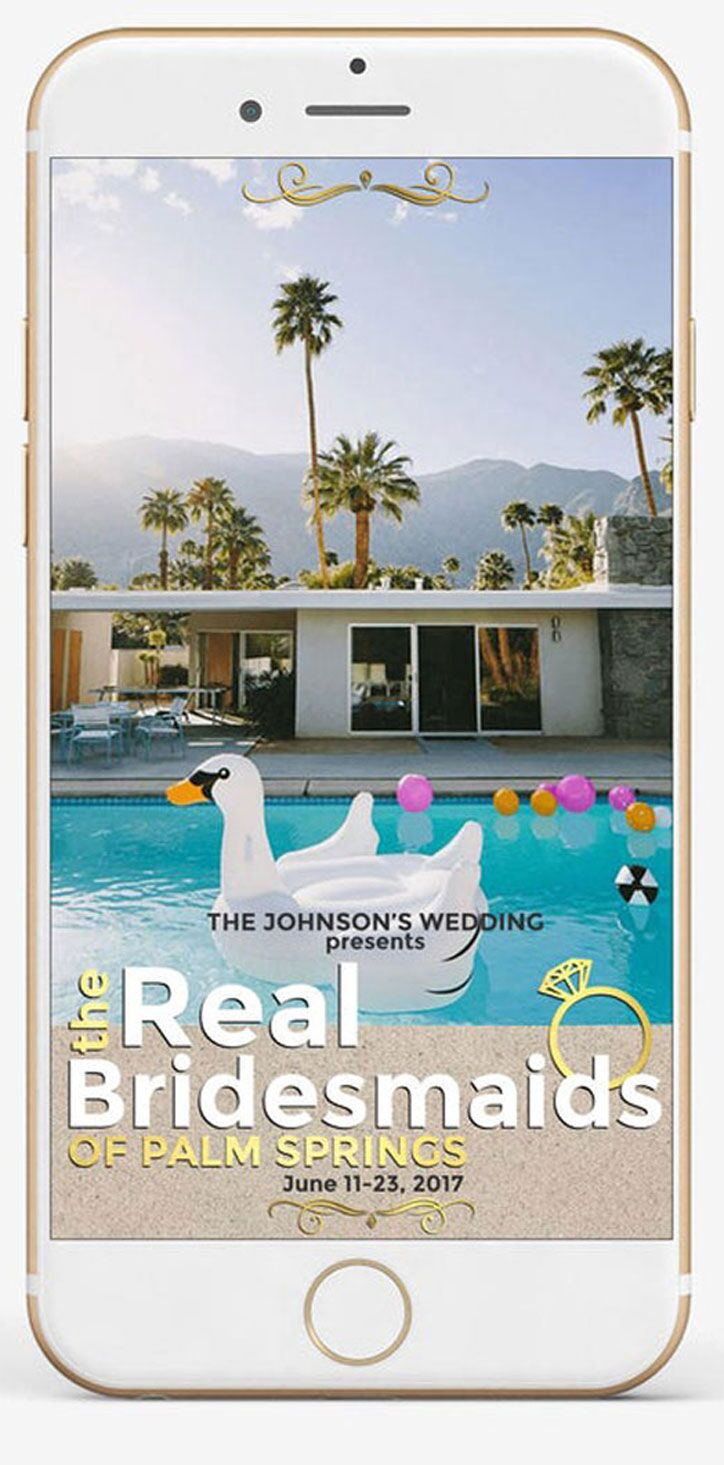 If you and your squad refer to yourselves as the Housewives, you need to document the bach party with this Bravo Snapchat filter. When you purchase the image, the Etsy seller will customize the file with the date and location of your bach party to make it personalized for your bash.
Snappy Days Co. The Real Housewives bridesmaids Snapchat filter, $8, Etsy.com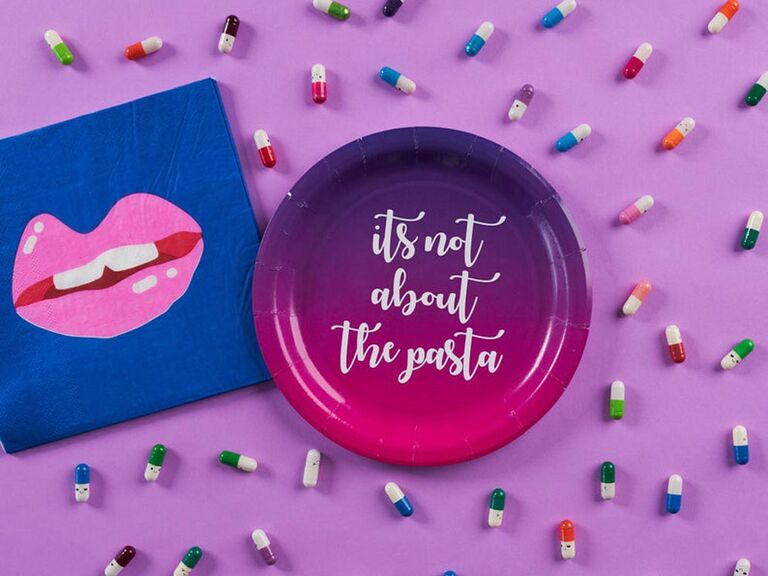 Maybe it is about the pasta, after all. No Vanderpump Rules-themed bachelorette party is complete with these paper plates embossed with James Kennedy's most popular quote.
Fish Mongers Daughter Vanderpump Rules paper plate, $13 for 8, Etsy.com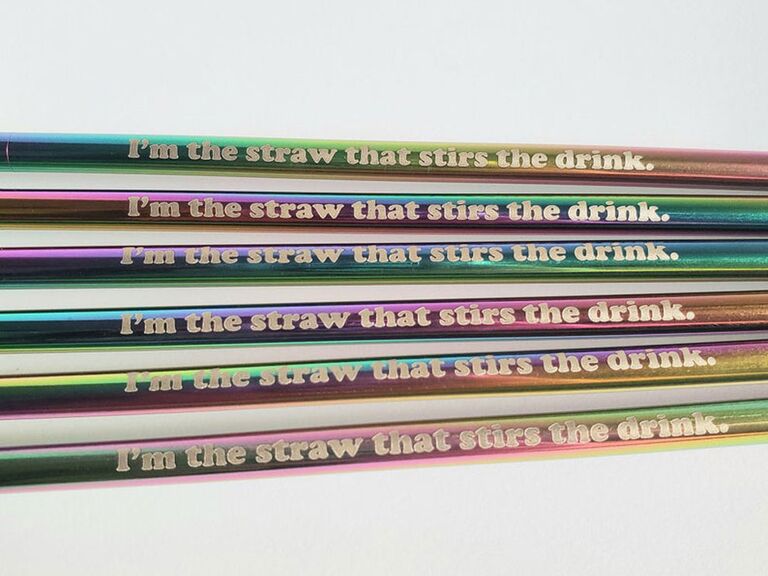 Treat guests to eco-friendly reusable straws—you'll get bonus points from any Sonja Morgan stans in the group.
Ether and Opal RHONY reusable straw, $15 for 3, Etsy.com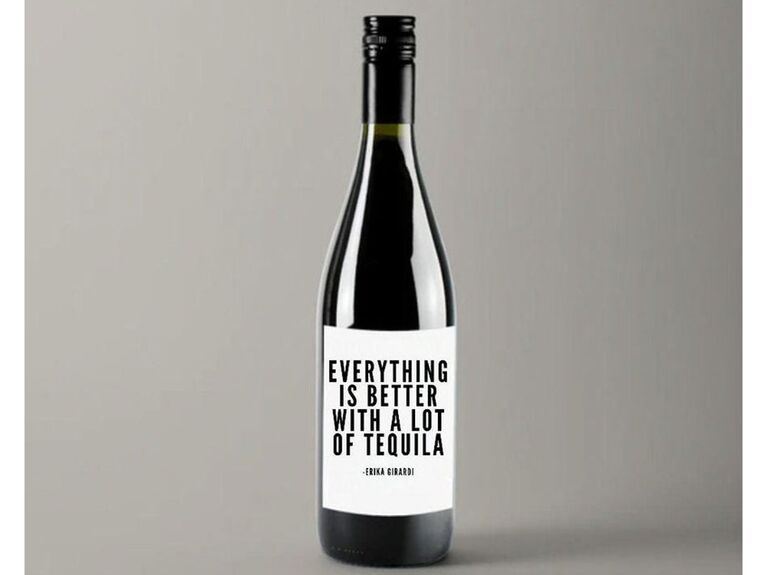 This liquor label is a must for any bottle at your bach party, tequila or not. You'll make Erika Jayne proud when you serve cocktails with this RHOBH label.
Drunk in the House Erika Girardi wine label, $7, Etsy.com
Plan the Games
As with most wedding events, games can help liven up any celebration—and a Bravo-themed party is the perfect place to test everyone's knowledge of the 'Wives, their taglines, and iconic franchise moments. Here, we highlight the best games any Bravo bachelorette party needs to have.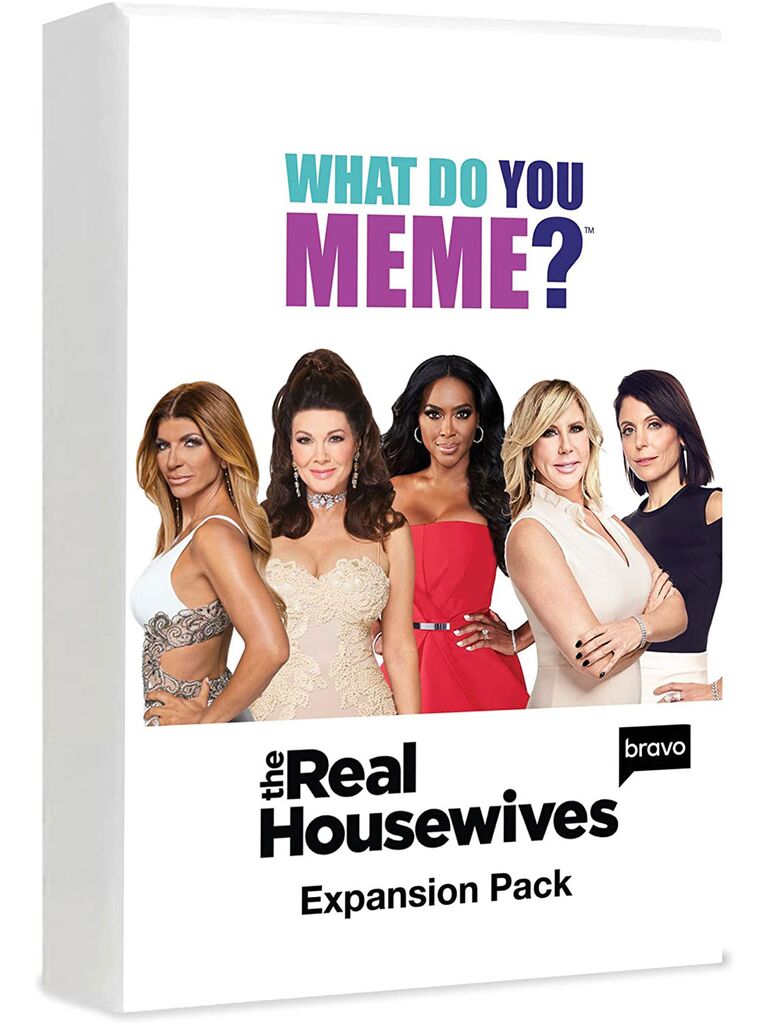 Test your meme skills with this Bravo-themed expansion pack of What Do You Meme? Players receive a deck of caption cards that are used to "meme" photos of the best Housewives moments. Each person takes turns judging the best memes, and the player with the most points wins.
What Do You Meme? Real Housewives expansion pack, $13, Amazon.com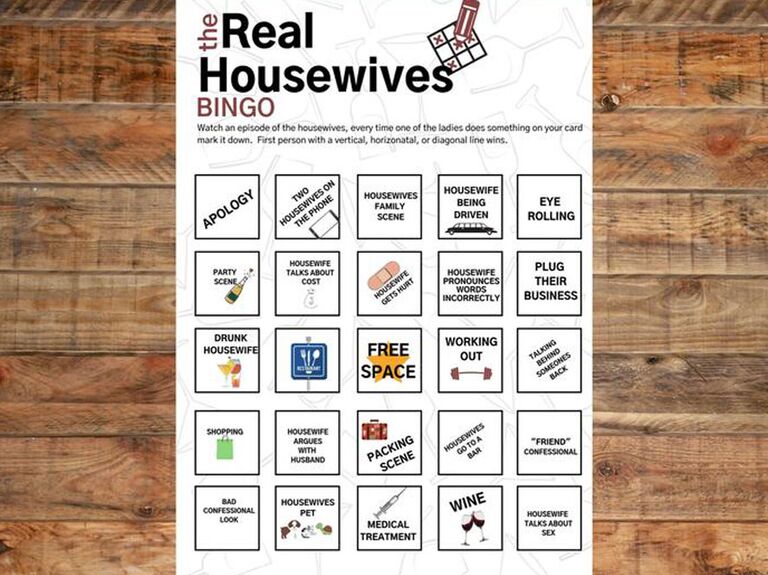 What's a Bravo bach party without an episode (or two) of your favorite shows? Up the stakes by organizing a Bravo Bingo game to play while you watch the most iconic episodes from any franchise. ("Scary Island" or "The Last Supper," anyone?) This Bingo game comes with cards for 10 players, and you can use the template for any franchise. You can buy more printable games from this Etsy shop too—we particularly love the taglines and quotes quizzes.
Easy Event Ideas The Real Housewives Bingo, $5, Etsy.com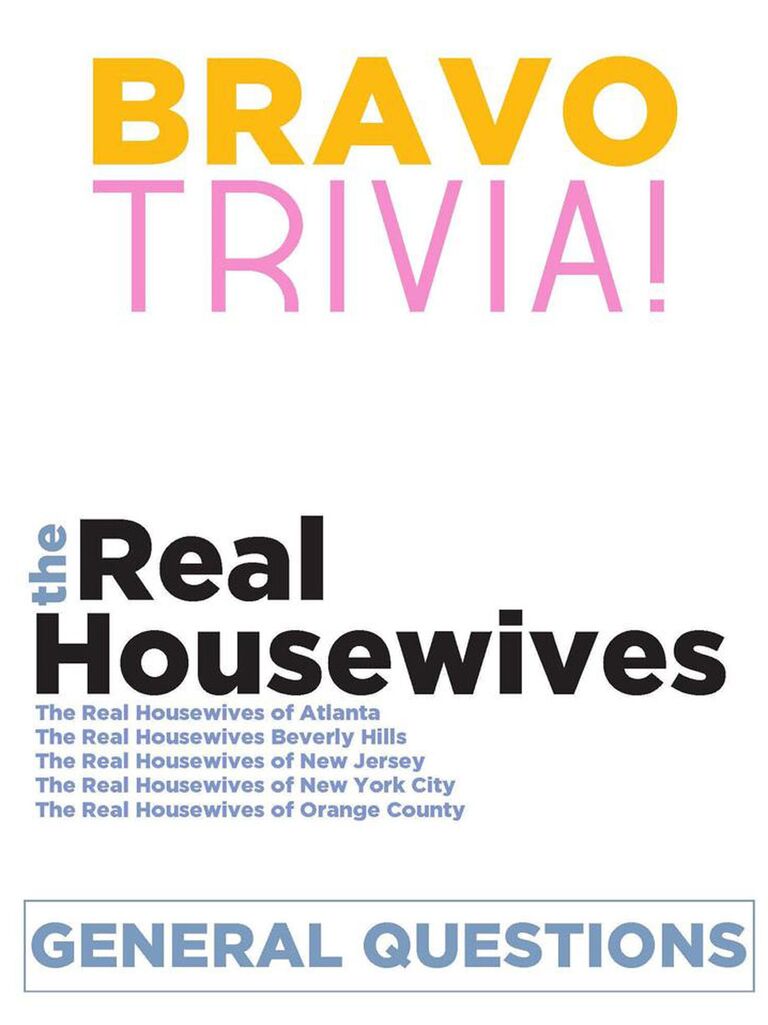 Bravo connoisseurs will never turn down a chance to boast their knowledge during a game of trivia. (When else can you recite each Housewives alcohol brand or song title?) This Etsy shop offers digital trivia game downloads for every franchise. Or, superfans might prefer to play a more niche trivia game about topics like House Husbands, the best taglines or infamous side hustles.
Bravo Trivia The Real Housewives questions, $3, Etsy.com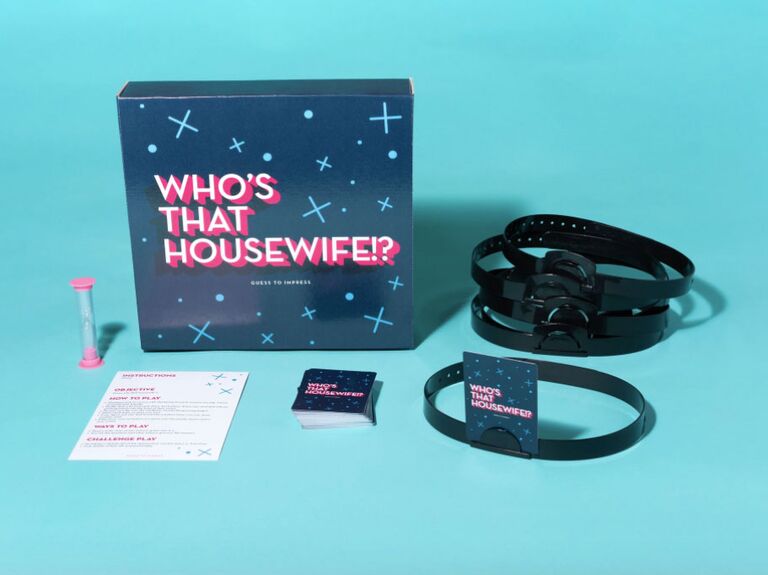 Think you can act just like your favorite 'Wives? Show off your best impersonations with this guessing game. Each person wears a plastic headband that holds a card of a housewife, and players take turns acting like each wife until the wearer guesses theirs. Don't sweat it if Housewives aren't your expertise—the brand has a corresponding game for Vanderpump Rules too.
Who's That Housewife!? Real Housewives party game, $70, WhosThatHousewife.com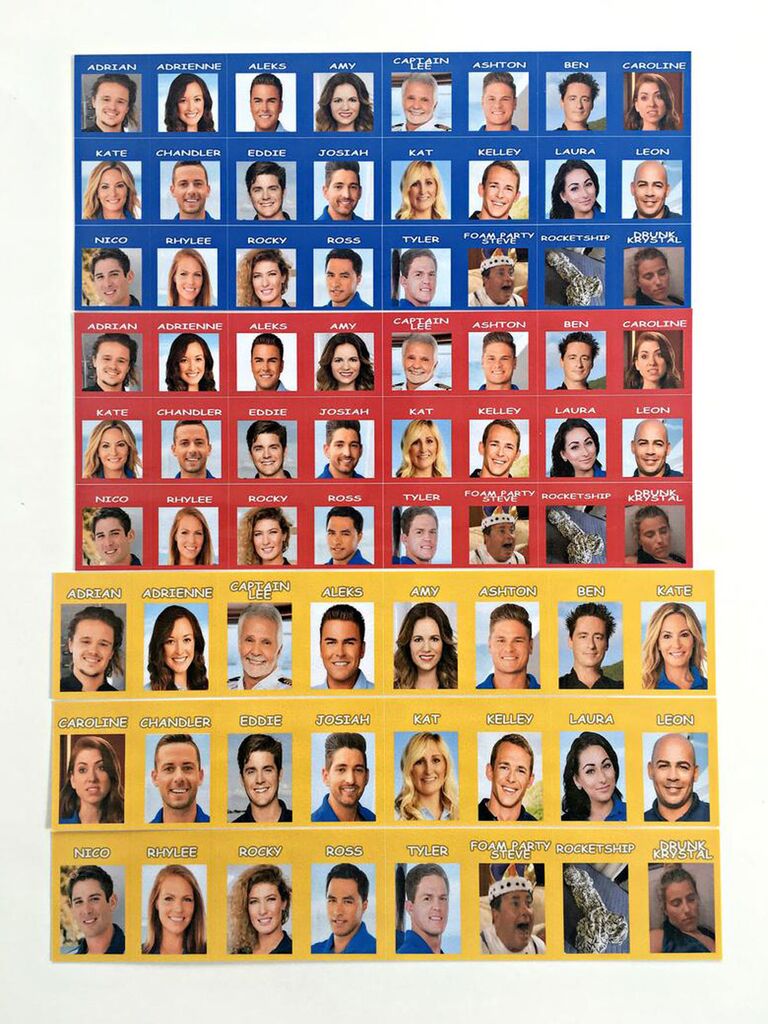 Guess Who, but make it Below Deck. If you've faithfully watched every season documenting Captain Lee and Captain Sandy's travels abroad, you'll love this nautical board game. Since this is an expansion pack, you'll need a Guess Who game set to play. And since this is for two players, we recommend making a bracket for your bachelorette party to see who knows the yachties best. This Etsy shop also has a Vanderpump Rules expansion pack if you know more about the SURvers.
Snarky Games Below Deck edition mystery board game expansion pack, $30, Etsy.com
Organize Party Favors
It's common for the bach party planner to give party favors too. Here's the good news: There are plenty of Bravo-themed party gifts available online that'll thrill any superfan. Find our top picks below—and consider giving them to your crew at the beginning of the party so they can use them during the celebration.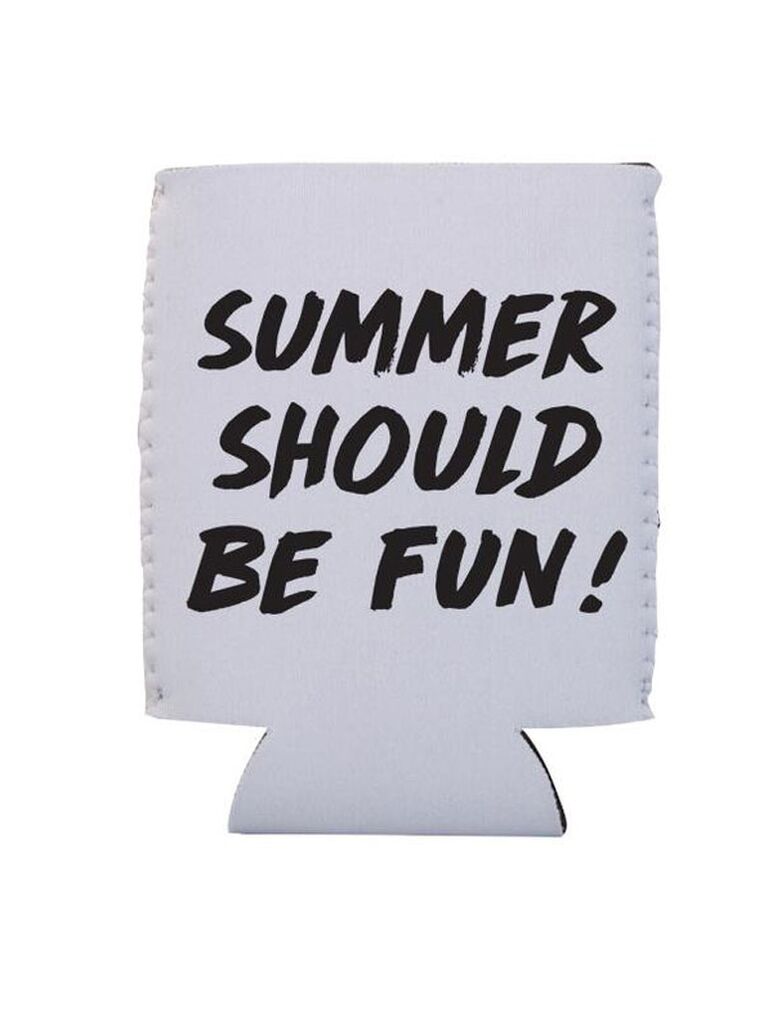 In the words of Kyle Cooke, summer should be fun—just like your bach party. It doesn't matter if you're celebrating in the Hamptons or partying by a pool. Treat guests to a Summer House-themed koozie to keep their drinks cool for the duration of the party.
Sarah Kathleen Designs Summer House koozie, $5 each, Etsy.com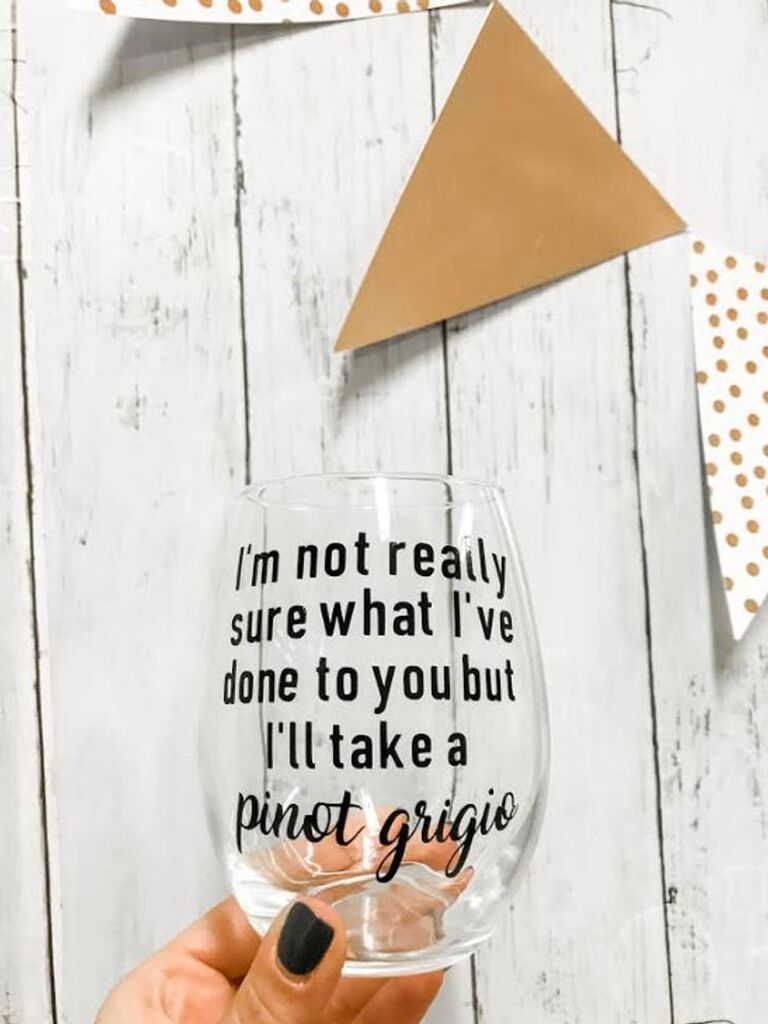 We hope you'll enjoy plenty of pinot grigio at your Bravo bachelorette party, and what better way to sip it than in this Pump Rules glass?
Always Happy Hour Vanderpump Rules cocktail glass, $12, Etsy.com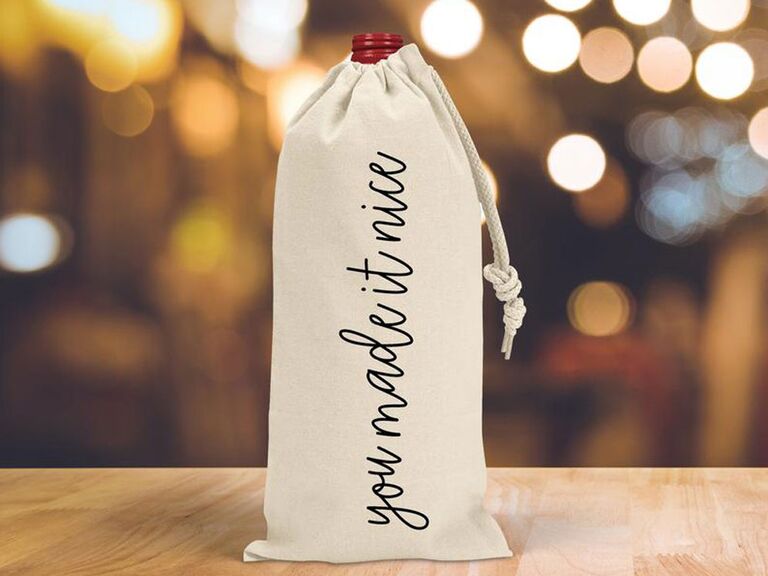 Thank your party guests for "making it nice" with this Dorinda Medley-inspired wine bag. Fill it with other party favors or a bottle of wine to accompany their next Bravo binge session.
Basic Bitch Designs "You Made It Nice" canvas wine bag, from $15, Etsy.com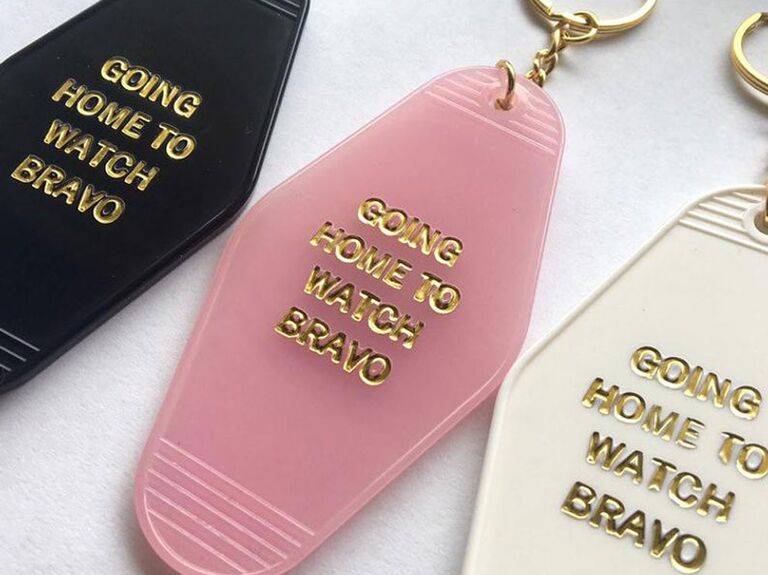 Considering your guests already want to go home and watch Bravo, it's likely they'll adore this cheeky keychain.
The Post Shop Co. "Going Home to Watch Bravo" keychain, $8, Etsy.com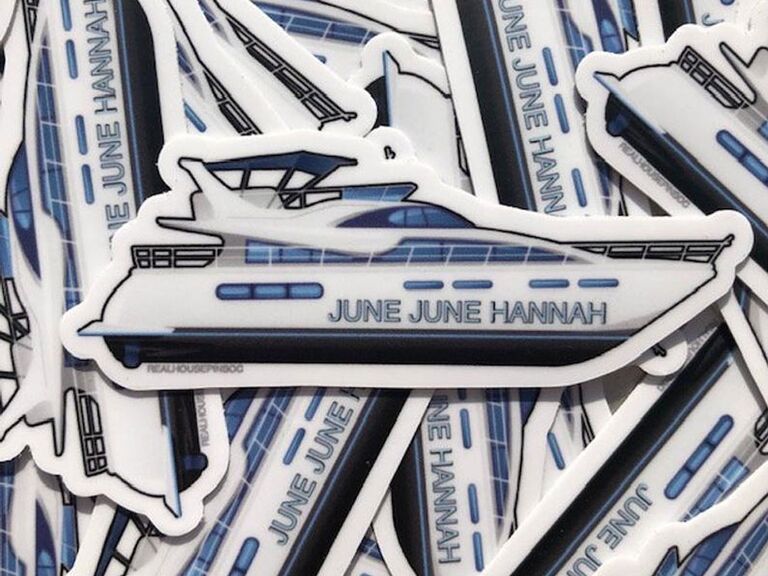 Ever find yourself saying "June, June, Hannah" subconsciously? You're not alone, which makes these Below Deck Med stickers a no-brainer.
Real House Pins OC Below Deck Mediterranean vinyl sticker, $3, Etsy.com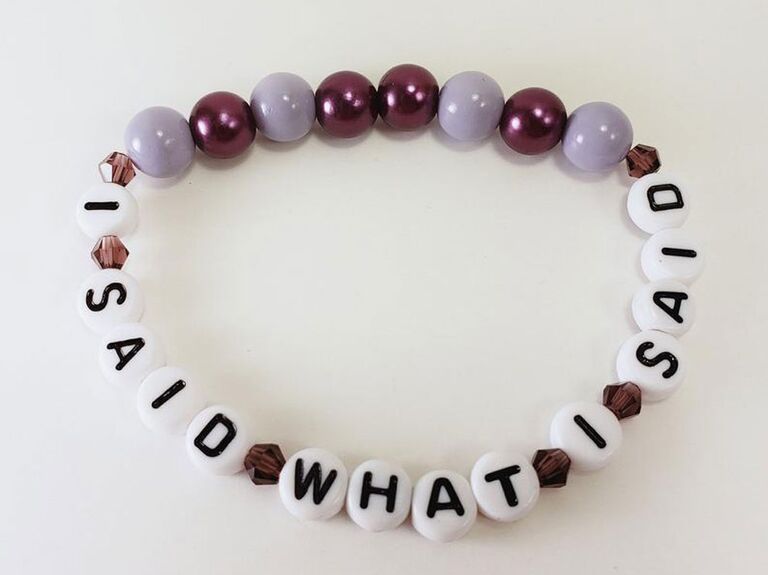 What better way to honor your favorite Bravo quote than by wearing it? Bravo superfans will love having a bracelet to commemorate their favorite quote. Since these are handmade, be sure to check the stock before purchasing—and consider asking guests about their favorite quotes or franchises ahead of the party to get them a bracelet fit for their faves.
The Pop Binge Real Housewives handmade beaded bracelet, $12, Etsy.com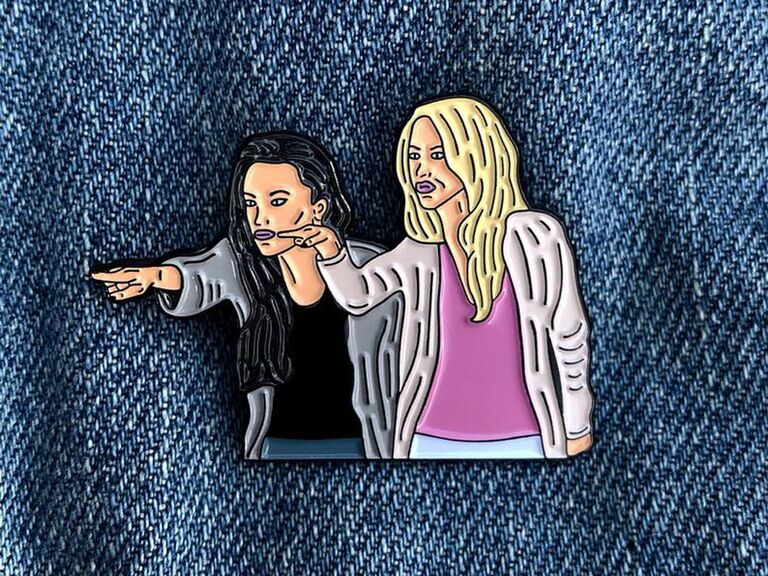 Guests who stan the Richards sisters will obsess over this enamel pin inspired by the iconic "Game Night From Hell" episode of The Real Housewives of Beverly Hills. Pro tip: Pin it to a canvas wine carrier or tote bag for a delightful surprise.
Guilty Pleasure Store RHOBH enamel pin, $10 for 1, Etsy.com
Spread the Word
No one will know the word on the street unless you tell them. Once all the details are confirmed, spread the news. Send out bachelorette party invitations, along with any dress code (or wig) requirements, about 7-10 weeks in advance. We also recommend making a group chat with everyone on the bach party guest list to keep them in the loop on the plan, especially if there's travel involved. Plus, a group chat is an easy way to share your favorite Bravo GIFs to get everyone in the mood to whoop it up in honor of the bride.