A Hamptons Bachelorette Party Guide to Plan Your Weekend
Beaches, wineries, and a roaring nightlife just outside the big city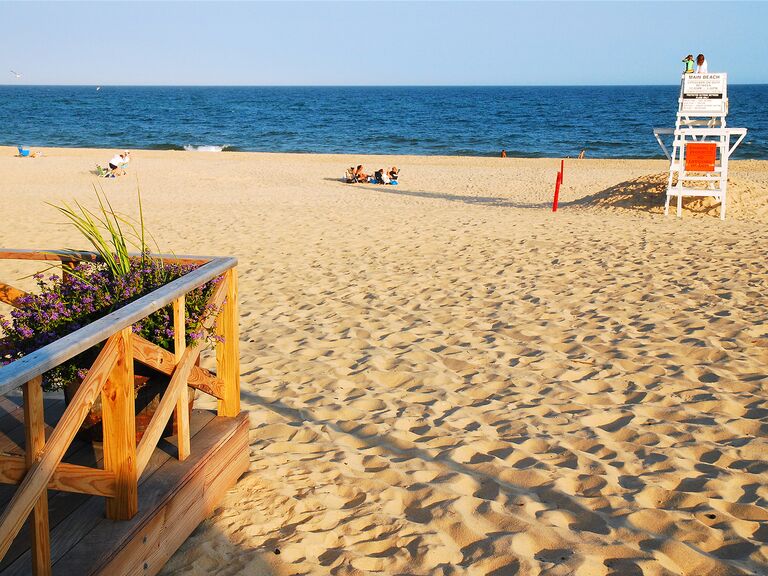 James Kirkikis/Shutterstock
We have included third party products to help you navigate and enjoy life's biggest moments. Purchases made through links on this page may earn us a commission.
Whether or not your bride is a fan of Bravo's Summer House, this beachy spot just over two hours from New York City is the ultimate bachelorette spot for a combination of laid back and party atmospheres. Plan the ultimate Hamptons bachelorette party with these great ideas, that combine everything from fun in the sun to full on dance parties.
What Are Some Hamptons Bachelorette Party Ideas?
There's something for every type of bride in the Hamptons. You have vineyards near by to go sip and see, beaches and clambakes to take part in, and a cozy downtown scene with a surprisingly popular nightlife—after all, this is the summer playground for plenty of Manhattanites. Just don't forget to outfit the bridal crew in top notch gear from The Knot Shop to match your theme.
For the Beachgoers
White sand shores line the Atlantic from Westhampton Beach to Montauk, so you'll have plenty of options for sunbathing and dipping your toes in the water. Plus, there are opportunities for paddleboarding (even paddleboard yoga), boating, and more in this water-loving region.
For the Winos
Outside of the quaint Hampton downtowns and picturesque beaches lie plenty of options for wine tasting. There are more than 60 vineyards and wineries to tour and taste with your crew.
For the Party Animals
It's no secret that the Hamptons has a great party scene, whether it's day time drinking at local beach bars or the nightclubs in Southampton, you will have plenty of options for drinking and dancing the days and nights away.
What Do You Do at a Bachelorette Party in the Hamptons?
A Hamptons bachelorette party is the ultimate destination for a mixture of relaxing beach time, outdoor sports, and plenty of partying. If that sounds right for you and your crew, consider this three-day Hamptons bachelorette itinerary.
Day 1
Morning: After checking into your hotel or AirBnB, head to Babette's in East Hampton for a late breakfast (doors open at 11, but be prepared for lines). The surf-inspired cafe focuses on clean food, so it's a healthy way to start the weekend, with menu options like a Parisienne omelette with asparagus, tomato, and montrachet, cinnamon swirl French toast, or a Tuscan quinoa bowl served with two sunny side up eggs.

Afternoon: Since your party may be staggering in, consider spending your first day soaking up the sun at one of the Hamptons' beautiful beaches. Cooper's Beach in Southampton has consistently been rated a top beach in the country, thanks to its dunes, white sand, and surrounding mansions. It's the perfect spot to lay out and enjoy the sun. Or head to Kirk Park Beach in Montauk if that's closer to home. This off-the-beaten-path spot has a more bohemian vibe and is close to a ton of good foodie spots, as well as the Surf Club, where you'll want to head for a night out. Want to check out some of the nearby eateries? We recommend a lobster roll lunch at Duryea's and a craft beer tasting at Montauk Brewing Company.
Evening: Dinner tonight is at the bachelorette-friendly Calissa between Southampton and Bridgehampton. The Greek restaurant offers a bachelorette dinner package that includes prosecco, unlimited rose (the restaurant boasts the largest rose wine selection in the Hamptons), and a four course dinner. Plus, you can tack on after-dinner drinks or bottle service in the restaurant's lounge. From there, head to a Montauk mainstay, The Surf Lodge, for live music and drinks, or the Southampton Social Club, a popular spot on Summer House and an all around great place to drink and dance.
Day 2
Morning: Brunch today is atEstia's Little Kitchen in Sag Harbor, a cozy little diner that has been part of the Hamptons for decades. Choose from offerings like Nacho Mamma's omelette, blueberry buttermilk pancakes, or crab 'n' eggs (two crab cakes served with poached eggs, avocado, and an English muffin).
Afternoon: Today's the day to check out the more than 60 vineyards and wineries in the Hamptons. Hire a ride for a self-guided tour, or book a planned excursion through one of Tapped Enterpriseswine tours (most of which include lunch). If your planning your own adventure, don't miss the Wolffer Estate Vineyard, Channing Daughters, Baiting Hollow Farm & Vineyard, Duck Walk Vineyards, and Bedell Cellars.

Evening: Start to night with happy hour at The Crow's Nest back in Montauk, where the cocktail menu is plentiful (think watermelon coolers and a mezcal negroni). Then you're off to dinner at 668 The Gig Shack, a great spot for surf cuisine like spicy tuna tartare taquitos and blackened local fish. The restaurant also has great outdoor dining options and live music. For your night out, head to the popular Stephen Talkhouse just down the road in East Hampton for live music and dancing.
Day 3
Morning: Get your morning started on the right foot, or board, with a group paddle boarding class through Paddle Divas. The 60 to 90 minute private guided paddle tour gets you on the water working out together—and can include yoga if requested. Then undo all of your good work with a happy hour brunch at Lulu's Kitchen and Bar in Sag Harbor. Brunch includes $9 mimosas, bellinis, bloody Mary's, and wines, as well as dish options like raw oysters, wood-fired pizzas, bulgur and avocado bowls, and grilled cheese.
Afternoon: Pick your poison today: Spend your last day doing what the Hamptons does best and day drinking at spots like Boardy Barn, a summer Sunday institution in Hampton Bays. Or choose to take a break from the booze and get pampered instead at Gurney's Seawater Spa in Montauk, where a whole wellness menu awaits.
Evening: For your last dinner, head to Highway Restaurant and Bar in East Hampton, a great spot for classic fare like miso glazed salmon, eggplant parmigiana, and burgers. Then choose where you want to be for your last night out: Beach Bar in Hamptons Bay (a great spot for music and dancing, and a 25-year history), North Sea Tavern in Southampton (for a DJ and great late night bites), or the indoor/outdoor bar at Union Cantina in Southampton.
Where Should I Stay in the Hamptons for a Bachelorette Party?
The Hamptons are pretty spread out, so if you're planning to hop around from Southampton to East Hampton to Montauk, be prepared for costly Uber rides. Housing isn't cheap here either, so keep costing in mind as you plan. You can also have a car service for the weekend. If you want to stay in one place, most of the Hampton villages are relatively walkable, or easy enough to travel by bike. Choose a location that fits your needs, and figure out transportation ahead of time, if possible.
Best Hampton Bachelorette Hotels
Ruschmeyer's in Montauk has a great cabin feel, and smaller groups can virtually take over the hotel's rooms.
The Capri in Southampton is a luxury option for the bride that needs it all: a beach-chic setting, pool with chaise lounges, and on-site Mediterannean restaurant.
Baron's Cove in Sag Harbor is another luxe options, this one with Americana-style rooms and harbor views, plus a short walk to beaches and downtown Sag Harbor.
Best Hamptons Bachelorette Party AirBnBs
A Chic Poolside Hideaway in East Hampton is the ultimate in luxury stays, with room for 8, a heated pool, and a spacious deck for outdoor hangs.
Larger groups will love a Four Bedroom, Three Bath in Sag Harbor, complete with outdoor pool and a fire pit. It sleeps up to 12.
If you're rolling with an extra-large group, this Water Mill Estate is the perfect spot, with two homes for rent to sleep more than 16 people on a massive piece of property, plus a pool and sea views.
For other home rental options, we've found success using sites likeVRBO and HomeAway.com.