The Complete Hamptons Bachelorette Party Guide
Beaches, wineries, and a roaring nightlife just outside the big city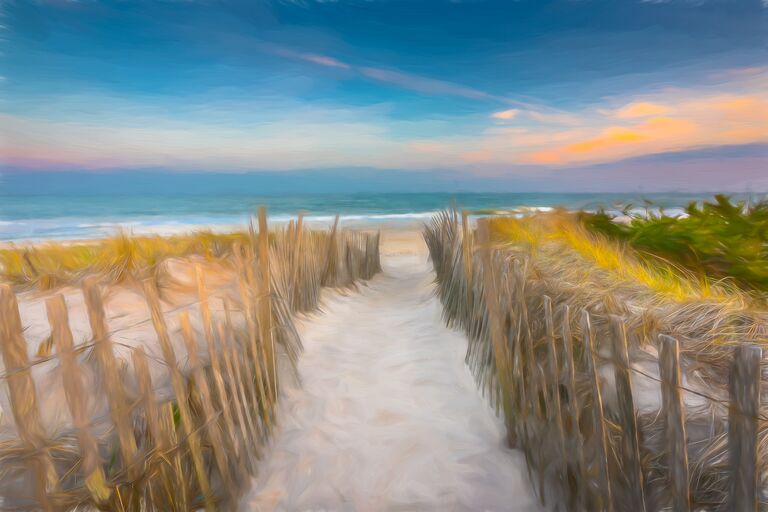 Stan Dzugan / Getty Images
We have included third party products to help you navigate and enjoy life's biggest moments. Purchases made through links on this page may earn us a commission.
Whether you're a fan of Bravo's Summer House, this luxurious spot just over two hours from New York City is the ultimate bachelorette destination for city dwellers for several reasons. A combination of laid-back and buzzy, especially at the height of summer, the Hamptons is a worthy destination especially since each town has its own unique appeal. Plan the ultimate Hamptons bachelorette party with these great ideas, that combine everything from fun in the sun to full-on dance parties. Vetted by our editors, this Hamptons bachelorette party guide is one you'll want to bookmark.
Hamptons Bachelorette Party Planning in this Article:
Hamptons Bachelorette Party Ideas and Themes
There's something for every type of bride in the Hamptons. You have vineyards nearby to go sip and see, beaches and clambakes to take part in, and a cozy downtown scene with a surprisingly popular nightlife—after all, this is the summer playground for plenty of Manhattanites.
For the Beachgoers
White sand shores line the Atlantic from Westhampton Beach to Montauk, so you'll have plenty of options for sunbathing and dipping your toes in the water. Plus, there are opportunities for paddleboarding (even paddleboard yoga), boating, and more in this water-loving region.
For the Winos
Outside of the quaint Hampton downtowns and picturesque beaches lie plenty of options for wine tasting. There are more than 60 vineyards and wineries to tour and taste with your crew.
For the Party Animals
It's no secret that the Hamptons has a great party scene, whether it's daytime drinking at local beach bars or nightclubs in Southampton, you will have plenty of options for drinking and dancing the days and nights away.
Hamptons Bachelorette Itinerary and Activities
A Hamptons bachelorette party is the ultimate destination for a mixture of relaxing beach time, outdoor sports, and plenty of partying. If that sounds right for you and your crew, consider this three-day Hamptons bachelorette itinerary.
Day 1
Morning: After checking into your hotel or home rental, head to East Hampton for a late breakfast. John Papas Cafe is a worthy spot for breakfast. The establishment offers Mediterranean & American food like their Greek Omelette loaded with salty feta, tomato, and spinach and classic Eggs Benedict

Afternoon: Since your party may be staggering in, consider spending your first day soaking up the sun at one of the Hamptons' beautiful beaches. Cooper's Beach in Southampton has consistently been rated a top beach in the country, thanks to its dunes, white sand, and surrounding mansions. It's the perfect spot to lay out and enjoy the sun. Or head to Kirk Park Beach in Montauk if that's closer to home. This off-the-beaten-path spot has a more bohemian vibe and is close to a ton of good foodie spots, as well as the Surf Club, where you'll want to head for a night out. Want to check out some of the nearby eateries? We recommend a lobster roll lunch at Duryea's and a craft beer tasting at Montauk Brewing Company.
Evening: Dinner tonight is at the bachelorette-friendly Calissa between Southampton and Bridgehampton. The Greek restaurant offers a bachelorette dinner package that includes prosecco, unlimited rose (the restaurant boasts the largest rose wine selection in the Hamptons), and a four-course dinner. Plus, you can tack on after-dinner drinks or bottle service in the restaurant's lounge. From there, head to a Montauk mainstay, The Surf Lodge, for live music and drinks, or the Southampton Social Club, a popular spot on Summer House and an all-around great place to drink and dance.
Day 2
Morning: Brunch today is at Estia's Little Kitchen in Sag Harbor, a cozy little diner that has been part of the Hamptons for decades. Choose from offerings like Nacho Mamma's omelet, blueberry buttermilk pancakes, or crab 'n' eggs (two crab cakes served with poached eggs, avocado, and an English muffin).
Afternoon: Today's the day to check out the more than 60 vineyards and wineries in the Hamptons. Hire a ride for a self-guided tour, or book a planned excursion through one of Tapped Enterprises wine tours (most of which include lunch). If you're planning your own adventure, don't miss the Wolffer Estate Vineyard, Channing Daughters, Baiting Hollow Farm & Vineyard, Duck Walk Vineyards, and Bedell Cellars.

Evening: Start tonight with happy hour at The Crow's Nest back in Montauk, where the cocktail menu is plentiful (think watermelon coolers and a mezcal negroni). Then you're off to dinner at 668 The Gig Shack, a great spot for surf cuisines like spicy tuna tartare taquitos and blackened local fish. The restaurant also has great outdoor dining options and live music. For your night out, head to the popular Stephen Talkhouse just down the road in East Hampton for live music and dancing.
Day 3
Morning: Get your morning started on the right foot, or board, with a group paddle boarding class through Paddle Divas. The 60 to 90-minute private guided paddle tour gets you on the water working out together—and can include yoga if requested. Then undo all of your good work with a happy hour brunch at Lulu's Kitchen and Bar in Sag Harbor. Brunch includes $9 mimosas, bellinis, Bloody Marys, and wines, as well as dish options like raw oysters, wood-fired pizzas, bulgur and avocado bowls, and grilled cheese.
Afternoon: Pick your poison today: Spend your last day doing what the Hamptons does best and day drinking at spots like Boardy Barn, a summer Sunday institution in Hampton Bays. Or choose to take a break from the booze and get pampered instead at Gurney's Seawater Spa in Montauk, where a whole wellness menu awaits.
Evening: For your last dinner, head to Highway Restaurant and Bar in East Hampton, a great spot for classic fare like miso glazed salmon, eggplant parmigiana, and burgers. Then choose where you want to be for your last night out: Beach Bar in Hamptons Bay (a great spot for music and dancing, and a 25-year history), North Sea Tavern in Southampton (for a DJ and great late night bites), or the indoor/outdoor bar at Union Cantina in Southampton.
Hamptons Bachelorette Scavenger Hunt
Put a fun twist on your activities and turn your itinerary into a game with a Hamptons scavenger hunt. Distribute a list of activities with points awarded for each completed task and ask participants to provide proof with pictures. Download an editable template to customize the list and include local attractions and sights. Don't forget to give the winner a prize such as a souvenir or t-shirt.
Places to Stay in the Hamptons for a Bachelorette Party
The Hamptons are pretty spread out, so if you're planning to hop around from Southampton to East Hampton to Montauk, be prepared for costly Uber rides. Housing isn't cheap here either, so keep costing in mind as you plan. You can also have a car service for the weekend. If you want to stay in one place, most of the Hampton villages are relatively walkable, or easy enough to travel by bike. Choose a location that fits your needs, and figure out transportation ahead of time, if possible.
Best Hampton Bachelorette Hotels
Ruschmeyer's: This legendary spot in Montauk has a great cabin feel, and smaller groups can virtually take over the hotel's rooms.
The Capri: Located in Southampton, this property is a luxury option for the bride that needs it all. It offers a beach-chic setting, a pool with chaise lounges, and an on-site Mediterranean restaurant.
Baron's Cove: Located in Sag Harbor, the hotel is another luxe option, this one with Americana-style rooms and harbor views, plus a short walk to beaches and downtown Sag Harbor.
Pro tip: The Knot has partnered with Hotel Planner to help you secure the best group hotel rate and get free hotel advice from an expert travel planner.
Best Hamptons Bachelorette Party Home Rentals
There are plenty of housing options for a Hamptons bachelorette party, so check out TripAdvisor, Vrbo , Airbnb and Hopper Homes. Pro tip: If you're looking to supplement your vacation rental stay with some hotel amenities such as a swimming pool or a fitness facility, you can secure Hamptons hotel day passes on ResortPass.
Chic Poolside Hideaway in East Hampton: The ultimate in luxury stays, with room for eight, a heated pool, and a spacious deck for outdoor hangs.
Four Bedroom, Three Bath in Sag Harbor: Larger groups will love this option in Sag Harbor, complete with an outdoor pool and a fire pit. It sleeps up to 12.
Water Mill Estate: If your crew is much larger, this compound (basically) is the perfect spot. With two homes for rent to sleep more than 16 people, the added benefits include a pool and sea views.
Hamptons Bachelorette Party Nightlife
The Hamptons have a wide variety of options when it comes to where to eat and drink. You can indulge in an elegant dining experience, or find a quick food market full of delicious salads and tapas to go for a relaxed beach picnic. Here are a few of our favorite places to visit in the Hamptons.
Best Hamptons Bachelorette Restaurants
Elaia Estiatorio: Elaia Estiatorio in Bridgehampton specializes in fresh Greek food. They source a lot of their ingredients locally that they use in their dishes and their cocktails. Indulge in healthy, fresh dishes like The Tyligmeno Psari, whole trout wrapped in grape leaf.
The Seafood Shop: The Seafood Shop on Wainscott is a great place to stop if you just want something casual to go. Maybe you want to relax at your Airbnb, or just grab something quickly. Either way, they have a wide range of options from raw items for you to cook yourself, to prepared items like their crisp flounder sandwich.
Farmstands & Markets: One of the best things about the Hamptons is all of the food markets and stands along the way. Loaves & Fishes Food Store in Sagaponack has some truly delicious prepared items and salads like a fresh caprese. Cavaniola Gourmet Cheese in Sag Harbor is a great spot to grab some delicious cheeses to try, in addition to desserts and cakes.
Best Hamptons Bachelorette Party Bars
Cove Hollow Tavern: The French-Mediterranean-inspired menu has plenty of fantastic dishes to indulge in, but the wine is really where it's at. They have a huge wine list to satisfy a variety of their guests' needs and are there to suggest pairings for their dishes.
Rita Cantina: A Mexican restaurant can always be counted on to get the party started with plenty of margaritas. Rita Cantina, particularly puts some extra love into their Paloma cocktails and they use tropical fruits like guava and guanabana (soursop) in their margaritas to create something special. As you're snacking on raw bar goodies, ceviche, chorizo clams and more, order one of their incredible margaritas or a michelada to go with it.
Talya Montauk: Talya Montauk located in the Ruschmeyer's is a great place for a round of drinks. They play with the flavors, incorporating smokiness, saltiness, coffee and melon. Choose from cocktails like the Kafés Martini with a base of Grey Goose Vodka, Ouzo #12, Turkish coffee, and green olive syrup or the Tzatziki Margarita with Patron Silver, Vita Coco, Metal 7 Stars, dill, cucumber, mint, and lemon juice, served "slushy."
Expert Hamptons Travel Tips
From the West Coast, it's slightly difficult to get to the Hamptons. Flights will often suggest flying into New Haven, Connecticut. Another option would be to fly into New York, and then take the jitney or rent a car. Flying into New York from the West Coast, there are nonstop flight options with airlines like Spirit, JetBlue, and Alaska. Once in New York, you can rent a car, take the train with Metropolitan Transportation Authority, or use the Hampton Jitney. The summer is a really popular time to visit the Hamptons, but if you're trying to avoid heavy crowds, aim for early fall and early summer to potentially save you some money, and save your sanity from dealing with overbooked restaurants and huge crowds at the beach.