The Complete Savannah Bachelorette Party City Guide
Plan homespun bachelorette party full of Southern charm in Savannah.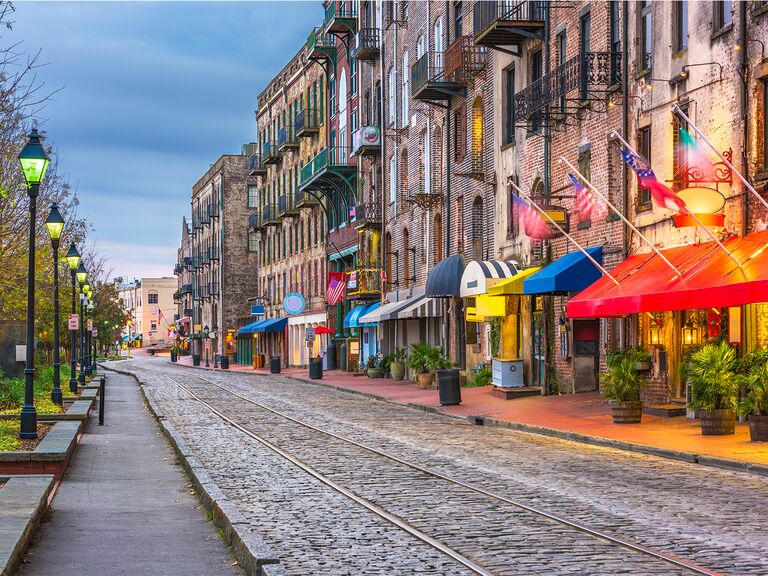 Shutterstock
We have included third party products to help you navigate and enjoy life's biggest moments. Purchases made through links on this page may earn us a commission.
It's hard to find a city more perfect for a bachelorette party than Savannah. Georgia's "Hostess City from the South" packs the charm—a Savannah bachelorette party itinerary includes historic sights, a beautiful waterfront, and plenty of good eats and drinks. Offering the best of city life with a small-town feel, you can find everything you're looking for to satisfy your bride and her friends.
Savannah Bachelorette Party Planning in this Article:
Savannah Bachelorette Party Ideas and Themes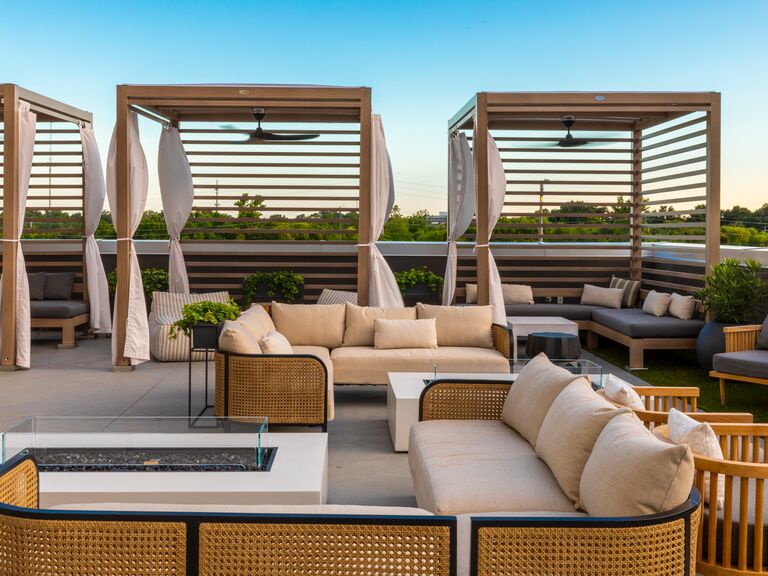 There are endless options when it comes to bachelorette activities in Savannah. You just have to know what your bride prefers: Exploring, a healthy dose of Hollywood and American history, or eating and drinking her way through the city.
For the Active Groups
During the day, strolling the city's 22 squares offers plenty to see, along with historic spots, charming storefronts, and tasty coffee shops. Or you can pedal your way through the city on a peddle pub tour—and don't forget the city's open container law (in certain sections only).
For the Film Critics
The waterfront offers its own taste of history, along with plenty of restaurants for brunch and dinner. If you're looking for Hollywood history, this city is where Forrest Gump sat on a bench and declared, "Life is like a box of chocolates." The bench isn't in the square anymore, but you can still stand where Tom Hanks once recited the iconic movie phrase.
For the Foodie Crew
Savannah has plenty to offer with its restaurant and bar scene, from delicious southern fare to charming cocktail lounges. Trust us, you won't be wanting for food and booze in this Southern city.
Savannah Bachelorette Itinerary and Things to Do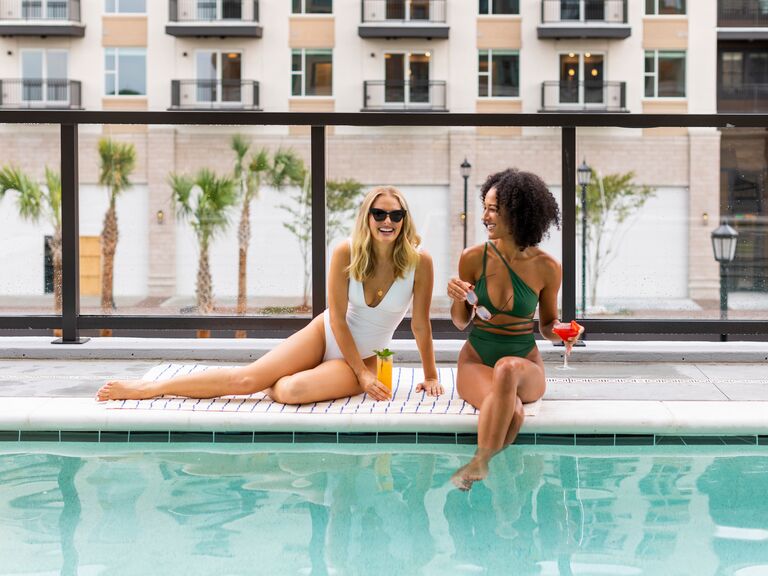 There is plenty to see and do at a Savannah bachelorette party. During the day, walk the waterfront and the town's squares. Come nighttime, you can hop from bar to bar between Franklin, Ellis, and Johnson squares (where the open container law is in practice). For those who like a spook, don't miss a ghost tour pub crawl through Savannah's surprisingly beautiful graveyards and century-old bars. Here's the ultimate three-day itinerary:
Day 1
Afternoon: Arrive in Savannah in time for a delicious lunch at Treylor Park. This neighborhood spot is the perfect way to experience southern hospitality, along with delicious fare like PB&J wings, avocado fries, and bourbon pecan pie. If the weather is nice, sit outside on their patio, which has its own bar. Spend the day walking the city's 22 squares: Take a pit stop at the Mercer Williams House made famous by In the Garden of Midnight and Evil; visit the Forrest Gump Square (Chippewa Square); and stop in at boutique stores along the way. Don't forget to stop into City Market, a one-stop destination for artwork, small bites, and nightlife spots you'll want to circle back to after dark.
Evening: Your first dinner should be at Cotton & Rye, a great contemporary American spot for groups big and small. Try the Jonah crab Carolina Stuffed Trout, the fried chicken thighs, or the lobster roll. Save room for dessert and make your way to Lulu's Chocolate Bar where you can pair homemade sweets with handcrafted cocktails. Grab drinks at Rocks on the Roof, overlooking the Savannah River, you can have cocktails around fire pits and great live music.
Day 2
Morning: Brunch at B. Matthew's Eatery, a classic Savannah spot serving a weekend brunch menu that includes shrimp and grits, chicken 'n biscuit, crab benedict, and salmon avocado toast.
Afternoon: Savannah is nothing if not picturesque. Historic buildings, cobblestoned streets, and palmetto-lined walkways make for the perfect backdrop to a group photo shoot if you want to have professional pictures of you and your girls. Book a photographer through Flytographer, who offers multiple shooters to choose from in Savannah. Have the photographer meet your group after Take photos around the city, but be sure to get pictures along the historic waterfront. After you're done hop on a pedal cab with Savannah Slow Ride—you'll bike your way around Savannah blasting music and drinking what you've brought on board. When you get to each bar, you'll be offered drink specials.
Evening: Have a late dinner at Mrs. Wilkes Dining Room, a family-owned establishment that's been going since 1943, serving traditional southern food at their shared, communal tables.before heading to Savannah Smiles Dueling Piano. Dance the night away at this popular spot (reserve a table in advance if you can) and there's a good chance your bride—if not your whole group—will end up on stage.
Day 3
Morning: Make a run to Auspicious Baking Co. for almond croissants, apple English muffins, and other breakfast delights for your last day in Savannah.
Afternoon: Since you've been running around town, spend the day relaxing at Poseidon Spa at the Mansion at Forsyth Park. This Marriott Autograph Collection property is worth wandering around to take in its historic charm before or after pampering yourself. Then enjoy cocktails or tea and a light lunch in the hotel's courtyard.
Evening: Once it's dark, get your scaries on with a ghost tour. You'll wander through the city's charming cemeteries and hear tales of Savannah's history and the spirits that haunt its oldest buildings and bars. You may need a cocktail or two along the way to sleep at night and catch your flight home.
Savannah Bachelorette Scavenger Hunt
Make your activities even more memorable and turn your itinerary into a game with a Savannah bachelorette scavenger hunt. Distribute a list of activities with points awarded for each completed task and ask participants to provide proof with pictures. Download an editable template to customize the list and include local attractions and sights. Don't forget to give the winner a prize such as a souvenir or t-shirt.
Places to Stay in Savannah for a Bachelorette Party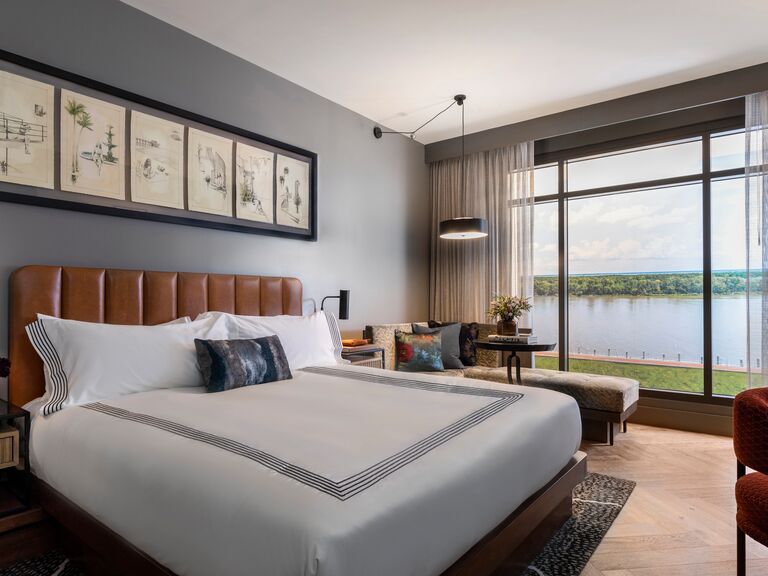 Savannah is home to a plethora of historic hotels, adorable home rental options, and luxury suites (if the last is more your vibe). If you're with a larger group, it's easiest to book a hotel to find accommodations in the main city area of Savannah, just check TripAdvisor for available rooms, reviews, and an outline of amenities that meet your needs.
Best Hotels in Savannah for a Bachelorette Party
Thompson Savannah: This property is located along the Historic District's border of the Eastern Wharf. With adorably chic rooms, including 21 suite options, the establishment is also home to Bar Julian, where groups can take Instagram shots on a rooftop with their cocktails. Beat the daytime heat with private cabanas and a dreamy pool deck.
DoubleTree by Hilton: Located between Franklin and Ellis squares and a great spot to catch your Savannah Slow Ride and bar hop.
Marriott's Bohemian Hotel: Located on the riverfront, this property is an excellent higher-end option with excellent views and amenities.
Pro tip: The Knot has partnered with Hotel Planner to help you secure the best group hotel rate and get free hotel advice from an expert travel planner.
Savannah Bachelorette House Rentals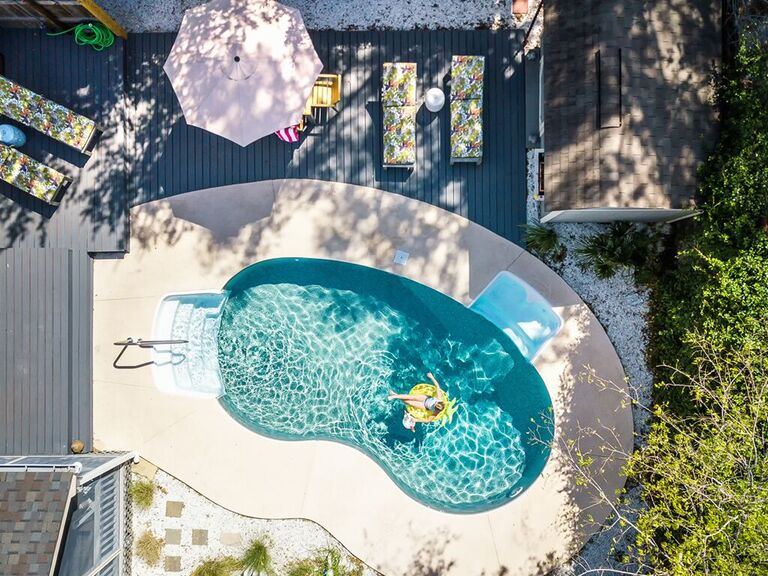 There are plenty of housing options for a Savannah bachelorette party, so check out Expedia, TripAdvisor, Vrbo, Airbnb and Hopper Homes. Here are a few vacation rentals to consider booking for a group stay.
Private Oasis Directly Between Downtown & Beach (Downtown Savannah): This Savannah VRBO can accommodate up to 10 guests, making it a great fit for mid-sized bachelorette trips. With four bedrooms, three bathrooms, a private pool and a jacuzzi, it averages around $675 per night. It also comes equipped with a large entertainment area with a bar — perfect for entertaining. Keep in mind that no events are allowed at this space, so make sure to communicate your plans with your host before booking.
Private Triplex with Nine Bedrooms (Starland District): Nestled in Savannah's vibrant Starland District, this home accommodates up to 22 guests across nine bedrooms and sleeper sofas. Steps away from local eateries and bars, this craftsman-style triplex has just what you need for a comfortable stay (including nine bathrooms). It doesn't have any reviews yet, but the location, amenities and amazing price point make it seem very promising for bachelorette getaways — it's around $780 per night, making it just $35 per person a night if you fill the space!
Apartment Close to Local Eateries, Venues & Shops (Starland District): This apartment is the ultimate budget-friendly stay for bachelorette gatherings who plan to spend the majority of their time exploring. With four bedrooms and two bathrooms, it can accommodate up to 10 guests at just $280 a night. It's super close to local eateries, neighborhood bars, cool shops and spots like Front Porch Improv, Starland Yard and the Free DOT Trolley.
Frogtown Cottage (Historic Savannah): Boasting a newly renovated pool and patio, this charming Savannah VRBO is the perfect setting for a bachelorette party of up to eight guests. With three bedrooms and two bathrooms, it costs an average of $226 per night. Situated in Historic Savannah, it's an easy stroll away from popular attractions and historic sites.
Pro tip: If you're looking to supplement your vacation rental stay with some hotel amenities such as a swimming pool or a fitness facility, you can secure Savannah hotel day passes on ResortPass.
Savannah Bachelorette Party Nightlife
Not only does Savannah have the best places to indulge in oysters, fresh seafood, pralines, and southern comfort foods, but you can take a drink to go. Walk around the neighborhoods with your traveling tropical cocktail while you're shopping and exploring the parks. Here are some of our favorite places to visit.
Best Savannah Bachelorette Restaurants
Sorry Charlie's Oyster Bar: Sorry Charlie's Oyster Bar on Congress Street is the perfect place to grab a tropical tiki cocktail and a bite to eat. They have plenty of raw bar items and seafood specialties, in addition to strong tiki drinks that will get the party going for the night. Don't forget to get one to go.
The Olde Pink House: The Olde Pink House is a historical staple in Savannah that hasn't lost its quality over the years. They have incredible fried oysters, crispy fried pork chops, and southern sides like flavorful greens.
Wiley's Championship BBQ: If you love barbecue, Wiley's Championship BBQ is a great spot to try some different barbecue sauces and southern classics. Their sauces are famous, and they use them to coat all their smoked meats like pulled pork, chicken, ribs, and more.
The Crab Shack: If you're looking to load up on seafood in a fun, tiki kind of vibe, visit The Crab Shack on Tybee Island. It's a casual environment and you can get anything from juicy king crab legs and steamed shellfish to crawfish and raw bar items.
Best Savannah Bachelorette Party Bars
The Original Pinkie Masters: The Original Pinkie Masters is a great place to pop in to grab a cocktail. The dive bar has delicious frozen drinks, and incredibly friendly bartenders willing to help you pick the perfect shots or cocktails.
Husk Savannah: Husk is a fantastic place to go for southern dishes and outdoor seating. If you're not going to go for dinner, be sure to stop in for a drink at the bar as a nightcap or to just get your night rolling.
Abe's On Lincoln: If you're visiting Savannah, pop into Abe's on Lincoln to see all of the napkin art. You can get a beer from the bar and browse their gallery of napkins, plastered all over the wall and ceiling of people trying to draw their best Abraham Lincoln portrait, among other doodles.
Expert Savannah Travel Tips
When flying from New York to Savannah, you can find nonstop flights with JetBlue, United, and Delta. From LA, you can fly with many different airlines including American, Delta, United, JetBlue, Southwest, and other airlines (with connections). Savannah is very walkable. You can rent your own car, but it's really not necessary if you don't mind walking. You can get all around the city quickly, and if for some reason you do need a ride, there are shuttles, trolley tours, taxis, and ridesharing. Spring and summer are wonderful times to visit Savannah, but don't rule out the winter, too. December is a fun time to go with Christmas markets going on and other activities, as well as mild temperatures for walking around.