A Savannah Bachelorette Party City Guide to Plan Your Weekend
Plan homespun bachelorette party full of Southern charm in Savannah.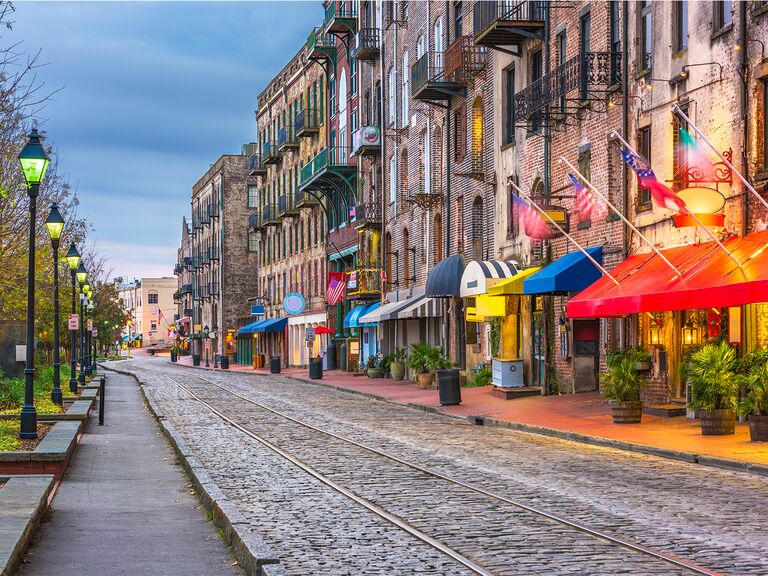 Shutterstock
We have included third party products to help you navigate and enjoy life's biggest moments. Purchases made through links on this page may earn us a commission.
It's hard to find a city more perfect for a bachelorette party than Savannah. Georgia's "Hostess City from the South" packs the charm—a Savannah bachelorette party includes historic sights, a beautiful waterfront, and plenty of good eats and drinks. Offering the best of city life with a small town feel, you can find everything you're looking for to satisfy your bride and her friends. Plus find plenty of swag to match your party's theme over on The Knot Shop.
What Are Some Savannah Bachelorette Party Ideas?
There are endless options when it comes to bachelorette activities in Savannah. You just have to know what your bride prefers: Exploring, a healthy dose of Hollywood and American history, or eating and drinking her way through the city.
For the Active Bride
During the day, strolling the city's 22 squares offers plenty to see, along with historic spots, charming storefronts, and tasty coffee shops. Or you can pedal your way through the city on a peddle pub tour—and don't forget the city's open container law (in certain sections only).
For the Retrospective Bride
The waterfront offers its own taste of history, along with plenty of restaurants for brunch and dinner. If you're looking for Hollywood history, this city is where Forrest Gump sat on a bench and declared "life is like a box of chocolates"—the bench isn't in the square anymore, but you can still stand where Tom Hanks once was.
For the Foodiee Crew
Savannah has plenty to offer with its restaurant and bar scene, from delicious southern fare to charming cocktail lounges. Trust us, you won't be wanting for food and booze in this Southern city.
What Do You Do at a Bachelorette Party in Savannah?
There is plenty to see and do on a Savannah bachelorette party. During the day, walk the waterfront and the town's squares. Come nighttime, you can hop from bar to bar between Franklin, Ellis, and Johnson squares (where the open container law is in practice). For those who like a spook, don't miss a ghost tour pub crawl through Savannah's surprisingly beautiful graveyards and century-old bars. Here's the ultimate three-day itinerary:
Day 1
Afternoon: Arrive in Savannah in time for a delicious lunch at Treylor Park. This neighborhood spot is the perfect way to experience southern hospitality, along with delicious fare like PB&J wings, avocado fries, and bourbon pecan pie. If the weather is nice, sit outside on their patio, which has its own bar. Spend the day walking the city's 22 squares: Take a pit stop at the Mercer Williams House made famous by In the Garden of Midnight and Evil; visit the Forrest Gump square (Chippewa Square); and stop in at boutique stores along the way. Don't forget to stop into City Market, a one stop destination for artwork, small bites, and nightlife spots you'll want to circle back to after dark.
Evening: Your first dinner should be at Cotton & Rye, a great contemporary American spot for groups big and small. Try the Jonah crab Carolina Stuffed Trout, the fried chicken thighs, or the lobster roll. Save room for dessert and make your way to Lulu's Chocolate Bar where you can pair homemade sweets with handcrafted cocktails. Grab drinks at Rocks on the Roof, overlooking the Savannah River, you can have cocktails around fire pits and great live music.
Day 2
Morning: Brunch at B. Matthew's Eatery, a classic Savannah spot serving a weekend brunch menu that include shrimp and grits, chicken 'n biscuit, crab benedict, and salmon avocado toast.
Afternoon: Savannah is nothing if not picturesque. Historic buildings, cobblestoned streets, and palmetto lined walkways make for the perfect backdrop to a group photo shoot if you want to have professional pictures of you and your girls. Book a photographer through Flytographer, who offers multiple shooters to choose from in Savannah. Have the photographer meet your group after Take photos around the city, but be sure to get pictures along the historic waterfront. After you're done hop on a pedal cab with Savannah Slow Ride—you'll bike your way around Savannah blasting music and drinking what you've brought on board. When you get to each bar, you'll be offered drink specials.
Evening: Have a late dinner at Atlantic (great for shareable plates) before heading to Savannah Smiles Dueling Piano. Dance the night away at this popular spot (reserve a table in advance if you can) and there's a good chance your bride—if not your whole group—will end up on stage.
Day 3
Morning: Make a run to Auspicious Baking Co. for almond croissants, apple English muffins, and other breakfast delights for your last day in Savannah.
Afternoon: Since you've been running around town, spend the day relaxing at Poseidon Spa at the Mansion at Forsyth Park. This Marriott Autograph Collection property is worth wandering around to take in its historic charm before or after pampering yourself. Then enjoy cocktails or tea and a light lunch in the hotel's courtyard.
Evening: Once it's dark, get your scaries on witha ghost tour. You'll wander through the city's charming cemeteries and hear tales of Savannah's history and the spirits that haunt its oldest buildings and bars. You may need a cocktail or two along the way to sleep at night and catch your flight home.
Where Should I Stay in Savannah for a Bachelorette Party?
If you're with a larger group, it's easiest to book a hotel to find accomodations in the main city area of Savannah, just check TripAdvisor for available rooms, reviews, and an outline of amenities that meet your needs. For a great location, check out the DoubleTree by Hilton, located between Franklin and Ellis squares and a great spot to catch your Savannah Slow Ride and bar hop. Marriott's Bohemian Hotel on the riverfront is an excellent higher-end option with excellent views and amenities. For smaller groups, consider anAirBnBlike the Historic Thomas Streetcar Victorian, a 1920s townhome that can fit 8 guests and packs the charm.