Buenos Aires Honeymoon: Weather and Travel Guide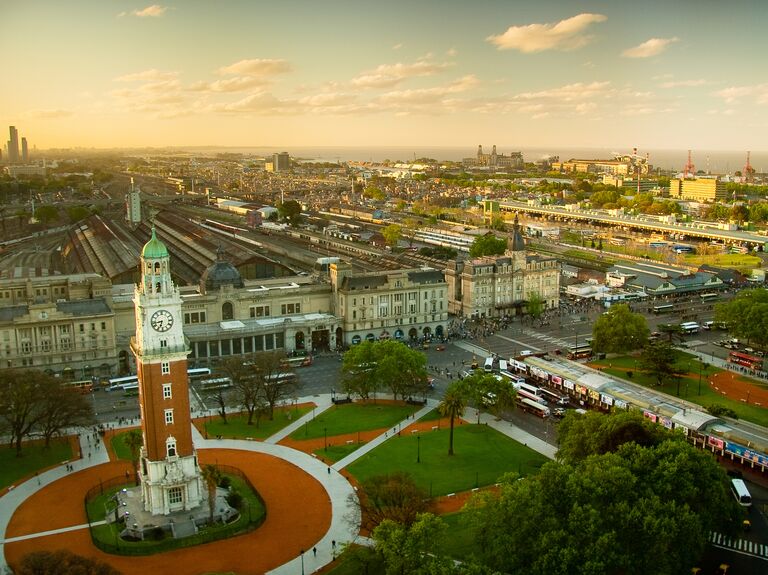 Shutterstock
Find the ultimate blend of sophistication and culture in this port city, which stretches along the Rio de la Plata. Dine on freshly grilled meats, tango through the streets and explore the city's many neighborhoods, from Spanish Colonial-style architecture to quaint tin houses painted in every color imaginable. While you're there, don't miss out on watching a rowdy football game or sipping a cup of South American coffee, two staples of Buenos Aires.

Before You Go: Need-to-know info
Entry requirements: Passport, and you must pay a $160 reciprocity fee before arriving (more information here )
Language: Spanish
Currency: Argentine peso
Flight time: 11 hours from New York City; 15 hours from LA
Getting around: Taxi, subway and railway

When to Go: Buenos Aires at its best
Best weather: The best times to visit are during the austral fall between April and June when the temperature is between 50 and 70 degrees Fahrenheit, and spring between September and November, when temps range from 50 to 77 degrees.

What to Do
Dine away: The capital city of Argentina is serious about food and dining, and don't be surprised if dinner lasts more than a few hours. You likely won't find dinner hours starting before 9 p.m., but keep your appetite because once dinnertime rolls around, you'll be immersed in main courses such as asado (beef barbecue), empanadas (meat turnovers) and bife de chorizo (sirloin steak). Then, wash it all down with a local red wine. And don't forget the flan for dessert.
Go out on the town: Buenos Aires comes alive at night with bustling restaurants, theaters and dance clubs, and it's not uncommon to stay out until dawn. Once you've finished dinner and a full night of clubbing and tango, stop in one of the many local coffee cafes, order up a strong Argentinean coffee and watch the sun come up together.
Watch football: Playing and watching football (otherwise known as soccer) is one of the most popular pastimes in Buenos Aires.