How to Create the Ultimate Honeymoon Packing List
Don't forget to pack these essentials for your post-wedding getaway.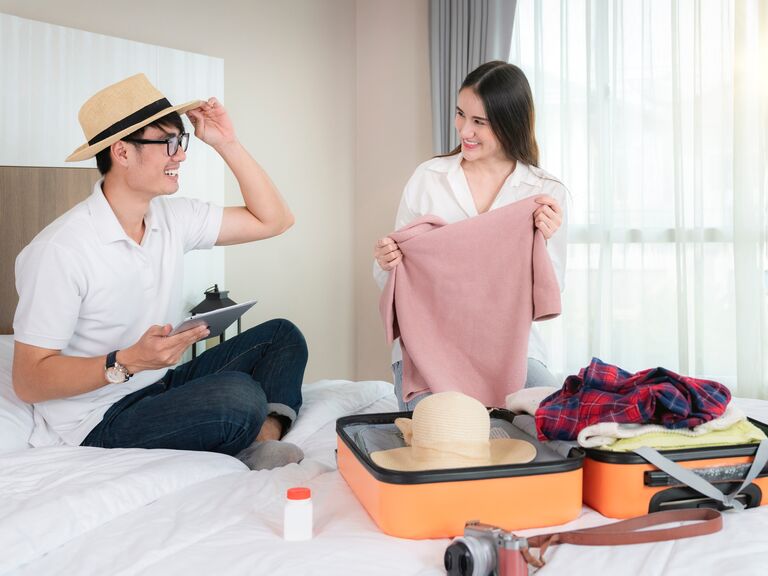 Anek.soowannaphoom / Shutterstock
Since a honeymoon is a once-in-a-lifetime trip, you'll want to pack accordingly for all the fun ahead (swimsuits and all). Start by considering your honeymoon destination and the experiences you've planned. Then, look to the average weather at the time of your trip, which is especially important when embarking to tropical destinations, as well as any required dress codes, especially dresses, slacks, and close-toed shoes at certain high-end resorts.
"Organization is key when creating a honeymoon packing list," says Jen Avey, VP of Marketing, Destination Weddings Travel Group. Most lists mix informal wear, such as T-shirts and leggings with formal attire, like sundresses, button-downs, and cardigans. (Of course, you'll want to pack lingerie or other sultry attire.) Follow our honeymoon packing tips to ensure you'll have everything you need for your getaway. Plus, you'll want to leave room in your luggage for mementos.
Start with your list.
Whether it's a joint packing checklist or a spreadsheet broken down categorically (think: travel essentials, outfits, and accessories), you'll want to take stock of what to bring. We suggest breaking it down by section depending on the nature of the trip.
For instance, a tropical escape should include beach essentials or swimwear, including bathing suits, cover-ups, sun hats and beach bags. A sightseeing trip, on the other hand, would require walking shoes, a crossbody bag of sorts and more. In all cases, you'll want to invest in sturdy luggage, either a spacious and luxurious piece or a carry-on option that's lightweight and durable. After building this initial list, consider color-coding items to differentiate between what you already have and items you need to purchase.
Don't bring unnecessary items.
Prepping for a honeymoon means narrowing down essentials. "Newlyweds should look into the amenities provided at their hotels so they don't duplicate items they may not need," says Avey. For instance, many luxury resorts in the Caribbean and Mexico provide hair dryers and curlers, while European hotels often offer adapters, she continues. Even if your hotel or resort doesn't provide certain items, most are within proximity to nearby convenience stores (pending safety). Couples shouldn't have a problem procuring a toothbrush and toothpaste, aloe, sunscreen, lotion, lip balm, deodorant, makeup remover, conditioner, insect repellent, and nail clippers. You'll want to check in with your concierge to see what's available on site.
With so much travel information available online, you also shouldn't need guidebooks, says Brendan Drewniany, Director of Public Relations and Communications, Black Tomato. "Look to trusted travel resources for inspiration and ideas, like Bloomberg Pursuits, Conde Nast Traveler, Travel + Leisure, and AFAR," he suggests.
Pack a modest amount of versatile clothing.
"I think the old adage to remove half the clothes and bring twice the money is especially pertinent to honeymoon travel," says Brooklyn-based honeymoon specialist, Tammy O'Hara. "It is so easy to go overboard because it is almost a given that the couple will be participating in a lot of activities, so it might be tempting to pack for every possibility." Yet, since you can often do laundry (or have laundry done for you) at your destination, O'Hara recommends packing enough clothes for about five days for a week-long vacation.
What you decide to bring should serve multiple purposes and be light and durable in material, O'Hara continues. She recommends a waterproof, light jacket pending cooler or wetter weather. Especially for warm, tropical or active destinations, where you'll be prone to sweat, bring breathable items that can be stuffed into laundry bags, suggests Drewniany.
Pack three pairs of shoes.
Since shoes tend to be heavy and bulky, it's best to pare down your list. Consider three pairs of kicks, suggests O'Hara: comfortable walking shoes, dress shoes and flip flops or water shoes. Plus, hiking boots for a trip featuring hiking. "Water shoes usually pack flat, and can be expensive or hard to find in certain destinations," she notes. If you're packing boots, wear your bulkiest items on the plane to cut down on heavy luggage. If you're heading to a cold climate, toss on multiple layers.
Don't forget key toiletries and meds.
Double- or triple-check that you've packed essential toiletries, counsels O'Hara. For instance, don't neglect basics like contact lenses and solution (if you rely on them), as well as band-aids, and medications for motion sickness or stomach issues. Other recommended items include antacids, antihistamines, alcohol cleansing wipes, hand sanitizer, cough drops and condoms.
It's especially important to pack needed items, since obtaining specific medications in certain destinations can pose a challenge, O'Hara elaborates. For instance, in Japan, you need a prescription for sinus medications available over-the-counter in the U.S., she adds. "You [also] don't want to guess about formulations and different brand names while in foreign pharmacies."
Also remember to pack liquids (such as specific face washes) in checked luggage rather than in carry-on bags, so they won't be discarded while you go through airport security, says Drewniany. Before your departure, make a list of medications in case of emergencies. "Ask your doctors for documentation should you get in a bind," says Avey.
Tote those tech essentials.
Unless you're heading to an all-inclusive resort in the Caribbean, opt for a universal adapter/converter. Also tote a portable charger for your cell phone; and consider signing up for a VPN prior to traveling. "There are so many dangers when connecting to unsecured WiFi," says O'Hara, who adds that, with a VPN, you can watch U.S.-based TV shows.

Have digital and paper copies of key documents.
"Most travel documents can be stored electronically, but I always recommend having two backups (paper and screenshot)," says O'Hara. Follow this advice for boarding passes, passports, driver's licenses, vaccination cards, travel insurance information or QR codes, and more. "If there are any issues with reading your phone, you'll have the paper backups to prevent delays."
She also suggests leaving a copy of your travel documents (including your passport and any visas) with emergency contacts, such as trusted friends or family members. "If you lose your passport, being able to access a copy will make issuing an emergency passport easier."
Prepare local currency and the right cards for travel.
Bring some local currency with you, especially if you're traveling to Europe, Asia, or rural areas, suggests O'Hara. That way, "you can haggle better, and won't be at the whim of shifting currency conversation rates." Local currency is especially key in countries that aren't cash-heavy, such as Cuba, says Drewniany. In advance of your trip, "try to budget what you'll likely spend on fun items, such as spices in Morocco." Cash is also a must, if you plan on tipping staff, for instance at resorts in Mexico, Costa Rica and the Caribbean. Some staffers prefer US dollars, so call the resort in advance for exact details.
When it comes to debit and credit cards, check with your bank in advance to find out if they charge foreign transaction fees, counsels O'Hara. While you're on the phone or your bank portal, notify them of your travels—especially banks attached to your debit card, says Drewniany. Finally, if you're traveling internationally, check which credit cards are widely accepted in the destination of choice. For instance, Visa is more widespread in some European countries than American Express, according to Drewniany. (A bonus tip: If you love credit card points, learn to differentiate between the cards you should leverage for travel rather than to travel. There is an incremental difference.)