This Couple Honeymooned in the Maldives for Free, Thanks to Credit Card Points
Jealous? Sarah Berger, the founder and author of TheCashlorette.com, shares exactly how they did it.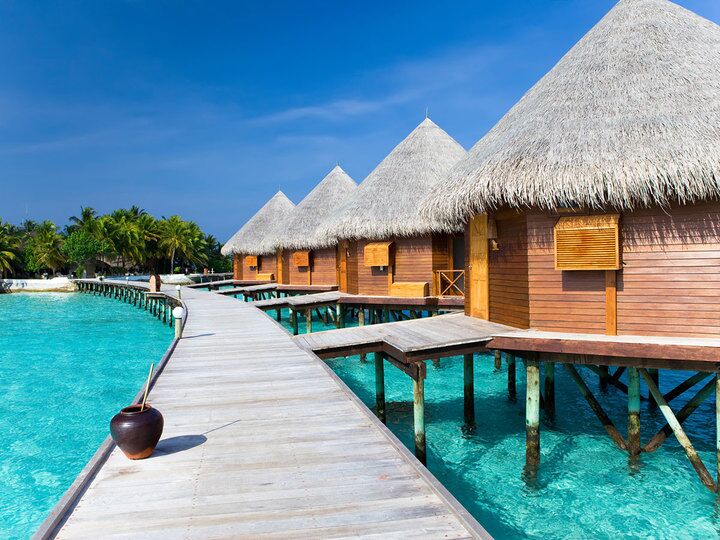 iStock

As the author of a personal finance blog dedicated to helping readers maximize their money, I've heard my fair share of saving success stories. I'm proud to say hardly anyone on my team pays full price for anything, and know no one can scour a sales rack, dig up a deal or rack up rewards quite like us.
But when our senior social media manager, Caroline Farhat, casually mentioned she paid nothing for her dream honeymoon to the Maldives, my jaw just about hit the floor. Farhat, who married her husband in 2015, didn't win some crazy Instagram giveaway. She didn't ask her parents for financial help, and she didn't take out a personal loan. Instead, she simply used her credit cards strategically, racking up points and miles with every purchase. Imagine how Farhat felt after all that (expensive) dust settled, flying home from her honeymoon without any debt and an untouched savings account. The best part about this bride's beautiful, budget-friendly story? You can do it too.
They Enjoyed a Priceless Honeymoon (Literally)
Farhat and her husband, Raghuram Krishnamachari, married in Florida, but tied the knot for a second time in India, where her husband is from, to accommodate guests who weren't able to make it to the States. The flight from her husband's hometown in India to the Maldives was a mere four hours, making it a no-brainer move for their honeymoon. The newlyweds stayed at the Park Hyatt Maldives, which Farhat describes as a slice of paradise.
"The property is on a private island and has beautiful reefs that make it perfect for snorkeling and scuba diving—we even swam next to a shark," Farhat says. "It also has spacious rooms with your own little outdoor paradise and delicious food." The newlyweds spent four nights at the resort, which at the time, could have cost them about $4,000. Farhat and her husband didn't spend a cent, but did treat themselves and upgraded to a water bungalow for one night. So how did they do it?
They Set a Few Saving Goals
As avid travel and reward credit card users, Farhat and her husband knew how to make that piece of plastic really pay off. They set a goal for themselves to get their airline tickets to India and the Maldives, as well as all their hotel reservations at both locations, for free, or at least deeply discounted. No surprise to me, Farhat and her husband achieved every single one of their goals. They received free airfare to India as well as the Maldives, and free hotel stays at both locations. The couple chose not to use their points at the hotel in India, however, because prices were already so low.
Here's a breakdown of how Farhat did it, and how you can do it too.
1. Take advantage of sign-up bonuses.
As an incentive to sign up, many credit card issuers offer extremely competitive sign-up bonuses, as long as you spend a certain amount within a specific time frame. With all the big expenses you'll be making in the months leading up to your day, meeting that spending requirement should be cake. Farhat and her husband each opened a new rewards credit card that offered a 50,000 point sign-up bonus. Additionally, they both signed up for an airline credit card that offered a sign-up bonus, knowing they could use that card for their flight to India.
Before applying for rewards credit cards, make sure your credit is in good shape and you'll be able to pay them off each month. To snag that sign-up bonus, you'll have to keep a close eye on the calendar, and make sure you're on track to meet those spending requirements. "Not to be dramatic, but when I thought I missed one of the sign-up bonuses my heart nearly stopped," Farhat says. "Luckily, I still had time, but could have avoided the panic if I had tracked that credit card more closely."
2. Put all your wedding expenses on your rewards credit card.
Paying for everything with credit can make some people cringe, and the thought of drowning in debt is a serious downer. But if you know you have the funds to pay off your card in full every month, and you have to make that purchase regardless, why not swipe your way to some sweet rewards? "My motto is, if you're using cash, you're essentially losing out on money," Farhat says. "Plus, many of these credit cards offer amazing consumer protections if something goes awry."
Anticipating what a few of your big-ticket wedding purchases might be will also help you narrow down the rewards credit card that'll give you the most bang for your buck. For example, Farhat and her husband were planning to have their wedding at a specific hotel in India, so they made sure to sign up for that specific hotel's credit card. Spending, meet strategy.
3. Use a card that works with your lifestyle and budget.
There are so many rewards credit cards out there, and figuring out which ones will give you the most for your money can be overwhelming. Start by looking for a credit card that offers deep rewards in spending categories you know take up the bulk of your budget. If you're crazy about cooking and know you spend half your paycheck every week at the grocery store, sign up for a card that offers the best rewards for supermarket spending. Or, if you travel a lot for work, an airline card will really allow you to maximize your money, as long as you're loyal to that airline and book exclusively with them.
"Since we dine out and travel frequently, we both opened a credit card that gave us two points for each dollar spent on restaurants and travel," Farhat says. "Never unnecessarily spend just to meet a spending requirement. We only ever spent what we had to for the weddings and our normal living expenses."
4. Stay organized.
The part of this plan could either make or break your rewards strategy? Making sure to stay organized. With all those sign-up bonuses, spending requirements and categories, annual fees and credit card bill due dates swirling around, you'll need to get everything hashed out in an easy-to-read format. "I used an Excel sheet to track which credit cards we signed up for, their annual fees—which are worth it when you see how much money you save—sign-up bonus spending requirements, points we'd receive and what we could use the points for," Farhat says. Have a folder on your desktop dedicated to this, and clearly outline which card goes with what bonus, what the annual fee is, what that card's reward structure is, the bill's due date and what you'd ultimately like to use that card's rewards for (like for airfare or your honeymoon hotel). Assign that card a certain spend category based on its rewards structure, and then exclusively use that card for that specific expense.
You might have to think a little bit harder at first when you whip out your wallet to make a purchase, but pretty soon which card goes with what expense will become muscle memory. But most importantly, have fun with it. "My husband and I loved seeing the points rack up in our accounts, and there really is no better feeling than being on a trip and knowing you're paying next to nothing for being there," Farhat says.
Sarah Berger is the founder and author of TheCashlorette.com, a personal finance website dedicated to empowering young women to live the life they want, without sacrificing savings or going into debt. For more money advice, follow The Cashlorette on Facebook, Twitter, Instagram and Pinterest.