A Cancun Bachelor Party Guide to Plan Your Trip
From beach bars to water sports, Cancun makes for an epic bachelor party destination.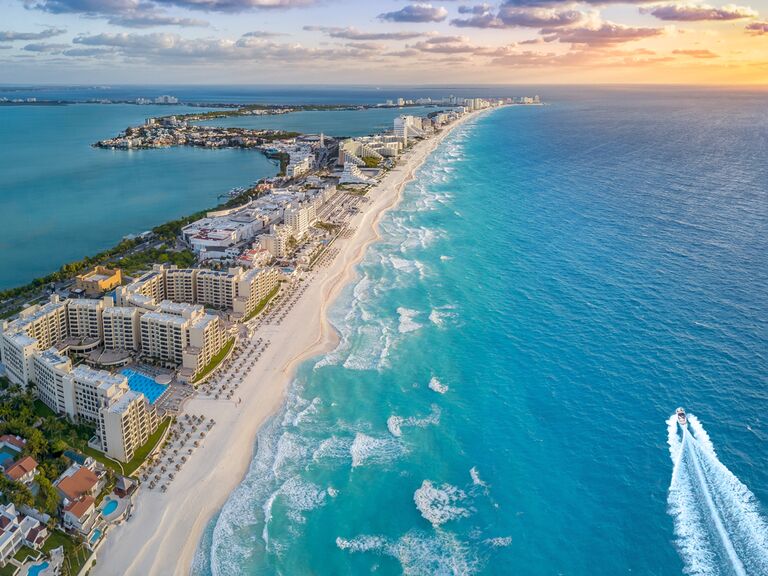 jdross75 / Shutterstock
We have included third party products to help you navigate and enjoy life's biggest moments. Purchases made through links on this page may earn us a commission.
There's not much more that you can ask for on a Cancun bachelor party: Year-round sunshine means you're always likely to have good weather, white sand beaches offer the perfect oasis and the nightlife is well-known for partiers. Pack your bags, the Mexican getaway is calling.
What Are Some Cancun Bachelor Party Ideas?
From the water to the sand to downtown, there's loads to do on a Cancun bachelor party. From sightseeing at Mayan ruins to bar hopping at some of the beach town's best spots, you won't be lacking fun. And don't forget to thank the crew for making the trip with a gift from The Knot Shop.
For the Doers
From water-based adventure parks to water sports on the ocean, there is plenty to get your adrenaline going in Cancun. You can also find great scuba and snorkeling, including in the nearby cenotes and a number of championship golf courses if your kind of action is on the fairway.
For the Sightseers
While Cancun may be known as a spring break destination, it's also just half an hour from some extraordinary archaeological sites, the most famous of which are Mayan ruins dating back thousands of years.
For the Party Animals
Yes, this is the epicenter for spring breakers (and we recommend you skip a trip during that crowded time), but Cancun offers a year-round party atmosphere, no college credits required. Find bar crawls, nightclubs and dives to enjoy the nights here.
What Do You Do at a Bachelor Party in Cancun?
With our three-day itinerary for a Cancun bachelor party you'll be able to fit everything in, including plenty of surf, sand, food and good drinks.
Day 1
Morning/Afternoon: Get off to a fantastic start on you Cancun bachelor party aboard the Dancer Catamaran to Isla Mujeres. The seven hour tour starts with breakfast and includes an open bar, contests, activities and dancing on board. Along the way to Isla Mujeres, you'll make a stop to snorkel in the meco reef and another to have a bit of fun on a trampoline in the ocean and the boat's waterslide and diving board during lunch (think fish ceviche, chicken fajitas and guacamole). Once you reach Isla Mujeres, you'll get two hours to explore and take advantage of the beautiful beaches. On the way back to Cancun, the DJ will keep you entertained.
Evening: Make things easy tonight by staying in the hotel zone for dinner at the Crab House Cancun. If you can, score a table on the large deck, which offers great ocean views while you feast on shrimp, fresh oysters, crab guacamole, fish and chips, lobster, king crab, lobster and shrimp fajitas or ribeye, among other delicious options. From there, head out to the many bars in the resort area.
Day 2
Morning: In the hotel zone, the Surfin Burrito is a great spot for breakfast burritos, cocktails (we're talking a 32-ounce margarita here) and beach views.
Afternoon: To get the adrenaline going, spend today at Xavage, an adventure park with awesome on-water activities. For starters, there's a ropes course where you and the guys can challenge each other to tackle obstacles. The paddle through Cancun's canals, zipline through canopies, take the wheel on a monster truck drive through rocky roads or take on white water rapids. This is an all-day thrill-seekers paradise.

Evening: Head out to a nice dinner at a local favorite: La Habichuela in the heart of downtown. Book a table in the open-air garden and feast on traditional Mexican dishes and Caribbean seafood including stuffed squid, lobster tail and seafood ceviche. Get to know the best of Cancun's nightlife on the Cuncrawl. You'll get VIP access to three bars and clubs, with reserved tables, all-you-can drink access and transportation to and from your hotel. This is the easiest, don't-have-to-think-about-it way to check out the best Cancun has to offer.
Day 3
Morning: Make your last brunch at Marakame Café, which has treehouse vibes and a Sunday brunch with favorite Mexican dishes including barbacoa and quesadillas, plus empanadas, pastries and more.
Afternoon: Go play 18 at the Iberostar Cancun Golf Course, easily accessible from the resort-center part of Cancun. You'll find a Par 72 championship golf course that's friendly to all levels of players, plus a beloved, all-inclusive beer cart. If you guys aren't golfers, spend the day at one of Cancun's best pool parties. On Sundays, that's at Mandala Beach Club where you'll find multiple pools, jacuzzis, cabana loungers, DJs and table service, if you're interested.
Evening: Go meaty tonight for your last dinner at Bovino's, a Brazillian-style steakhouse that serves your cuts tableside. This is an all-you-can-eat experience you won't want to miss. Meat sweats included. Nearby is the Mumma Rooftop Bar Cancun, a great spot to grab a drink, enjoy the views and sit around the bar's outdoor pool.
Where Should I Stay in Cancun for a Bachelor Party?
The best place to be for easy beach access and nearby restaurants and bars is in the Hotel Zone of Cancun. Though there are villas and home rentals around downtown that are worth staying in for groups.
Best Cancun Bachelor Hotels
For mid-range budgets, a stay at the JW Marriott Cancun Resort & Spa is a great option for modern rooms and suites, eight on-site restaurants and three outdoor pools.
Those on a tighter budget should stay at the Canopy by Hilton Cancun La Isla, which boasts two bars and a rooftop pool with ocean views.
For an all-inclusive experience stay at the Hotel Riu Cancun which has beachfront cabanas, four pools and 10 bars and restaurants.
Best Cancun Bachelor Home Rentals
A Luxury Beachfront Residence in the Hotel Zone is the best of both worlds: the resort area and a private oasis that can sleep up to 14.
With a private pool and beach access, a three-level Villa in the hotel zone is an excellent option for groups of 12.
For smaller groups (up to 8) a Four-Bedroom Penthouse is an excellent option that boasts oceanviews, outdoor space and a balcony bar.