Everything You Need to Know About Wedding Ceremony Music
Scanning all those ceremony song titles may seem daunting, but relax—pulling off the perfect program is easier than you think.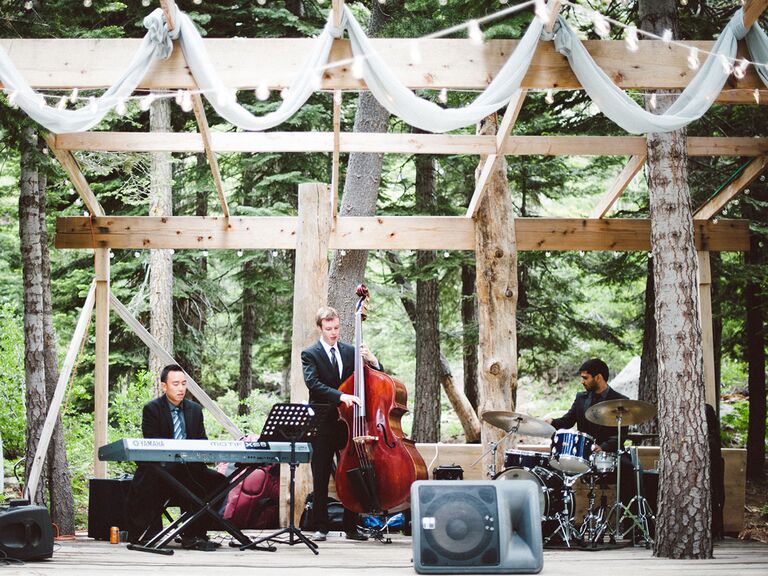 Hannah Arista Photography
When you think about your ceremony music, your first thought is probably the song you'll walk down the aisle to, but it's actually helpful to consider the bigger picture: You're providing a musical backdrop to the most special part of the day. Read these fundamental tips and helpful ideas to find the right music for your ceremony.
Ceremony Music Basics
Traditionally, the most basic wedding ceremony music program involves a minimum of three types of songs: preludes, processionals and recessionals.
Preludes
Prelude music is light, ambient music that sets the mood while guests are being seated and waiting for the ceremony to begin. It usually starts when the doors open, or as early as 45 minutes prior to but no later than 20 minutes before the beginning of the ceremony.
Processionals
Next is the processional, which accompanies the entry of the extended wedding party—family, attendants and bride. The same song can be used for each, but we love the idea of changing to another song when the bride enters to add drama and highlight the big entrance.
Recessionals
At the conclusion of the ceremony, the recessional plays. As the name implies, this music accompanies you as you recess (that is, make your exit) and is traditionally bright, lively and celebratory—a reflection of your joy.
Interludes and Postludes
Many couples choose to add interludes or songs played during significant moments such as the unity candle lighting or the ketubah signing. You might also want to include a postlude, which is a selection played while guests exit the ceremony. Have someone play a violin, or even a set of bagpipes, as guests head toward the exit. Some to-be-weds even ask the musician to lead guests out of the ceremony space in a paradelike fashion.
Working With the Ceremony Venue
Rules and Restrictions
Before you start interviewing ceremony musicians and contemplating song selections, do your homework. Some ceremony sites and officiants may have strict guidelines about which music can and can't be played during a ceremony. Secular locations may also have guidelines you'll need to be aware of, setting limits on the noise (volume and curfew) or space allotted for a band.
Setup Space
Consider the size of your ceremony venue when putting together your ensemble. For example, a huge brass quintet and a small chapel won't be a match—the sound may overwhelm the space. If you're having an outdoor wedding, you probably can't use a traditional piano, but if electricity is available, an electric piano could work. Complement it by adding a string instrument such as a violin or cello.
If you've got your heart set on a harp, make sure there's enough room (they're huge) and scope out a practical way to get it inside your site (it would be difficult to have to drag a harp through a kitchen, for example). If you'll be outside, a harp may not be the best choice—the sound won't be as strong because it tends to drift upward.
Avoid Surprise Fees
Ceremony musicians may cost anywhere from $200 to $500 a piece. To cut back on costs, take a look at what may already be available in your space. (Does the hotel ballroom already have a grand piano? Use it!) You'll save the additional charge of transport, which sometimes is tacked onto the overall cost per player especially when larger instruments (like harps and pianos) have to be transported into the space.
Finding the Right Pros
Research Potential Musicians
Where do you find musicians who'll be a hit with your guests? Check with friends, peruse The Knot Marketplace for local ceremony musicians in your area and read client reviews. Ask for references—you want to be sure the people you hire have plenty of experience accompanying couples down the aisle. Most musicians will have a demo on their website that demonstrates what the different ensembles are capable of playing. If you've got time, ask to attend a function where they'll be playing so you can hear them live before you hire them.
Point Person
Most ensembles have a leader who works with clients to put together appropriate musical accompaniment from a single instrument (such as an organ or violin) to a 10-piece orchestra. The more instruments, the fuller the sound—but remember, the larger the combo, the higher the price tag.
Instrument Combos
Also, while you may like the sound of a certain instrument, including it might not be as easy as just adding it to your ensemble. For example, you might want to add a trumpet, but then to balance it out you'll need three or four string pieces such as a cello, violin, viola and harp, or else the horn will awkwardly stand out. Just ask the musicians what would work best.
Here are some good basic combos to consider:
String duo (two violins or a violin and cello)

String trio (two violins and a cello)

Flute trio (flute, violin and a cello)

String quartet (two violins, a viola and cello)
You might consider adding an organ or piano to any of the trios or the quartet, including a harp with any of the above or jazzing things up with two trumpets.
Vocals
If you decide to hire vocalists, it's a good idea to have the singing begin after everyone is seated for your ceremony. When a person steps up to a microphone to sing, guests may feel obliged to be quiet and pay attention, which creates awkwardness. It's also wise to make sure the vocalist is comfortable with your selections, because when a singer is nervous, it shows right away in their voice. Ask which songs the soloist knows well, and work together to build a song list that satisfies you both. If there's a song you want to include that they're not familiar with, have a violin, piano or flute play an instrumental version of it.
Sound Strategy
Guest to Musician Ratio
Keep the number of guests to ceremony musicians ratio in mind. A quartet is appropriate for a group of 200, typically. To cut back and save, you might consider hiring a duo or trio and a sound person. Or, even better, ask your band or DJ to come with a couple of mics or an amplifier. Also be mindful of what will sound good amplified. Of the instruments typically requested for weddings, guitars and string instruments (like violins and cellos) resonate best.
Accoustics
The setting is a big factor too. If your venue is indoors, you'll be able to get away with more thanks to the room acoustics. Then again, if you're outside and you have 200 people, you won't even hear a duo. Plan ahead if it's an outdoor setting so you're prepared with microphones or enough musicians to combat the outside noise. Adding a flute always helps when outside as well, so if you can only afford a duo, try a classical guitarist with a cube amp accompanied by a flutist.
Ready to find your ceremony musicians? Search pros in your area here.
Before hiring your musicians, ask them these important questions.