45 Wedding Ceremony Prelude Songs
Think of it as an overture to your wedding -- you want to get your guests excited and set the mood.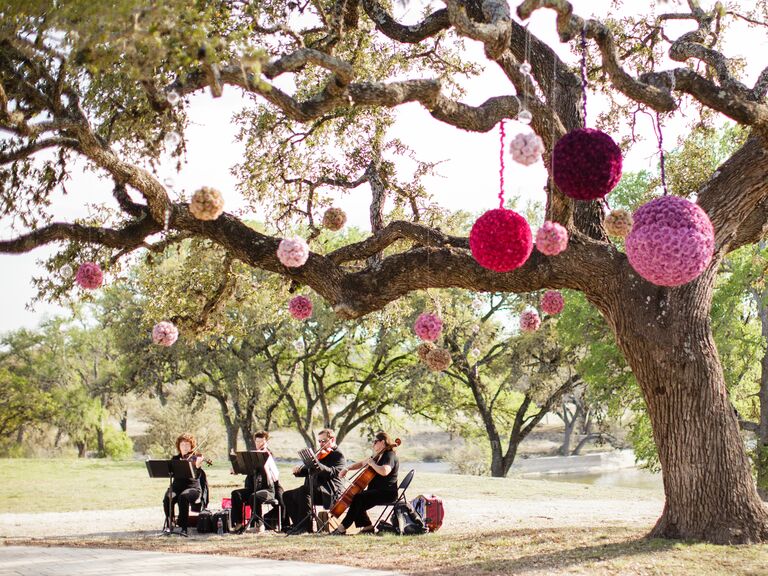 Archetype Photography
Kick off the ceremony with a pleasant wedding prelude featuring music that moves and inspires you. Plan for about 30 minutes of music to play while guests find their seats and wait for the excitement to begin.
Traditional/Classic
1. "A Rose Is Gently Blooming," Op. 122, No. 8, (Johannes Brahms)
2. "Adagio for Strings" (Samuel Barber)
3. "Air on the G String" (Johann S. Bach)
4. "Aria, Bist du bei mir" (Be thou near me), BWV 508, (Johann S. Bach)
5. "Awake My Heart with Gladness," (Flor Peeters)
6. "Chorale in A Minor," Adagio, (Cesar Franck)
7. "Concerto in D Minor," Adagio, (Tomaso Albinoni)
8. "Largo" from (Xerxes), (George Frederic Handel)
9. "Perfect Love" (Sir Joseph Barnby)
10. "Rhosymedre" (Ralph Vaughan Williams)
11. "Serenade" (from String Quartet Op. 3 No. 5), (Franz Joseph Haydn)
12. "Serenade" (Franz Schubert)
13. "Sheep May Safely Graze" (Johann S. Bach)
14. "Sonata in G Minor for Flute and Organ" (George F. Handel)
15. "Toccata in E Minor" (Johann Pachelbel)
16. "Violin Concerto in A" (Franz Joseph Haydn)
17. "Water Music" (George F. Handel)
Traditional Alternatives
18. "Carolan's Welcome" (Irish Traditional)
19. "Concerto Grosso in D Major," Op. 3, No. 6 (Vivace), (George Frederic Handel)
20. "Courante" (from Three Lute Dances), (Anthoine Francisque)
21. "Gymnopedie No. 1" (Erik Satie)
22. "Nessun Dorma" (from Turandot), (Giacomo Puccini)
23. "Nocturne in E Flat" Op. 9, No. 2, (Frederic Chopin)
24. "Oboe Concerto in D Minor," Adagio, (Alessandro Marcello)
25. "Prelude to the Afternoon of a Faun" (Claude Debussy)
26. "Romance" Op. 44, No. 1, (Anton Rubenstein)
27. "Sei Lob und Preis mit Ehren" (Johann S. Bach)
28. "Sonata in E Flat," Adagio, (Wolfgang Amadeus Mozart)
29. "Violin Concerto No. 2 in E Major," Allegro assai, (Johann S. Bach)
30. "Vocalise" (Sergei Rachmaninoff)
Contemporary
31. "All I Ask Of You" (from Phantom of the Opera), (Andrew Lloyd Webber)
32. "Angel Eyes" (Jim Brickman)
33. "Evergreen" (Barbra Streisand)
34. "Longer" (Dan Fogelberg)
35. "Paris Nocturne" (Dan Fogelberg)
36. "The Gift" (Jim Brickman)
37. "Truly" (Lionel Richie)
38. "Wedding Song" (The Band)
39. "You and I" (Stevie Wonder)
Religious/Sacred
40. "Ave Verum Corpus" (Wolfgang Amadeus Mozart)
41. "Benediction Nuptiale" (Camille Saint-Saens)
42. "Jesu, Joy of Man's Desiring" (from Cantata 147), (Johann S. Bach)
43. "Liebster Jesu, Wir Sind Hier (Blessed Jesus, We Are Here)," BWV 633, (Johann S. Bach)
44. "Praise To The Lord" (Johann G. Walther)
45. "Prelude" on the "Old 110th," (John Joubert)