Important Wedding Ceremony Music Contract Points
Go over these details with your musicians before signing on the dotted line.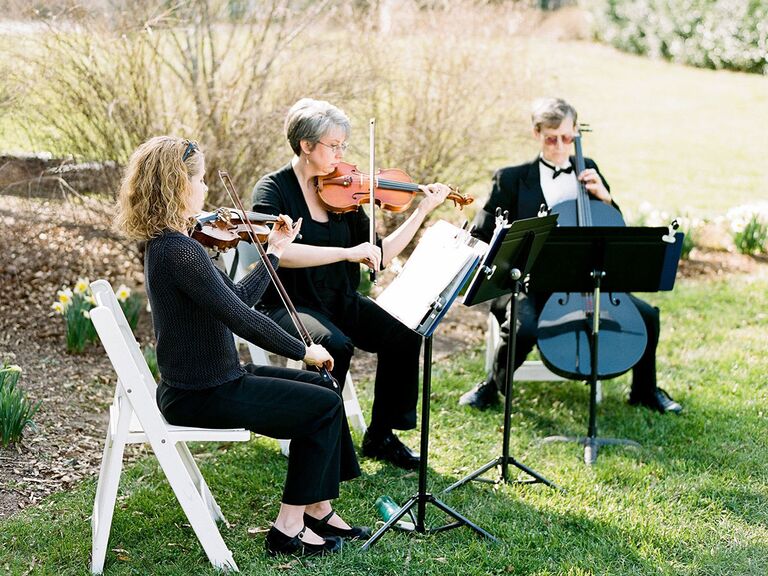 Graham Terhune Photography
Get excited—you're about to book your ceremony musicans! They're the ones who really set the tone for your "I dos," so choosing the right players is an important step toward a beautiful, seamless service. As with all your wedding pros, when it's time to seal the deal with your ceremony musicians, get the agreement in writing. Your contract should include the following key points:
Exact date of event, arrival time and location with address.
Equipment you're expected to supply and equipment they're expected to provide, such as, chairs, music stands and amplifiers. If the musicians are bringing their own equipment, record any extra charges.
Include exactly how many musicians you've booked. For instance, if you're hiring a string quartet, note that, plus the instruments they'll be playing.
The names of the exact musicians who will play at your ceremony, plus the names of acceptable substitutes should there be an emergency.
Attire guidelines. You should have a say in what your performers wear, according to your overall ceremony vision.
A list of what they'll play and when. Also talk to them about some B-list songs to play should they need to fill time.
Amount of time they're expected to perform.
Fees and overtime rates. Write in a clause that ensures their flexibility should you need them to play longer (during the prelude, for example).
Deposit and balance due dates.
Cancellation and refund policy.
Read up on ceremony music basics right here.
Ready to find your ceremony musicians? Search pros in your area here.