14 Questions to Ask Your Wedding Ceremony Musicians
Get answers to these important questions before you book your ceremony musicians.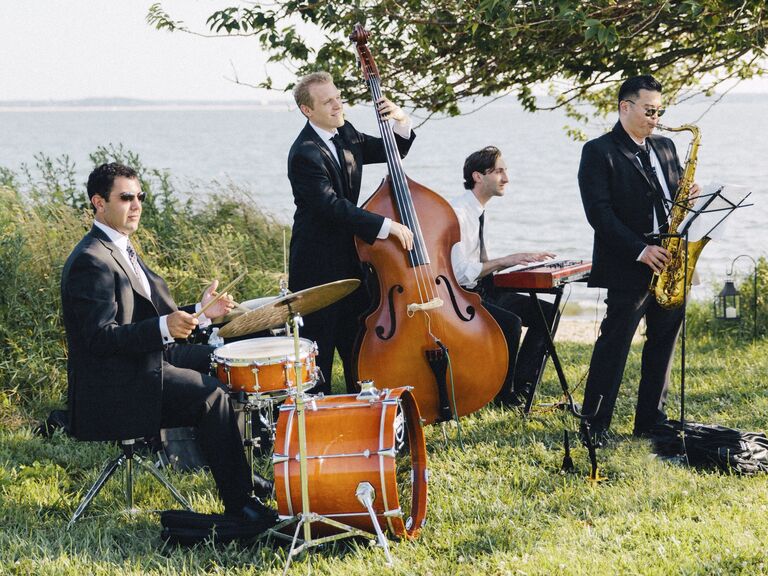 The Wedding Artists Collective
When meeting with potential ceremony musicians, cover all of these important questions before making anything official. Not only are they informative, they're also a good way to sense how well you click with them. After all, they're the team you're counting on to set the right mood and feel for your ceremony—the most special moment of the day.
1. Do you have a set ceremony repertoire or will we work with you to choose one?
Why you want to know: You should have a solid idea of how you'll come up with a song list for the ceremony before you book. Some musicians may be more hands on, while others will ask you to drive the selections.
2. Can you play the nontraditional songs we've chosen?
Why you want to know: If you have your mind set on a particular tune, you want to make sure your musician is able to play it or learn it. Some musicians or vocalists may charge an extra fee to learn it in time for your wedding. It's better if you know ahead of time if they'll be able to perform your songs.
3. Have you performed at a wedding before?
Why you want to know: Playing a wedding ceremony requires a specific set of skills. Your musicians should know when to change the volume to set the right mood as well as help transition guests from their arrival, to the ceremony and then to a celebratory vibe. It's also a good idea if there's a defined leader (if you're working with a music group) who will be your main point of contact for communication and to make any changes during the ceremony.
4. Will you need sound amplification? What's the alternative if my ceremony space doesn't allow amplified sound?
Why you want to know: It's a good idea to have a sense of what equipment your ceremony musicians will need in order to have the best sound quality. But if you're getting married outdoors without access to power, or your ceremony venue doesn't allow amplified sound, you want to be certain they have a plan to give you great sound even without speakers. You'll also want to know if getting the sound you need will require extra instruments or vocalists, which could end up adding on to the price tag.
5. What combination of instruments would you recommend for my ceremony space and vibe?
Why you want to know: You may have always imagined a string quartet, but you'll want to know what the right instruments are to play the songs you have in mind. While you may like the sound of a certain instrument, including it isn't as easy as just adding it to your ensemble. A musician will have a good idea of the right combination you'll need so one instrument doesn't stand out awkwardly above the rest.
6. What's the minimum amount of time we can hire you for?
Why you want to know: A two- to four-hour minimum is typical, so whether or not they'll require you to book them for a set amount of time that's longer than your ceremony may be something you want to consider when deciding whether to use the same musicians for your cocktail hour.
7. Can you also play during cocktail hour?
Why you want to know: Most importantly, you'll want to be sure they're available for the cocktail hour if you're thinking of hiring them for both wedding events. This likely won't apply if you're hiring an organist for the ceremony, but a string quartet is perfect for both the ceremony and cocktails (if they're available).
8. Do you have experience performing in a ceremony venue like mine?
Why you want to know: You want to be sure your musicians will have no problem troubleshooting some of the issues that come with your venue. Things like acoustics and volume can change drastically if you're in a space with super-high ceilings or on the beach.
9. What songs would you recommend we play during my ceremony traditions (lighting of the unity candle, ketubah signing, jumping the broom)?
Why you want to know: Your musicians can play the traditional songs that accompany your cultural or religious tradition or they may have suggestions for what to play if there's not a set song to use.
10. Can we hear you perform, either privately or at a public performance? Can we get a sample of your work?
Why you want to know: Hearing musicians live will give you the best idea of what they'll actually sound and feel like.
11. How much setup time do you need and who will do the setup?
Why you want to know: If it's just one or a few musicians with instruments, they'll probably be able to manage setup themselves, but ask about the plan just in case.
12. What's your sick-day policy?
Why you want to know: If a key member of the ensemble comes down with the flu the morning of your wedding, they should have a reliable replacement (and have you meet them too).
13. What's your cancellation policy?
Why you want to know: What are the repercussions if you change your date or change your mind on your music?
14. What's your fee for a wedding ceremony (probably about two hours of work)? Do we need to pay travel expenses too?
Why you want to know: Get a sense of the all the costs up front—cost per hour, travel expenses, overtime fees, cancellation fees and so on.
Read up on wedding ceremony music basics here.
Start your search for a ceremony musician right here.
Need some sound advice? Don't make any of these common wedding music mistakes.