20+ Romantic and Thoughtful Christmas Messages for Your Boyfriend
Give your holiday card the perfect finishing touch with these sweet sentiments.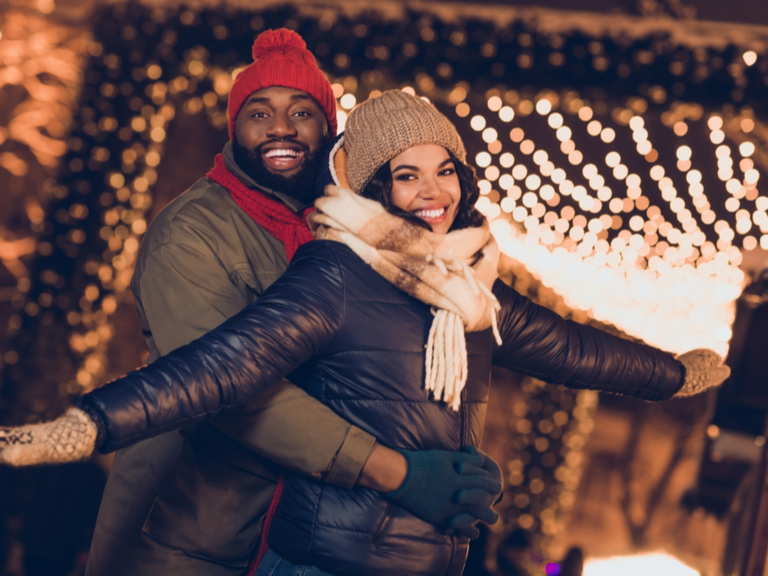 Photo: Roman Samborskyi / Shutterstock
The holidays bring out the warm fuzzies in all of us, so it's no surprise if the season inspires you to be a bit more forthcoming with your feelings. While you no doubt express your love for your boyfriend throughout the year, penning a meaningful Christmas message for your boyfriend come December expanding on the many ways he makes your life better is a sweet gesture sure to be appreciated.
Whether you're looking for the perfect words to accompany a Christmas gift for your boyfriend or want to write a keepsake letter he'll hang onto for years to come, you've come to the right place for inspiration. Below, we're rounding up over 20 meaningful "merry Christmas" messages for your boyfriend's card, from cute and lighthearted sentiments to romantic phrases that'll have his heart fluttering. Bonus: We've even included a sample romantic Christmas letter for your boyfriend you can make your own in just a few minutes!
In this article:
What to Write in a Christmas Card to Your Boyfriend
No matter what the time of year, putting pen to paper and expressing your feelings through the written word is always a thoughtful and much-appreciated gesture. When it comes to writing loving and meaningful Christmas wishes to your boyfriend, you'll want to focus your attention on all the ways he improves your life throughout the year. Does he always make you laugh after a hard day at work or know just what to say when you're feeling down? Call attention to any attributes that make him your perfect person, taking this opportunity to describe just how much his love and affection mean to you (more than any holiday gift would—though we're sure you have some killer stocking stuffers for your boyfriend up your sleeve this season).
Since Christmas bookends the calendar year, your letter is also a fun opportunity to recap the amazing year you two have had together. In your card, spend some time revisiting your favorite moments from the past 365 days, like the time the two of you got lost while hiking in Iceland or the amazing dinner you made together after a trip to the farmer's market. Allow your Christmas card note to your boyfriend to act as a mini heirloom of the year, which you'll be able to look back on fondly as your relationship progresses. This sentimental type of letter is especially appreciated if you two are in a long-distance relationship and don't get to see each other as often as you'd like.
No matter what you choose to include in your Christmas love note for your boyfriend, make sure to speak (or in this case, write) from the heart. We promise: Thoughtful words and meaningful sentiments will be better than any store-bought present money can buy.
Christmas Messages for Your Boyfriend: Cute
These charming cute Christmas messages for your boyfriend are simple, sweet and sure to bring a smile to his face on Christmas morning. Pair them with a little boyfriend appreciation gift and you're golden.
Being your partner is the best Christmas gift I could ever receive. Here's to another holiday by your side. I love you!
Merry Christmas to the person who lights up my life like a Christmas tree. There's no one I'd rather spend my days with.
I love you on Christmas—and every day of the year. Thank you for making every moment together feel like a gift.
Cheers to many more Christmas mornings together (and even more gingerbread cookies). I love you!
Merry Christmas, my love. Nothing brings me more joy than spending the holiday season by your side. Meet me under the mistletoe!
Christmas Messages for Your Boyfriend: Funny
If you two prefer laughs over happy tears, these funny Christmas wishes for your boyfriend could be the lighthearted sentiment you're looking for. It's also the perfect gift for a boyfriend who doesn't want anything for the holidays—laughter is always a welcome present.
You're at the top of my nice list this year, babe! Merry Christmas and cheers to another holiday together.
I love you more than all the presents under the tree (and that's saying a lot)! Merry Christmas to my favorite person.
You must be Santa because you've absolutely sleighed my heart! Merry Christmas my love!
You're the gift that keeps on giving—I can barely "wrap" my head around how lucky I am to have you. Merry Christmas baby!
I asked Santa for the perfect boyfriend and he put Tom Holland under the tree, but I sent him back because I already have you. Thanks for being the best gift I could ever ask for—I love you!
Christmas Messages for Your Boyfriend: Long Distance
Absence makes the heart grow fonder—especially when one of you is really good at writing sentimental Christmas letters. This holiday, send your love over the wire with one of these thoughtful Christmas messages for a long-distance boyfriend.
If kisses were snowflakes, I'd send you a blizzard this holiday season. Wishing I was cuddling by your side—Merry Christmas, my love!
Even though we can't be together this Christmas, you're always in my heart. Sending you all my love and affection—here's to hoping that, next year, we'll be making up for lost holiday cuddles.
Distance can't stop the magic of Christmas—or the love I feel for you. May your holiday season be filled with love, laughter and the anticipation of seeing each other again soon.
Even though we can't be together this Christmas, know that you're the greatest gift I've ever received. Here's to celebrating our love across the miles. Merry Christmas to my person.
To me, home for the holidays is wherever you are—even on the other end of the phone. Here's to making this Christmas our best yet, even if we're miles apart. I love you!
The Best Christmas Quotes for Your Boyfriend
If you can't find the words yourself this holiday season, turn to one of the greats (Dr. Seuss, we're looking at you!) to say it for you. These Christmas sayings from popular movies, books and notable figures are just the ticket.
"But for now let me say, without hope or agenda, just because it's Christmas—(and at Christmas you tell the truth)—to me, you are perfect." — "Love Actually"
"Now it is Christmas time, but if you say you're mine/It would be Christmas every day." — "Christmas Every Day" by Smokey Robinson
"Christmas will always be as long as we stand heart to heart and hand in hand." — Dr. Seuss
"Cheer up, dude. It's Christmas." — "The Grinch"
"I planned our whole day. First, we'll make snow angels for two hours, then we'll go ice skating, then we'll eat a whole roll of Toll House cookie dough as fast as we can, and then, we'll snuggle." — "Elf"
Sample Christmas Letter to Your Boyfriend
Now that you have some good thought starters for your Christmas greetings for your boyfriend, try incorporating those sentiments into a longer letter or holiday card of your own. Need a bit more help? We got started on a little something below that you can feel free to make your own with personal anecdotes, inside jokes and more.
To my favorite person on Christmas,
Happy holidays my love! Words cannot describe how grateful I am to celebrate Christmas with you by my side. Your infectious joy, hearty laugh and impressive love for sugar cookies help make this the most magical season of all.
This time of year always makes me reflect on my many blessings, and you are undoubtedly at the very top of that list. Our partnership is the greatest gift of my life and better than anything I could ever find under a Christmas tree (unless you happen to put a puppy under there, of course). I cherish every moment we have together—from our cozy morning coffee sessions to cooking dinner after work and hiking with friends on the weekends. I must have done something really good to have ended up on Santa's nice list and met you all those years ago.
I'm looking forward to spending this Christmas—and all those to come—with you by my side as we hunt for the perfect tree, scramble to wrap last-minute presents and experiment with spiked hot chocolate recipes. Here's to many more years of meeting under the mistletoe!
With love,
[Your Name]