32 Long-Distance Relationship Gifts That (Literally) Go the Extra Mile
These cute LDR gift ideas will have your sweetheart feeling the love even when you're apart.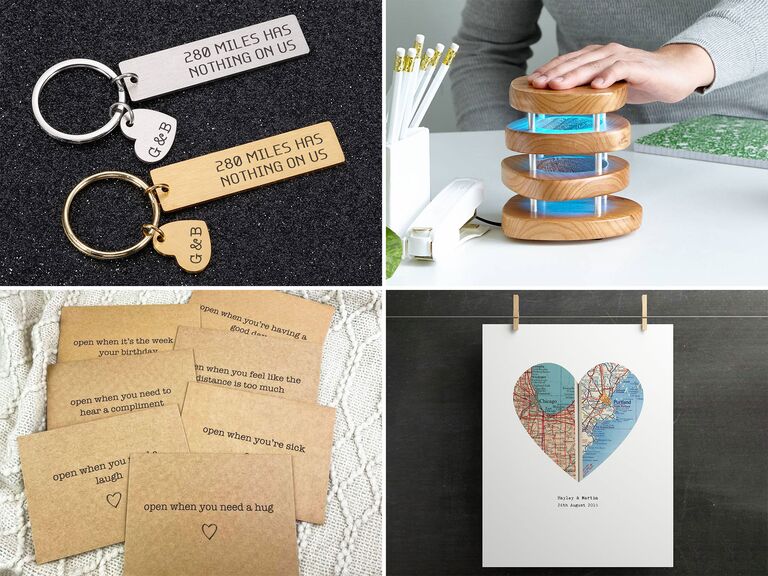 We have included third party products to help you navigate and enjoy life's biggest moments. Purchases made through links on this page may earn us a commission.
If you're separated from your sweetheart right now, you're certainly not alone. But chin up! There are lots of ways to show each other you care from any corner of the world. Below, we're sharing our top gifts for long-distance relationship couples to help you feel just a little bit closer.
There are lots of reasons to shower your partner with presents, be it for their birthday, an anniversary, Valentine's Day or just because. Whether your S.O. lives across the state or across the country, these picks suited for every style, budget and occasion are sure to be a sweet surprise from afar. From high-tech touch lamps to cozy weighted blankets, here are the best gifts for long-distance couples you can shop online.
In this article:
Long-Distance Valentine's Day Gifts
If you won't be with your partner on February 14, don't worry. Chocolate and roses are totally shippable and a romantic date night can take place over video call. And if you pick one of these long-distance Valentine's Day gifts for your S.O., they'll definitely be feeling the love on the holiday.
Spinning Heart Messenger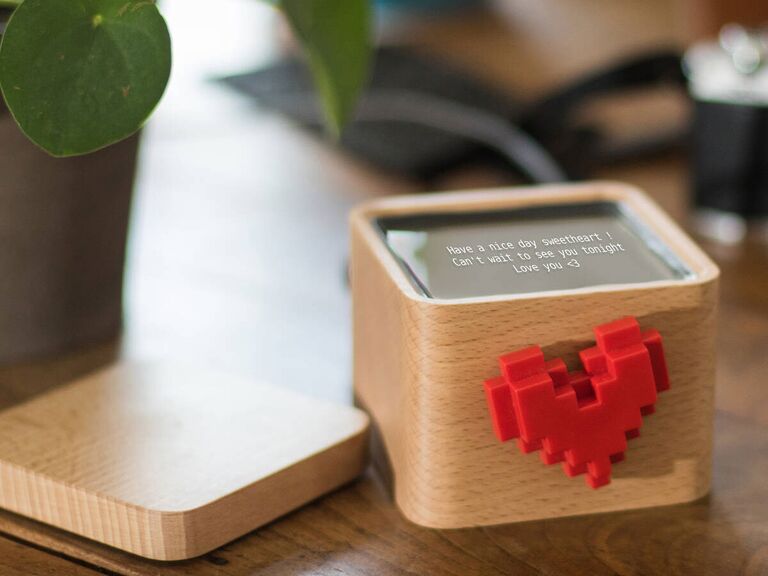 While you and your long-distance partner (or spouse) probably text all the time, this messenger box is an extra special way to communicate with them. The small device connects to an app on your phone where you can type out a sweet message. Once your S.O.'s box receives your message, its chunky red heart spins around like crazy until they open the lid to read it. What a fun way to send a love letter!
Preserved Rose Bouquet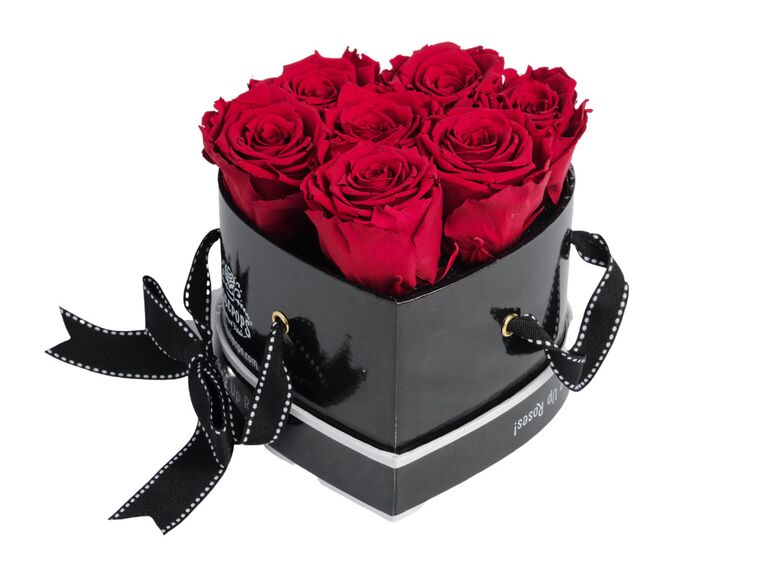 Flowers are always a romantic gift idea, especially on Valentine's Day. But when you can't be there to hand them over in person, you'll need to find a florist that delivers. Rather than trying to scout out a reputable one in your loved one's area, try a boxed bouquet from Rosepops. These gorgeous preserved roses will maintain their beauty and freshness for one year or longer, so they'll definitely last until the next time you see each other. And the darling, heart-shaped box is perfect for the holiday. Best of all though, The Knot readers get 15% off sitewide with code THEKNOT15.
Giant Teddy Bear
Plush toys are another classic Valentine's Day gift, but if you're in a long-distance relationship, you might want to send something a little bit bigger than average for your S.O. to squeeze. Let this four-feet-tall teddy be their cuddle buddy until you can bear-hug them in person. Amazon will ship it straight to their home (so you don't have to worry about how to mail something so big) and you can add a sweet gift message. We recommend it reads: "I love you bear-y much!"
Keepsake Scented Candle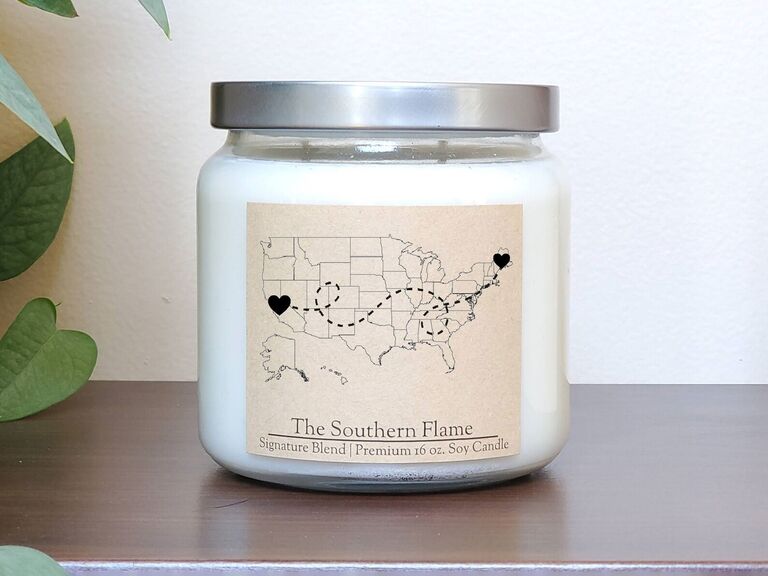 Set the ambiance for your virtual Valentine's Day date with this sentimental candle. Its custom label features each of your states marked with hearts and can be personalized with a message. You can choose your own scent, too. We love the soothing Lavender, warm Apple Cinnamon and romantic Strawberries & Champagne options.
Gourmet Assorted Truffles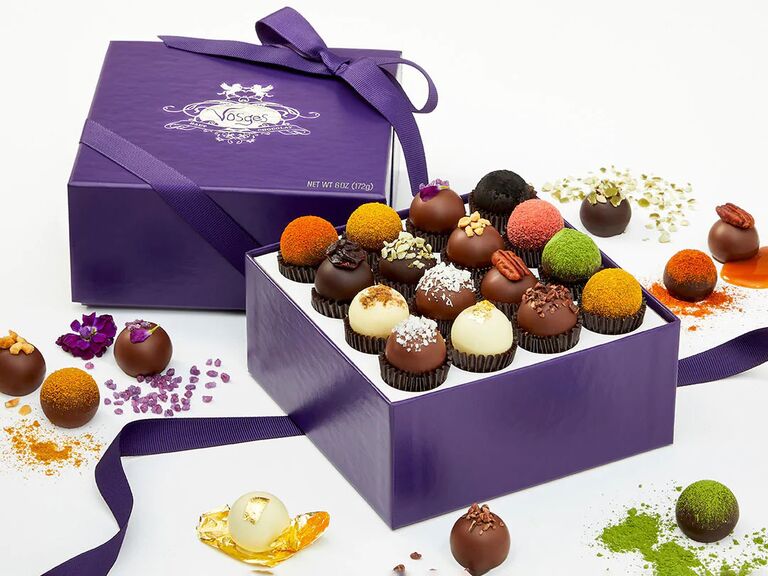 How about a gift as sweet as your valentine? If your loved one is a chocolate connoisseur, a box of gourmet truffles from Vosges Chocolate will surely suit their tastes. The signature collection includes 16 chocolates—like Dulce de Leche and Ambrosia—with guided tasting notes. Get a box for each of you to sample together over a video call.
Light-Up Touch Bracelet Set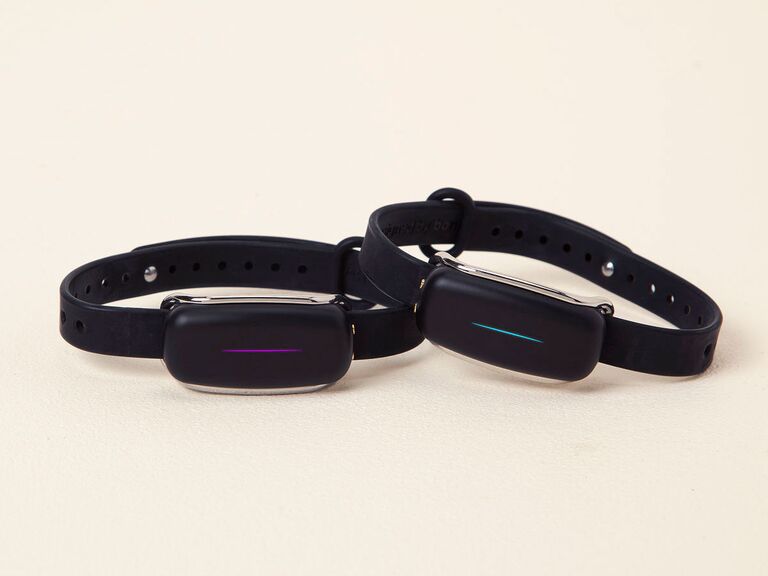 Give the classic idea of Valentine's Day jewelry a long-distance relationship makeover. A pair of touch bracelets for you and your S.O. will help you feel connected even when miles apart. Simply touch your bracelet to send special light and vibration codes to your sweetheart's bracelet. You can even create a series of codes based on certain tap rhythms: one tap: "I miss you," two taps: "I really miss you."
Custom Coordinates Necklace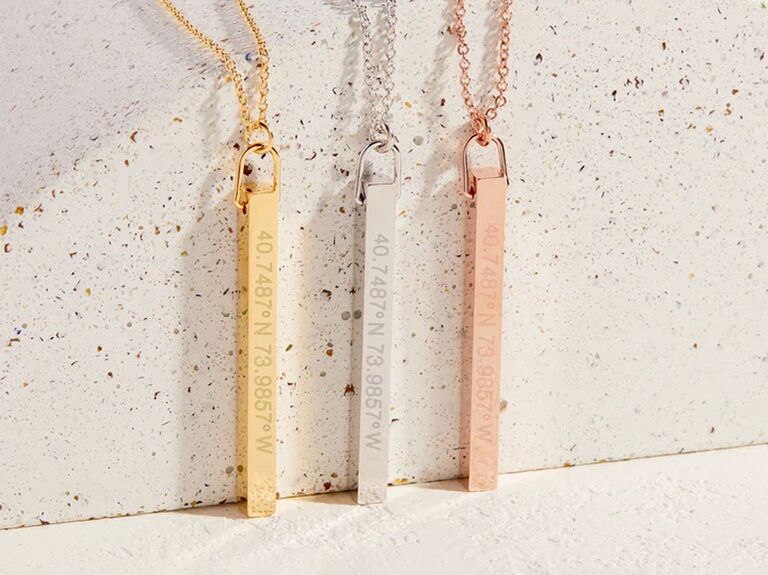 This LDR gift idea will let your loved one keep you close to their heart (literally). This dainty vertical bar necklace can be engraved with your current coordinates, or perhaps the details of another special spot like the place where you met or had your first date. Its brass base comes plated in a choice of 14k gold, rhodium or 14k rose gold and includes a matching cable chain.
Ceramic Kissing Mug Set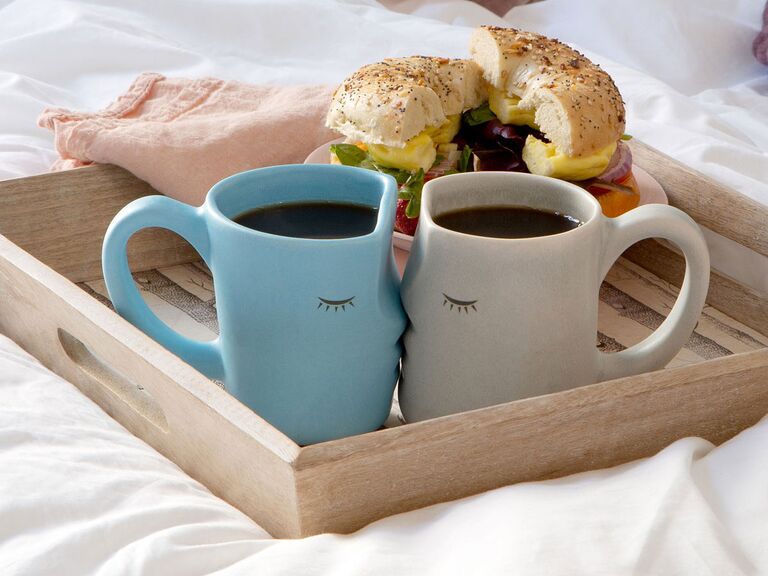 This set of kissing mugs is one of our favorite gifts for long-distance couples—mail one to your love and keep the other for yourself. While you can't give your S.O. a smooch on Valentine's Day, their respective mug will remind them how much you want to. Sweetest of all: Whenever you're reunited, your mugs will be too.
Long-Distance Birthday Gifts
While you may not be with your long-distance boyfriend, girlfriend or partner in-person to celebrate their birthday, you can still show them just how glad you are that they were born with one of these thoughtful, yet practical presents.
Wooden Docking Station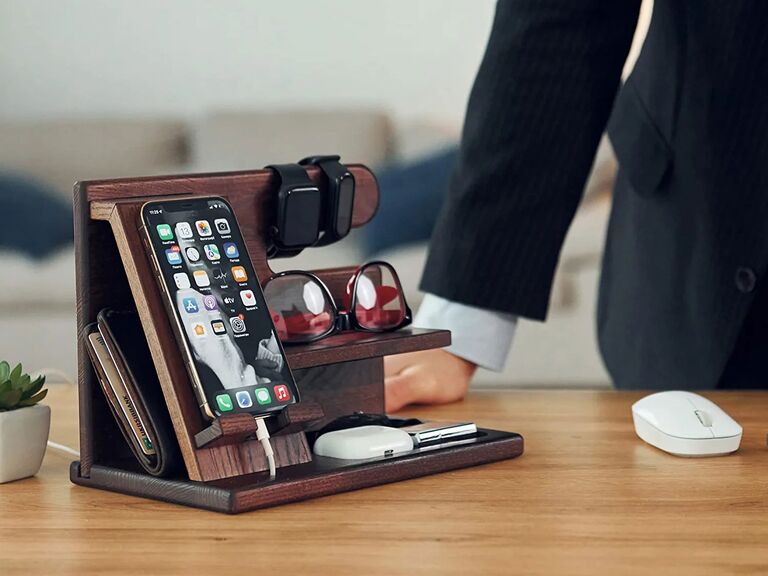 Birthday gifts for your long-distance love can be practical and still feel special. This sleek wooden docking station is the perfect organization system for your S.O. to keep their everyday necessities in one place. Think: keys, wallet, sunglasses, a watch, headphones and more! Best of all, it has a phone stand with a built-in charging slot, so they can keep it upright and charged during FaceTime sessions.
Gourmet Coffee Subscription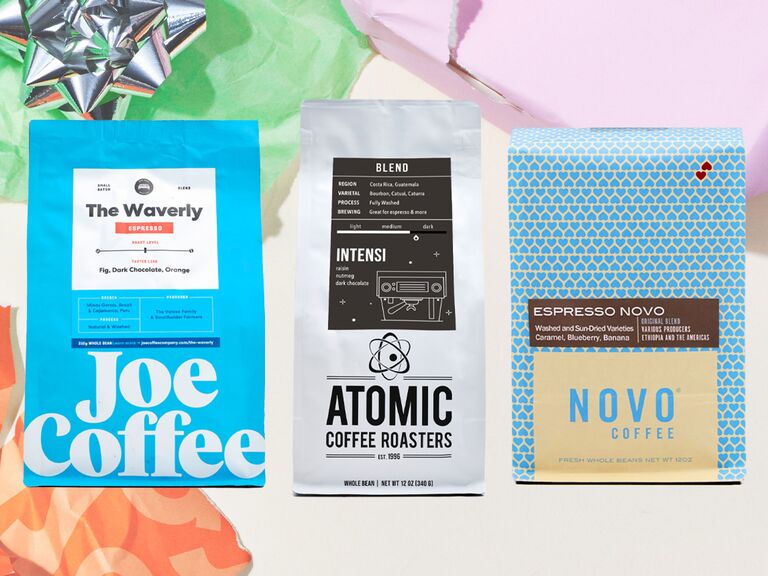 If you're in different time zones, you might want to thank your coffee-loving partner for all of those late nights they stayed up talking to you with this unique subscription service. Trade personalizes each delivery of craft beans or grounds from indie roasters around the U.S. to the recipient, so they can enjoy a morning (or evening) cup selected just for them.
Meaningful Video Montage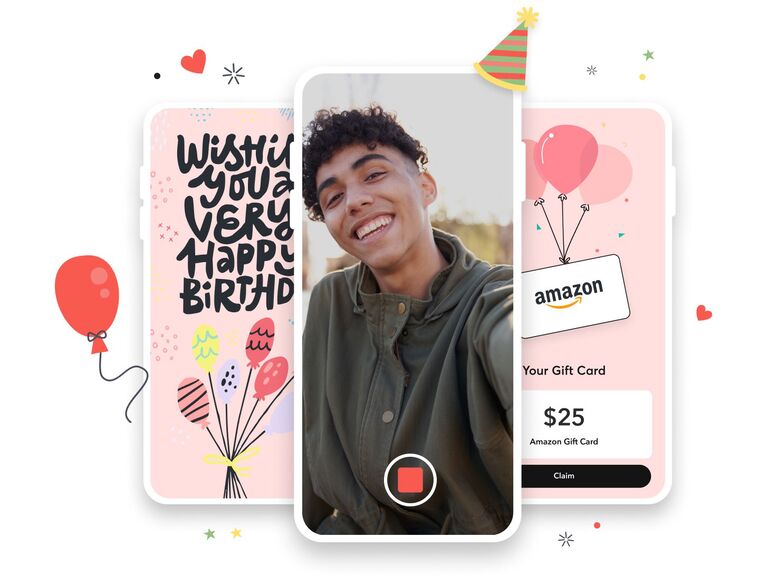 Shower them in birthday wishes with a collaborative video from their nearest and dearest. This awesome service lets you make a thoughtful montage in three easy steps: First, choose the friends and family members you'd like to have participate (the service will send them an email invite). Then, they'll be able to submit fun and heartfelt vids filled with sweet (or silly) anecdotes and well-wishes (with some helpful prompts to get the ball rolling). Finally, you can edit and reorder the films to create your masterpiece.
Wallet With a Secret Message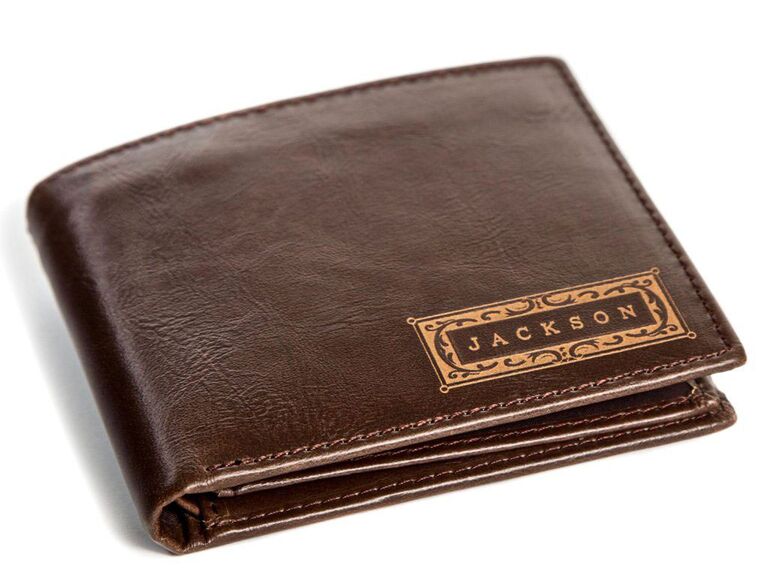 Since you can't just ride around in your S.O.'s pocket with them, opt for this sweet wallet that can. The front can be personalized with your S.O.'s first or last name or initials and there's space inside to include your very own personal message. Every time your other half opens their wallet, they'll be reminded of how much you care about them. It's an excellent long-distance relationship gift for the person you love.
Stylish Weekender Bag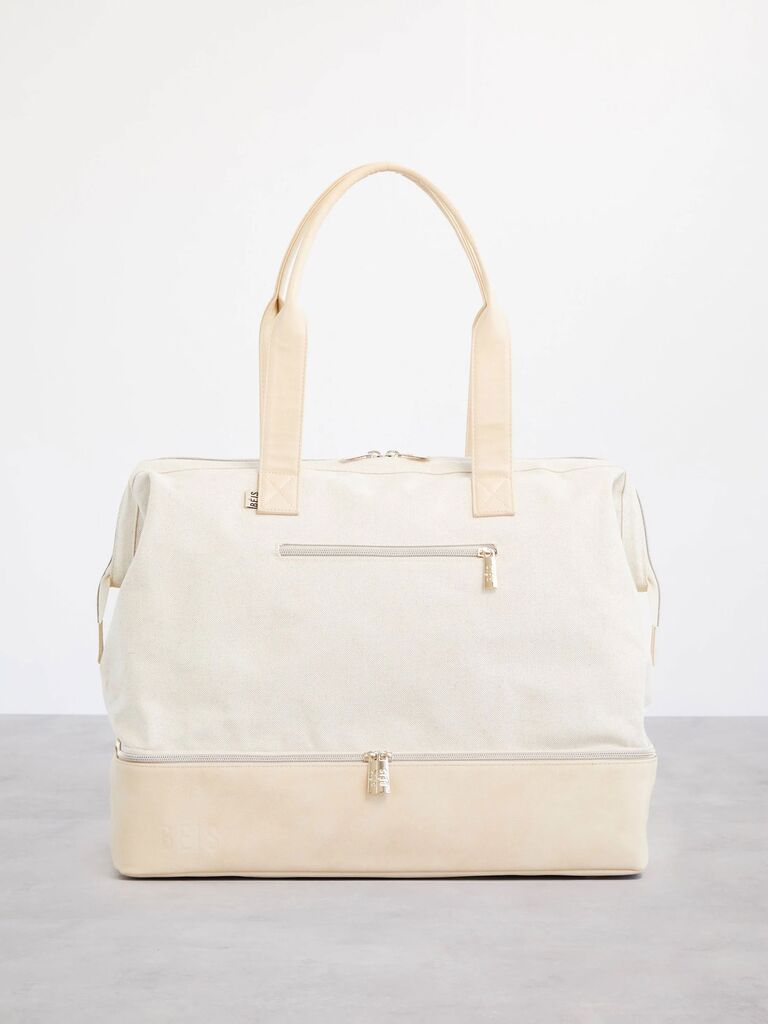 If we had to guess, a slick weekender bag is probably at the top of your partner's birthday wishlist and it'll be even more special coming from you! Now, the next time they visit, they'll have the perfect luggage for the trip. It has three interior pockets, a padded tech sleeve and an exterior zip pocket, along with a bottom shoe compartment to keep their shoes away from their clean clothes. Plus, the beautiful canvas fabric is totally waterproof. Talk about fashionable and functional!
A Delicious Dinner In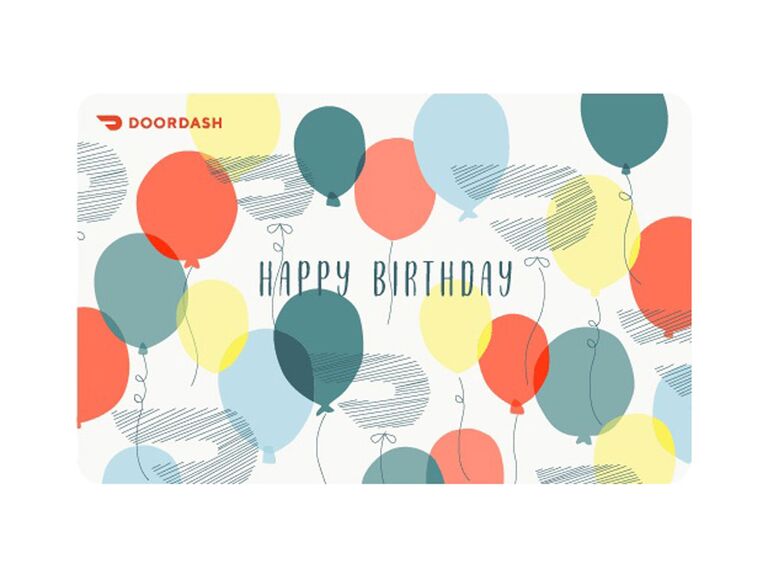 How about a virtual dinner date on you to celebrate their birthday? Send them a DoorDash gift card so they can order their favorite take-out then pop on FaceTime to talk about the day. Bonus points if you order yourself something similar to pretend you're sharing a table.
Birth Flower Pendant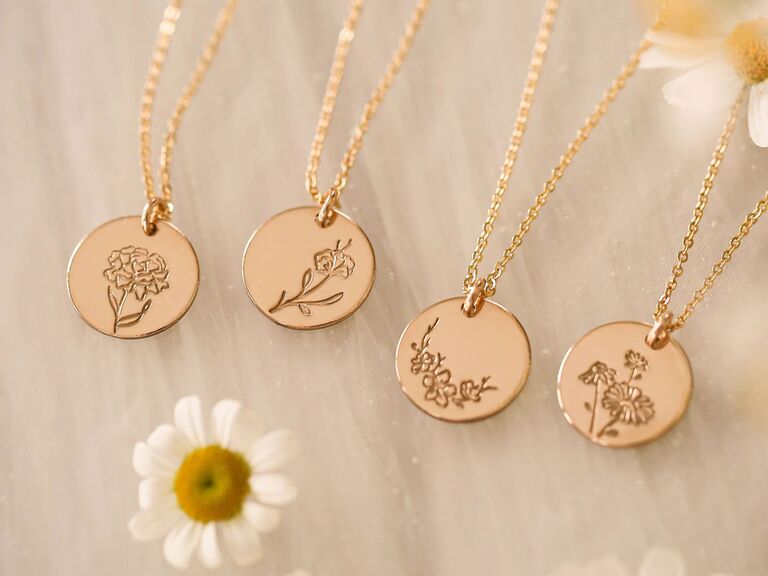 Everyday jewelry is always a sweet long-distance relationship gift because your S.O. can wear it daily as a reminder of your love. This necklace is an especially fitting birthday present, since its pretty gold, silver or rose gold-filled pendant is stamped with their birth flower. For extra romance, you can add a second charm with your own birth flower, too.
Mini Cupcakes Gift Box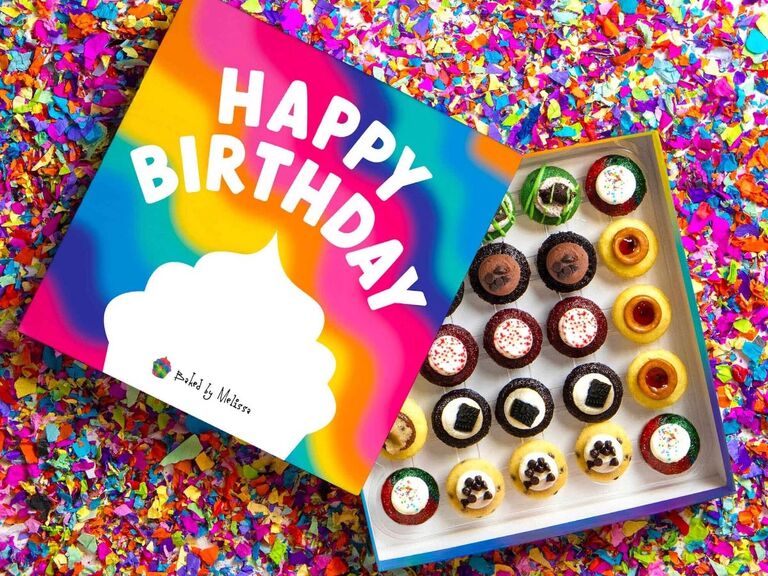 Still stumped on what to get for a long-distance birthday gift? There's nothing more festive (and yummy) than this colorful mini cupcake delivery! Choose from any of Baked By Melissa's cupcake flavor assortments and surprise your S.O. with 25 delicious confections. Yum!
Long-Distance Anniversary Gifts
It's hard being away from your partner on your anniversary, but these sentimental gifts will help close the distance on your special day.
Custom Map Art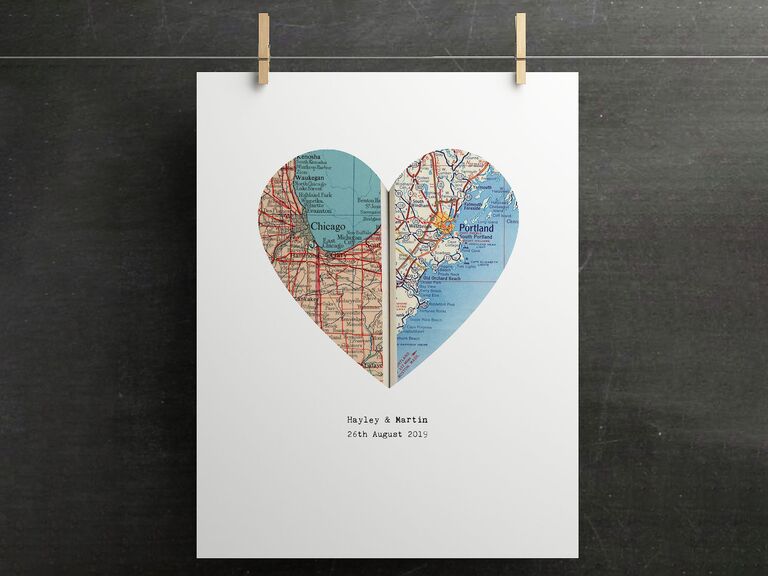 Even miles apart, you're two halves of a whole. Pay homage to the places you're both currently located in the form of this creative map art. Each half of the heart displays the map of a different location and your names and anniversary date are featured underneath. Note: The print comes unframed so make sure to add a border once you get it in the mail.
Sleek Dual-Time Watch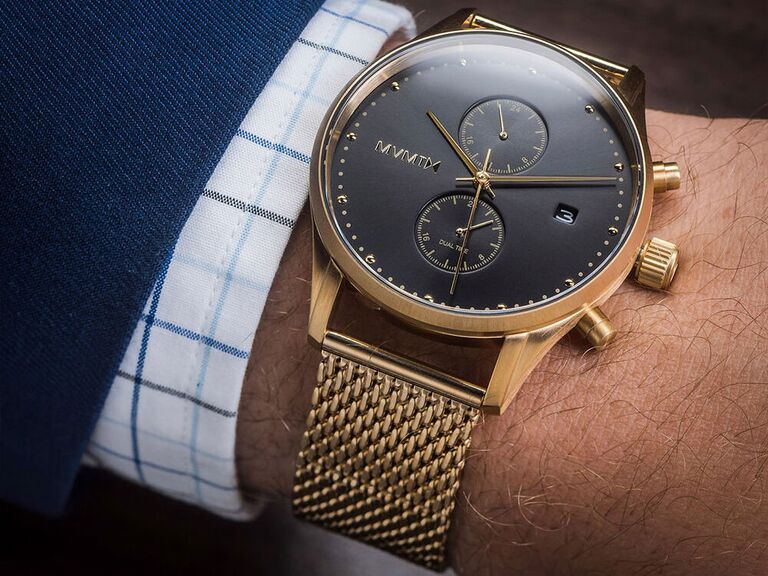 Watches are a wonderful anniversary gift, as they represent all of the wonderful times you've spent together (get it?). Save your S.O. from doing any time zone math before they call by gifting them this classic watch, which features dual faces that can be programmed to separate time zones as well as a sleek main face.
Custom Embroidered Sweatshirts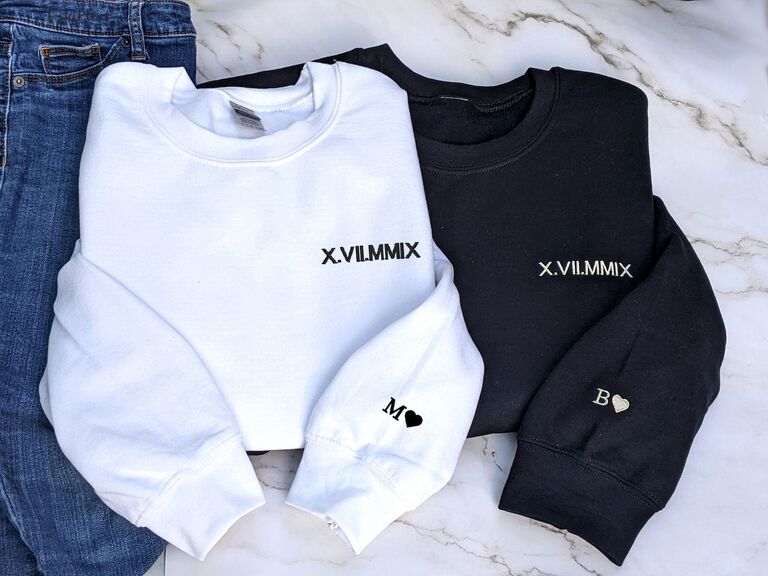 Here's a super cute (and cozy) gift for long-distance couples celebrating their anniversary. These matching sweatshirts are custom embroidered with your anniversary date and each other's initials. They'll be a cozy 'fit to throw on for your next video call.
Thoughtful DIY Scrapbook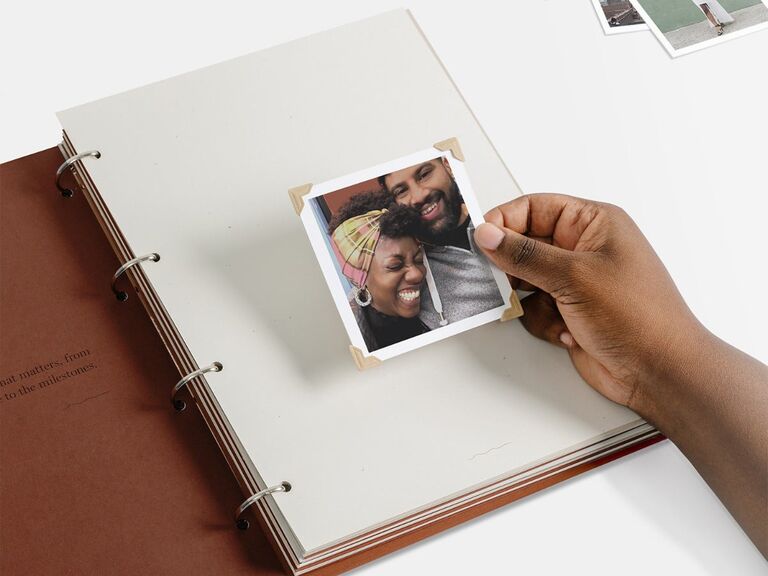 Anniversaries are a great time to look back on all of the wonderful moments from your relationship in the past year—or longer. So, get creative and spend your time apart making a scrapbook of your favorite memories together. (And make sure to leave some space for all of the things you're going to do when you're reunited!) Your S.O. will love this meaningful, unique and heartfully homemade present. Don't worry, you don't have to be too artsy to put it together. This album provides prompts and photo placements to guide you.
Super-Soft Throw Blanket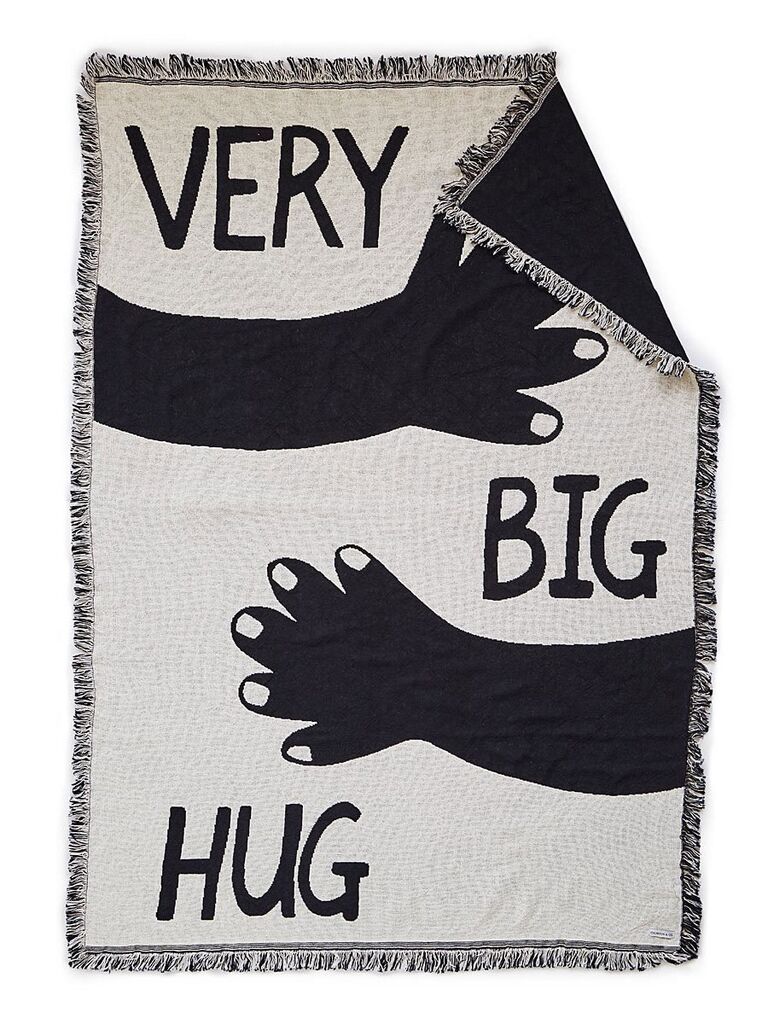 This cozy throw blanket will give your S.O. a loving embrace whenever you're not around. It's made from 100% cotton and woven to read "very big hug" with two open arms. They'll love snuggling into this blanket on your anniversary when you can't cuddle in-person.
Couple's Card Game Deck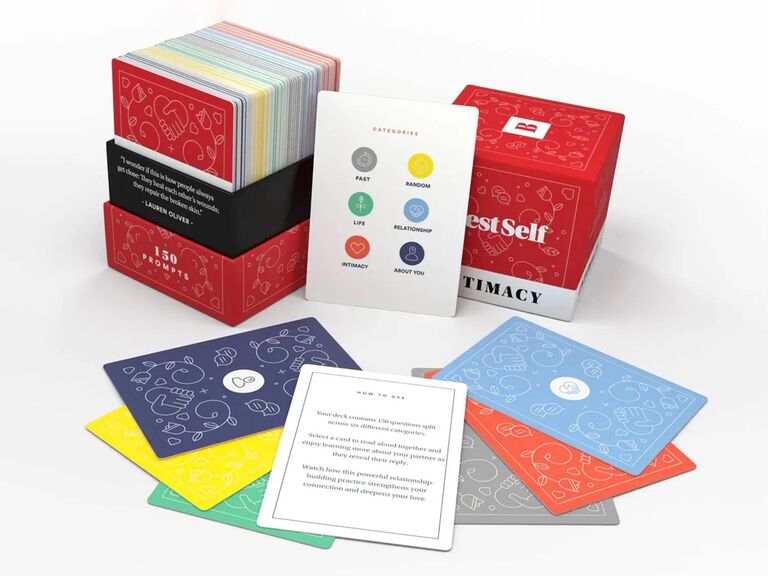 Don't let your nightly FaceTime conversations go stale! This card game lets you grow closer even when you're far apart. Each card inspires intimacy and connection with prompts to dive deeper into your interests, values and relationship. It'll be a fun way to start another year together even stronger.
Heart and Home Necklace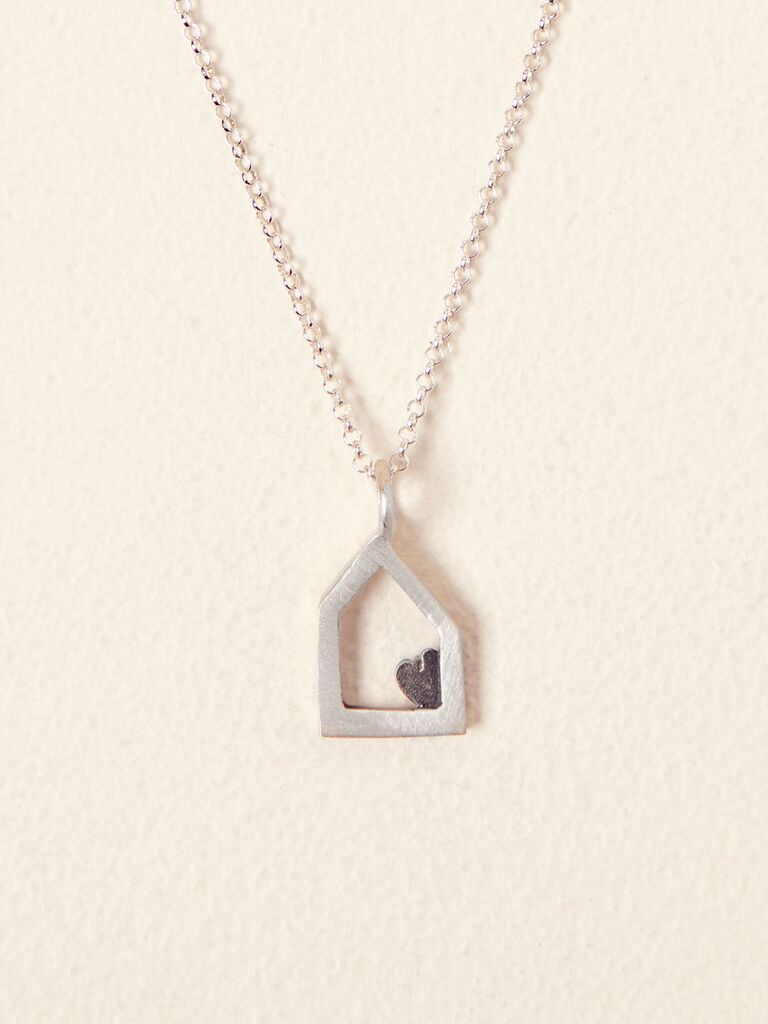 They say home is where the heart is, but we know that doesn't always feel like the case when your love is far away. Remind your S.O. that they'll always have a home in your heart with this symbolic necklace. It features a small, sterling silver house with a smaller heart inside, so they'll think of your warmth every time they wear it.
Long Distance Relationship Picture Frame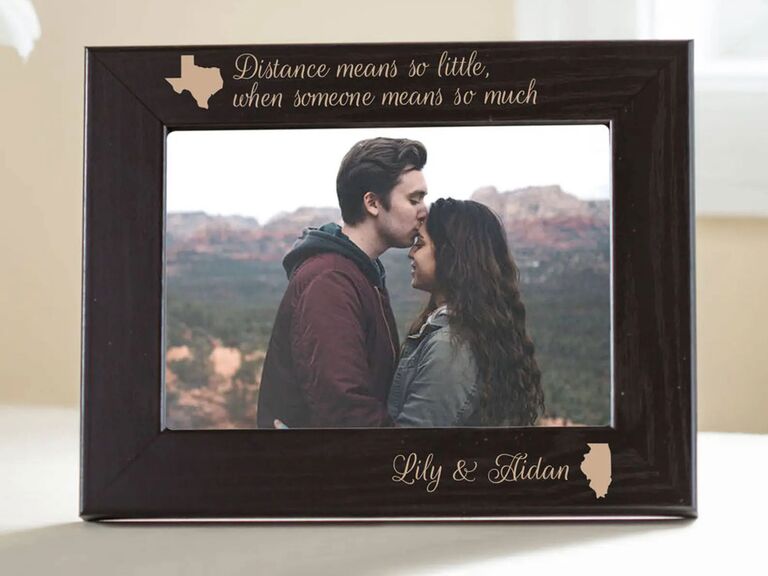 If you're looking for a classically romantic long-distance relationship gift, you can't go wrong with a picture of the two of you—especially when it's in this charming, rustic frame. The black wood is engraved with the image of each of your states, both of your names and the phrase, "Distance means so little when someone means so much." Aww!
Long-Distance Gifts for Any Occasion
Whether you're shopping for a holiday gift or a "just because" present, one of these long-distance gift ideas for him, her or them will be a great way to surprise your S.O.
"Open When" Letters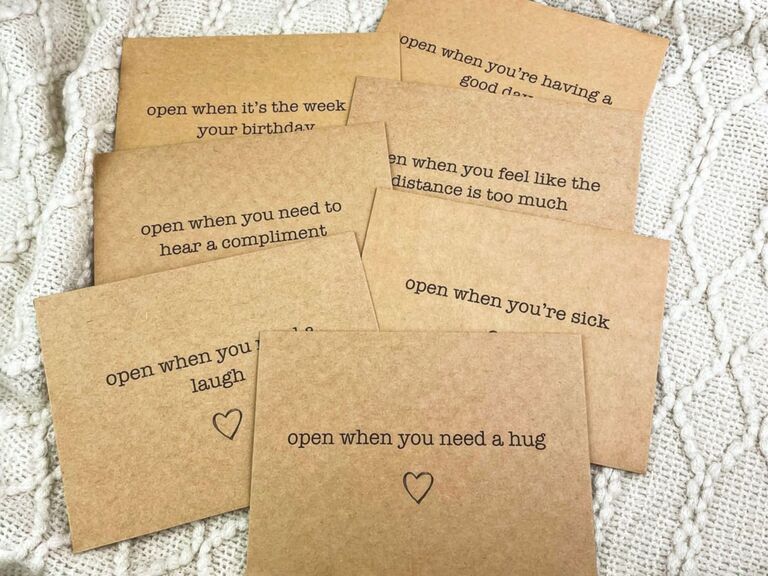 If you're really stumped on long-distance relationship gift ideas, nothing beats a hand-written letter, especially when it's tailored to any kind of occasion. These DIY "open when" envelopes come with note cards for you to write sweet messages to your partner for different moments like when they feel lonely or when they need a laugh.
Colorful Touch Lamp
Let them know you're thinking of them with a romantic, colorful touch lamp. The lamp's clever tech is a game-changer for long-distance relationships. A single tap to one lamp will light up both, whether you're on opposite sides of the city or opposite sides of the world. You can even assign different meanings to each hue.
Cozy Weighted Blanket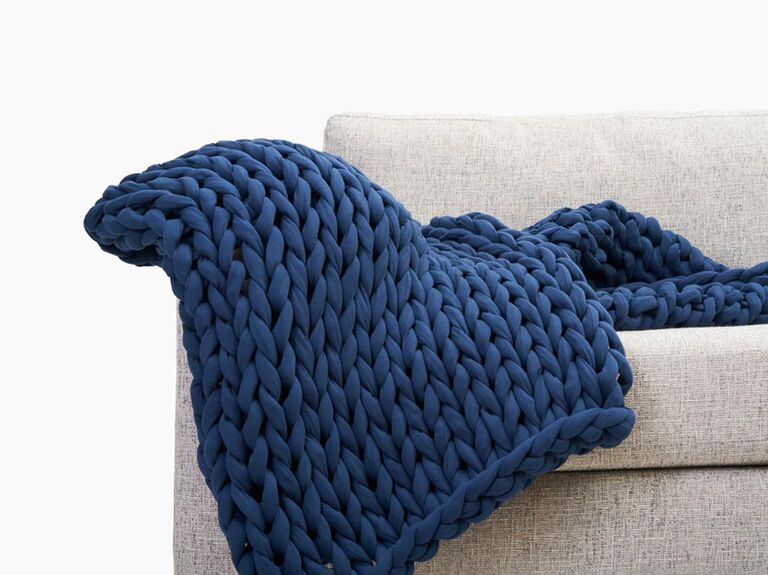 If they're finding nights without you a little (okay, a lot) less cozy, send them this weighted blanket to keep them warm while you're away. This therapeutic throw is designed to improve sleep and reduce stress, so they'll be well-rested for your next visit.
Custom Keychain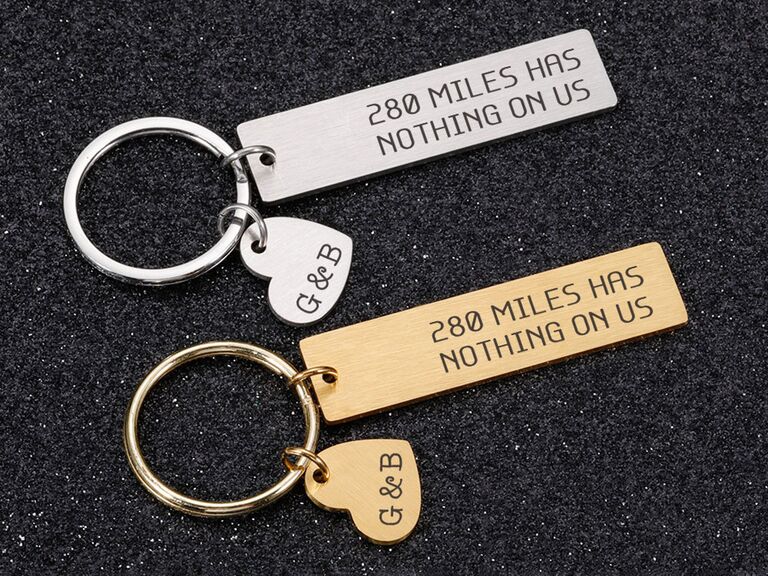 If you're looking for a small token of your love to gift to your boo just because, check out this adorable keychain. One charm reads "[number of] miles has nothing on us" while a second heart-shaped charm has your initials. They can hook it up to their keys so they see the sweet reminder of your relationship every day.
Fill-In-The-Blank Book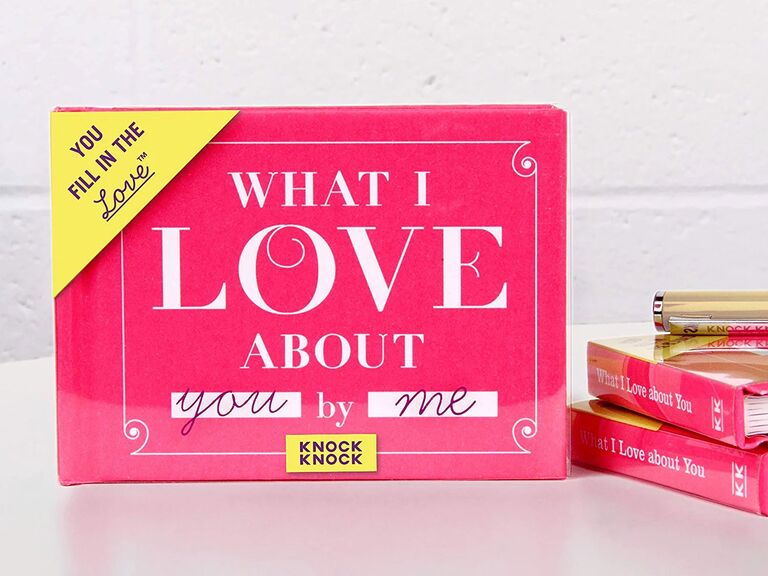 Sometimes your partner needs a little reminder as to why you choose them. This fill-in-the-blank book offers over 100 prompts to help you express just how much you love them. Whenever they're feeling down, they can flip through the pages and smile.
Digital Photo Frame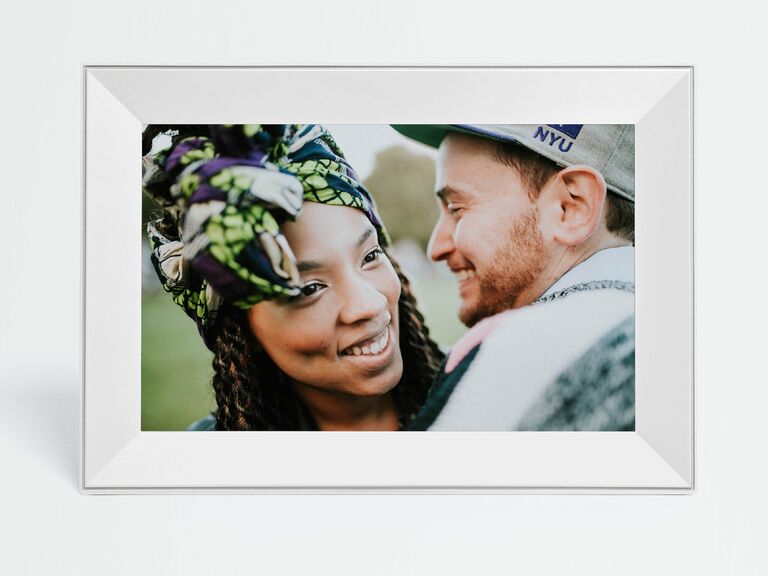 Picture frames make for good long-distance gifts, especially if it'll be a while before you see each other in person. Take it up a notch by opting for this digital version. Upload all of your favorite photos together to play like a slideshow on the frame, so you won't have to choose just one image. You can even keep uploading photos after handing it over, too, as you make more memories together.
Comfy Neck Pillow
Travel accessories make good gifts for long-distance relationships since you're probably flying often. The next time your boo comes to visit, send them home with this ergonomic neck pillow. It's made from supportive memory foam with adjustable velcro straps and a 360° design for total support and comfort. Plus, it can compress to 60% of its size so it's easy to pack. Now they can feel well-rested and ready for fun when they get off the plane and into your arms.
Customized Care Package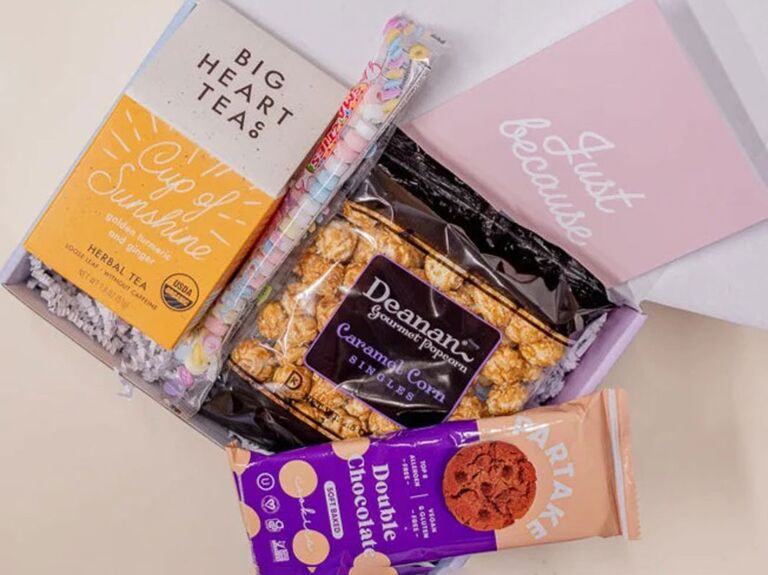 A care package of your boyfriend or girlfriend's favorite things is a great way to show them you love and miss them. While you could go to the store to pick out small gifts, then wrap and mail them yourself, HappyBox makes the gesture a lot simpler. You can select from dozens of snacks (including sugary treats), candles, apparel, drink mixes and more, then personalize a card that's even handwritten for you. Easy-peasy!