27 Long-Distance Relationship Gifts That (Literally) Go the Extra Mile
Find the perfect present to show your S.O. just how much they mean to you.
We have included third party products to help you navigate and enjoy life's biggest moments. Purchases made through links on this page may earn us a commission.
If you're separated from your sweetheart right now, you're certainly not alone. But chin up! There are lots of ways to show each other you care from any corner of the world. We're sharing our top gifts for long-distance couples to help you feel just a little bit closer.
There are lots of reasons to shower your partner with presents, be it for their birthday, the holidays, Valentine's Day or even just because. If you're running out of ideas on how to surprise them from afar, don't worry! We've got picks for every style, budget and occasion. From high-tech touch lamps to cozy weighted blankets, here are the best gifts for long-distance couples you can shop online. Whether your S.O. lives on the other side of the state or in an entirely different country, these long-distance relationship gifts are sure to make them feel loved.
1. Unique Messenger Box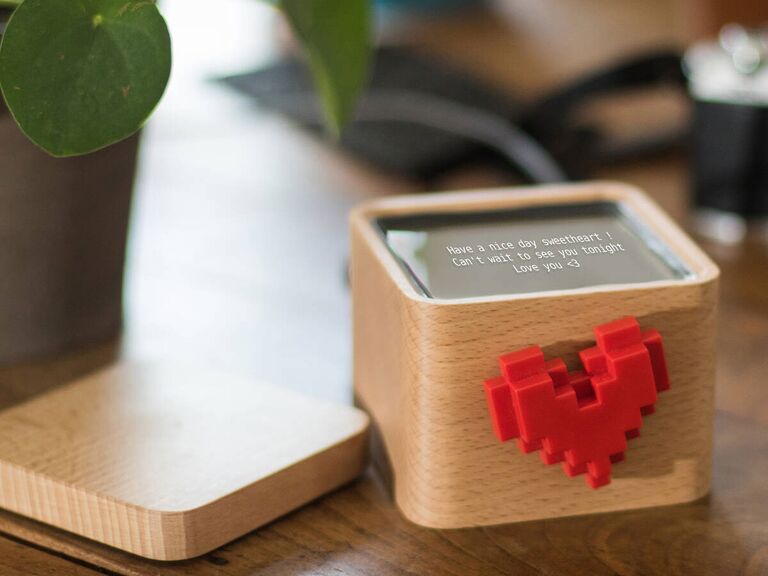 Whether you're looking for a long-distance Valentine's gift or your anniversary's coming up, we've got the present for you. This sentimental messaging device will let you send love notes from anywhere in the world. They'll be delivered straight to this chic wooden box, causing the heart on the front to spin.
Marie Poulle and Jean Gregoire Lovebox spinning heart messenger, from $100, UncommonGoods.com
2. Super-Soft Throw Blanket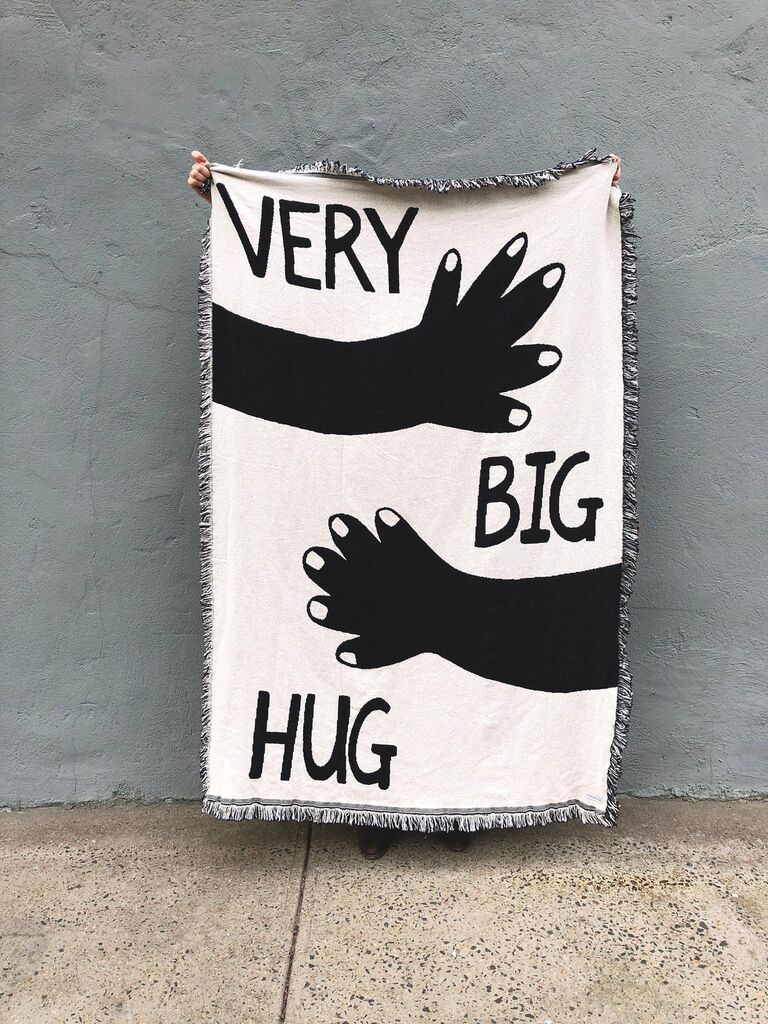 How many times have you wished you could just send them a hug in the mail? Well now you can! Made from 100% cotton, this cozy throw has definitely earned its place on our list of the best long-distance gifts.
Calhoun & Co. Very Big Hug black and white cotton throw blanket, $118, Etsy.com
3. Light-Up Touch Bracelets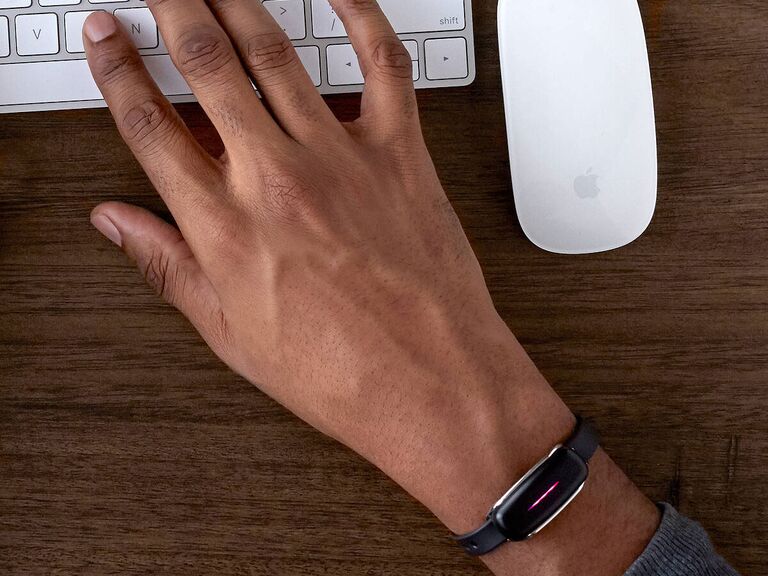 Long-distance touch gifts give a whole new meaning to staying connected. This set of sleek bracelets will help you and your partner feel closer than ever. Touch your bracelet and your other half's will light up and vibrate.
Uncommon Goods long-distance touch bracelet set, $108 for a set of 2, UncommonGoods.com
4. Useful Wooden Docking Station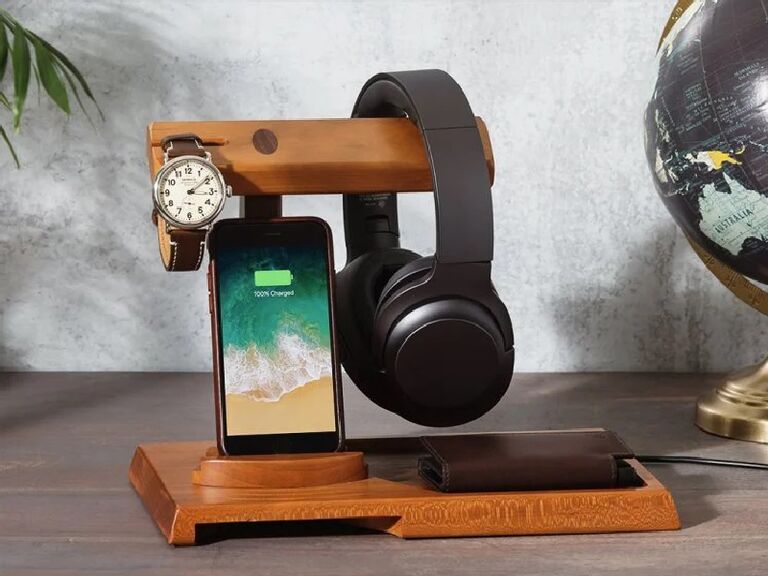 Gifts for your long-distance boyfriend or girlfriend can be practical and still feel special. This handcrafted wooden docking station is the perfect place for your S.O. to keep their phone charged during FaceTime sessions.
ThomasWork wooden valet charging station, $78, TheGrommet.com
5. Tasty Gourmet Coffee Subscription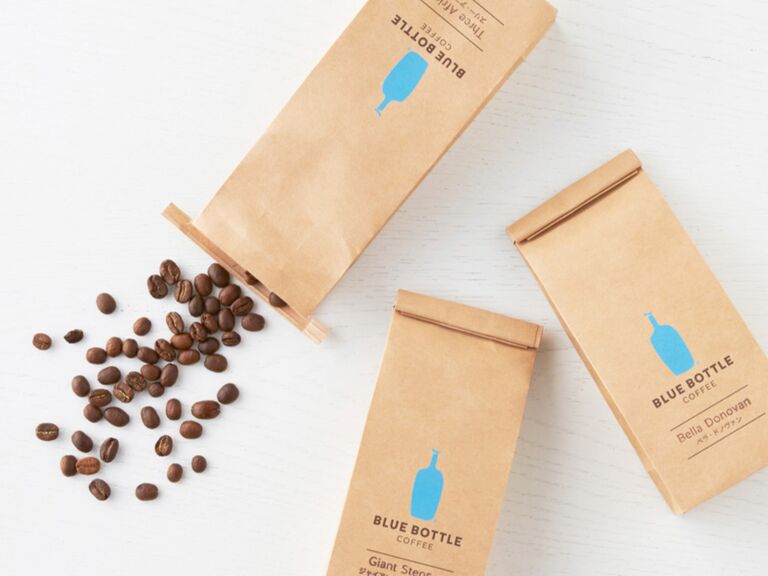 Think outside the box when searching for long-distance gift ideas. If you're in different time zones, you might want to thank them for all those late nights they stayed up talking to you. This affordable coffee subscription service offers a whole range of beans and blends to suit your partner's unique taste.
Blue Bottle Coffee coffee subscription, from $11 per shipment, BlueBottleCoffee.com
6. Meaningful Montage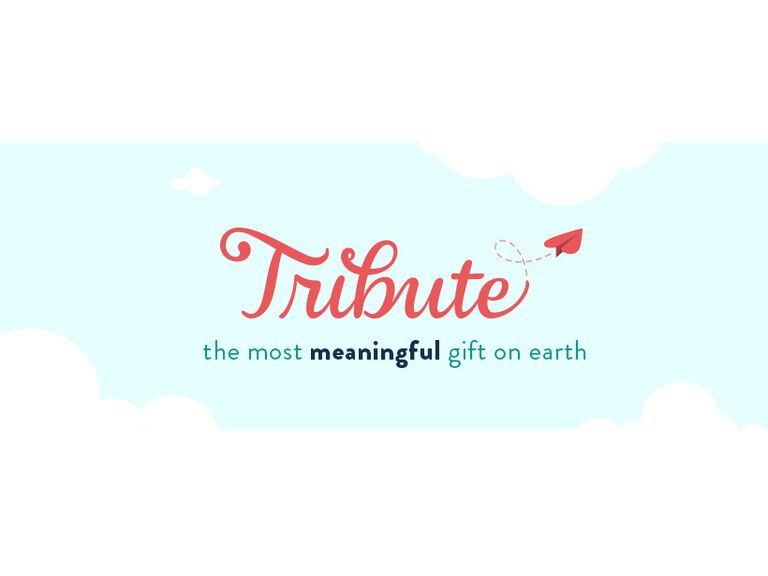 Shower them in love with a collaborative video from their nearest and dearest. This awesome service lets you make a thoughtful montage in three easy steps. First, invite friends and family via email. They'll then be able to submit fun and heartfelt vids (with some helpful prompts to get the ball rolling). Finally, you can edit and reorder the films to create your masterpiece. For an extra-special touch, gift it as a cute bamboo USB or sleek video card.
Tribute collaborative video montage, from $25, Tribute.co
7. Wallet With a Secret Message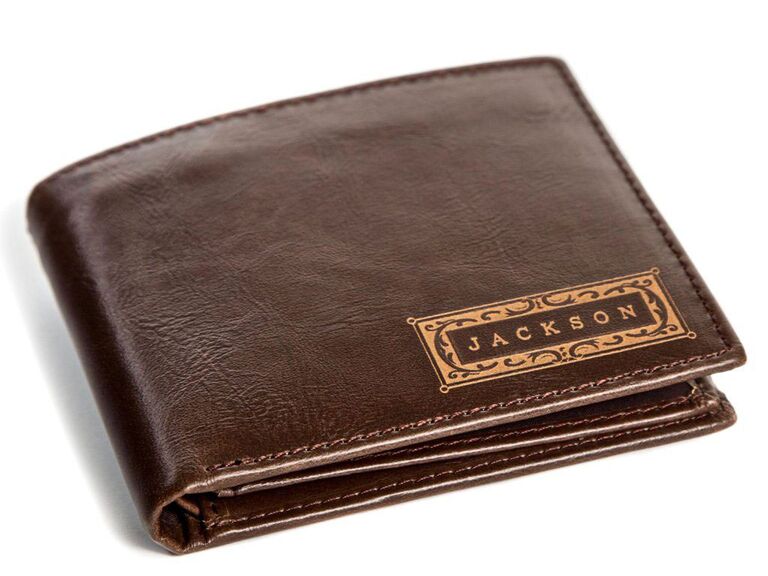 Wallets are often a popular present, and this one takes it a step further. The front can be personalized with your S.O.'s first or last name, and inside there's space to include your very own personal message. Every time your other half opens their wallet, they'll be reminded of how much you care about them. It's an excellent long-distance relationship gift for the person you love.
Swanky Badger classic personalized wallet, from $40, SwankyBadger.com
8. Romantic Coordinate Necklace
Jewelry is always a popular choice, and that doesn't change when it comes to long-distance relationship gifts for her. Make it even more special by choosing something with your coordinates on it so she can keep them close to her heart.
BYNCR'S Jewelry coordinate bar necklace gift, from $169, Etsy.com
9. Chic Touch Lamps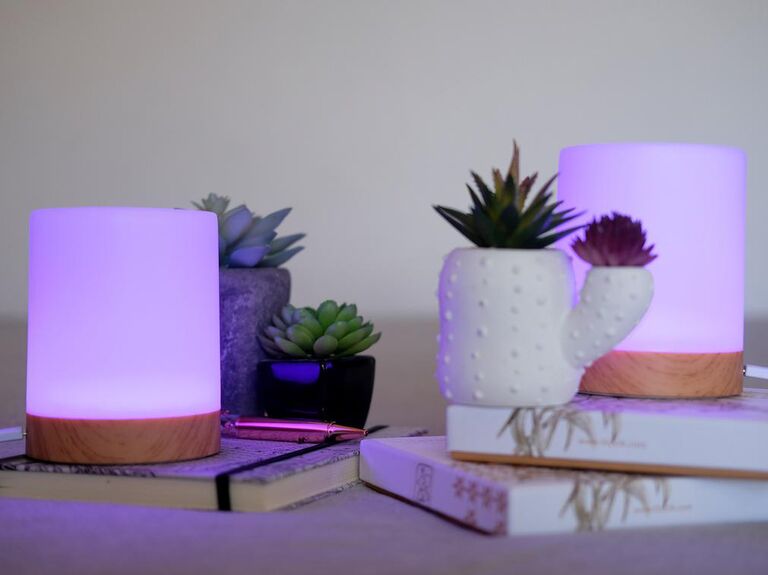 Let them know you're thinking of them with a set of romantic touch lamps. This clever tech is a game changer for long-distance relationships. A single tap to one lamp will light up both, whether you're on opposite sides of the city or opposite sides of the world.
Friendship Lamps long distance friendship lamps, $190 for a set of 2, Etsy.com
10. Heartfelt "Open When" Letters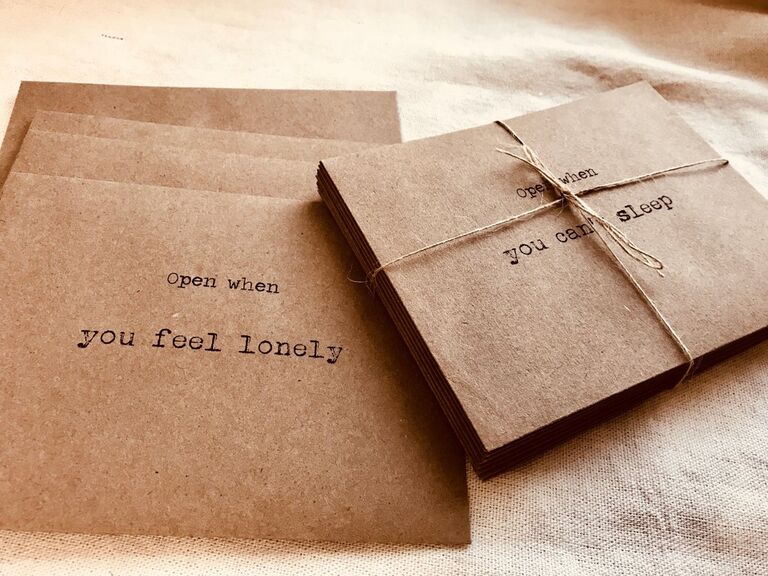 If you're really stumped on long-distance relationship gift ideas, consider giving something straight from the heart. These DIY "open when" envelopes come with note cards for you to write sweet messages to your partner.
Peony & Laces long distance relationship envelopes and note cards, from $15, Etsy.com
11. Secret Message Bracelet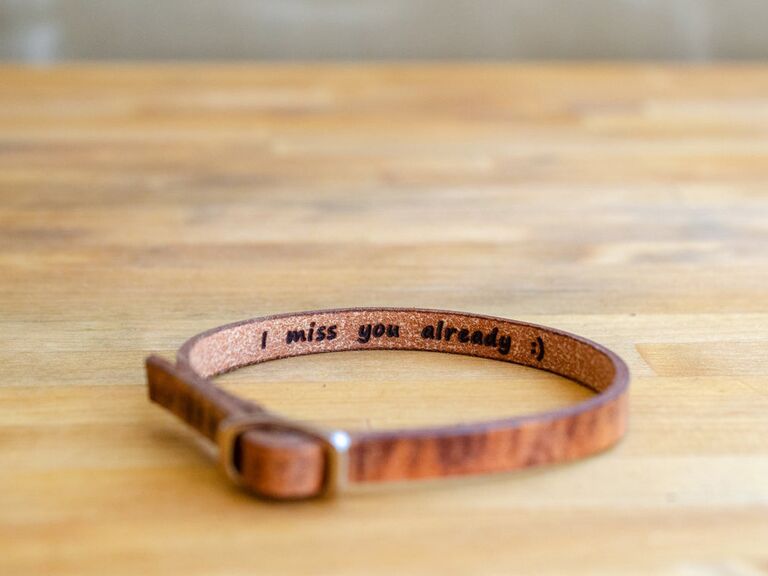 If your partner is into accessorizing, why not add to their collection with a minimalist leather bracelet? Have it personalized with your very own secret message they can peek at whenever they feel like being closer to you. This one would make a thoughtful birthday gift for your long-distance boyfriend, girlfriend or really, any S.O.
Porter & Hazel I Miss You Already secret message leather bracelet, $19, Etsy.com
12. Custom Map Art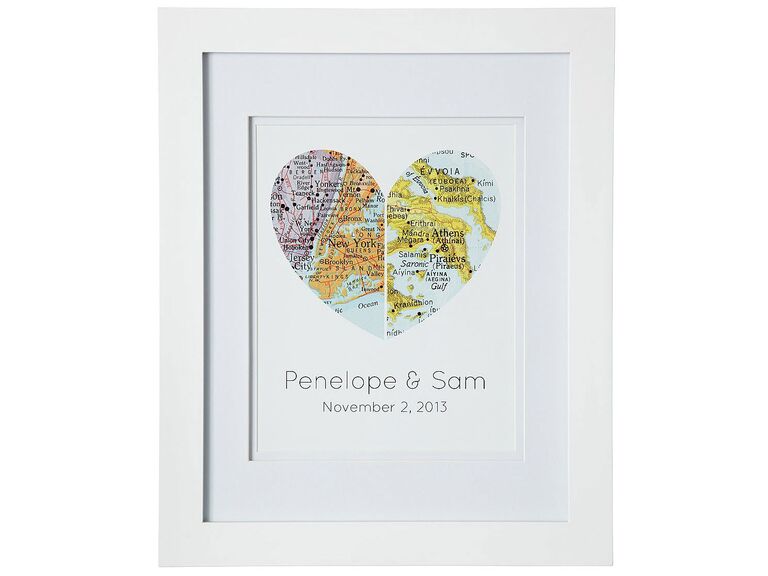 Whether you're in a long-distance relationship or you're shopping for a couple who is, this meaningful print is a perfect tribute. Pay homage to the places you're both from (or where you're both currently located) in the form of this creative map art. Each half of the heart displays the map of a different location. The print comes ready to display in a white or black frame.
Melissa Schwall Map of Our Hearts art print, $130, UncommonGoods.com
13. Digital Photo Frame
Picture frames make for good long-distance gifts, especially if it'll be a while before you see each other in person. Take it up a notch by opting for the digital version. This service lets you upload all your favorite photos together before sending the frame to your partner.
Aura Frames Carver digital photo frame, $199, AuraFrames.com
14. Fingerprint Cuff Links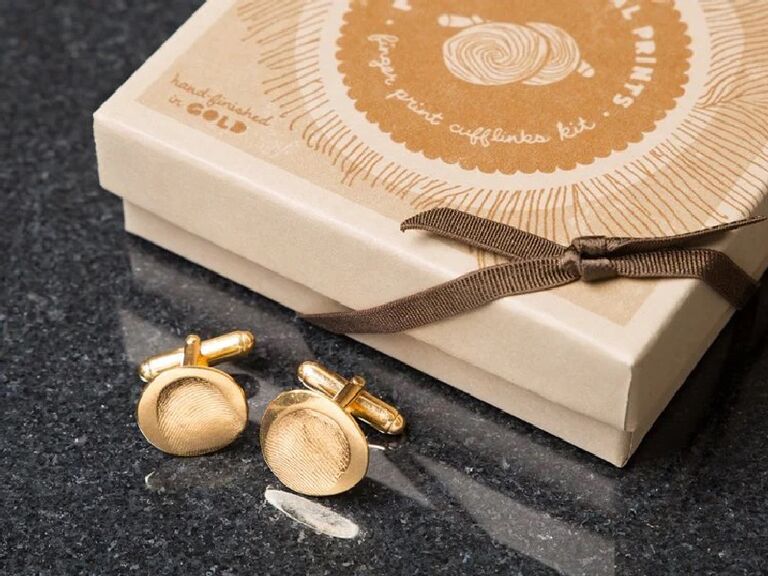 If your guy likes to get dressed up, consider long-distance gifts for him and his closet. These sentimental cuff links come crafted with an impression of your finger print, so he can have a part of you with him wherever he goes.
Precious Metal Prints fingerprint cuff links, from $140, TheGrommet.com
15. Cozy Weighted Blanket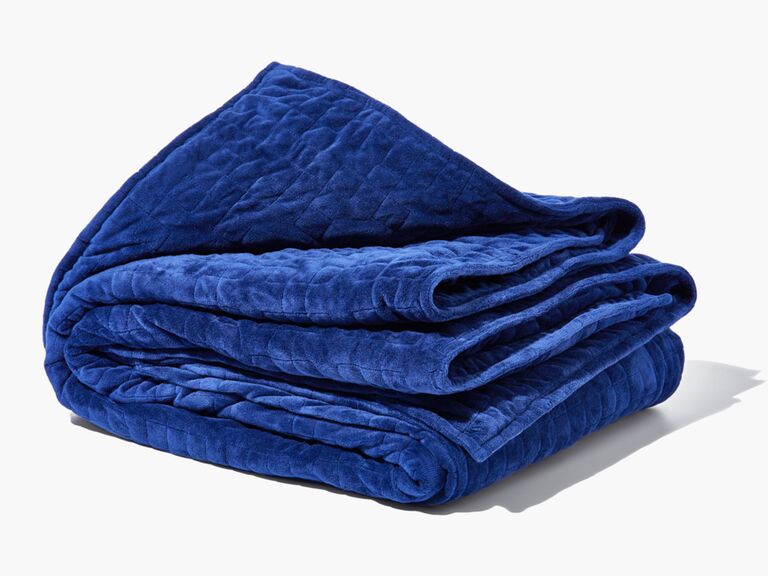 If they're finding nights without you a little (okay, a lot) less cozy, they'll welcome a snug weighted blanket to keep them warm. This therapeutic throw is designed to improve sleep and reduce stress.
Gravity Gravity blanket, from $215, GravityBlankets.com
16. Snuggly Giant Teddy Bear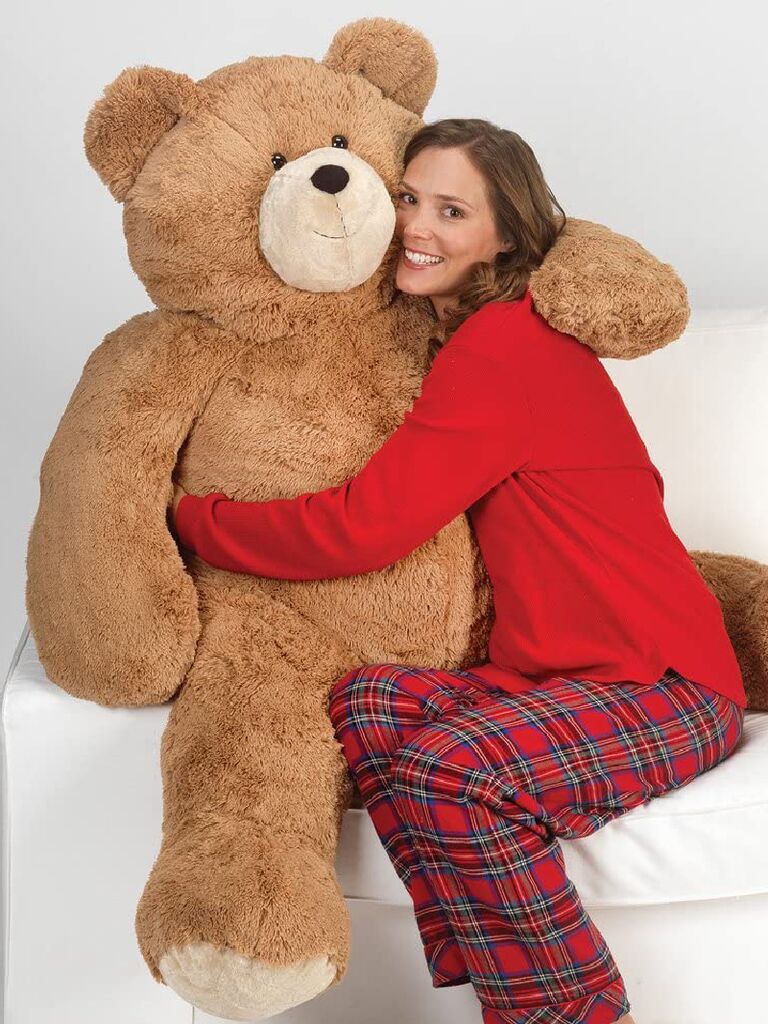 If weighted blankets aren't your partner's cup of tea, we've got lots of other long-distance relationship gifts for them to cuddle up with. Send a giant teddy bear to keep your S.O. company until your next rendezvous.
Vermont Teddy Bear 4 foot giant teddy bear, $91, Amazon.com
17. Sentimental Art Print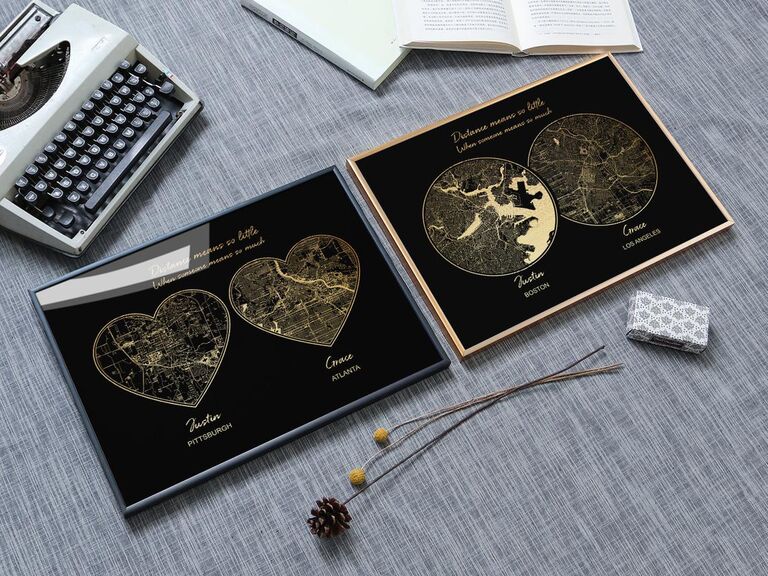 Stuck on meaningful long-distance relationship gift ideas for your other half? Have your cities printed side by side with this tear-jerking message: "Distance means so little when someone means so much."
23 maps long distance relationship gift for boyfriend, from $14 for a digital file, Etsy.com
18. Meaningful Birth Flower Pendant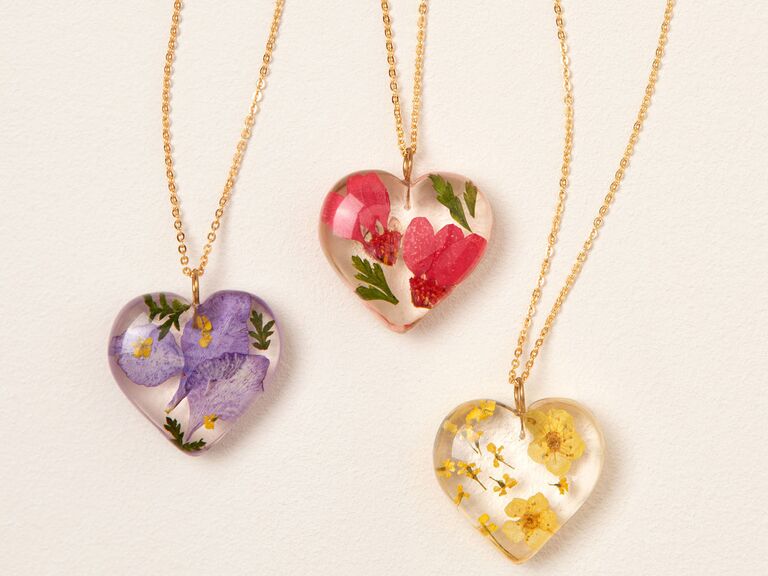 This pretty pendant is symbolic for more than one reason. For starters, you can choose one that includes your other half's birth flower (that's the flower associated with their birth month). Secondly, it's in the shape of a heart, and everyone knows hearts are super romantic. Everyday jewelry is a sweet long-distance relationship gift because your S.O. can wear it as a reminder of your love.
Tulianna and Alejandra Garces birth month flower heart necklace, $48 each, UncommonGoods.com
19. Thoughtful DIY Scrapbook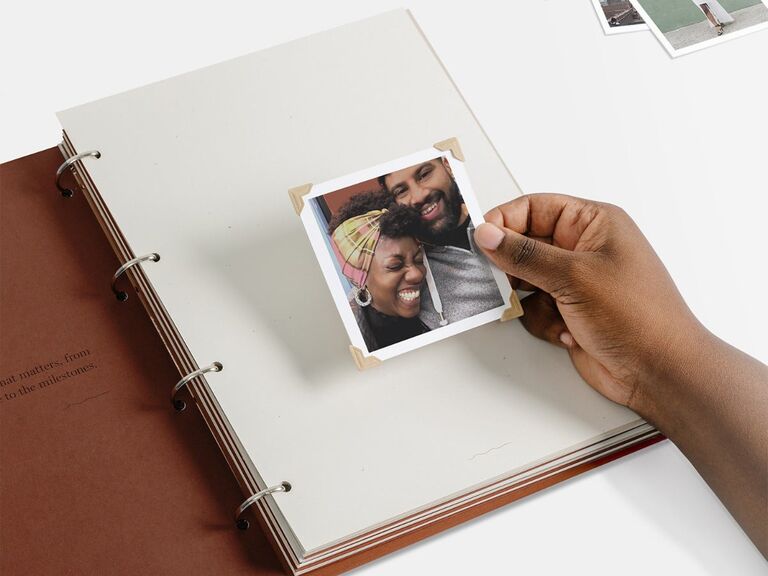 The possibilities are endless when it comes to gifts for long-distance couples. Get creative and spend your time apart making a scrapbook of your favorite memories together. (And make sure to leave some space for all the things you're going to do when you're reunited!) Your S.O. will love this meaningful, unique and heartfully homemade present.
Artifact Uprising The Stories We Tell scrapbook album, from $119, ArtifactUprising.com
20. Ultra-Stylish Weekender Bag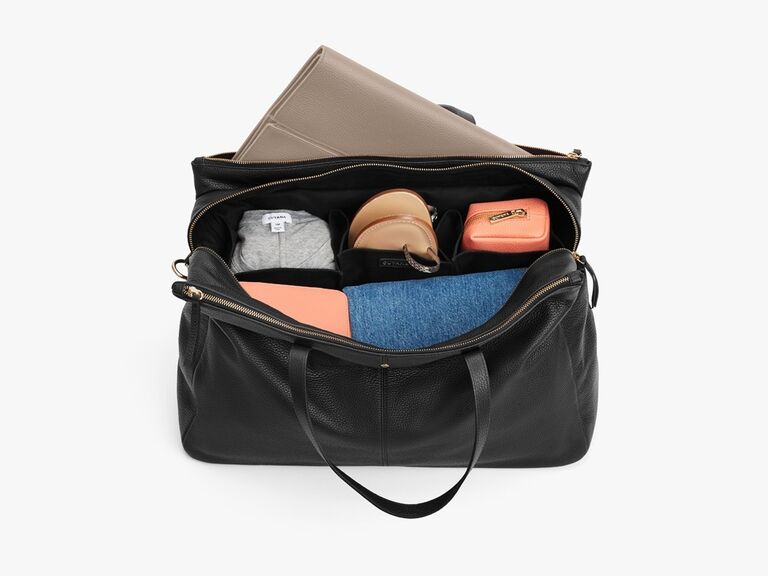 Why not choose a long-distance relationship gift for her to use the next time she comes to visit? This stylish bag will fit all her essentials in three convenient compartments (fashionable and functional!).
Cuyana leather triple zipper weekender, $395, Cuyana.com
21. Fun Birthday Care Package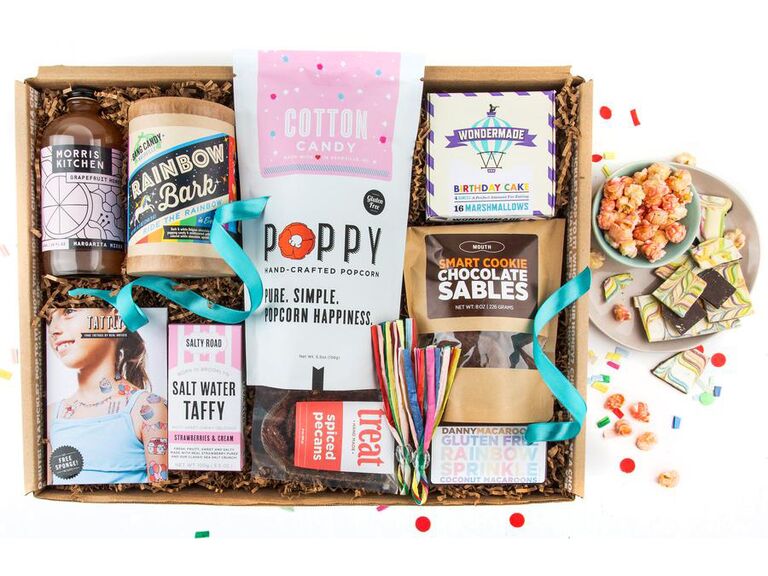 If you're on the hunt for long-distance birthday gifts, look no further. This care package is filled with colorful sweet treats to brighten their day. Who doesn't wanrt to wake up to rainbow confetti macaroons on their birthday?
Mouth Birthday in a Box, from $70, Mouth.com
22. Adorable Kissing Mugs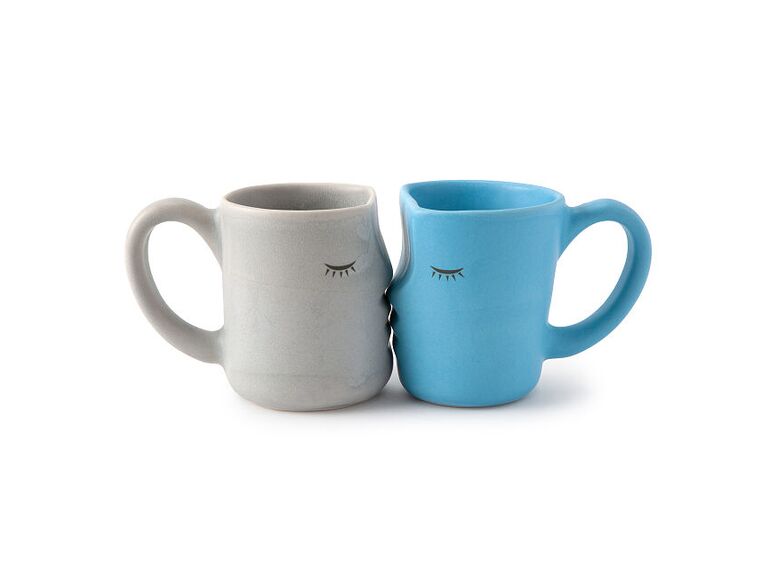 This set of kissing mugs is one of our favorite gifts for long-distance couples. They're just so cute! Give your S.O. one the next time you see each other (or pop it in the mail for a fun surprise). Whenever you're reunited, your mugs will be too.
Uncommon Goods The Kissing Mugs, $65, UncommonGoods.com
23. Gorgeous Preserved Roses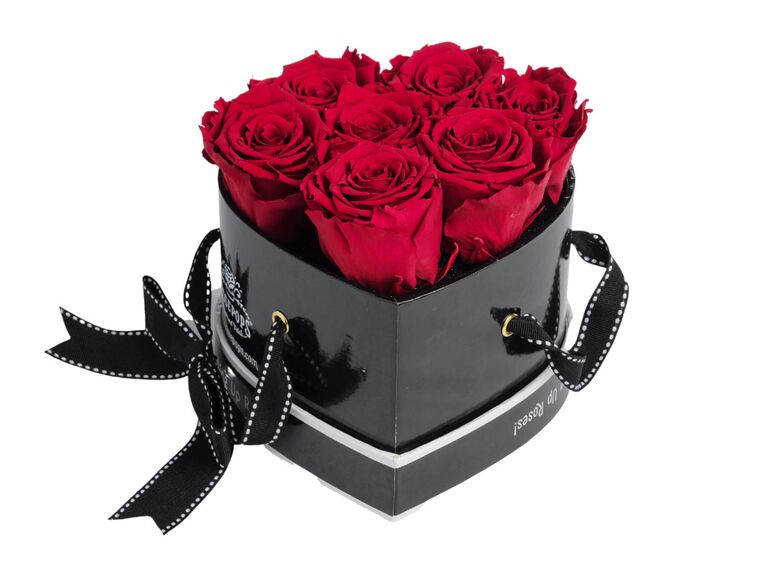 The best long-distance gifts are the ones that'll last until the next time you see each other. That said, you might have thought flowers were out of the running—think again! These gorgeous preserved roses will keep their beauty and freshness for months. (And the chic, heart-shaped box doesn't hurt either.)
Rosepops The Heart-to-Heart Black Midi But Mighty, $130, Rosepops.com
24. Cute Custom Keychain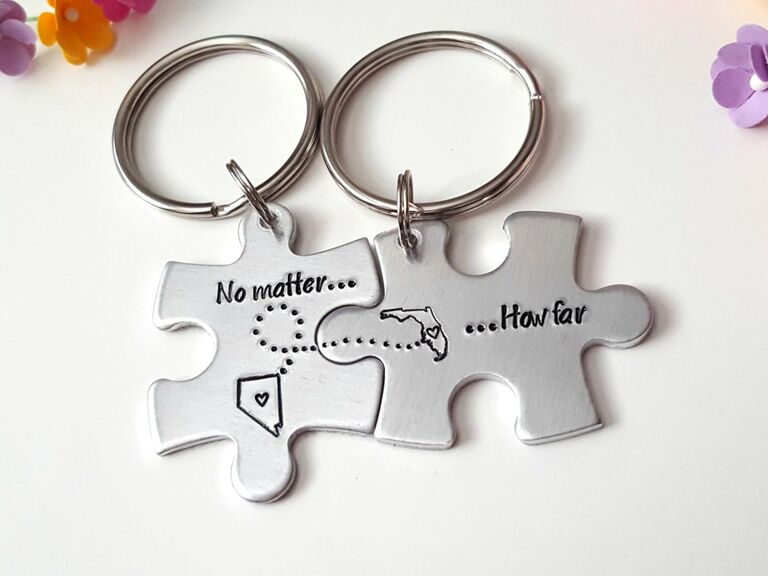 Cute long-distance relationship gifts can be totally affordable. These puzzle piece-shaped keychains are a perfect fit when they're together—just like you and your other half.
Cali Girl Customs long distance relationship puzzle piece keychain, $22 for a set of 2, Etsy.com
25. Ultra-Modern Carry-On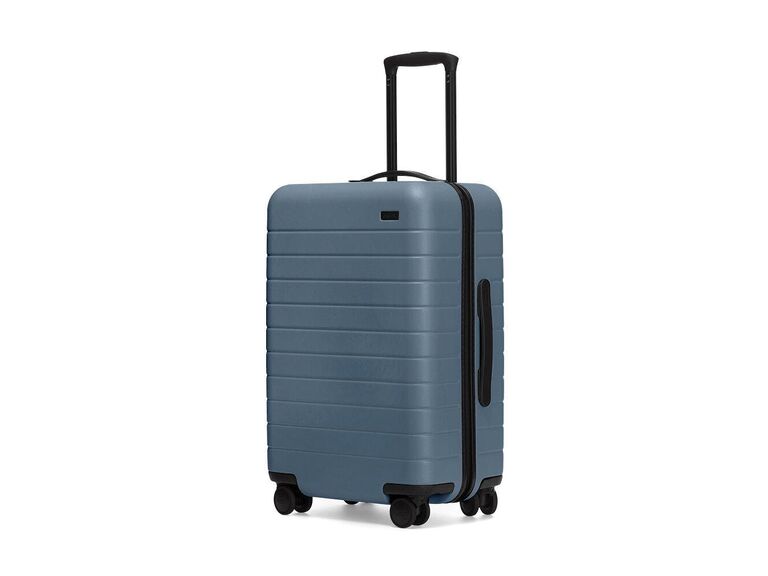 Luggage and travel accessories always make good gifts for long-distance relationships, and this stylish suitcase has plenty of room for all their necessities. We suggest going for the one with a built-in battery so they can keep their phone charged on long journeys.
Away The Bigger Carry-On, $245, Away.com
26. Sleek Dual-Time Watch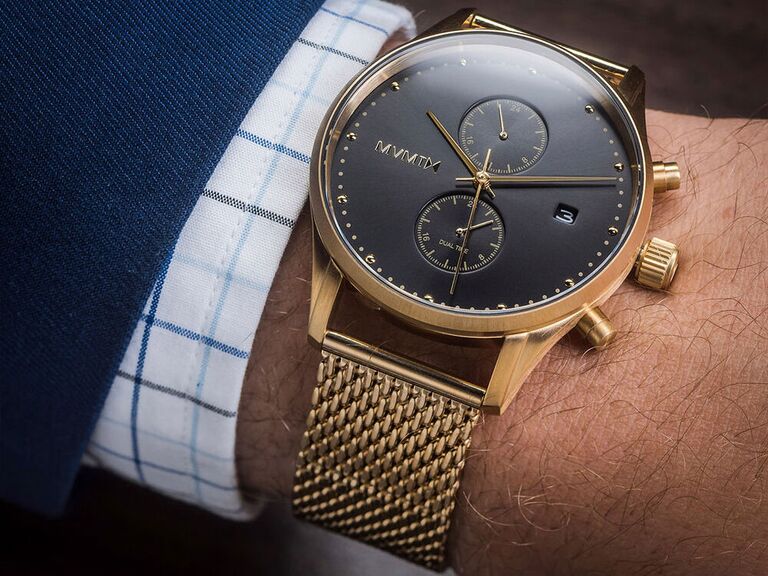 Some of the best long-distance relationship gifts are the most useful. If your guy ever gets confused tracking two different time zones, surprise him with this ultra-trendy watch featuring dual time.
MVMT Voyager Eclipse 42mm, $158, MVMT.com
27. Keepsake Scented Candle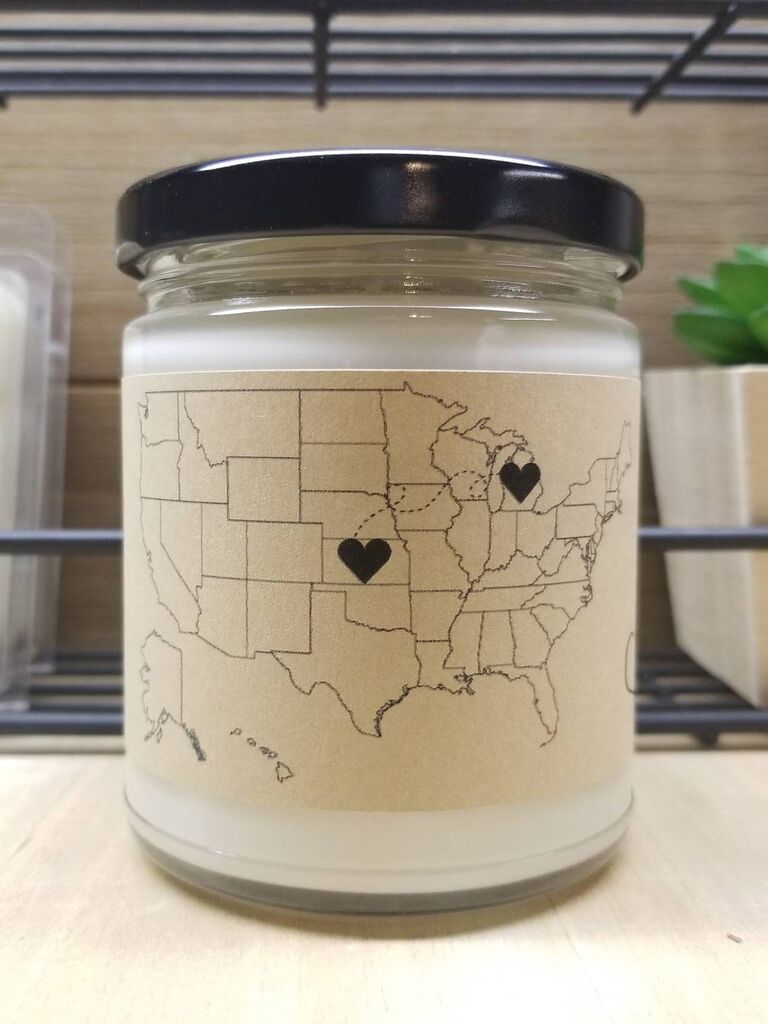 You can't go wrong with a gift that smells as sweet as it is sentimental. Have your states connected by two adorable hearts on the sleeve of this romantic candle. Long-distance gifts have never been so cute!
The Southern Flame long distance relationship gift, from $23, Etsy.com