How the COVID Vaccine Will Change Dating in 2021, According to Experts
Being a vaccinated dater is one of the biggest flexes this year.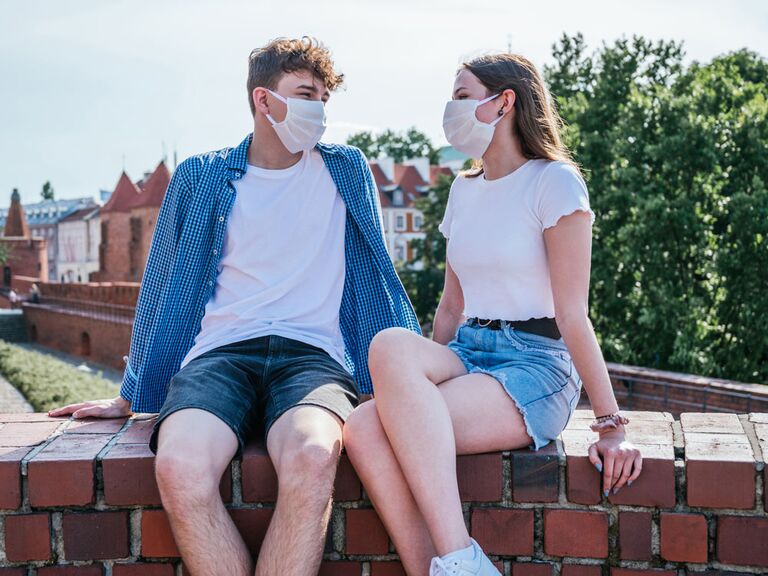 Irving Sandoval/Shutterstock.com
The latest dating icebreaker doesn't revolve around food, music or the weather—in 2021, it's all about the coronavirus vaccine. As the vaccination program rolls out across the US, one thing is clear: the COVID vaccine will change the way people date going forward. Just like the pandemic reshaped the future of weddings, it has also impacted the way people establish relationships. As the pandemic continues, it's important to bond over shared values like getting vaccinated, wearing masks and social distancing. 

Read Next on The Knot
Dating During COVID-19 May Lead to Stronger Relationships

Read Next
Dating During COVID-19 May Lead to Stronger Relationships
Dating experienced a seismic shift in 2020. Amid strict gathering laws and healthcare precautions, more people turned to phone calls and video chats to find connections. Now, even as more people get vaccinated and restrictions slowly begin to lift, the pandemic will continue to change the way people meet and fall in love. In fact, experts predict that the COVID vaccine will have an obvious lasting effect on dating. 

Read Next on The Knot
Dating During COVID-19 May Lead to Stronger Relationships

Read Next
Dating During COVID-19 May Lead to Stronger Relationships
Dating app trends indicate the vaccine is top of mind for users. "We've seen a steady increase in the number of people who included the word 'vaccine' or 'vaccinate' in their Bumble profiles after the first COVID-19 vaccines were administered in December," a rep for Bumble tells The Knot. Early data from OkCupid tells a similar story. "There was a 137% increase in mentions of 'vaccine' on OkCupid profiles between November 2020 and January 2021," says brand spokesperson Michael Kaye. 
And public support for vaccines appears to lead to dating success. When OkCupid asked their users if they'd be willing to get the vaccine, 70% of respondents answered yes on their profile—that group received 2.3 times more likes and 1.8 times more matches than those who answered no.
So, how does this translate into a new dating environment? These early trend patterns are a telltale sign of what dating will look like in the post-COVID era. We tapped experts to learn how the vaccine will impact dating in 2021. 
The Vaccine Will Promote Healthy Communication
The vaccine will notably change the way people communicate. Early stages of relationships often revolve around light-hearted discussions to get to know the other person. But now, since the vaccine is so closely tied to healthcare, politics and the current climate in the US, daters are more inclined to discuss important topics sooner. "It's best to share your values early in a relationship as a way to measure compatibility," says Dr. Shannon Chavez, Licensed Psychologist and Sex Therapist for K-Y. "It's not always easy to talk about health concerns, but it is essential to have an open line of communication in any relationship. This can deepen a connection by allowing vulnerability and honesty about your needs and desires." 
Honest communication is an essential way to foster a strong emotional connection, and discussing the pandemic may help facilitate this. "Talking about masks and vaccines helps facilitate deeper conversations earlier than you would have had otherwise," says Jordana Abraham, co-host of U Up? dating podcast. "These conversations give you more information about a person than hypothetical questions ever could."
Adds Abraham's co-host Jared Freid, "If you can't get on the same page about masks and vaccines, you might struggle to compromise on other things like kids, finances or moving in together." The ability to communicate about masks and vaccinations can indicate the course of future conversations about values. 
"You can save a lot of time by specifying your boundaries up front," explains Indigo Stray Conger, LMFT, CST. and contributor for Choosing Therapy, an online therapy platform. "This will help you avoid wasting time with people who don't align with your values." 
Emotional Intimacy May Take Priority Over Physical Contact 
Not everyone will feel comfortable getting physical right away this year, especially if a potential partner isn't vaccinated. As long as the pandemic continues to pose health risks, many daters will use caution before becoming physically intimate with a partner. Because of this, there will continue to be a stronger focus on emotional connections, rather than physical touch. 
That's not to say the importance of physical intimacy will subside. In fact, it's one of the biggest reasons daters want to get vaccinated as soon as possible. "With the rollout of the vaccine, singles will likely be excited to return to wider freedoms in dating," says Conger. "While people may be wishing for emotional connection, 'skin hunger' has become a significant problem for isolated people."
Until people feel comfortable getting physical, though, they'll continue to prioritize connecting on a deeper level. And, according to experts, talking about the pandemic and vaccine rollout can help build stronger emotional connections with partners early on. "Going through traumatic experiences like the pandemic can increase vulnerability and social acceptance of these topics," says Chavez. "This makes it easier to open up to potential partners."
It's for this reason that virtual dating isn't going away just yet. While phone calls and video chats may become less popular this year, they still serve as a way to vet potential matches before meeting in person. "Virtual dating has allowed people to see the benefits of getting to know someone without the pressure of physical intimacy," says Abraham. "Some have enjoyed that aspect, and will continue to focus on emotional connections before becoming intimate with someone." 
Emotional intimacy is likely to take top priority until people feel safe enough to open their social circles. Then, after the vaccine is widely administered, more people may prioritize physical intimacy. "The vaccine may provide enough protection so that physical touch is far more accessible," Conger adds. The result will be drastically impactful on mental health (especially for those who identify physical touch as their love language). "More physical touch will create a boost in oxytocin and dopamine, which can potentially reduce the prevalence of anxiety and depression," she says. In other words, daters may feel happier and more satisfied emotionally and physically thanks to the vaccine rollout. 
'Slow Dating' Will Remain a Trend
There's been a steady increase in intentional dating, even before the pandemic began. Trend patterns indicate that single people, especially those on dating apps, are particular about who they talk to. This means they're willing to take their time to get to know someone and evaluate their emotional connection before pursuing something serious. "Prior to the pandemic, we noticed an increase in a trend we've called 'slow dating,'" says Bumble's rep. "More people are taking the time to get to know each other and build a sense of trust and connection before deciding whether they want to pursue the relationship or meet in person." This trend has, unsurprisingly, been accelerated by the pandemic. "Because of lockdowns and quarantines, 55% of Bumble daters are taking longer to move a match offline. Instead of exchanging a few messages and then meeting up for a drink, some people have video dates first and then meet up for a more low-key socially distanced date."
Intentional dating is key for those seeking a serious connection, rather than a fling. Thus, having conversations about the pandemic is one of the best ways for people to date intentionally in 2021. People also tend to want to date others with similar core values, and talking about the vaccine and other pandemic-related issues offers a clear segway into important conversations. 
"There are certain deal breakers that are just non-negotiable for daters, like how seriously people are taking the pandemic," says Kaye. "Daters are looking for matches who are taking the pandemic seriously, who are willing to social distance, wear masks, and be willing to get the vaccine. If you aren't on the same page about this, that may signal that there's a disconnect in priorities."
Daters Will Be Direct About What They Want
The modern dating game can feel like just that: a game. The presence of apps and social media can sometimes make it seem harder to find genuine connections with matches. In the beginning of the pandemic, dating provided a means of escapism. Now, as more people begin to feel comfortable meeting in person again, intentional dating will empower people to be direct about what they want. 
For some, commitment is a top priority. "We're seeing that people don't want to be alone anymore," explains Kaye. "Last year was isolating, and it was hard for some to go through historic moments alone. A lot of people don't want to go through this year without a partner by their side."
Alternatively, some daters may be more excited to re-enter the dating pool, which will manifest in casual relationships. "With the rollout of the vaccine, some people may be excited to get wider freedoms with casual dating and in finding partners to be physically intimate with," says Conger. 
The bottom line is that, in 2021, people will be more aware of what they want in a partner, and they won't be afraid to be up front about their priorities. "A lot of people have just spent a year feeling like they've wasted time," says Freid. "This year, people will be more direct when it comes to dating." 
Even as life settles back into normalcy in the coming months, the vaccination rollout will have a lasting effect on dating. The pandemic has helped people identify their priorities when it comes to romantic partners. As a result, daters will be more intentional when it comes to finding matches, which can lead to lasting, fulfilling connections.