Custom Design Engagement Rings 101
Looking for the ultimate in personalized engagement rings? Our primer to custom designing a ring will inspire you to action.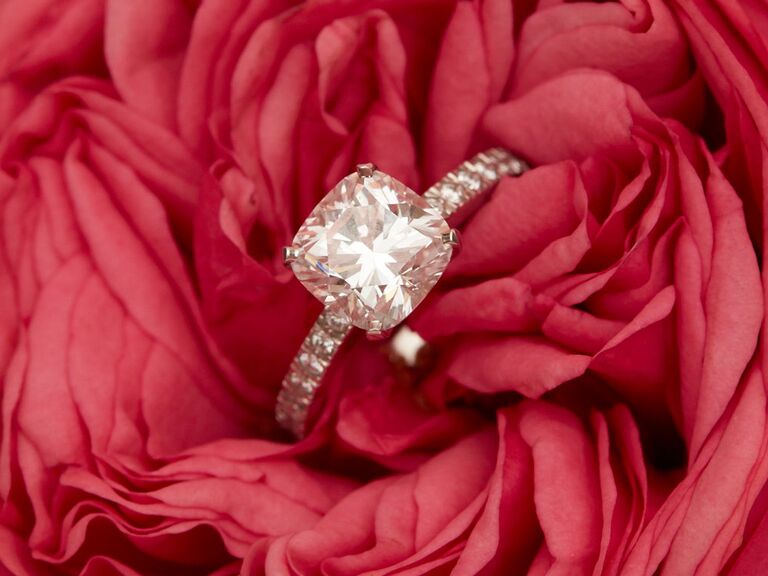 Brian Doben

While browsing jewelry stores, do you think everything looks exactly the same? If you crave something that's as unique as your love and packed with personal significance—or if you have the stone, but not the setting—consider having her (and/or his!) engagement ring custom designed. Here's how to do it.
Get a Clue
Inspect the jewelry that she or he wears to get a sense of your beloved's ring personality. Decide if you want the ring to incorporate an element of cultural significance or to have a certain sensibility (to look modern or art deco, for instance) to help narrow your search. Also be sure to scope out rings people are wearing at work or as you go about your daily life. When you see one you like, ask who designed it or where it was purchased.
Next, prowl jewelry stores and galleries to really hone in on what you like—or hate, which can be an easier place to start. Take notes and make sketches of elements that catch your eye (an "invisible" tension setting, different shades of gold or multicolored gems), and research designers whose work you admire.
Express Yourself
If you want to create something totally original, the toughest part is pinpointing what you want the ring to "say." It can be tough for a non-artist to translate emotions into a nonliteral, concrete form. Work with what you know: Try writing a paragraph—or a list of adjectives—that describes how your mate makes you feel, or traits she or he has that inspire you. If words elude you, look for graphic imagery that does the job: a Mondrian painting, a soft romantic coverlet, earthy waves or stars. Reference the list or images when browsing.
Keep the Wedding Band in Mind
The whole point of this engagement ring thing? There will soon be a wedding band to keep it company! Two options: Go wild and commission a ring that stands alone (she will wear it on her right hand after the wedding band moves in), or design something that looks beautiful alone but truly becomes complete with the addition of a coordinating custom-designed or store-bought band.
Expect a Higher Price Tag
Don't be surprised to find that a made-to-order ring may cost up to three times as much as a ring "off the rack." The obvious reason: Custom rings are more labor- and time-intensive since they must be hand-assembled from many different pieces.
Don't Rush
Start the process early; allow six weeks for delivery of the ring once ordered. Not only will you need time for ring research and/or to find a designer you like and trust, but finalizing the ring's specs may require some back and forth communication, not to mention the extra time it takes to hand-assemble a ring and to inscribe the inside, if desired. Look for a jewelry store with an on-site staff to save time.
Find Your Soul Mate Designer
If you found a designer's work at a jewelry store, a store salesperson will work as your liaison with the designer. Otherwise, get referrals for designers or shops from friends and family or let your fingers do the walking.
If you found a designer you like online, ask about their professional affiliations, how long they've been in business and where you can see their work in person. It's a good idea to handle the rings to see that they're carefully and skillfully constructed.
When you speak with the designer or salesperson, make sure you will feel comfortable and confident working with them. Stand by your ideas but heed their input. They know what doesn't work on a ring, no matter how amazing it looks in your imagination.
Protect Yourself
If you're working directly with a designer, ask what guarantees are offered on the work and get everything in writing. For example, to help ensure that the final piece matches what you envisioned, have the designer sign a piece of paper that lists the elements you agreed would be included (purity of metal, details of setting and any other specifics), delivery date and price. If the designer is supplying the stone, make sure it's accompanied by a quality grading report or have it appraised before being set. Make sure your ring's appraisal report (which you'll need to get it insured) notes that the ring is custom designed and by whom. This will affect the replacement value set by your insurance company.