Custom Engagement Rings 101: A Lesson in Designing Your Dream Ring
Get extra credit with a custom engagement ring.
We have included third party products to help you navigate and enjoy life's biggest moments. Purchases made through links on this page may earn us a commission.
Class is now in session. If you crave something that's as unique as your love and packed with personal significance—or if you have the stone but not the setting—custom engagement rings make a stunning, one-of-a-kind option. Thanks to modern technology (and the internet, ofc), it's pretty easy to design a custom engagement ring with just a few simple clicks or a faster-than-ever trip to your local jeweler, with unique metal and setting offerings and sparkling gemstones and diamonds. And while other trends come and go, a custom design engagement ring will never go out of style. Plus, it instantly becomes an heirloom piece.
To learn more about custom engagement rings, we tapped Akshie Jhaveri, Founder and Creative Director of Grown Brilliance, who specializes in selling lab-grown diamonds and jewelry and is an expert in customizing engagement rings. Prepare to be dazzled.
In this article:
Why Customize Your Engagement Ring
With so many beautiful engagement ring designs on the market, why should you order a customized engagement ring? "An engagement ring is so much more than just a piece of jewelry, it's a symbol of your love and commitment," Jhaveri tells us. "And since every person's story is unique, customizing a ring is a great way to create that one-of-a-kind piece that is specifically tailored to your personal style and preferences and really reflects your journey."
And just because you have a non-traditional design idea, don't assume it can't be done; you'll be surprised at what jewelers can create. "For example, we had one client whose design included two bunnies holding up the diamond, and yes, it was out-of-the-box, but the ring turned out absolutely beautiful! And, more to the point, it held a special significance for the couple who designed it, and they will be able to tell the story of their design and what it means to them forever."
What To Know Before You Design Your Custom Engagement Ring
"Designing an engagement ring is an emotional experience because you are essentially capturing the emotional journey of falling in love, being in love, and committing to that love to build a future together. You need to take a moment to respect the emotional enormity of this process and find inspiration that is true to your love story."
And while you should let your heart guide you in the decision-making process, Jhaveri emphasizes that it's also important to educate yourself on the technical side of buying a diamond custom engagement ring to make an informed decision about customizing an engagement ring.
Build Your Inspiration (and Budget)
First and foremost, Jhaveri explains that you need to settle on a budget and inspiration before you consult with a jeweler. Their job is to bring your ideas and inspiration to life, so coming prepared with a budget in mind and inspiration images in tow will help your designer suggest metals and stones that align with your idea and fit within your ideal spending range.
Learn about the 4Cs
All diamonds are evaluated using a standard grading scale developed in the 1950s by the Gemological Institute of America (GIA), known as the 4Cs. "Cut, color, clarity, and carat weight are the four most important diamond characteristics to consider when evaluating the quality and value of your stone," says Jhaveri. Each one of these characteristics affects the quality (and total cost) of your custom engagement ring. How you prioritize them is up to your style preferences and budget. Luckily, we have an easy-to-read guide breaking down the 4Cs, which you can read here before you make any big purchases.
Choose a Metal That Highlights Your Stone
Jhaveri also recommends choosing a metal that best highlights the diamond or gemstone design you want to feature. Most custom engagement ring settings are made of white gold, yellow gold, rose gold, platinum, palladium or tungsten, and some are even made from recycled metal materials. If you have a diamond color or unique gemstone color in mind, your custom ring designer should be able to help you find a metal that will complement it. And don't worry, we have an engagement ring metal guide for you too.
Find Out Your Partner's Ring Size.
One of the first things you also need to know before starting the custom engagement ring process is your partner's ring size. "Though this may seem simplistic, knowing the ring size you need and how you want the ring to fit, because being sure about even the smallest details will help streamline the whole process," says Jhaveri. If you're not sure how to measure your ring size, we've created a printable ring size chart to help you measure your ring size from the comfort of your own home.
How Much Does A Custom Engagement Ring Cost?
According to Jhaveri, "A custom engagement ring's cost will solely depend on the style and diamond size the customer chooses." To give you a ballpark idea of what people are spending, according to The Knot 2022 Jewelry and Engagement Study, the average cost of an engagement is about $6,000; however, roughly one-third of respondents choose to spend between $1,000 and $4,000. However, don't be surprised to find that a made-to-order ring may cost up to three times as much as a ring "off the rack." The obvious reason is that custom rings are more labor- and time-intensive since they must be hand-assembled from many different pieces. With jewelers like Grown Brilliance, which offers a wide variety of pre-made and custom design engagement rings online, their is a ring out there that will fit your style and budget.
Where To Design Custom Engagement Rings
So, you know what to consider before you design your custom engagement ring; now it's time to consider the where. Take notes: Below is the skinny on a few worthwhile jewelers that customize beautiful engagement rings.
1. Grown Brilliance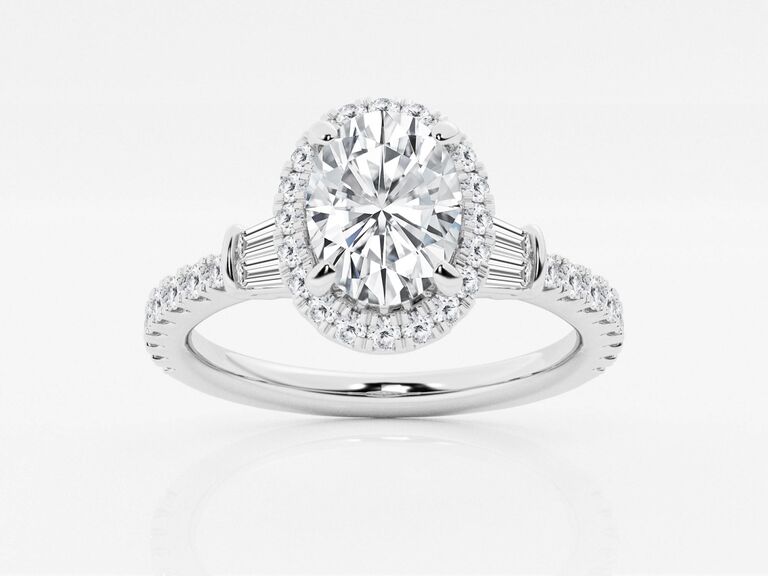 Grown Brilliance's custom engagement ring design process has a name that speaks for itself: Truly Custom. "Whether you have a picture of the inspiration piece or an imagined sketch on a napkin, what makes Grown Brilliance special is our commitment to helping you get exactly what you want with fair and transparent prices," says Jhaveri. "We get you your uniquely designed custom ring in as little as 14 days from when you approve the design." In addition, it's worth noting that Grown Brilliance has a proud commitment to sustainability and ethics by using recycled gold metals, eco-friendly packaging and as of April 2023, Grown Brilliance now works exclusively with carbon-neutral facilities. Talk about looking and feeling good.
2. Jean Dousset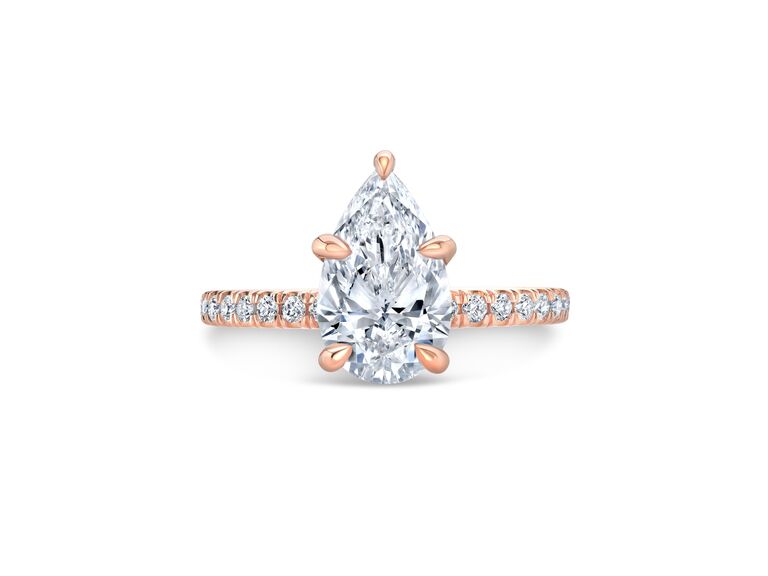 Jean Dousset, the great-great grandson of Louis Cartier (Yes, that Cartier), launched his own luxury lab grown diamond line, including customized engagement rings, in 2020 using exclusively colorless, VS+ diamonds. The brand has a long A-list of notable custom engagement ring clients, including celebrities like Paris Hilton, Eva Longoria and Amy Adams. Plus, in addition to customizing your engagement ring, they also offer the option of adding a hidden signature stone that represents your partner's birthday inside your engagement ring. How cute is that? It's safe to say you're in good hands here.
3. Brilliant Earth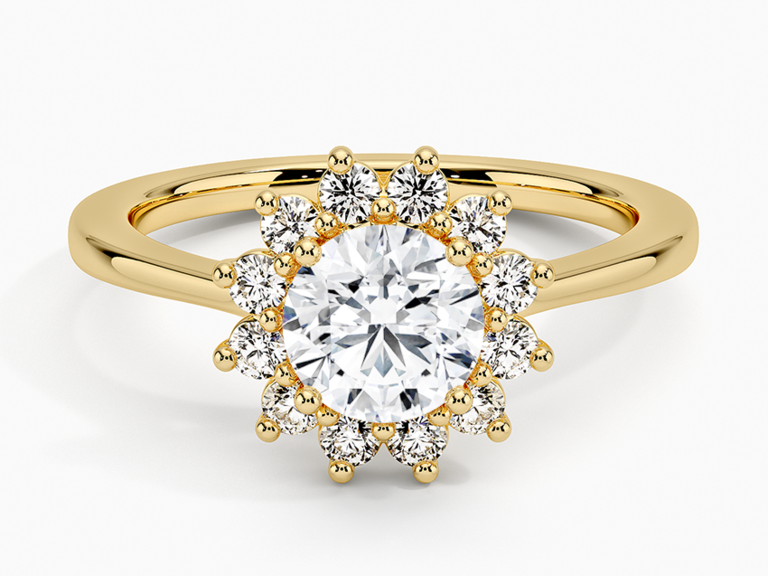 Considering a natural diamond? Online jewelry retailer Brilliant Earth offers custom engagement rings that can be made with conflict-free, ethically sourced natural diamonds and lab grown diamonds, set with recycled precious metals, and shipped in recycled packaging. You work with one of their design specialists, who will create a wax or computer animated model of your custom ring so you can be sure that you can give your final approval. Plus, if sustainability is high on your priority list, Brilliant Earth actually has a collection of sustainability rated lab grown diamonds that are certified climate neutral, traceable by origin and associated with ethical labor practices. We love to see it.