Engagement Ring Metal Glossary
Know your platinum from your palladium? Find the right fit for you with this ring metals rundown.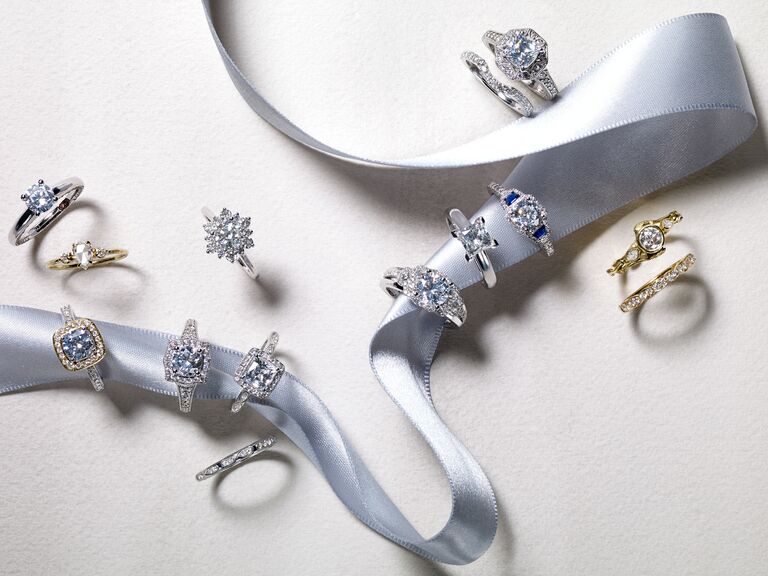 Antonis Achilleos

Platinum
A rare, natural white metal known for its strength and purity -- platinum is usually 95-percent pure.
Why you'll love it: Platinum's density makes it extremely durable, meaning it will keep your diamond or other gemstone protected and secure. It's also naturally hypoallergenic so it won't irritate sensitive skin. When platinum scratches (all metals do), there is very little metal lost, so your ring will withstand years of wear. Also, since it's a pure-white metal, it won't cast any tint onto your center stone.
Yellow Gold/White Gold
This naturally yellow metal gets combined with different metal alloys for added strength -- it is usually 70- to 75-percent pure. The result is jewelry available in a rainbow of colors, including white, green, and pink (see below). Yellow gold is turned into white gold when the surface is plated with rhodium, however, so the coating may eventually wear away and return to its original color.
Why you'll love it: It's also more widely available and therefore less expensive than some other metal options, and the various added alloys mean you can personalize your hue.
Rose Gold
This pink-tinted metal is gold with an added copper alloy. The more copper alloy in the metal, the deeper the rosy tones will be.
Why you'll love it: One of rose gold's especially attractive aspects is its underlying meaning. While white gold represents friendship and yellow gold means fidelity, rose gold represents love. Plus, it's durable and has a look that's pleasing against many skin tones.
Palladium
A lustrous silver-white metal, this natural ore is also used as an alloy in white gold.
Why you'll love it: Similar to platinum, palladium won't tarnish, is very flexible, and is hypoallergenic, but palladium's lower density makes it less costly. It also has a darker, grayer tone than platinum.
Titanium
This sturdy metal has a cool, gray finish or can be a polished black.
Why you'll love it: The tough name and rugged style of this metal makes it particularly ideal for men's bands. Corrosion-resistant and hypoallergenic, titanium is as strong as steel but as weightless as aluminum, making it perfect for men who don't normally wear any jewelry.
Recycled Metals
Recycled metal comes from many sources, like platinum and gold, and takes on the color and traits of its dominant metal.
Why you'll love it: It's always in style to consider the environment. Combine recycled metal with conflict-free diamonds and other gems for a completely eco-friendly and custom look. Bonus: It's your something old and something new all rolled into one.
Now that you know your metals, send your partner to our ring gallery to create their very own Hint profile where they can get style recommendations, "favorite" rings and find jewelers near you. When they're ready, they can drop a hint for you and share their selects!